While we're still waiting for the Maserati MC20 to land in India, meanwhile, Maserati has dropped us a preview of the MC20 convertible's first prototype. Although, the prototype sure looks production-ready at least in pictures.
The convertible will have plenty of common elements borrowed from the MC20 coupe. And from what we know, its body is made of carbon fibre and composite materials. Maserati's not given us a glimpse of the prototype's rear profile, so we're going to go ahead and guess that the MC20 will feature a hardtop convertible.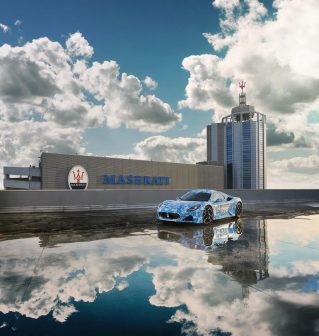 Oh, and did you happen to notice the clouds on its camouflaged wrap? Well, Maserati says that it was definitely on purpose, considering the prototype's a convertible. After the GranCabrio's departure, the MC20 convertible will be Italian marque's first convertible. Also, the first mid-engined roadster since the MC12's production was ended in 2005. That's quite a long time indeed.
Under the hood, the story should more or less remain unchanged as it will feature the same 3.0-litre twin-turbo V6 engine with a dry-sump lubrication system. That translates into 621 bhp and 74.43 kgm of peak torque, paired to an 8-speed dual-clutch gearbox. It covers 100 kph in 2.9 seconds, and we expect the convertible to be just as quick as the coupe. As for its official unveiling, the dates have not been fixed. In the meantime, we're waiting for the MC20 coupe's deliveries that will commence from February 2022.