The picture below is a bird's-eye view of as many as 50 Lamborghinis that went on an absolutely epic road trip across North India, which covered some of the most picturesque locations from Delhi to Chandigarh. This 550-km road trip was a part of Lamborghini Esperienza GIRO India 2021 'Pedal To The Peak' drive for all the Lamborghini owners and enthusiasts.
Sharad Agarwal, head of Lamborghini India, said, 'Lamborghini is known for its signature luxury lifestyle experience. The Lamborghini Esperienza GIRO allows us to introduce our customers to a truly one-of-a-kind driving experience that enables them to indulge in their passion for driving, while inspiring them to embrace long distance travels as they explore and discover India in all its glory, in their Lamborghinis. As Designers of Experiences, we curated this enriching escapade to convey the brand's distinct sense of style and luxury while ensuring to evoke the emotions of passion and fulfilment that defines our customers' relationships with their Lamborghinis.'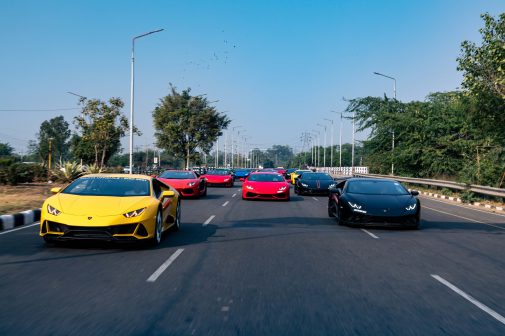 The drive was flagged off from Delhi, and the convoy of Aventadors, Huracans and Urus' darted on the NH48 highway moving away from the city of Gurgaon only to pass through Haryana, followed by the farms of Punjab and then finally reaching Chandigarh. The convoy of stupidly fast Lamborghinis weaved through the well-paved double lane roads leading to Shimla. We wonder if the agonizingly loud rumble of the Lambos is still echoing in the hills of Shimla. The good folks at Lamborghini India, if you're listening, we can't wait for you to send us an invite for when you decide to do something grander than this!