After a career spanning 19 seasons in all, ace F1 driver Kimi Raikkonen has said he will walk away from the sport at the end of the current season. Raikkonen races for the Alfa Romeo team, which is kind of appropriate since it is the latest iteration of the Sauber team, with whom he made his debut in 2001 at the Australian GP.
In that season, he helped Sauber take 4th position in the constructors' standings. He then moved to McLaren for five years, and then to Ferrari, where he became world champion in 2007 (he remains the team's last world champion). After a 2-year break, he returned to F1 with Lotus – and then went back to Ferrari. He signed up with Alfa Romeo in 2019 and will see out his career with them. Raikkonen holds the record for the most F1 starts, with 344 GP entries, and he's won 21 races over the course of his long career.
He took to Instagram to announce his retirement. 'This is it. This will be my last season in Formula 1. This is a decision I took during last winter. It was not an easy decision but after this season it is time for new things. Even though the season is still on, I want to thank my family, all my teams, everyone involved in my racing career and especially all of you great fans that have been rooting for me all this time. Formula 1 might come to an end for me but there is a lot more in life that I want to experience and enjoy. See you around after all of this,' he said.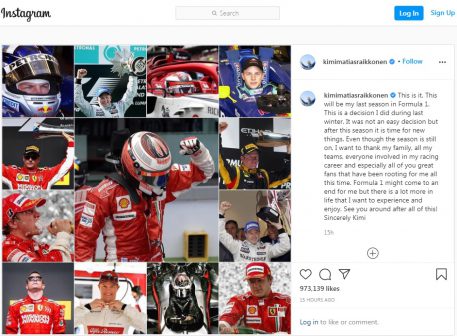 Apart from his tremendous driving skills, Raikkonen was legendary for his poker-faced one-liners. When asked about what his helmet meant to him, he said 'It protects my head.' In 2006, he missed a presentation by footballing legend Pele at the Brazilian GP. When asked why, he said 'I was having a s**t.' He often told off his race engineers when they gave him advice over the radio, telling them he knew what to do better than they did. F1 will miss him in more ways than one.