That's the production version of the Kia Niro. No butterfly doors on this one, but the Niro uses materials that will ensure minimising the impact on the environment. Plus, it will be offered in HEV, PHEV, and EV, so we're okay if it doesn't get butterfly doors. Oh, and let us know what do you make of that boomerang-shaped C-pillar design.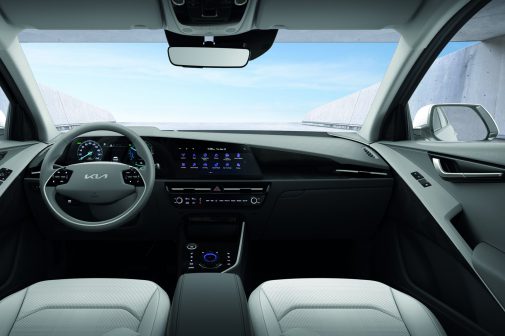 Speaking of the design bits, the Niro does take inspiration from the 2019 Habaniro concept. It receives a completely redesigned tiger face. Well, if you ask us, it's certainly become bolder than the first-gen Niro. It's still a mystery how the rear looks, because Kia hasn't completely revealed it yet. On the inside, however, the cabin looks pretty neat and modern; featuring a massive screen that covers the instrument cluster and the infotainment screen. Kia's used recycled materials in the cabin to promote its stance on sustainability. We're also happy to report that there are a few physical knobs presumably for the climate control.
While we're still waiting for Kia to provide more details on its powertrain apart from the fact that the will be available in three formats. Also, this isn't based on the popular E-GMP platform, which many Kia and Hyundai vehicles are using for its EVs. Would you like to see the Niro make it here before the EV6?