The annual Easter Jeep Safari is here and with that a bunch of Jeep concepts as well. As many as seven Jeep concepts will be taking part in it on the 27th of March. Out of these seven, four are new and the rest of the concepts are from 2020. Here's what the new concepts are all about:
Jeep Wrangler Magneto EV
This one's an all-electric Jeep, powering it are four battery packs which produce a total output of 70 kWh. With that, the Magneto is able to churn out 281 bhp and 37.74 kgm of torque. Of course, this is 4×4 ready, too. Strangely, this has a 6-speed manual 'box. According to Jeep, in quick-shifting scenarios, the motor would engage in regenerative power collection when the clutch is engaged to prevent rev hang. Also, these four battery packs are evenly spread around its body to have optimum weight balance. As far as speed is concerned, the 0 to 98 kph sprint comes in quick 6.8 seconds. We think, there's a production version on the cards sooner or later. If they do, we hope they retain the Magneto moniker.
Jeep Gladiator Rubicon Red Bare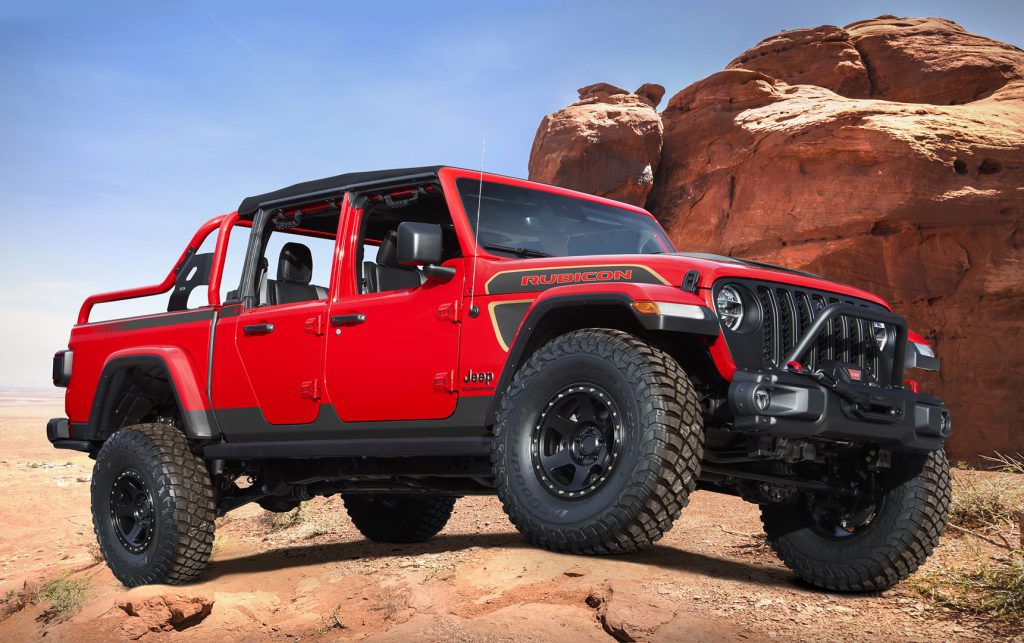 The Gladiator Rubicon concept has hardcore off-roading on its mind. Here, the focus is on the low-end power. Speaking of power, this one runs on a 3.0-litre V6 diesel engine producing 256 bhp and 61.10 kgm of torque, paired to an 8-speed auto transmission, specially calibrated for low-rpm shifts and has a crawl ratio of 91:1. That should be enough to keep the Gladiator up on its feet. Plus, the 37-inch all-terrain tyres will come in handy, too. It has even got accessories like factory steel bumpers with a Warn winch and a front bumper grille guard, for that extra sturdy look, of course.
1968 Jeepster Commando Beach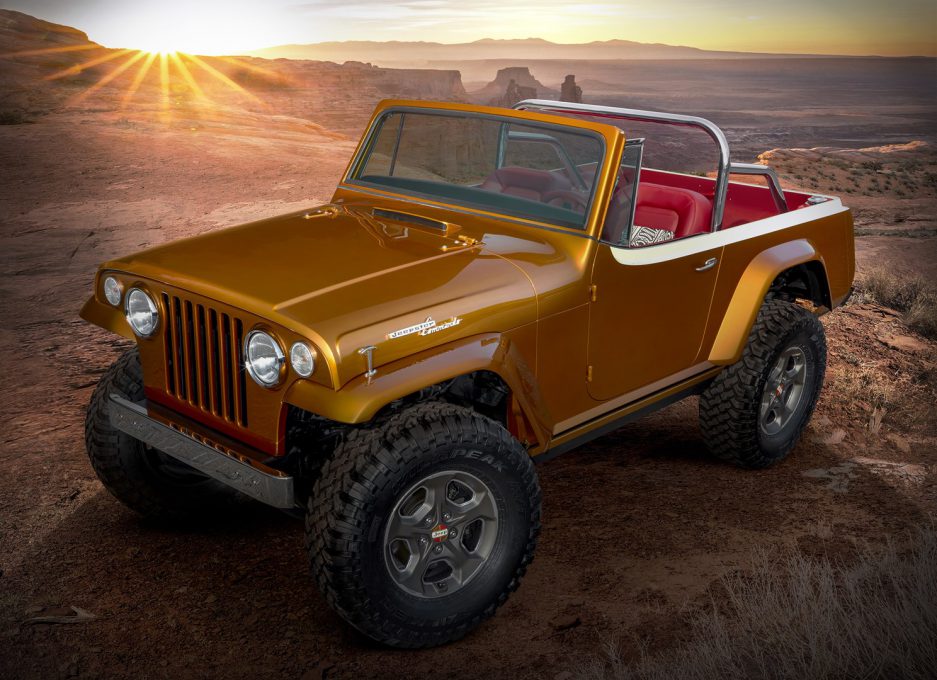 We're going back in time with this one. It's a modified Jeepster Commando from 1968, the C-101, and rocking a subtle and rustic two-tone colour scheme. Powering this Jeepster Commando Beach is a modified 2.0-litre turbocharged, four-cylinder engine that produces 335 bhp and 51.01 kgm of torque. This engine combination is extracting almost 25 percent more power than its production model. Well, power is sent to all four wheels via an 8-speed auto gearbox and has a 4:1 transfer case as well. It sits on 35-inch wheels and has flashy red leather trim on its bucket seats. That interior is probably the only thing that's overdone; otherwise, this one's a pretty neat concept.
Jeep Wrangler Orange Peelz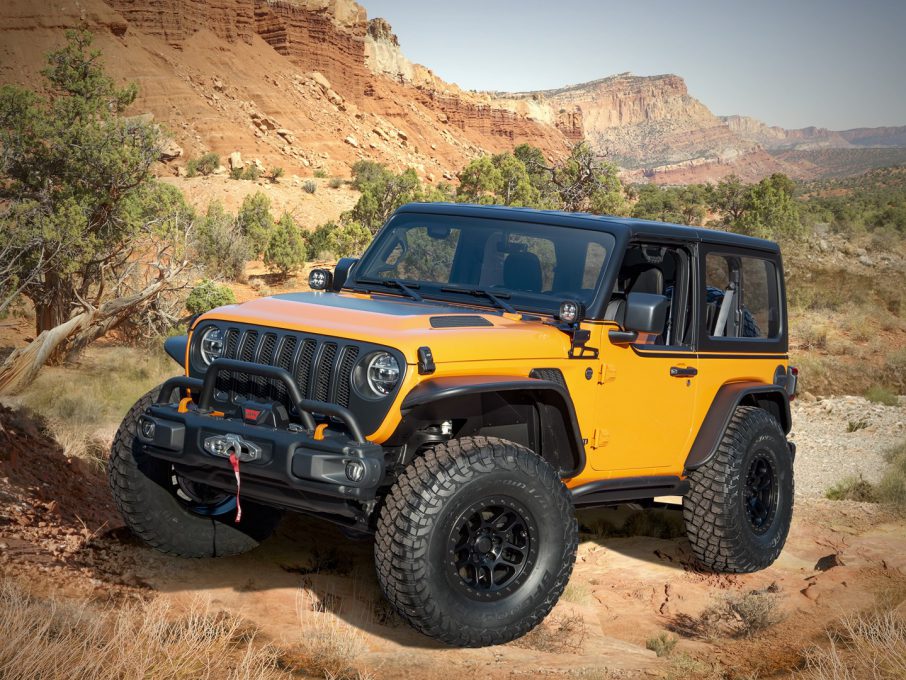 Out of the four, this one looks properly sturdy, but we're not sure about the Orange Peelz name, however. It does have a few cool tricks up its sleeve, for instance, it has a removable one-piece glass sunroof, the side and rear window uses prototype JPP half doors. Powering it is a 3.6-litre Pentastar V6, producing 281 bhp and 35.94 kgm of torque, paired to an 8-speed auto 'box. Its rugged stance is thanks to those 37-inch mud-terrain tires and it even has a 2-inch JPP lift kit fitted with FOX shocks. Again, the exterior colour does look great combined with that Satin Black. This one's our favourite from the lot. Which one's your favourite?
Well, the Easter Jeep Safari will begin from 27th March and carry on till 4th April in Moab, Utah. It'll be interesting to see which among these four vehicles perform. Also, they'll be joined by three more Jeep concepts from 2020: Gladiator Farout, the Wrangler Rubicon 392, and the Gladiator Top Dog.