A month-long motorsport action awaits us as the inaugural season of the Indian Racing League is all set to kick off on the 19th of November at the Hyderabad Street Circuit. Yes, you can be a part of all the action and book passes for the event here. The passes start from Rs 749 onwards.
Race-weekend schedule:
19th – 20th November: Hyderabad Street Circuit
25th – 27th November: MIC Chennai
2nd – 4th December: MIC Chennai
10th – 11th December: Hyderabad Street Circuit
What is the Indian Racing League?
It is a motorsport league by an Indian Motorsports Company, Racing Promotions Pvt. Ltd. The league will feature 24 drivers, which includes International and Indian drivers. There will be six teams, and each team will have four drivers. Oh, and every team has a spot reserved for a female driver.
All Teams & Drivers

Bangalore Speedsters
· Bianca Bustamante
· Oliver Webb
· Anshul Gandhi
· Rishon Rajeev
Chennai Turbo Riders
· Nicole Havrda
· Jon Lancaster
· Parth Ghorpade
· Vishnu Prasad
Goa Aces
· Gabriela Jilkova
· Raoul Hyman
· Sohil Shah
· Amir Syed
GodSpeed Kochi 
· Fabienne Wohlwend
· Jordan Albert 
· Nikhil Bohra
· Ruhaan Alva
Hyderabad Blackbirds
· Lola Lovinfosse
· Neel Jani
· Akhil Rabindra
· Anindith Reddy
Speed Demons Delhi
· Celia Martin
· Mitch Gilbert
· Akash Gowda
· Shahan Ali Mohsin
What will the drivers be racing?
The GB08 Thunder by Wolf Racing (Italian manufacturer) is the one that will feature in all the races. This race car is known for featuring in Sport Prototype races, and many gentleman drivers have been racing in it. The Thunder's powered by a 1099cc Aprilia RSV4 engine producing 216 bhp. Yes, this one's straight out of the Aprilia RSV4 superbike. And these machines sound incredible! It gets 13-inch wheels and an adjustable rear wing. This thing also weighs 378 kg, which gives it a decent weight-to-power ratio of 1.71.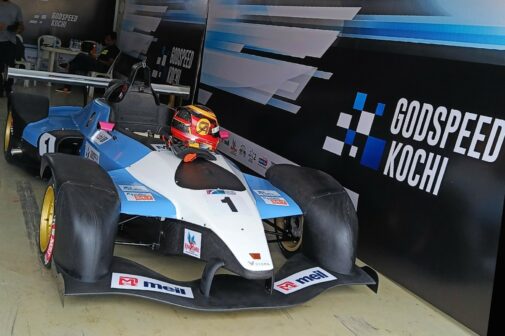 Before the first race weekend, we shall share the race format details with you. We can't wait to see them in action!