A performance sedan from Hyundai? Why not, we say. We've driven the Veloster N and can tell you it's the bomb, so when Hyundai says they have an Elantra N lined up, all we can do is rub our hands in anticipation. The N line of cars is, of course, the skunk works department of Hyundai, much like BMW's M division and Merc's AMG.
Hyundai's put out teasers for the car, which will likely be premiered next month. The photos show glimpses of the Elantra N, with Hyundai's N Performance Blue paint, a black rear wing, large side sills, two round exhaust tips and a refreshed rear bumper, among others. The car will be a performance edition, with a more powerful engine, but not a full-blown BMW M-type car. It's likely to have a 2-litre turbo-petrol motor with 275 bhp (which is not to be sneezed at), hooked up to a 6-speed manual or an 8-speed DCT. Power will go to the front wheels, and it'll get beefed up suspension and brake bits, along with gizmos like launch control, N Grin drive modes and switchable traction control. The cabin will be sporty – suede sports seats, drilled pedals and N insignia all over the place.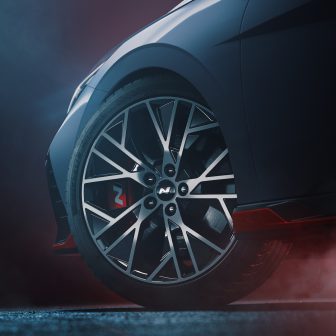 There's no word on whether the Elantra N will come to India, but the next-gen 'regular' Elantra will make it here, so we can only hope Hyundai sees fit to offer up a halo model. The i20 N Line is being readied for launch here, for example, so the Elantra N would make a great, limited-edition competitor for the Skoda Octavia RS, which sells out as soon as it's announced. Fingers crossed, then.