The 296 GTB becomes Ferrari's first production road car to have a V6 engine underneath. And it's a true hybrid V6. Oh, underestimate this 819-bhp 2.9-litre turbocharged V6 monster at your peril.
All that power goes to its rear wheels via an 8-speed DCT 'box, which helps it clock a 0-100-kph sprint time in 2.9 seconds, a 0-200-kph time in 7.3 seconds, and attain a top speed of 330 kph. Heck, it's even matched the F12 Tour de France's lap time of 1:21 minutes at the Fiorano racetrack. It will do all that and still sound bloody glorious.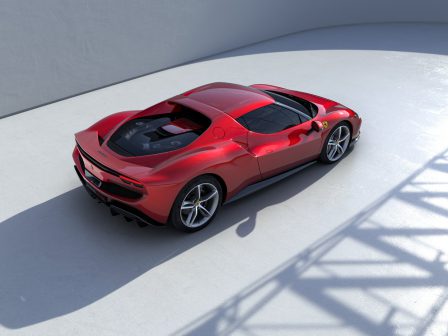 Ferrari says that the 654 bhp generated from 296 GTB's V6 engine has set a new power output record for a production road car. The additional 165 bhp comes with the help of its electric motor. This electric motor will give a range of 25 km and a top speed of 135 kph in all-electric mode. Of course, you can switch the modes — full EV, hybrid, Performance and Qualify. But the fun part is that you can drift like a pro, thanks to the updated sensor in the power steering that aids the Slide Slip Control.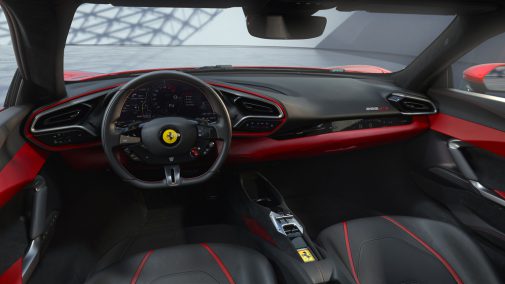 Inside, the cockpit is full-digital — from the instrument cluster to the passenger side display. And that central tunnel will remind you of the SF90. The 296 GTB tips the scale at 1470 kg, courtesy of the light V6 engine. But, if you want to go lighter than it, then you get an 'Assetto Fiorano' variant. It comes with carbon fibre appendages on the front bumper and some more carbon fibre around the car and inside. You even have the option of adjustable Multimatic shocks and the option for Michelin Sport Cup2R tyres. Phew! That's Ferrari's future for you, then. And so far, it's looking absolutely gorgeous.