Dodge has unveiled its all-new electric muscle car concept, the Charger Daytona SRT, showcased at the SEMA auto show. Dodge does claim that it will be faster than the Hellcat, revealing six out of nine possible powertrain options for its electric concept.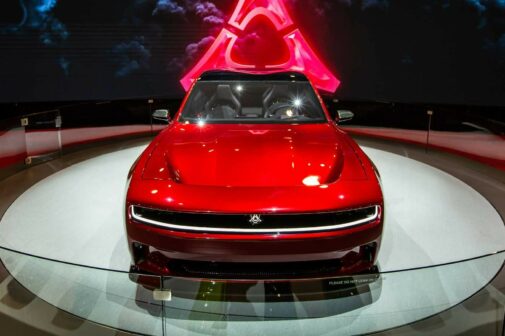 The new Stryker Red hue model on display features 18-inch lightweight carbon-fibre wheels dressed in drag-racing compound tyres, flush-fitting door handles and full-width LED light bars, both at the front and rear. The concept also brings back the three-pointed Fratzog badge, originally used on Dodge muscle cars between 1962 and 1967. Taking inspiration from the brand's iconic Charger models from 1968 to 1970, the Dodge Charger Daytona SRT concept comes with a front wing. This allows air to pass through the front grille and over the bulging bonnet, enhancing both downforce and aerodynamic performance.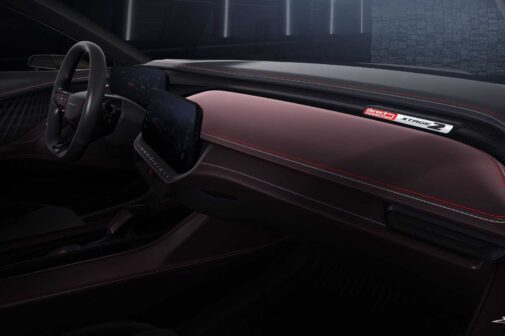 The six powertrain outputs revealed are for the 400V system, which gets two base output levels of 455 bhp and 589 bhp, both further getting two levels of Dodge Direct Connection performance upgrades. Output figures for the 800V Banshee powertrain package are yet to be announced. Dodge claims that the new Charger Daytona SRT concept also 'sounds like a Dodge', with its Fratzonic Chambered exhaust, with a 126 dB computer-generated V8 exhaust note. This would make the EV as loud as a 717 bhp supercharged Charger SRT Hellcat.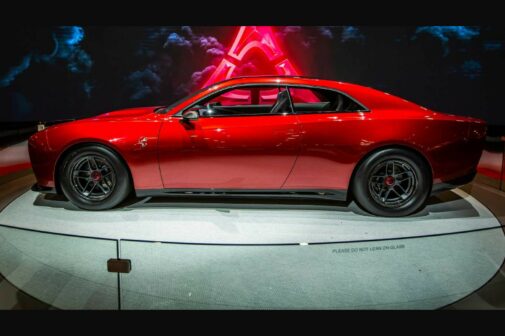 The car also comes with what Dodge calls 'eRupt Transmission', which would require drivers to 'change gears' at predefined shift points, giving a more Dodge-style driving experience. Other interior features include a 16-inch curved digital display, a 12.3-inch touchscreen infotainment system, exposed carbon-fibre elements all around, a large panoramic glass roof and lightweight racing seats. Stay tuned as we wait for the production-spec EV muscle car to hit the streets in the future.