We're looking at the Audi Skysphere concept. This sleek two-door electric sportscar can transform from a grand tourer (GT) to a sporty roadster (Sport) mode. Thanks to the variable wheelbase tech, the electric motors and a sophisticated mechanism with body and frame components that slide into one another make it possible to vary the wheelbase itself and the exterior length of the car by 250 mm. Yes, this is exactly what you would see in a science fiction movie. But it doesn't end here, no.


You can feel like Batman for once when you flick over that switch to let the car change its wheelbase from a grand tourer to a roadster or vice versa. This essentially also has some effect on its interiors as well. When you choose the autonomous driving mode, the steering wheel and pedals retract under the dashboard for you to create that extra bit of space. In GT mode, the car rides higher than usual courtesy of the adaptive air suspension in it. This is further aided by GPS and road preview to give the passengers a soft and comfy ride. While in Sport mode, apart from the reduction in its wheelbase, the steering and pedal present themselves to the pilot and its rear-axle steering engages the pilot enough for an enthusiastic driving experience.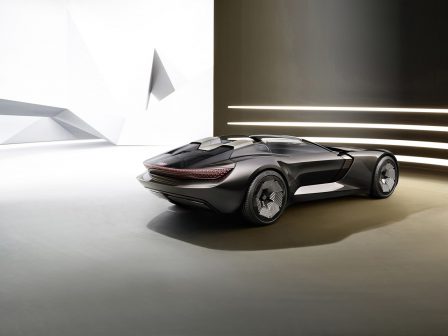 With a rear-mounted electric motor setup that generates 624 bhp and 76.47 kgm of torque, the Skysphere can do a 0-100-kph sprint in 4 seconds. Its 80-kWh battery is nicely tucked behind the seats and in the car's centre console, providing a 500-km range on a full charge. There's enough space in the frunk to fit two sets of custom-designed golf clubs and a pair of suitcases on the rear deck. We're all game for Audi's future EV!