Another RS model is soon going to join Audi India's lineup and it's the RS5 Sportback. Yes, it's the five-door Sportback variant which will be launched on the 9th of August. We did have a go at the stunning S5 Sportback not so long ago, and we're curious if the RS5 Sportback is worth the upgrade.
Previously, Audi India only had the two-door RS5 Coupe variant. And it was pretty difficult to cram yourself behind in the rear seats. But, with the Sportback variant, things are going to be far more practical and still quick.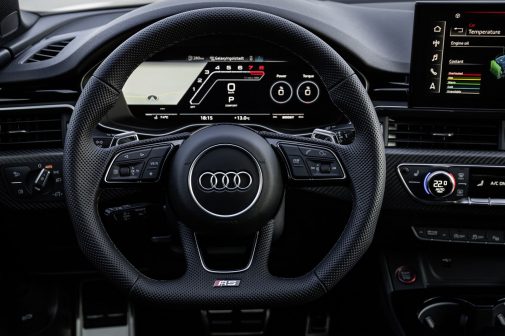 Speaking of quick, the RS5 is powered by the same 444-bhp 2.9-litre bi-turbo V6 engine. It has a 0-100-kph sprint time of 3.9 seconds and all that power is pushed through all four wheels. Will its on-paper performance match the real-world dynamics? Well, we can only hope that it's just as mean like the way it now looks.
Inside, the tech bits are similar to the ones seen on the RS7 Sportback and not much has changed. The updated Audi Virtual Cockpit now comes with a new 'hockey stick' styled rev counter. By techier, we mean, the RS5's feeding you with information like engine temperature, longitudinal and lateral acceleration, tyre temperatures and tyre pressures, and the quattro sport differential operating status. Of course, there will be a few optional features available as well. More information on the RS5 Sportback will be available when it's launched next week, until then stay tuned!