Bookings for the upcoming Audi e-tron GT have now opened. The e-tron GT comes in two variants: e-tron GT quattro and RS e-tron GT. It's also the first EV by Audi to get the RS badge. This means it is good enough to produce 590 bhp or 637 bhp and go from 0-100 kph in 3.3 seconds.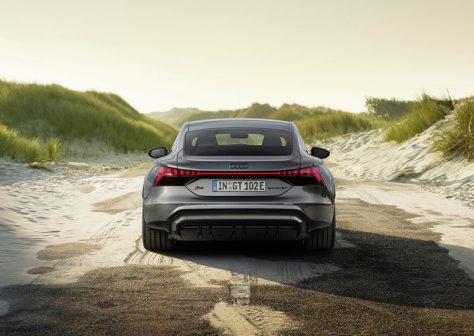 Interestingly, it also shares the same J1 platform with the Porsche Taycan. As far as performance is concerned, the Taycan might be far ahead of Audi e-tron GT, but it's the e-tron GT that is doing one hell of a job to stay in the competition with its sharp design. Both the variants of the e-tron GT have a motor at either end which gives it all-wheel drive. And they have the same 93-kWh battery pack as well. Also, just like the Taycan, it has a two-speed gearbox on its rear axle.
Talking about its range, on a full charge, it has a WLTP range of 487 km for the quattro and 472 km for the RS variant. Plug it in a DC fast charger for 5 minutes and you will get a 100 km range, thanks to its 270 kW output. It's a proper grand tourer with a boot space of 405 litres and 85 litres under its nose.
It was only a while back that Audi had launched the e-tron SUV and it seems ready to launch another EV in the Indian market. Well, we can't wait to get behind its wheel. Stay tuned for more details on it!