The moment we've all been waiting for has arrived! Tata Motors has launched the 2023 versions of the Nexon and the Nexon.ev. While prices for the 2023 Tata Nexon start at Rs 8.09 lakh, the 2023 Nexon.ev can be yours from Rs 14.74 lakh onwards. We've driven both the 2023 Nexon and the Nexon.ev, and you can check out our reviews by clicking here.

While both versions of the Nexon retain the same side profile, the front and rear have gone through drastic changes, thus adding a sense of style to the sub-compact SUV. The nose of the car has slimmed down considerably, flanked by cool-looking DRLs on either side while the headlamps have moved down below. In the Nexon.ev, the slim panel on the nose is replaced by a full-length light bar, you know, to add that extra bit of sophistication to what has become a stylish-looking car. At the rear, Tata has gone with the trending LED light bar running across the length of the tailgate. Tata also decided to give the Nexon some rather cool-looking colour schemes. My personal favorite is the purple, just saying!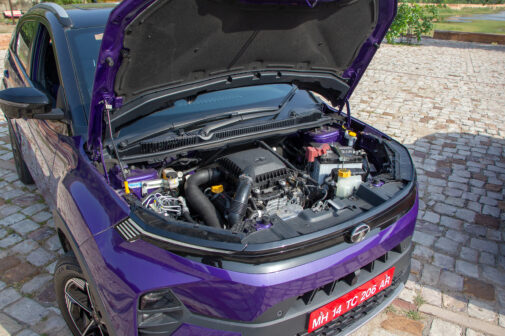 In terms of powertrains, the 2023 Tata Nexon continues to receive a 1.2-litre turbo petrol, and a 1.5-litre diesel. You can choose to have the petrol with either a six-speed manual, a six-speed AMT, or a new seven-speed dual clutch automatic transmission. Meanwhile, the 1.5-litre diesel misses out on the dual-clutch automatic, but it receives the manual and the AMT.

As for the 2023 Tata Nexon.ev, it gets a new second-generation electric motor with varying outputs across configurations. The medium range version offers 127 bhp and 21.9 kgm of torque, while the long range variant puts out 142 bhp and 21.9 kgm of torque. This makes it reach a claimed top speed of 150 kmph, while triple digits can be reached in just 8.9 seconds (9.2 seconds for the medium range variant).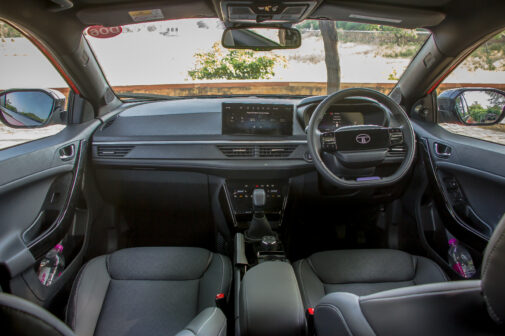 The combustion-powered Nexon can be had in four variants, or rather 'Personas' as Tata likes to call them — Smart, Pure, Creative, and Fearless. These personas further get 'S' and '+S' options with additional kit. Point to note here is that the base Smart persona gets only the 1.2-litre petrol powertrain with a five-speed manual transmission, while every other variant gets the six-speed manual. From the Smart S and Smart S+ persona onwards, you get a 7-inch touchscreen infotainment system, a four-speaker sound system, electric sunroof with voice commands, rain sensing wipers, powered ORVMs, and roof rails. Meanwhile, the more high-end Personas get you automatic headlamps, LED light bars with welcome and goodbye signatures, a 10.25-inch touch screen system, a four-speaker sound system with tweeters, cooled glovebox, a 360-degree camera, wireless smartphone charger, air purifier with dust sensors, ventilated front seats with height adjustability, connected car tech and plenty more.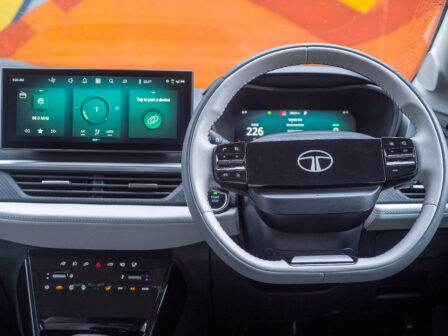 Meanwhile, the Nexon.ev gets three personas on offer — Creative, Fearless, and Empowered (maybe to reinforce the idea of EVs taking over?) The 2023 Tata Nexon.ev takes things further with vehicle-to-load technology, which allows you to charge your gadgets with your car. Not just that, it is also the first homegrown EV to offer vehicle-to-vehicle charging, with which you can charge other Tata EVs on the road. Other goodies on offer include a 360-degree camera, voice commands, a cooled glovebox, wireless CarPlay and Android Auto, in-built navigation, ventilated front seats, height adjustable front passenger seat, and wireless smartphone charging among others.
Prices for the 2023 Tata Nexon begin from Rs 8.09 lakh (ex-showroom) for the base Smart persona, and here's a breakdown of what each persona costs:

Smart: Rs 8.09 lakh
Smart+: Rs 9.09 lakh
Pure:  Rs 9.69 lakh
Creative: Rs 10.99 lakh
Creative+: Rs 11.69 lakh
Fearless: Rs 12.49 lakh
Fearless+: Rs 12.99 lakh

Meanwhile the 2023 Tata Nexon.ev can be had from Rs 14.74 lakh onwards, and here's how much each variant costs:

Creative+: Rs 14.74 lakh
Fearless: Rs 16.19 lakh
Fearless (Long Range): Rs 18.19 lakh
Fearless+: Rs 16.69 lakh
Fearless+ (Long Range): Rs 18.69 lakh
Fearless+ S: Rs 17.19 lakh
Fearless+ S (Long Range): Rs 19.19 lakh
Empowered: Rs 17.84 lakh
Empowered+: Rs 19.94 lakh

Would you buy the 2023 Tata Nexon over rivals like the Hyundai Venue, Maruti Suzuki Brezza, and the Mahindra XUV300 (upgrade coming soon), or would you just make the big switch with the Nexon.ev? Let us know your thoughts and follow our social media handles for more!
Photos by Amit Naik & Aaradhya Singh