From the hardcore Mercedes-AMG GT R to the base-but-relevant Mercedes-AMG GT, the sports car range might not be as wide as the 911's but in that price bracket it has something for everyone. But if you wanted a four-door alternative to the usual super saloons, there aren't a lot of options. Or rather were not, because with the introduction of the Mercedes-AMG GT 4-door Coupe, the company widens its line up to accommodate the super-saloon buyer, too. Or someone who was looking for a more focussed car in the segment but not the CLS.
It's a proper AMG, so there will be no lesser variants, only the top-spec V8 petrols and an inline-six petrol-hybrid. All-wheel drive is standard across the range, with the Drift mode available standard on the S model and optional elsewhere. It allows the nanny-free power distribution to the rear wheels, which in turn lets you, as the name suggests, drift.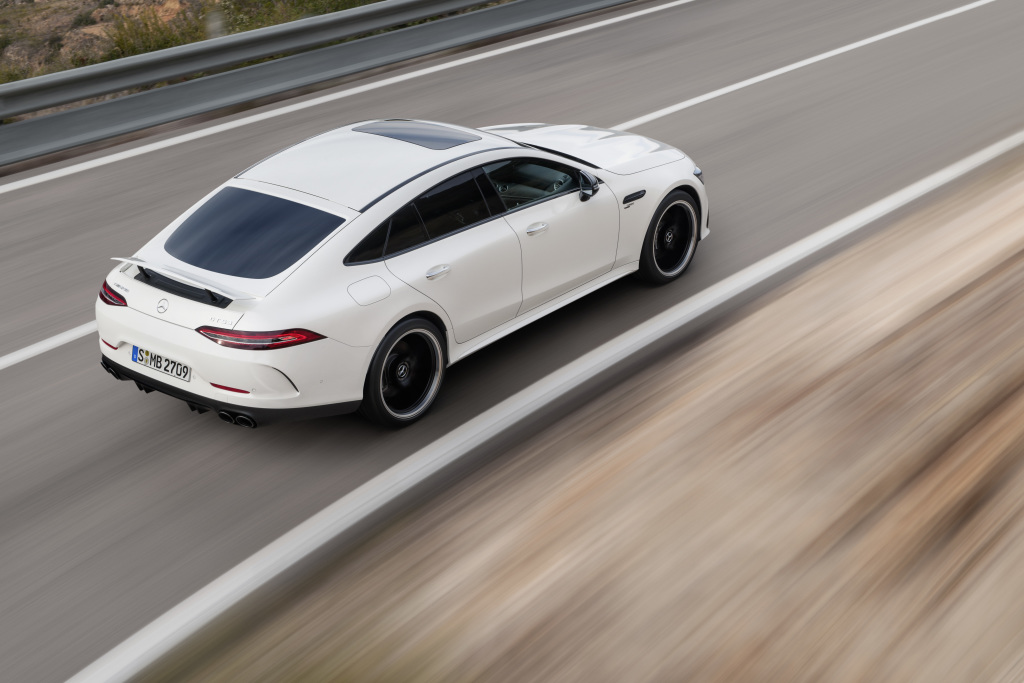 The driving dynamics, despite the inclusion of two doors and elongation of the chassis, have been kept within the AMG standards, the company claims. Which is certainly a good thing. Of the grown-up things, there's cylinder deactivation on the V8 models, which when the engine's not under substantial load, can seamlessly run on four cylinders only. That saves fuel and makes the car less polluting, too. If you're particularly concerned about the latter, the GT 53 is the one for you. Although not as powerful as the V8-engined models, it combines an inline-six engine with an electric motor, and in turn offers decent performance (0-100 kph in 4.5 seconds; top speed of 285 kph), better economy and of course lower emissions. It's also marginally lighter than the two.
The V8 can be specified with a power output of 630 bhp and 91 kgm. That enables a 0-100 kph time of 3.2 seconds and a top speed of 315 kph. The lower-powered GT 63 (non 'S') manages 0-100 kph in 3.4 seconds and has a top speed of 310 kph.
The interior can be specced with either four individual seats or a regular five seat arrangement. The centre console replicates the V8 (a bit awkward if you have the six-cylinder car), while two 12.3-inch displays constitute the Widescreen Cockpit. There's also the new steering wheel, which can be optioned with integrated controller, added buttons, and even a display for selecting the AMG drive programmes.
The car will be available in certain markets this summer onwards.