Imagine that you're in a boring meeting. Your thoughts begin to wander, and you think about how much fun it would be to go on a nice drive instead. As your mind conjures up a car for the occasion, a blurry, red shape starts to come into sharp focus, to finally appear as a sleek, sporty sedan — a Volkswagen Virtus, in other words.
It's a no-brainer if you think about it. Two different and equally potent turbocharged petrol engines on offer — the 1-litre and 1.5-litre — with thrilling performance combined with everyday drivability and top-notch fuel efficiency; how can you miss? Combine that with a slick-shifting 6-speed manual gearbox or a 6-speed torque converter automatic and the 1-litre variant is a proper firecracker. If you want more power, the 1.5-litre engine, combined with an excellent 7-speed DSG transmission, presents itself as a brilliant alternative, without sacrificing fuel economy. Both engines are as happy to transport you around in everyday traffic conditions as they are purring along highways or slicing through a series of corners.
Lest you think the Virtus is just for boy racers, allow us to tell you that it's a very well-sorted family sedan too. That 521-litre boot will take care of the golfing duties, airport runs and wedding-shopping madness with ease. With a ground clearance of 145 mm, the Virtus can also deal with roads where other sedans would struggle, and its plush ride quality makes any road a pleasure.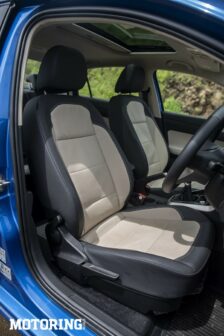 The cabin is big on space — as in really big. There's enough room for five adults to sit in supreme comfort, with head, elbow and leg room at class-leading levels. Its occupants will be surrounded with a lengthy list of features as well — Wireless App Connect, hi-res touchscreen infotainment, automatic climate control, a powerful audio system, ventilated seats and wireless mobile charging, to name just a few. With its rock-solid construction, brilliant crash test rating and an array of cutting-edge safety features (up to six airbags, multi-collision brakes which minimise the extent of a collision, and electronic stability control) you can be sure that the Virtus has your back at all times too; it's the car in which to travel with the most important people in your life.
Have we told you about its design yet? The Virtus is a proper three-box sedan, with every line and curve carefully thought out and executed. We'd go as far as to say that it's the best-looking car in its segment, and has done wonders in reviving buyer interest in the sedan space. Often, sedans are little more than converted hatchbacks, but the Virtus? It's a new design from the ground up, which is as it should be. The clean, unfussy lines will stand out anywhere you take it, especially in that gorgeous GT trim with its blacked-out treatment.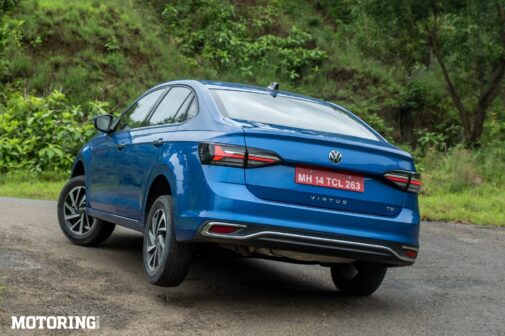 The Virtus is a great example of what an accomplished product should look, feel and sound like. With its elegant and sporty design, sophisticated features, standout space, comfort and safety and great road manners, it has all the makings of a winner — and its sales figures reflect this, which is the ultimate proof of the pudding.