With the new Volkswagen Tiguan, the carmaker persuades its customers to skip the ordinary, break the monotony of life, unshackle themselves, and see what's waiting for them when they choose to be different. The new Tiguan is different but not just for the sake of being different. The Tiguan is not a formula that everyone in the burgeoning SUV space has been following, and at the same time, it has a bit of superlative appeal, too.
There's a lot to say about the Tiguan: from its design, features, comfort, to the drivetrain. It's a global product that's made available in the Indian market without any downgrades. Starting with what's the most important aspect for an SUV, denoted by the first letter of the abbreviation. It's safe to say that the Tiguan has a lot of 'Sport' in it. It's powered by a 2-litre turbocharged petrol 'TSI' engine, which makes 187.4 bhp and 32.6 kg-m of torque. As impressive as those figures might be, it's not without the help of VW's wonderfully smooth but quick 7-speed DSG (dual-clutch gearbox) and a smart 4MOTION all-wheel-drive system that the Tiguan puts all its power effectively to make progress on all kinds of terrain. There's also a start-stop system with regenerative braking, a selection of driver profiles (Eco, Normal, Sport, and Individual) and three drive modes (On-road, Off-road, Off-Road Individual, and Snow).
Being at the helm of the new Tiguan is a rewarding feeling, and the dashboard reiterates that. Firstly, there's the 25.4 cm high-res Digital Cockpit, which not only displays the essentials but can also be customised as per your liking. The 20.32 cm touchscreen placed in the centre of the dashboard isn't just easy to use and connect one's phone to (thanks in part to Android Auto and Apple CarPlay connectivity suites), it's also positioned to be within easy reach — ticking another ergonomics-related box there. The fun bit is that you don't even have to reach the screen as the system is replete with gesture control, further giving you more control on how you want to interact with the infotainment system.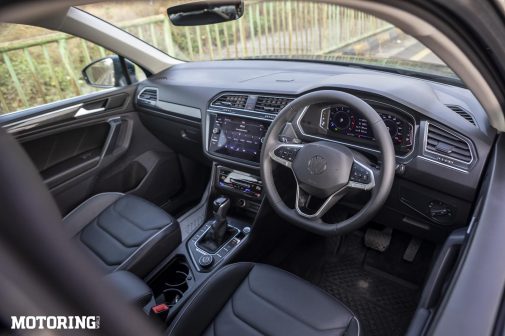 But that's certainly not where the cabin's plus points end: it's bathed in high-quality materials, has ambient mood lighting with a choice of 30 colours, and the overall design is, for the lack of a better word, timeless. The long list of features also includes an electrically adjustable (8-way no less) driver's seat, electric panoramic sunroof, Vienna leather seats, heated ORVMs, heated front seats, etc. As is the case with the aforementioned gesture control, VW quite effectively propagates the idea of convenient motoring with the inclusion of other features like a gesture-controlled tailgate operation (move your foot under the car's rear, and as long as you have the keys with you, the car will automatically open it) and a three-zone Touch-and-slide AC. The striking exterior gets IQ.LIGHT advanced matrix LED lighting system, R18 Frankfurt alloy wheels, and an overall design that's hard to fault.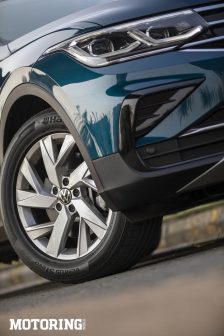 Plus it's a Volkswagen, a brand that has shown no compromise in safety, and the same is true with the Tiguan, too. Apart from the passive safety feature, there's a plethora of driving aids to ensure the vehicle traverses safely irrespective of how harsh the conditions are. The independent suspension all around, disc brakes on all four wheels, and a well-proportioned footprint (wheelbase: 2679 mm) will also ensure that this SUV is no short of mechanical grip and possesses the ability to stop effectively.
There are seven colours to choose from, with each looking a bit better than the other: from the vibrant Kings Red and Nightshade Blue to the more sober yet classy Reflex Silver, Dolphin Grey and Deep Black, there's a wide choice. And that's before you look at the two stately shades of white: Pure White and Oryx White. Some people name their cars while some add a unique touch to theirs to make them their own. If you incline towards the latter, Volkswagen has a range of customisation options available as accessories: from bike racks to sun blinds, scale models to scuff plates, there's a lot to explore.
And exploring the new is what the Tiguan is about. With 116 dealerships present across the country, 24×7 roadside assistance (free for four years, and extendable for up to 10 years), amazing service value packages, standard 4-year/100,000-km warranty under the 4EVER Care plans and extended warranty for up to 7 years, there's nothing that should hold you back.