The truth about speed is that we all have it in us in varying quantities. You might be oblivious to its existence or you could be spurred on by the mere mention of it, but the fact of the matter is that it's there and there's no escaping it. I tend to prefer people who are more open about it; the latter of the two mentions in the previous statement, if you will, which is where this story takes shape.
Volkswagen has, for the past few years now, been helping people move it along quite successfully. It started off with a championship that enabled people to bear all on racetracks across the country, and the drivers who'd enrolled all had one thing in common — the Polo Cup car. Based on VW's hatchback, but really nothing like it thanks to a strict diet, sticky contact patches and a sizeable bump in power, the Polo Cup was a huge success for the carmaker. Soon after, it moved on to the Vento Cup. Same formula, but a bigger car and more power, and once that was done with, it decided to go one level better; a tad more extreme, if you will.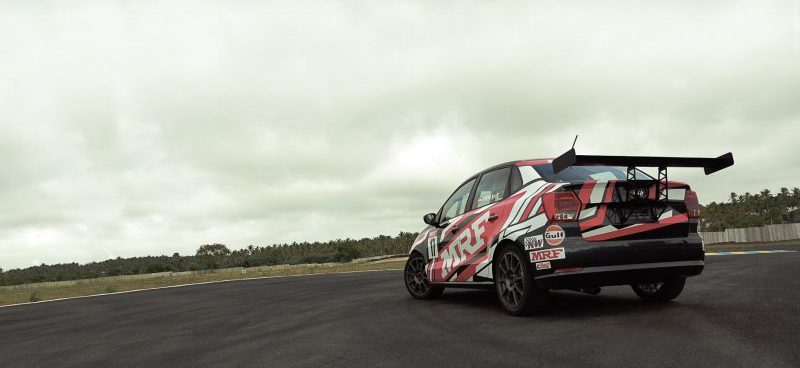 That brings us neatly to the car you see here with the enormous wing at the back. The Ameo Cup was born with the intention of giving drivers a bit more of a hard time along the course of a championship. Not that the Polos and Ventos that preceded it were a cinch to drive — far from it, actually — but VW's intention with the Ameo Cup is to ascertain the boys from the men who could bear a swing of the bat to their nether regions.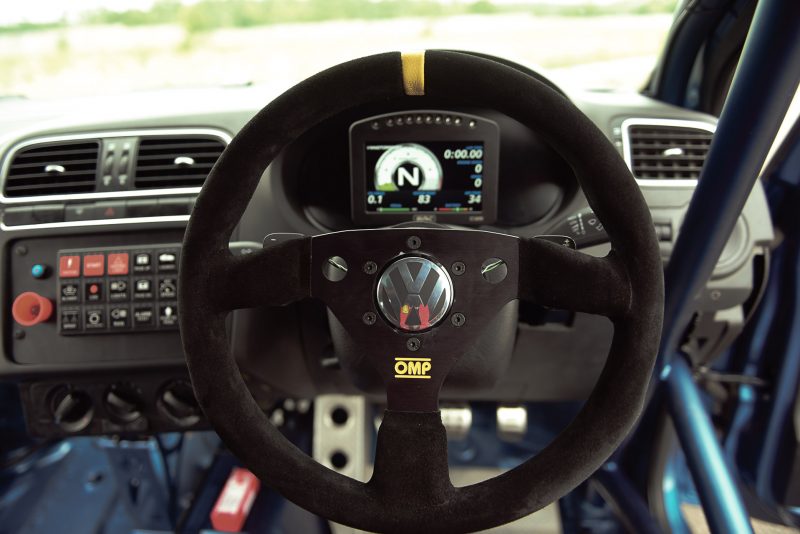 To that effect, this ridiculously aesthetic Ameo has been thoroughly hosed of its creature comforts. A single seat in the cabin is enclosed by anti-roll bars, the centre console is stripped to make way for an electric control pad that, among other things, houses buttons that are marked 'Push To Pass' and 'Launch'. An OMP steering sits right in front of you, behind which is a really smart-looking 5-inch LED display made by MoTec that houses all the critical bits of information like lap time, gear position, a rev counter, oil pressure, battery status, and tips on how to prey on the weakness of the driver in front of you (okay, not really, but worth a consideration for next season, right, VW?).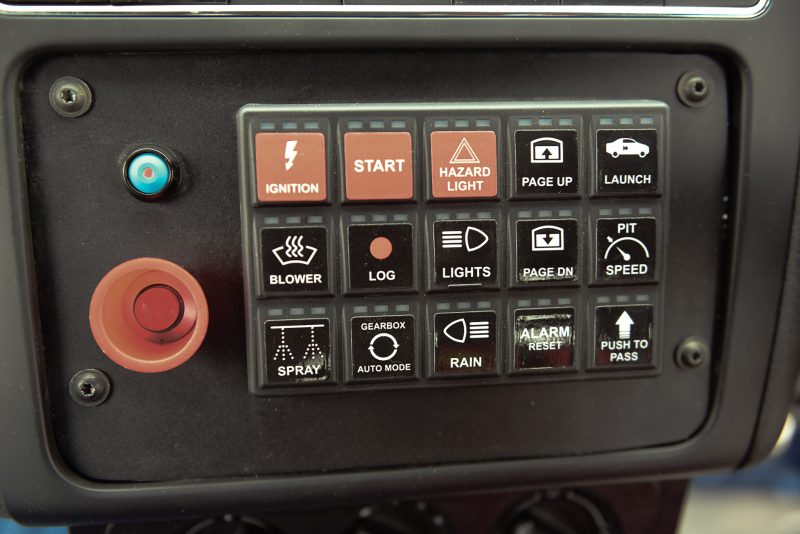 With that out of the way, the crucial bit of understanding from this little outing at the Kari Motor Speedway was that the Ameo Cup Car is one outstandingly quick piece of kit. The 1.8-litre TSI engine that's present in the GTI is what's in charge of propulsion, and it's been uprated to 202 bhp (!). Couple the fact that it weighs some 50 kg less than the Vento Cup car and that it now gets a brutal 6-speed sequential 'box, and you're looking at a car that's capable of lapping around 4-5 seconds, on average, faster than the outgoing Ventos. VW hasn't yet gotten a definite number for the lap time improvement as there's still some testing to go, but based on what I've experienced, the Ameo seems to be in a different league altogether. It's unfathomably astonishing.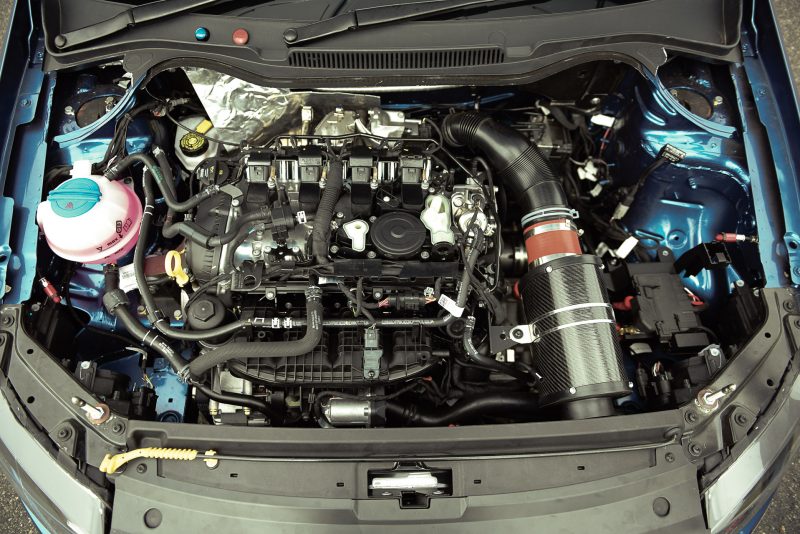 It takes all of a lap to drum up some heat into the MRFs, and while you're doing that it's best to stay within the car's limits because it's effortless to get it to lock up or send the car into an oversteering fit. Then on, though, once the tyres are warmed up, you can just hammer around relentlessly. For someone who isn't even the least bit as fit as he should be, I can guarantee you that you'd be giving up a lot sooner than the tyres. The sticky slick MRFs are absolutely fantastic. I did a run of 21 laps at what I thought was the limit, and there was not even a bit of drop-off. The VW guys mentioned that the tyres are slightly softer as compared to the ones on the Vento, and therefore the grip on offer immediately is a lot more. It's just that, where you'd expect it to trail off and start sliding around after a few laps, well, it doesn't. It just keeps on going. Should make for some incredible laptimes this season.
Another point worth mentioning is the gearbox. It's nothing like last season's Ventos. The shifts are way more brutal, somehow they're even quicker, and the paddle shifts are perfectly positioned. Although, if I had things my way, I'd have placed them on the steering column rather than on the steering boss itself. If you aren't particularly quick with your reflexes (like I'm not), it's nicer knowing that the paddles are where you'd left them instead of wondering which one shifts up and which shifts down mid-corner.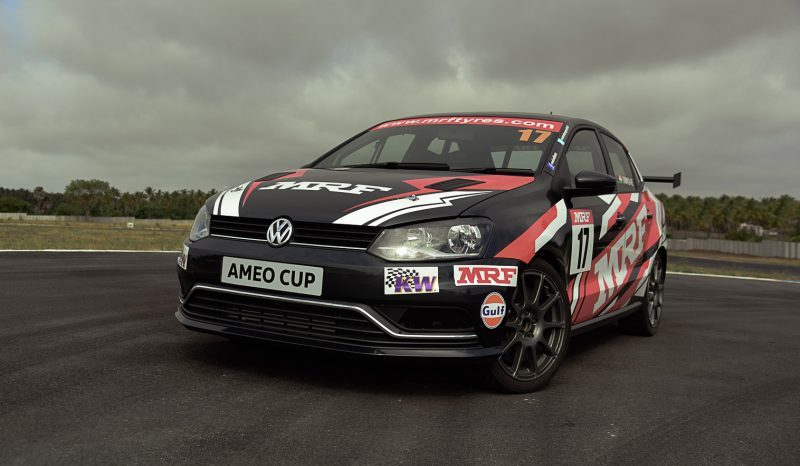 How quick is it? Plenty quick. Down the start-finish straight at Kari, we were managing to hit 160 kph before we had to brake for C1. Mind you, this is with having a third of the entire straight chopped off owing to repair work happening at the back of the track. Our instructor, Rayomand Banajee, figures 200+ kph is easily doable. Based on how quick it got to 160 kph, I believe the man. There's a lot more to the car that makes it tick, like the KW dampers, the Eibach springs, the extremely aggressive limited-slip differential (you can actually feel it working hard in the corners), and that beautiful wing that it's sprouted at the back.
My takeaways after driving the Ameo Cup are as follows: the thing is incredibly fast. It might not be the most forgiving car, and so the drivers will have to earn its respect before attempting to take control of it. This may not make it the most suitable car for beginners, but then that sets the stage up for the better drivers to shine, and that's the whole point of it, isn't it? One race at a time, Volkswagen Motorsport India is helping nurture talent that will make our country proud someday. Oh, and the other takeaway is that I need to hit the treadmill. With a vengeance.
PHOTOS Volkswagen Motorsport India