Photographs by Harshit Gupta;
More photos available in our detailed gallery here
Let me begin with a confession: I am not a fan of the Audi TT. It somehow always felt like a halfhearted attempt by Audi; mechanically it was more or less the Golf, seemed like an egotistical response to the Boxster/Cayman (when Porsche was a rival, not a VW family brand) and I had never met anyone who really loved the TT. Until one hazy morning in Greater Noida, when it all changed. The morning I drove Akshay Jain's TT.
Despite my lack of fondness for the TT, I realise that it filled up a vacuum when it was launched in 2009. One for an affordable, practical sportscar that didn't break the bank and offered a lot of potential for people who love mods. The first question I asked Askhay (this was before I drove the car) was why the TT? I mean, the man has an Audi A8 W12, an X5 M Sport and a modded Jetta so my question wasn't completely odd, I guess. His response was a simple, 'I wanted something I could tinker with.' and it did start making sense.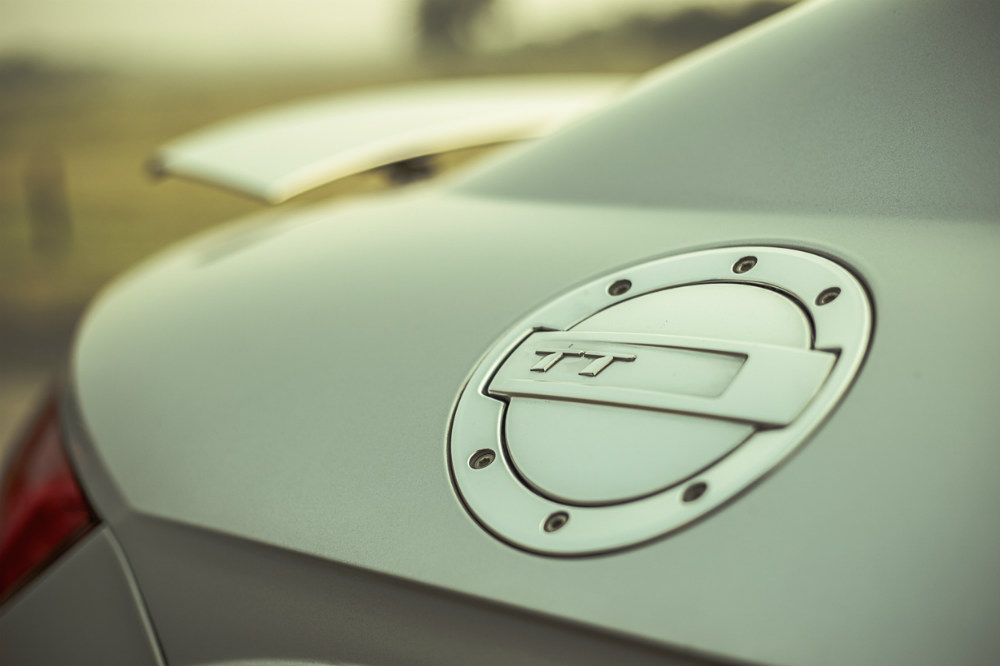 This is a 2015 TT, which means it came with a 2.0-litre four cylinder turbo petrol that made 227 bhp and 35 kgm. Not bad, I know, for a car this size and weight but these numbers aren't the reason why we featured this car in our Mod Special, right? Allow me to tell you what this tuned TT makes — 380 bhp and 50 kgm and before I could complete my 'Whoa!', Akshay tells me that it is currently running in a conservative state of tune and this could easily go up to 420 bhp and 55 kgm. Bloody hell, right?!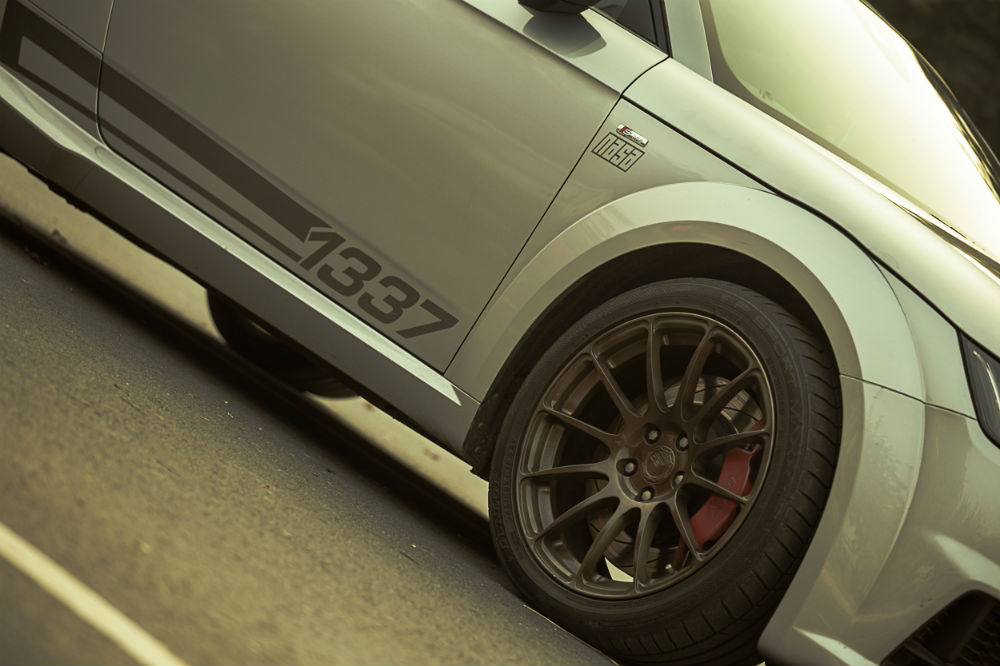 All this is thanks to 21 modifications (yeah, you read that right) on this car in a little over two years. You can read the box for the complete list, but for me the stars are the TTS IS38 Turbo (this is the only TT to have one in the whole world), the Shark Performance Custom Map (currently at 21psi boost, can go up to 26 psi), BC Forged 18×8.5 rims (which weigh only 8 kg), 360×32 mm six-piston brakes from a VWR Big brake kit and the absolutely bonkers ABT quad exhaust.
To drive, the car is as you expect it to be after knowing the above stats — completely bonkers and too much fun! The acceleration induces a gleeful shriek, which is thankfully drowned by the very loud exhaust. It takes you a while to recover and look at the speedo, which is over 200 kph by then. We were on a closed private road, so I could keep the pedal to the metal and I ran out of road before the TT ran out of breath. Akshay tells me his top speed at the BIC is 241 kph with a lap time of 2.28 minutes. After driving his car, I have no reason to doubt him.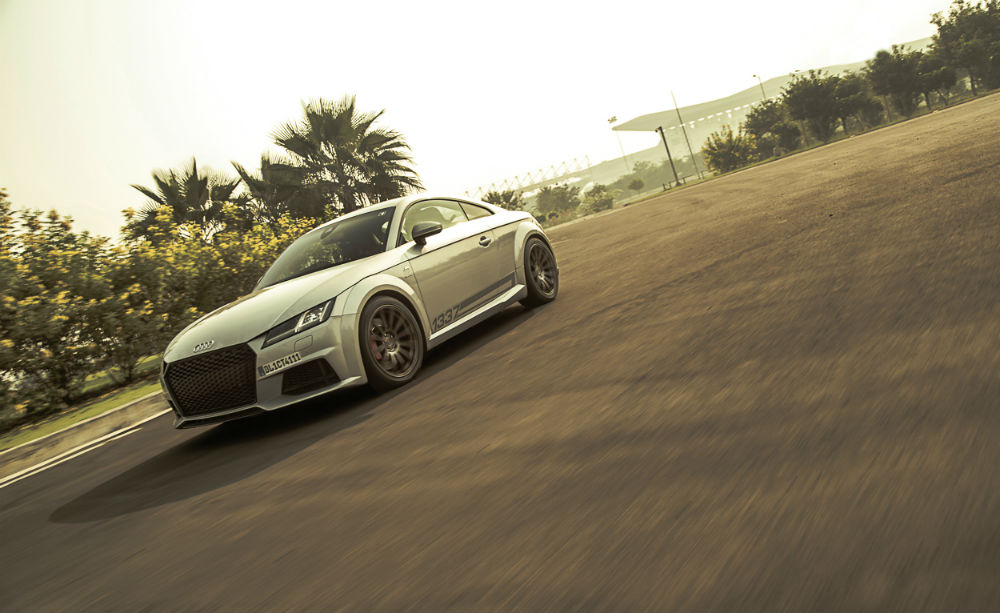 There are no changes to the suspension, not because there aren't options available but because it may hamper the practicality of the TT. We went over some bad bumps and never did the TT bottom out — a huge plus when you live in Delhi. The interiors are stock, too, except the TTS display which looks completely at home. The grille is from the TT RS and before you think it is just for show, even though it does look quite cool, it is purely for the faster cooling it provides.
Unlike most sportscar owners one meets, especially in Delhi, Akshay is more of a hands-on guy and does mods which only help improve the performance of the car. When the guys from Shark Performance were down from London, he sat with them till 3 am till they got the mapping right. He is also the founder member of NASA (Northern AutoSport Association) where like-minded people get together and discuss cars and mods. They try to organise a track day once a month at least and the group has already grown to 30-plus members. Sounds like a fun bunch, no?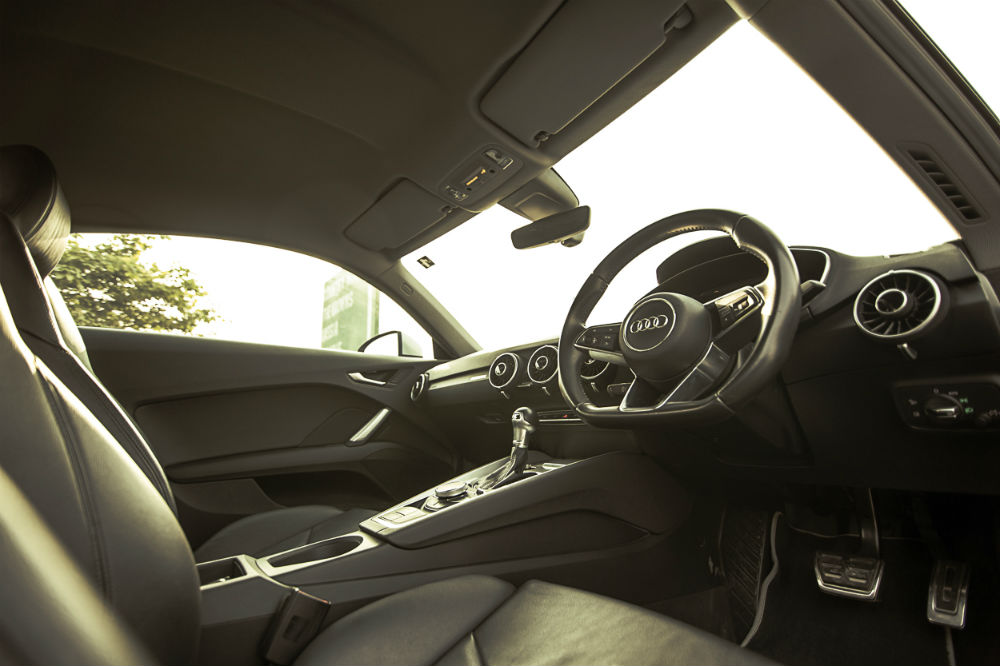 Akshay is blessed with a car-loving father, who insists he should only get 2-door sportscars and the next purchase could be something even more mind blowing. When I ask him what more he wants to do with the TT, he says he would love to put in the TT RS' 2.5 litre 5-cylinder engine and then, yes you got that right, mod it.
There are very few times when I am happy to be proven wrong. This is one of those times. The breadth the TT offers to people who want to tune it and have fun is tremendous. It may not fit well in the well-defined segments that marketers create, but I think it sits pretty high in the segment dominated by tuners. As Akshay Jain proves, the TT is an absolute Tuner's Toy.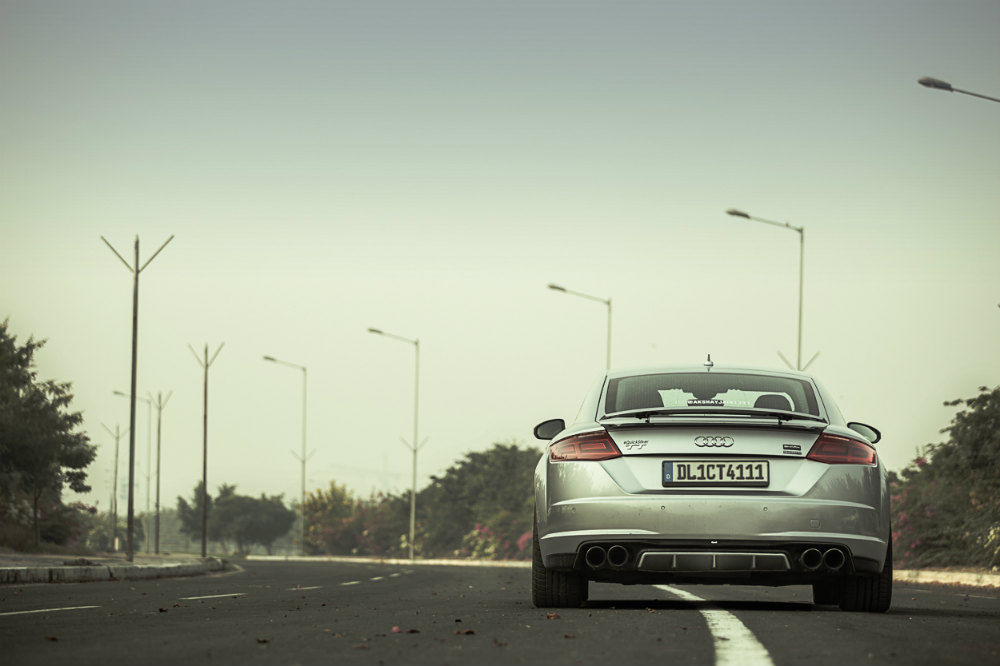 • TTS IS38 Turbo upgrade (upto 420 bhp and 55 kgm)
• Milltek decat downpipe
• ABT quad exhaust
• ABT diffuser
• Shark performance custom map (21 psi)
• Audi RS7 Spark plugs (HR8)
• Wagner tuning intercooler
• GoFastBits Diverter valve
• Spulen boost pipes
• VWR Big brake kit (360x32mm 6 piston)
• VWR Braided brake lines
• Brembo brake fluid
• Audi TTS Instrument cluster
• BC Forged 18×8.5j rims, weighing 8kgs only
• ECS Tuning Turbo blanket
• Spulen throttle body pipes
• Spulen turbo Muffler delete
• CTS turbo inlet pipe
• VW Racing Catch can kit
• 034 Motorsport Dogbone Insert
• EBC YellowStuff brake pads (Rear)