Looking for something larger than life? This way, please. Consider this a diary entry of sorts. It's our fourth (and last) day at The Bangala, and as I try to squeeze in my feelings into this six-page story, I'm reminded that it might take a few more words than I expected. It's a bit like making a sharp u-turn with the confidence of a straight-out-of-college bombshell, and failing miserably at it because your car's turning radius is wider than you thought. Ours (the Hyundai Tucson) handles fairly well but you get the point, don't you?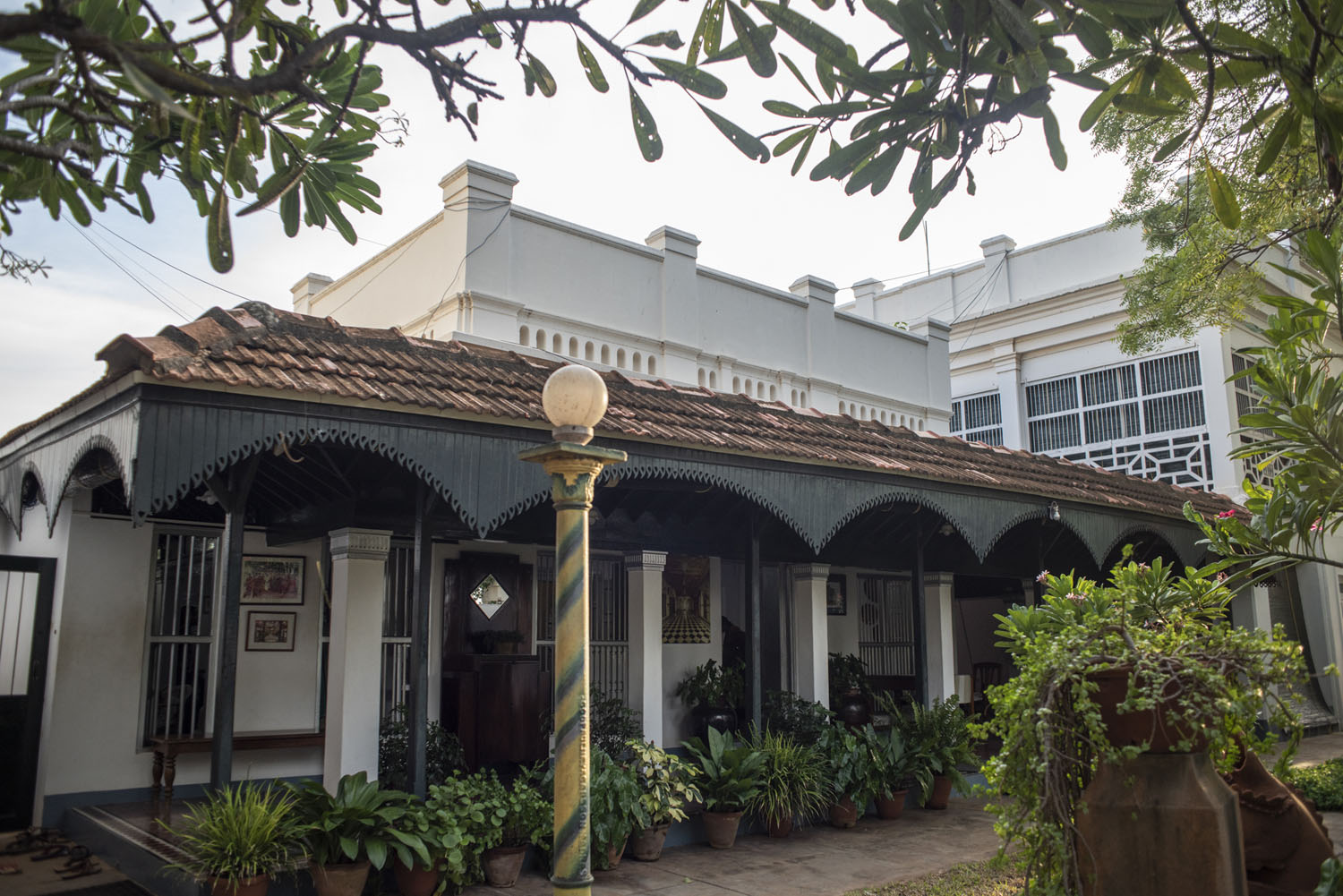 Just to give you a little context, allow me to talk a bit about The Bangala. Set up by Ms Meenakshi Meyyappan, the heritage boutique hotel is based in Chettinad, specialises in the cuisine of the area, and most importantly, offers a window into the lifestyle unique to this part of the world. What was once a gentleman's club has now become one of the most sought-after hotel properties in the area. It all started when Ms Meyyappan decided to not let her family property follow the same path as a lot of palatial homes have in the area. And that's how the property, which earlier stood with only two buildings (one made in 1916 and the other in the 30s), has turned into a full-fledged hotel. It now also serves as the custodian of Chettinad culture, effectively making new fans both young and old.
Land of the Chettiyars — an affluent community in Tamil Nadu — Chettinad is home to larger-than-life houses and flavourful dishes. There are said to be thousands of these mansions in the whole area, but only a few have seen worse days. The ones which are now renovated can give you a bit of a neck exercise. The carvings at the house entrance only give a glimpse of what to expect. As you take the first step inside, you're likely to see pillars made of Burmese teak, and a never-ending passage which crosses courtyards and eventually leads to the door on the consecutive street. Courtyard houses might be back in fashion in 2018, but if one has to derive inspiration, the mansions are right on top of the list.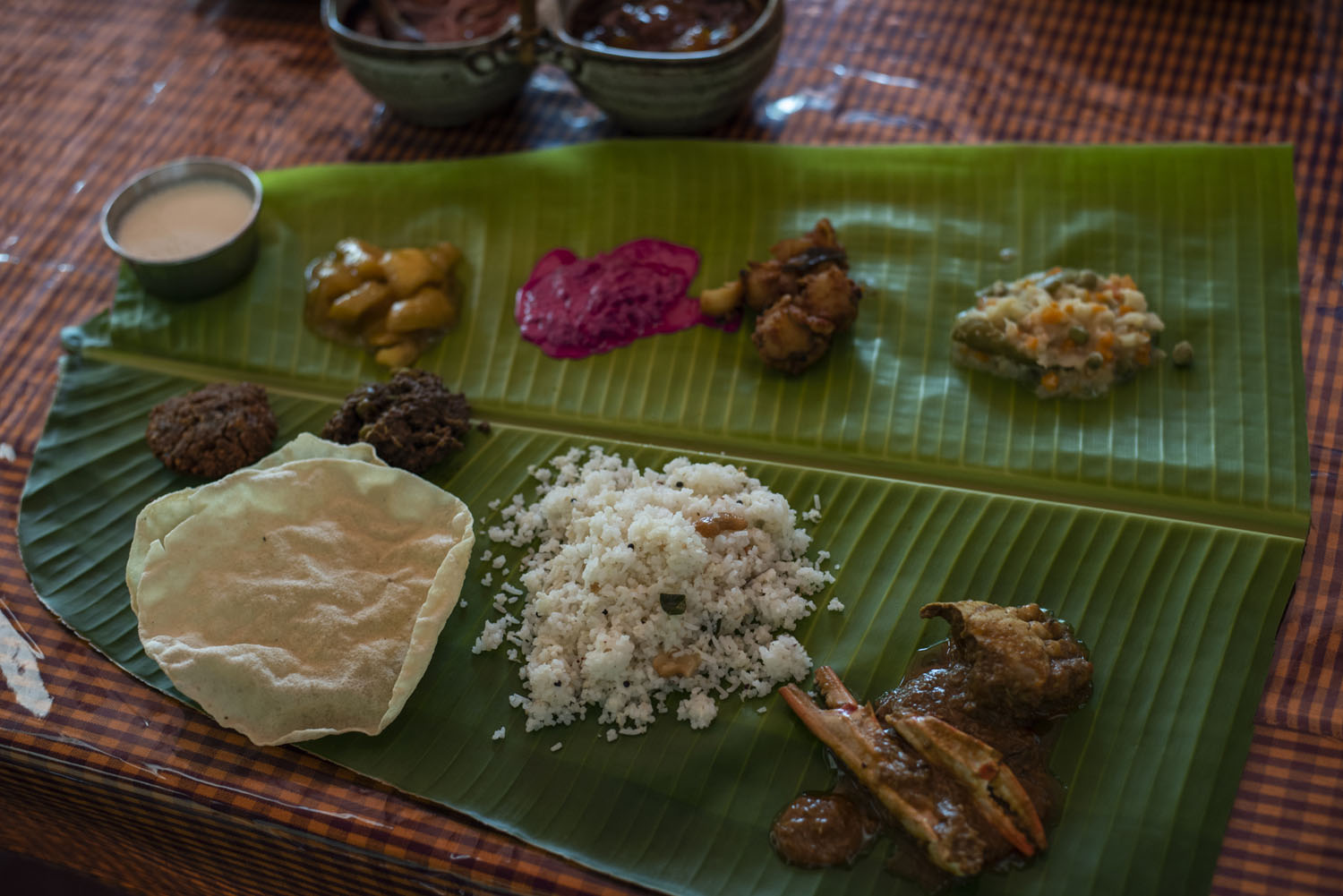 The food is no different when it comes to setting examples. With a strong character (in terms of taste, aroma, and appearance), it makes you come back for more. The Bangala's food menu is decided after a discussion between the head chef and Ms Meyappan on a daily basis. That ensures that irrespective of how long you stay, you find something new everyday. From the paniyarams (think idlis but rounder, ball-like) in the breakfast, mutton curry, pepper chicken, to the multiple variety of halwas as dessert, there's enough to like. Thankfully tantalising your taste buds isn't on the agenda, so let's keep the list short.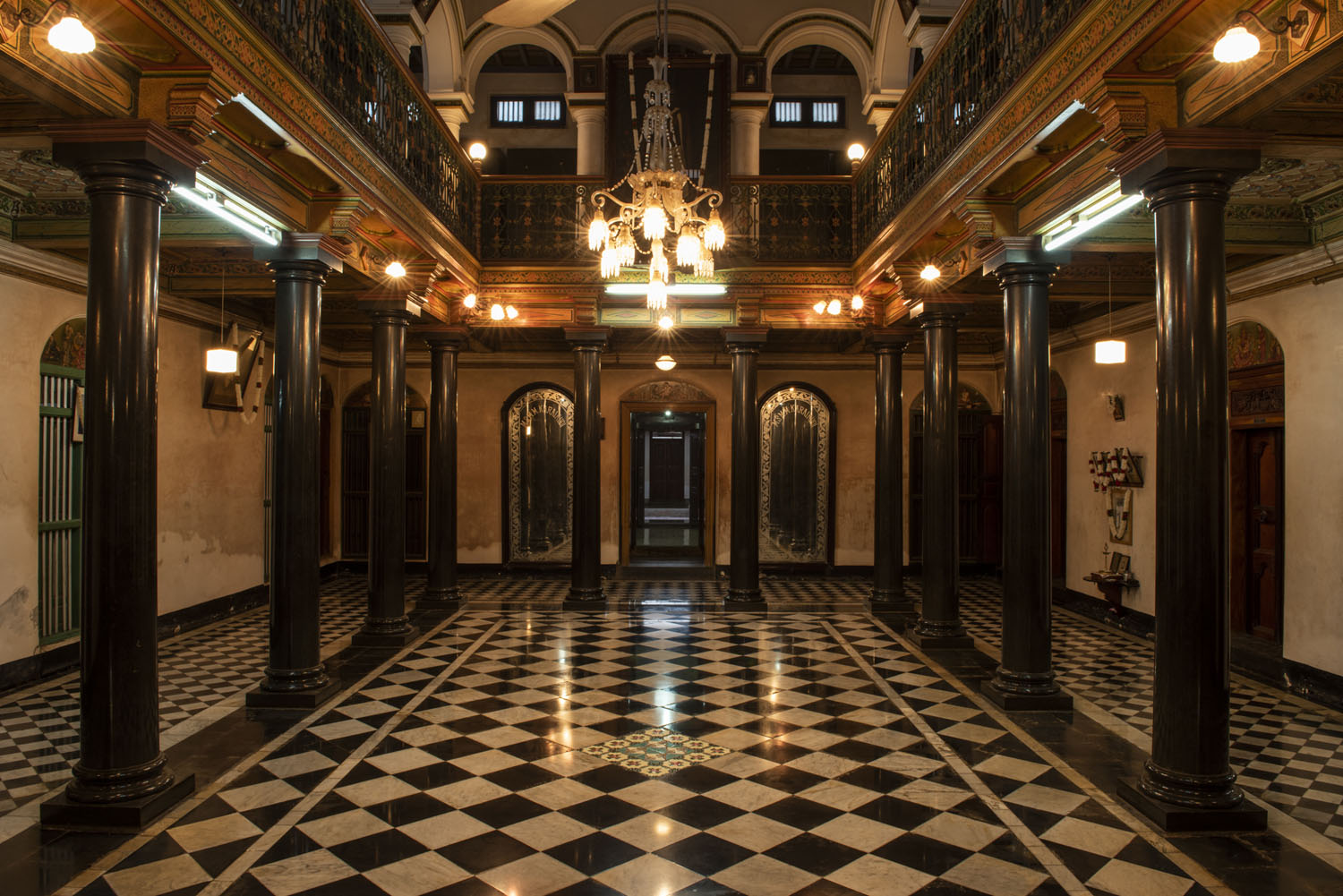 Chettiyars worked in places as far as Singapore, Burma, and Malaysia, mostly as traders, and these mansions were their redemption. So there's an unmistakeable grandeur and display of wealth through distinct features. Apart from the aforementioned wall and door carvings, you would find silver-coloured doors, beautifully designed floors (either made using the local Athangudi tiles or Italian marble), everyday crockery imported from various parts of the world (like England), chandeliers which can arrest you through their intricate design, and painted ceilings with more artwork on the walls.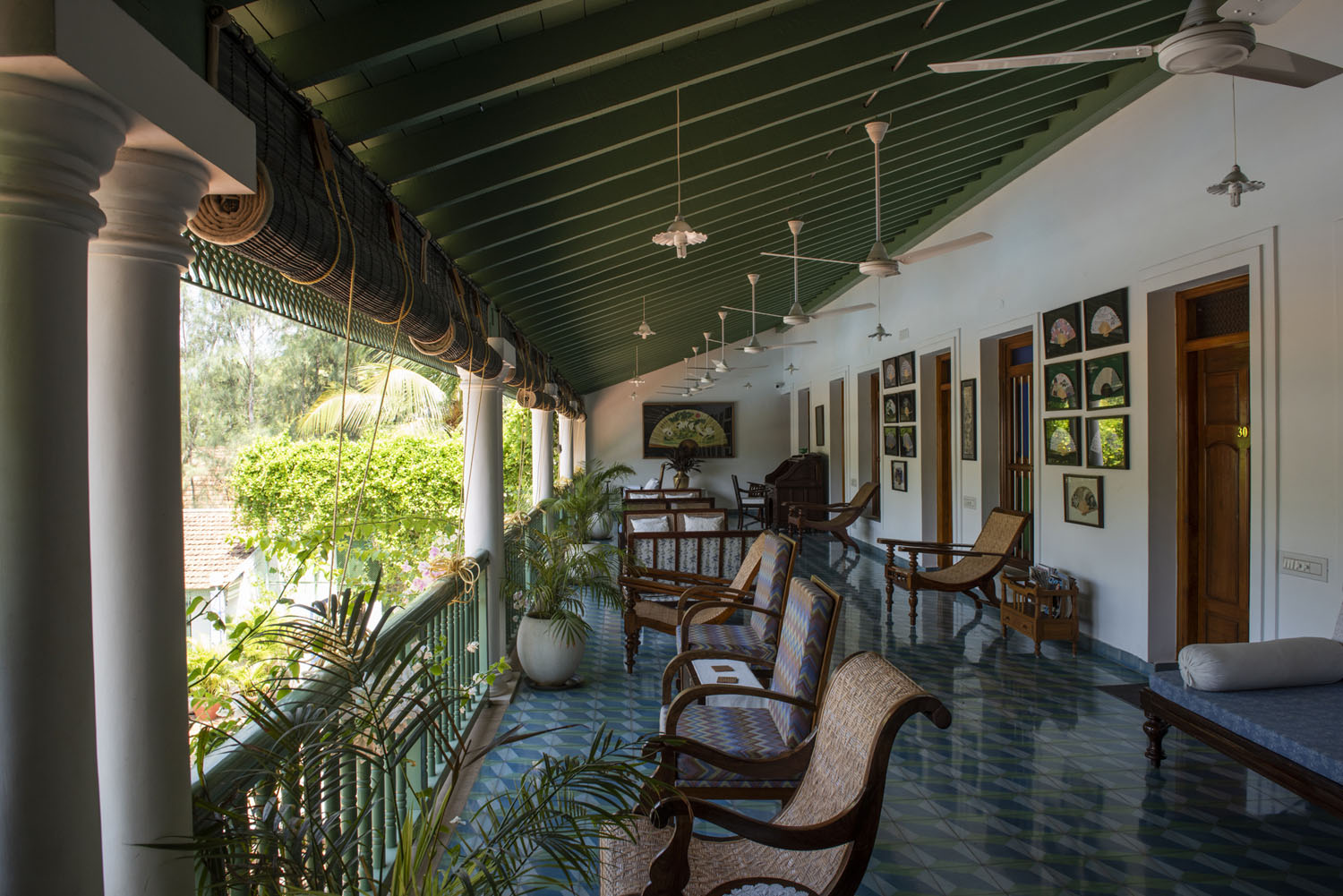 The use of tall ceilings and paint mixed with egg white has ensured that the houses remain cool. And while the room plan might have changed depending on the era the house was built in, the basic structure remains unchanged. The mansions aren't too tall, with most being confined to two floors only. It's the width that encompasses it all. And there's quite a lot to hold.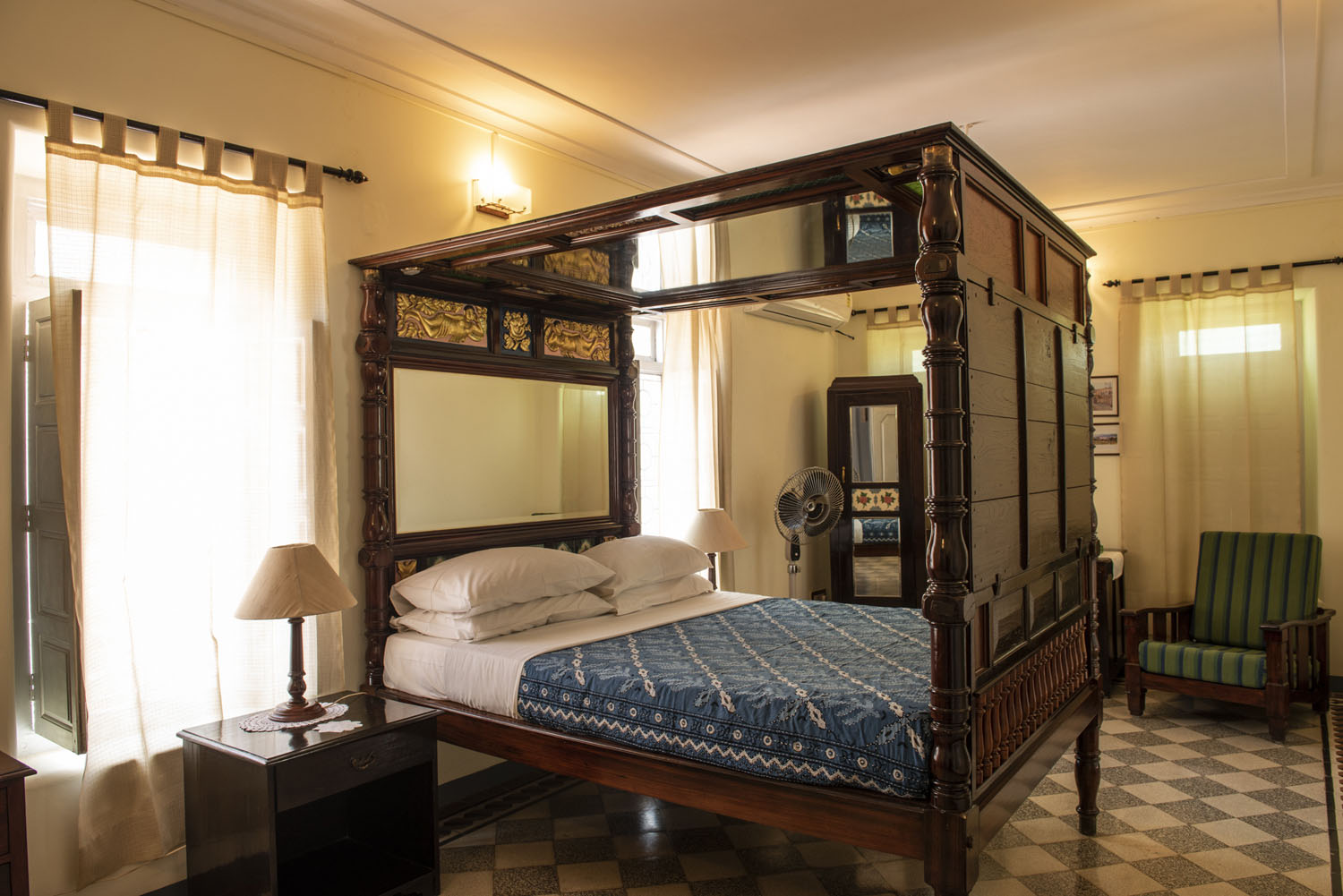 As our window to this wonderful world, The Bangala isn't too different, either. It has the warmth of being run by people who consider it theirs. Which you don't find in most hotels. And then again you don't find places as special as Chettinad elsewhere, either. If you're planning a visit, keep in mind that November – March stays busy, thanks in part to a cooler weather. We won't mind making another trip, either.
Wheels of choice
With a good 1500 km right in front of us, we couldn't have chosen a better vehicle than the Hyundai Tucson. It not only justifies its position at the top of the company's line up, it also proves to be a great alternative to the existing vehicles in its proximity.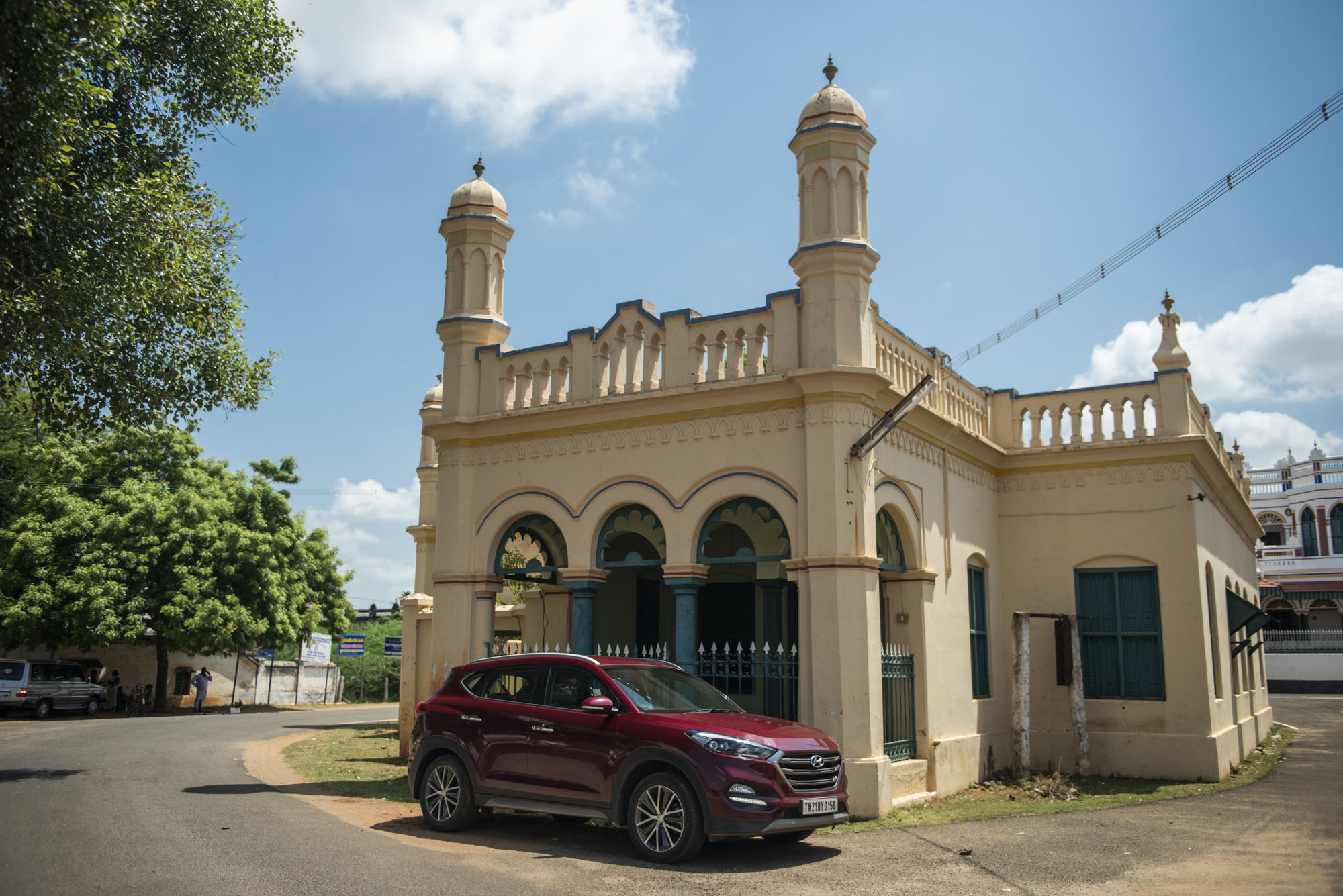 The profile might be the most overlooked view when looking at a new car, but this is where the Hyundai Tucson excels. It's dynamic even while sat in a parking lot; it's well proportioned; and it surprisingly doesn't look dwarfed either next to one of the grandest mansions in Chettinad.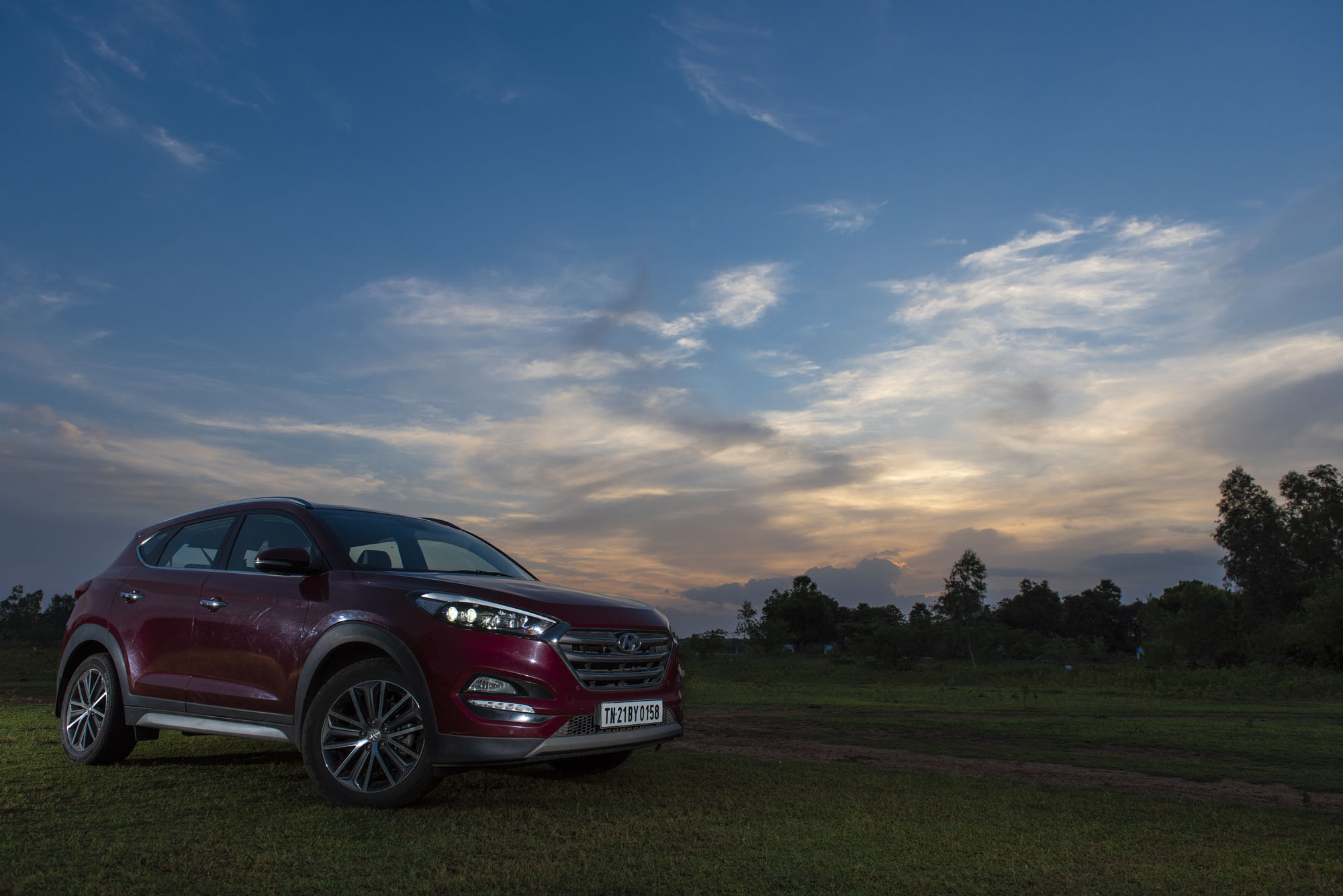 Although the Hyundai cars that were launched after the Tucson have become sharper when it comes to styling, the Hyundai Tucson still looks ridiculously nice. Its dual barrel LED headlamps add to the look, while making driving at night easier and safer. On appearance alone, the rear gets our appreciation, too. It's hard to find inoffensive designs that aren't boring, and the Hyundai Tucson's manages to fit right in. The icing on this cake is of course are the hot 18-inch alloys.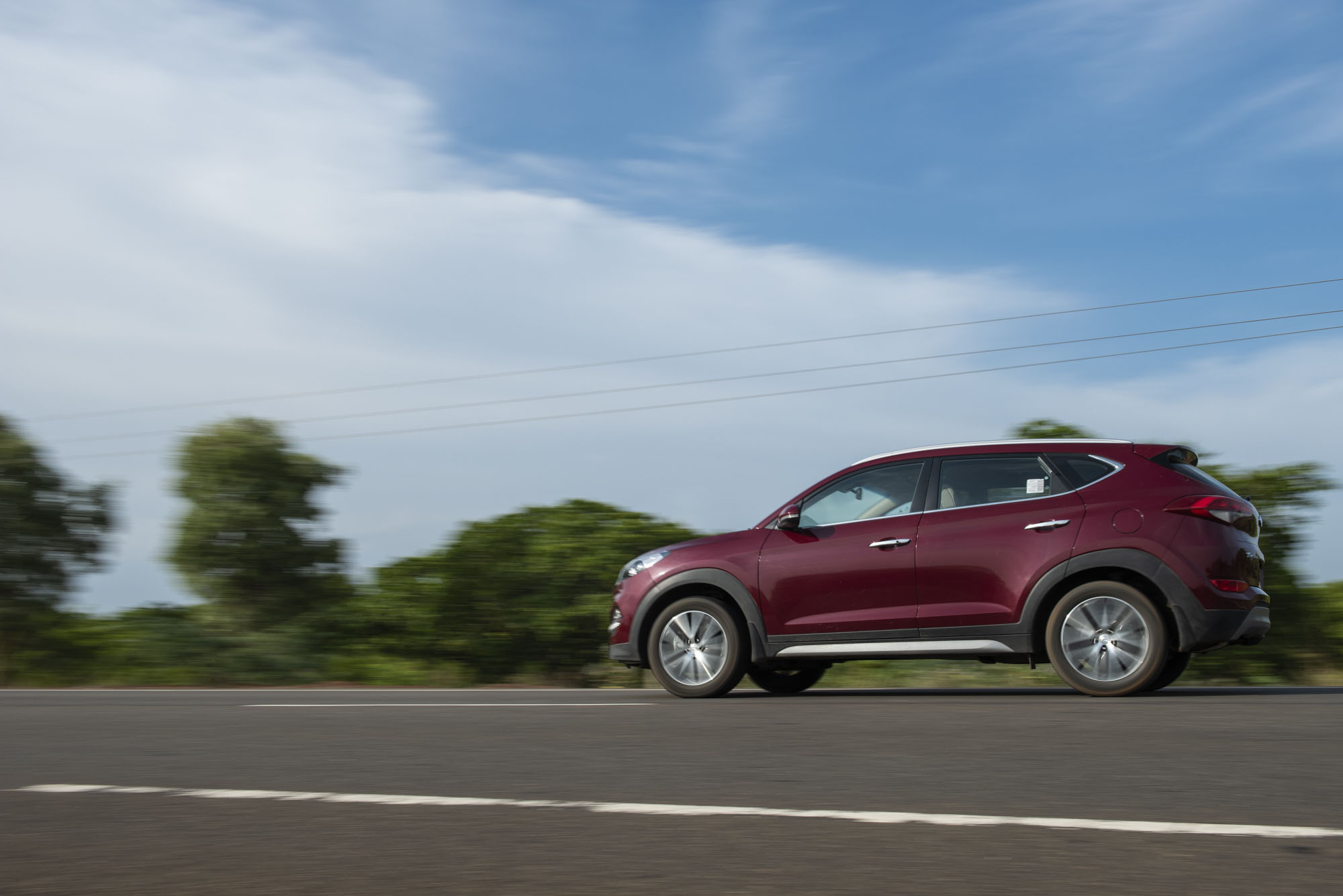 The cabin seats five in comfort, and is one of the most nicely executed ones out there. The quality of materials complements the features that make covering long distances easier. The large MID, the Apple-CarPlay-ready infotainment system, dual-zone climate control, and supportive seats are a few of those. The power-operated tail gate has been a boon on this trip mainly because our hands were always full with either camera gear or luggage. And the Tucson never failed to register that we were standing next to the boot, silently asking it to open.
And the Hyundai Tucson's long-distance abilities are complemented by its 2-litre diesel engine that makes 182 bhp and 40.8 kgm. The latter gives it quite the getaway impetus one would require to leave the traffic behind. The six-speed AT gearbox keeps it smooth, but if you're in a hurry, it doesn't let you down, either. The all-disc braking setup is reassuring, and so is the safety net of ESP and TC.
But if we were to choose one thing on 'our' Wine Red example that makes the Tucson such a good car, then that would be its innate ability to work well despite the road conditions and the type of driver behind the wheel. Larger than life? You bet!
Don't miss in Chettinad:
Athangudi tiles
If you're the creative type and want to make your own tiles — or maybe just one — you can visit Athangudi's famous tile factories and do so. The hard-working craftsmen make about 200 tiles a day, but the way they make each tile is unobtrusively theatrical.
Antiques Street
Memorabilia from Chettinad? This is the best place to find that. Choose from meticulously designed showpieces to relatively widely available old crockery. There's even a shop that sells tin toys. And while one needs to bargain a fair bit, if you're a collector you wouldn't mind spending a day here.