It's not an easy task for any carmaker to convince new buyers about features without it sounding like marketing malarkey. There has to be a way around this. Something that lets prospective customers understand it all without brochures being read to them endlessly. Something that qualifies as an experience. Or if the new nomenclature is to be believed, a tour. This one's called Land Rover The Above & Beyond Tour. And it aims at letting fans and customers experience the innate abilities of Land Rovers. I got to attend the recent Aamby Valley edition, and came back with truckloads of thoughts. Here's the memoir:
Okay, sorry for breaking the flow of things here. But allow me to first introduce the hugely capable Land Rover Discovery Sport that I drove through the pre-decided (not by me, of course) trail. It's the successor to the Freelander 2, and now sits as a prominent member of the Discovery family. With the Land Rover range divided into three sub categories — Defender, Discovery, and Range Rover — the Discovery offers a mix of both luxury and a utilitarian approach. Also, apart from the hugely useable Terrain Response System, Land Rover also takes pride in features like Hill Descent Control and All Terrain Progress Control. Both add a layer of autonomy — for brakes and acceleration — allowing for a more precise approach off the road. Since the Freelander was the first vehicle to be bestowed with Hill Descent Control, choosing the Discovery Sport made all the sense.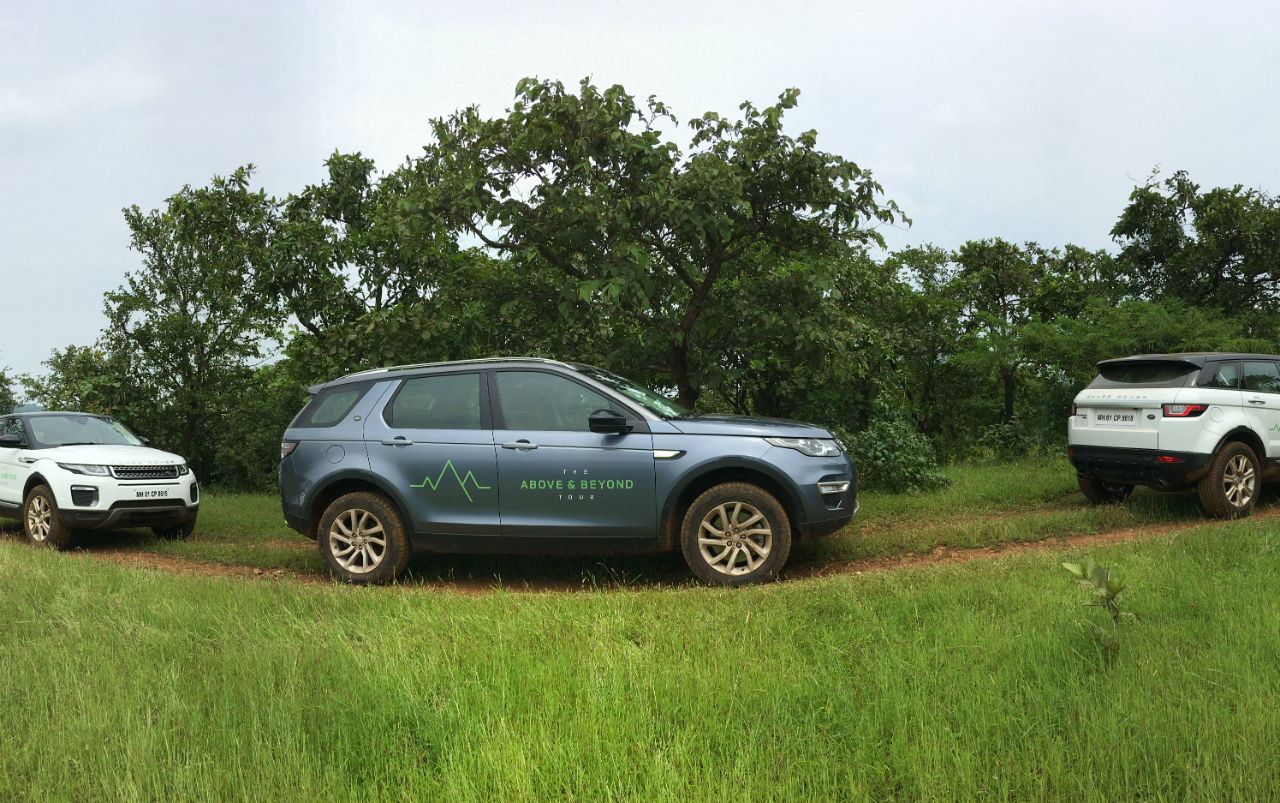 Anyway, back to my account of what was earlier called the Land Rover Experience. The total drive time at the Aamby Valley trail is close to an hour. And I'm told that it's one of the best routes to test the limits of you and… — well, actually just yours. As always it starts with a briefing by Cougar Motorsport, which has impeccably run the tour with Land Rover India for half a decade. The safety talk is further continued as one gets into the vehicle of choice along with an instructor from Cougar. Takeaways include figuring out the correct driving position, keeping thumbs always on the wheel rim and not folded inside, and letting the steering slip while turning. So instead of holding on to it, one needs to make small steering movements but while maintaining the '10 and 2' position of the hands.
The rough stuff begins as soon as you take the first stride, but it's all a taster of things to come. First things first, the correct mode is selected on the Terrain Response System, the minimum speed is selected on the Hill Descent Control, and off you go. With an active driver aid working your brakes for you, it becomes a tad easier to manoeuvre the Discovery Sport around obstacles small and large. And if you aren't new to the idea of the car braking itself without any human intervention, it soon becomes your second nature. And while the foot twitches a little to break free from the muscular shackles and hit the brakes, I can confirm that it's better to take the proverbial leap of faith — and let the system do its job.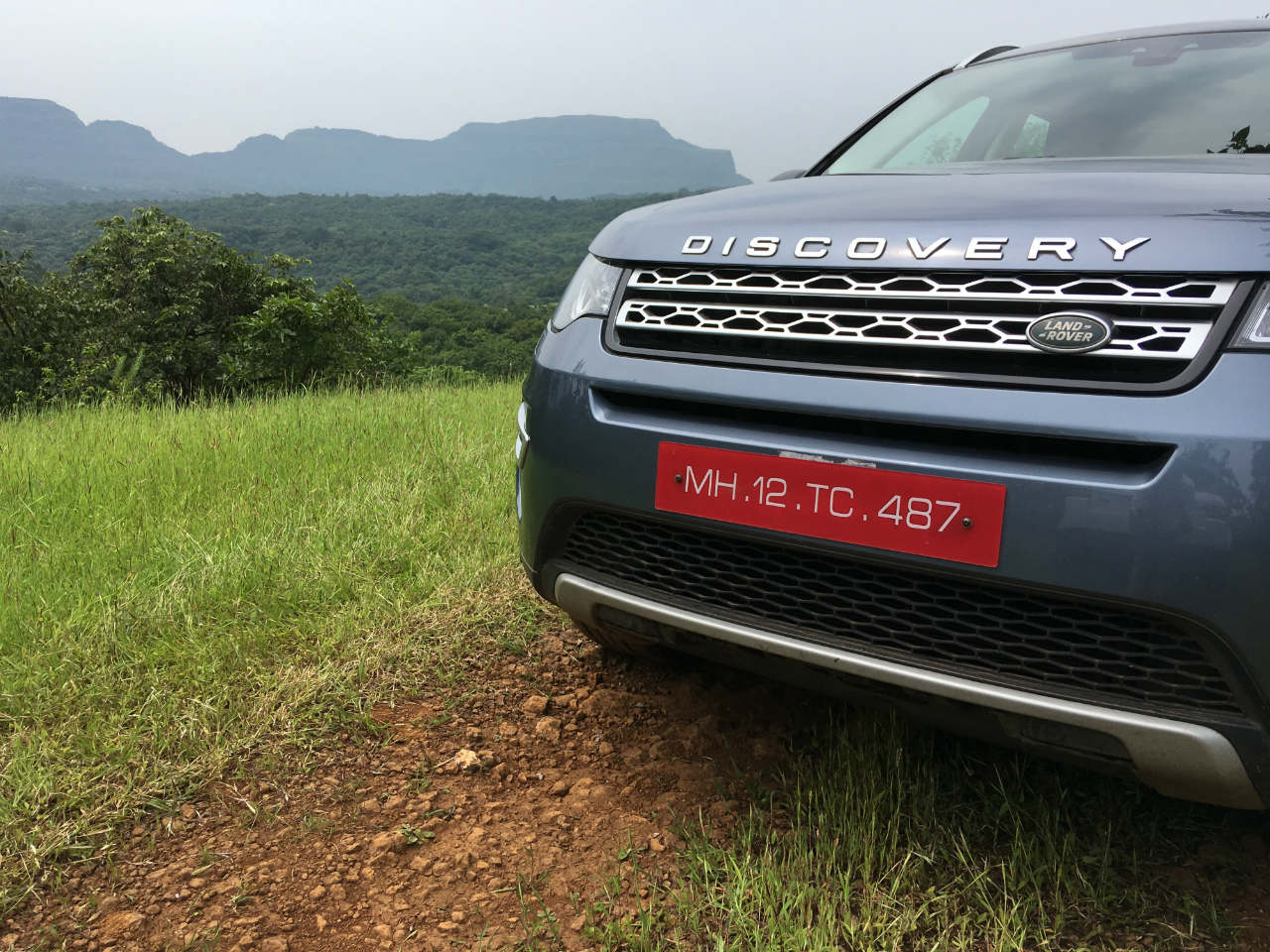 But that doesn't mean it's a cakewalk, either. There are times when you have to slow down further than the system's capacity. This is where you tread the fine line between losing momentum and going all guns blazing. It's also where you're reminded of the off-road philosophy: as slow as possible, as fast as necessary. As you move to the next set of challenges, it's imperative that the correct programme is selected on the Terrain Response System. We used Mud and Ruts, and Grass/Gravel/Snow. Also worth keeping in mind is that the onboard Wheel Direction Indicator has to be switched on always. It gives you a clear indication of where the front wheels are pointing, and that can potentially save you while tackling ruts and rocks.
Apart from showing how the Land Rover handles bad terrain easily, experiences like this one also help in pointing out how much a difference pressing buttons on the Terrain Response System creates. Most notable was when switched to Grass/Gravel/Snow, the throttle response would become a bit lethargic in order to reduce slippage. The Hill Descent Control also made the brakes a touch less aggressive as well.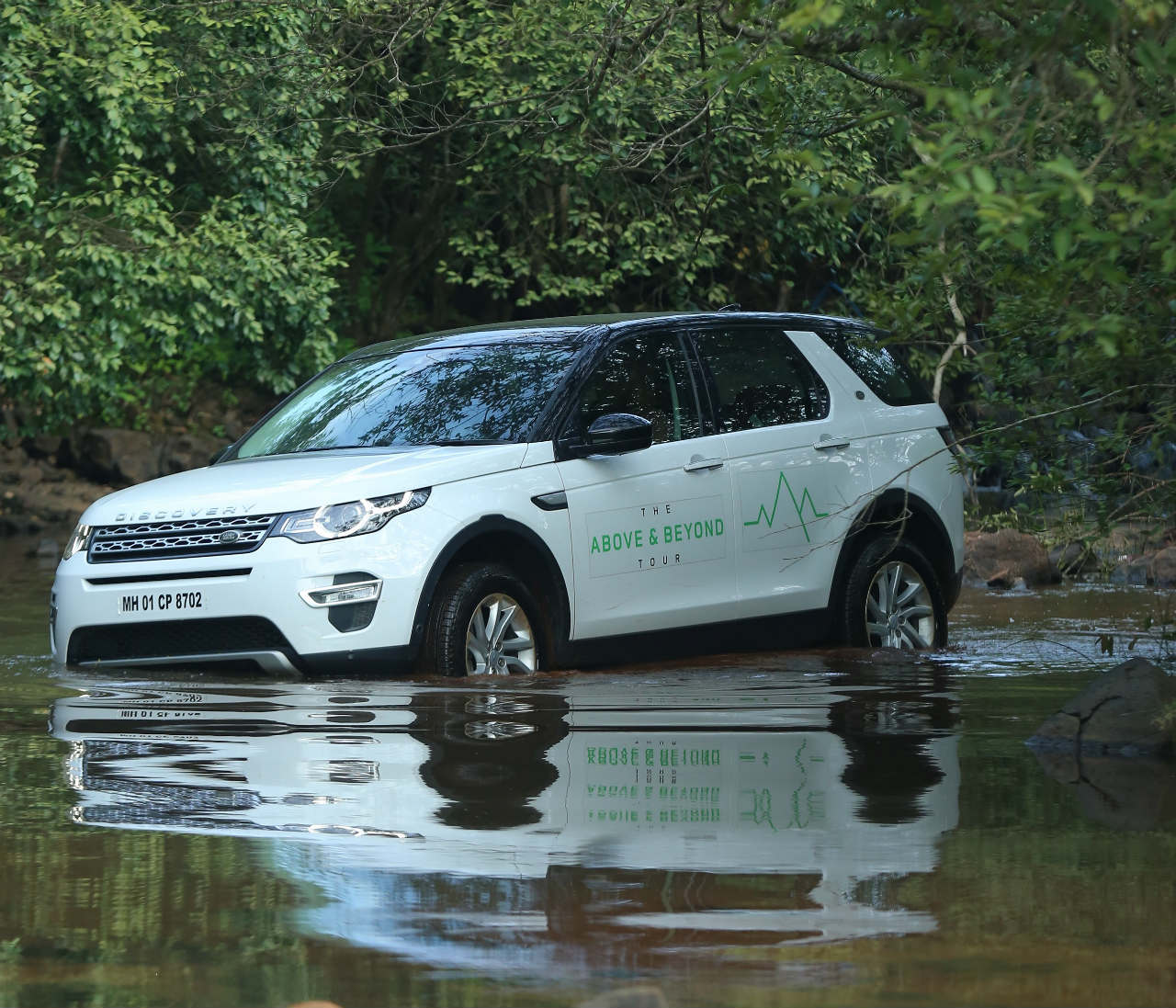 And what happens when you take control instead, you must wonder. It's a great feeling, to start with. Regaining controls — and getting it right, more importantly — is a reward that goes beyond words and social media posts. One of the sections on this trail was about water crossing. It wasn't like anything that the Camel Trophy guys had to endure, but putting a vehicle that costs more than half a crore in water sounds a bit daft at first. (Okay, I was scared.) The approach to that section is a fairly tricky one, and you have to manually — and carefully — apply throttle and brakes. With a slightly bent tree on one side and a broken rock on the other, it can be a bit of a task. But soon do you realise that despite being advanced and hugely capable regardless of the skills and talents of the driver, the Discovery Sport has its basics in place. It listens to your inputs almost intuitively, and does exactly what it's asked to do. Do you want me to enter water without making a mess on the bonnet? Quite right, sir, there you go.
As you climb out of water and tackle a sideways incline, the instructor goes on about this four-letter acronym. It's called ATPC. And no matter how hard the geek in you tries to make you believe, it's certainly not a type of a personal computer. But a computer it is. Because it can handle both acceleration and brakes, and effectively make you look like a hero who's doing everything off the road. Whereas in reality, it's the All-Terrain Progress Control working wonders. The system when put to use can not just drive up inclines, it can also correctly modulate torque delivery. In a way that difficult situations like sharp turns, change in ascends, and even loose surface, cue the music, one CAN'T TOUCH THIS. 
Towards the latter part of the trail —almost like a warm-down lap — as I took full control of the vehicle, I couldn't help but gush about the intelligent traction control. While Hill Descent Control and the wonderful ATPC are both amazing, things like a good traction control can't go amiss. And what gets overlooked the most is the vehicle's dimensions. A good approach angle, departure angle, ramp angle, and water-wading capacity can never be credited enough, either.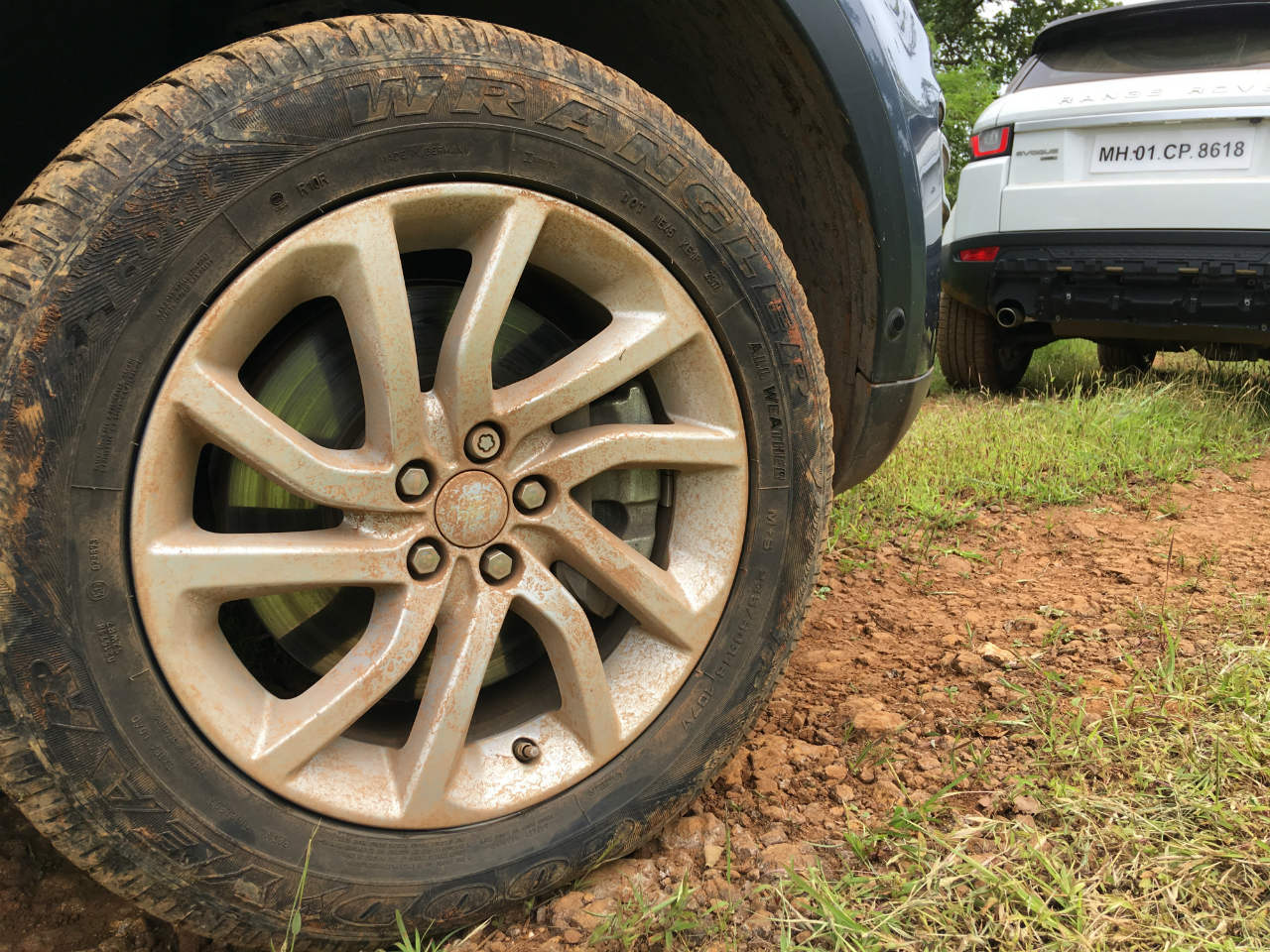 The only thing I took some time to learn was maintaining constant throttle. Because in an off-road-orientated vehicle, you would feather the throttle — and at times lift off. But when you have an active system like the Discovery Sport's, there's no need to lift off. Maintaining constant throttle is necessary, the rest can be done by the system. Once I realised that, the wide expanse of abilities that my vehicle for the day had on offer became more enjoyable.
Does any of it come as a surprise? No — a resounding no! That Land Rover makes some of the best vehicles is one thing. But the way these SUVs utilise their off-roading capabilities is possibly the standout feature. For someone who's been doing this day in and out for 70 years, it's hardly a surprise.
Now where's my Camel Trophy?
Photos by Land Rover