When one talks about memories, what Lee Radziwill famously said keeps coming to mind, 'I believe that without memories there is no life and that our memories should be of happy times.' Beautiful, isn't it? Now, for our kind, great happy memories occur at the intersections of time where a right moment almost invariably meets us on a drive.
As I write this, I see a new piece of memory, joyous merriment getting etched in my mind. A bunch of younglings (well, they are in their early 20's), are playing music, singing some fine tunes, and are setting a beautiful ambience on this random bench in a random park. The sun is ending its today's shift which it lazily worked through anyways, sitting idly behind a thick cloud cover for most of the day. I have seen these kids growing up and has been some time since they have looked this gleefully jubilant, especially since the pandemic began and most of them were confined to their homes.
Now, with the vaccination drive finding its way ahead (sort of), getting these kids fully vaccinated was done on priority. Thus, when the opportunity arrived, I wanted to take these little mess makers for a drive. A fiery red Hyundai Grand i10 NIOS that was parked in front of my place had just arrived, all shining brightly while the Turbo badge clearly stated this hatch wouldn't like being parked for long. Off we go then!
The first thing you notice about the NIOS is how well proportioned it is for a hatchback. From the front, it does look pretty sporty especially with the tastefully placed boomerang-shaped LED DRL's, that lend the front end a pointed and purposeful stance. The wide silver surround radiator grille lends a perfect contrast to this red shade. The well-crafted headlights, that big bold Hyundai logo just above the grille and below the bonnet line completes the happy, fun, and rather beautiful front end. At the rear, I particularly like the taillight design, while the big bold NIOS logo at the centre is up to the reader's choice to appreciate, or not. Overall, a good-looking car, this.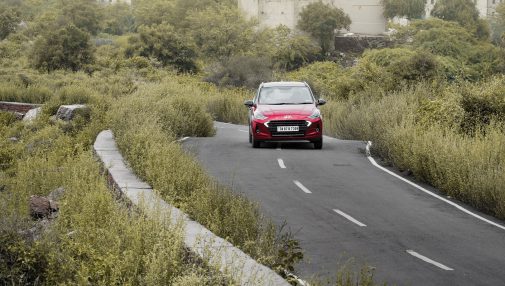 But what I was curious about was to know how well this turbo petrol unit fairs on the NIOS. On paper, this 1.0-litre Turbo GDi petrol unit mated to a 5-Speed manual gearbox with an output of 97.2 bhp at 6000rpm and 17.5 kgm at 1500-4000rpm makes for a recipe for an enjoyable drive. A short drive to the famous Amrik Sukhdev Dhaba was planned and the cocooned humans were picked up early in the morning.
Leaving early means you get to enjoy Delhi's roads without much traffic and the pace through the city is brisk. However, the rather disappointingly slow speed limits of 50 kph for the most part and traffic cameras staring right onto your greying hair do dampens the fun a bit. But, an overnight intense spell of rain had left everything all washed and clean, the city looking as if it was getting ready for its first day at a new school. Leaving the city, the highway was also mostly empty barring a few spots where service lanes have taken up the mantle of the national highway while the main highway lends its support to something much more important.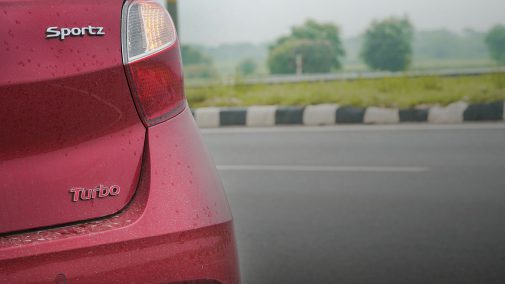 Once we hit the open highway, the absolute beauty of the Indian monsoon was on display, a slight drizzle continued for long stretches while the farms and their crops danced with the winds. Massive clusters of birds flew from one farm to another while an insane number of peacocks were putting on a show. Majestic!
Inside the car, the Apple CarPlay kept the music flowing through a pretty good music system. The all-black interior with red accents for the AC vents lends the NIOS a sporty air. That said, you got to love those big round vents, especially when they throw a strong gust of chilled dry air on you as you enter the cabin after another one of those 'insta stories' stops. The seats are comfortable, and the rear seat comfort is surprisingly good for a car of this segment too. The plastic across the car feels sturdy to touch and overall, the NIOS does seem to be a well-built car. The 260-litre boot space of the NIOS is also well suited for a weekend getaway with your family.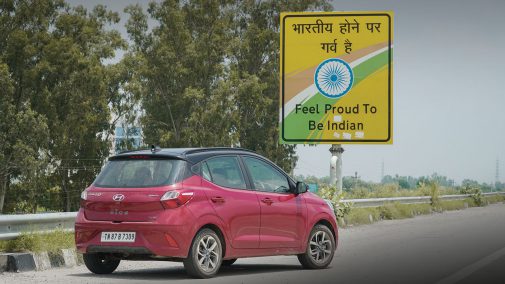 By the time we reached the dhabha, we looked like hungry zombies, which must have been the reason why our servings of all those aaloo parantha's and tea came in so fast and the servers looked at us with bemusement. And what to say about the flavour, pure proper delight. By the time we were finished gobbling up every edible thing in front of us, we were all just too heavy and full to hop to the other side of the highway into the adventure park and do any physical work.
Instead, we decided to drive back through a slightly different route and visit the Digital Art Gallery on the KGP Expressway in Sonepat. The toll plaza where it is located offered a great backdrop under the vast sky and at the centre of this wide highway, with its tower rising sky high. A must-visit place, if you are in the area.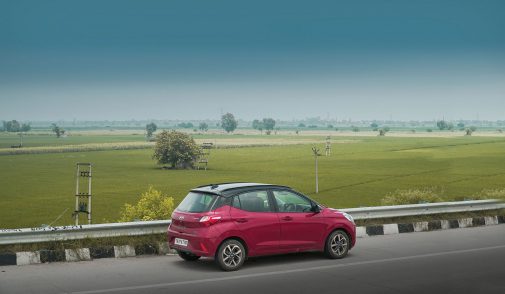 It was then time to head back towards home, but before that, we had to drive through the Signature bridge and into the dense traffic of Delhi. This is where the Turbo Petrol NIOS returning a consistent 20-ish kpl was such a respite, especially with these skyrocketing fuel prices. With a short journey to home no longer remaining short, it was coffee time at the stunning Aerocity area. It is then, someone suggested it has been quite a long since everyone joined together for a jamming session.
And this brings us back to the start of this story and about memories. It is in these short, fun-filled moments you realize the importance of being with people who cause delight to the heart. And as for the NIOS, I have grown fond of this car, especially because of the combination of the Turbo unit and its slick gearbox. If you are the kind who wants to have some fun now and then when you hit an empty patch of road or a corner that has a fresh road smell to it, then you would not do much wrong choosing this Hyundai.