We can't believe things have come to this, but we have started missing the office. Well actually, what we were truly missing was the office A/C. We were missing sneaking into a corner, pretending to work on a story, as the A/C fought a monumental war with the heat outside. Now that Delhi seemed to be skipping the monsoons altogether and barbecuing us into some unseasoned tikkas, we managed to convince the ones who needed convincing that it was the right time to let us help our long-term Hyundai Tucson stretch its legs.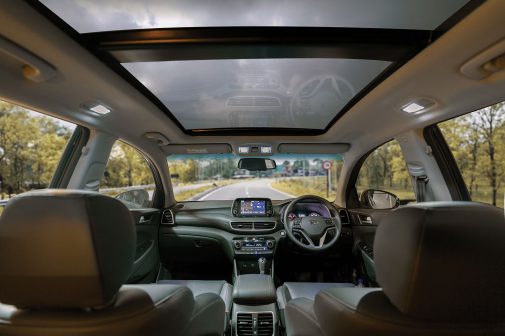 We chose to drive to Patni Top, around 700 km from Delhi. Even before the sun could begin its long haul at the kitchen for the day, we were already packed and ready to leave for cooler weather. The first leg saw us drive to Panchkula, around 240 km from Delhi. Leaving early meant there was thankfully no traffic.
The first thing that's evident inside the Tucson is that it has become a far posher place to sit in, compared to the pre-facelift model. The soft-touch leather on the dashboard, the door panels, and even the feel of the steering wheel—all these lend to an enhanced and luxurious experience. A powered seat for the co-passenger is a very welcome addition as well. The all-black interior, with the floating screen infotainment controls, looks premium and sturdy at the same time. All in all, this Tucson does luxury and comfort rather nicely.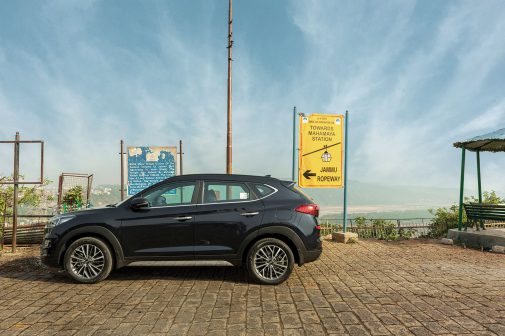 The run from Delhi to Panchkula did not take long, and we stopped for some much need breakfast and strong tea. Shortly after, we were back on the road heading towards Ludhiana. The roads on the route are super smooth, and the Tucson effortlessly munched km after km at a rapid pace. Now, Ludhiana is a mere 120 km from Panchkula, meaning we were still full and had to sadly skip visiting the famous Friends Dhaba. By the time we crossed Ludhiana, the sun was already blazing, and even after driving close to 400 km, it was still as hot as Delhi. Deciding to let our inner Bear Grylls rest a day more, we changed our plan of stopping over at Pathankot and drove directly to Jammu.
Before entering J&K, you have to go through security checks that also require negative COVID reports for all travellers coming to the state. We had counted for two hours for the process to finish, but due to some upgraded threat levels, it eventually meant it took us around four hours to get through. Exhausted by the process, the only thing we wanted was a nice dinner, a hot cup of tea and some sleep. Mind you, Jammu was no cooler either—the soul-sapping heat was still 
all around.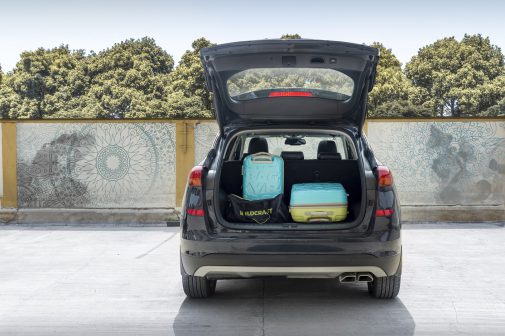 The next morning, things started to change, as we got up early, grabbed something to eat and, as suggested by the army, left for Patni Top in a hurry. From this moment onwards, the utterly brilliant part of the journey began. Located at a 6,640ft height on a plateau in the Shivalik range, Patni Top is just 100-odd kilometers from Jammu, but it took us around three hours, through some majestically scenic but narrow roads that twisted and turned as we drove upwards.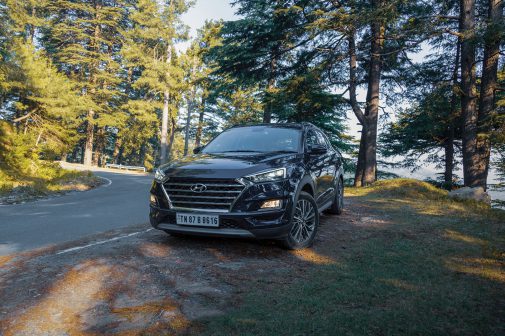 And what a destination it is. When we arrived, the temperature was around 190 C and it was raining. The route offered magnificent views all around, with tall trees lining the roads and fog flowing through them. The respite we had left Delhi to seek had been found, and all we could think of was to soak in the moment. Needless to say, a few hot cups of tea were called for, and so were some evening snacks, as we readied ourselves for a dinner above the clouds and then for a sound sleep. The next morning would promise a clearer view of the beauty around us, we hoped.
Looking back at our Tucson, we wondered why don't we see many more of them on our roads. If anything, after the 700 km trip to arrive here, sitting on this table and scribbling our thoughts about our drive, there is one thing that stands out—none of us is truly tired, and each one of us can still happily drive this Hyundai back down right now. That's how comfortable and fatigue-free the whole experience has been over the past day and a half.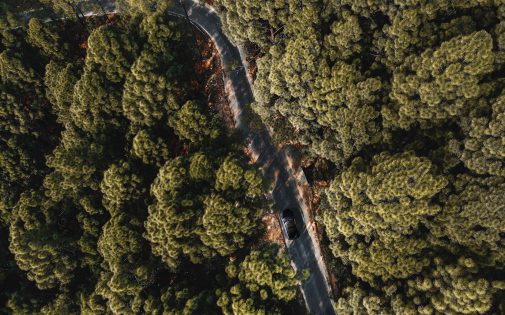 And trust us, this is not the only thing the Tucson does well. It feels like a proper SUV, soaks in all the bumps without worry and feels like it is built to last a long, long time. Everything you touch on this car feels premium and sturdy. The understated elegance of the Tucson means that it will never strike your senses at the first moment, but then your mind starts to soak in the details, and you register just how well the doors shut, how perfect the cushioning of the seats is; you start to appreciate the little things even before you realize them.
The massive panoramic sunroof lends not just a premium aura to the entire cabin but also offers airiness. There was this moment when we passed under a particularly thick row of trees that covered the entire road. From the sunroof, we could see a fast-approaching blanket of fog engulf those trees, hiding their tops behind it. This fog obscured everything around for a few seconds, and then a group of monkeys jumped from one tree to another. An amazing sight! This is why you need 
a panoramic sunroof, not one of those 
little food court tray-sized ones, which 
are just pointless.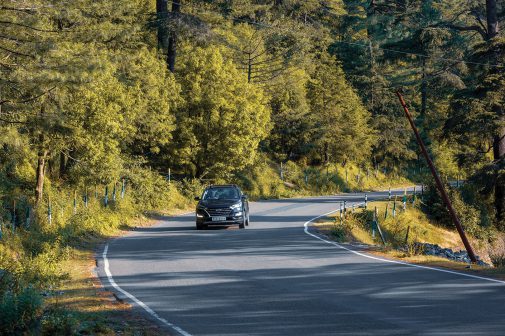 Then there is the way the Tucson drives. It is commanding, easy and as long as you are not asking it to be a rally car, it offers a confidence-inspiring drive through everything. Have no doubt, there is some body roll, but the Tucson never loses its line mid-corner. The drive modes work well, and you can feel an instant and a clear difference between them. If you ask us, the car is best enjoyed in its comfort setting.
Its 2-litre diesel engine is not just powerful – with 185 PS and 40.8 kgm—it is also quite frugal. Through this trip, the Tucson consistently gave us 15.6 kpl, fully loaded up. The 8-speed automatic gearbox, an upgrade over the previous model's 6-speed unit, is bliss to drive with. It has shorter gearing, meaning you build up a brisk pace easily. Speaking of enjoyment, the Infinity audio system is outstanding; it is so good that we even let one of our teammates play Punjabi rap, something that continues to be a no-can-do during most of our drives.
We tried thinking about how to capture the idea of this trip with the Tucson in the shortest possible words, and the best we could come up with was 'It munches on miles like a hungry beast, but it does so with the sophistication of a Michelin star.' Good car, this.