Word goes around the rather small automotive community of events, stories, and boo-boos quite quickly. I mean, we are largely made up of news hounds. One such event I had heard of was Motoring World's Slush Fest, and it was one that I was eagerly waiting to participate in. Too many issues cropped up last year for us to go through with one, but this year, Kartik put in quite an effort to make it happen. It was serendipitous that Bijoy, who needs no introduction in these pages (but happens to be leading the Mahindra Adventure division), was able to procure us a day at the Mahindra Adventure Academy.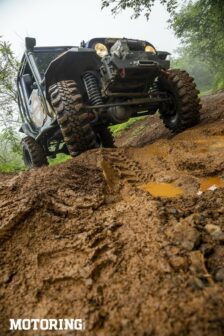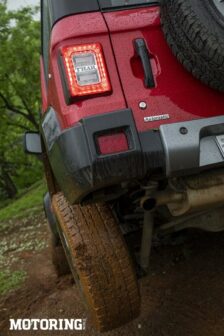 We had quite a line-up of Mahindra SUVs awaiting us when we got there — the XUV700, Scorpio-N, and the Thar stood proudly in the morning mist as we arrived at Igatpuri, but what really caught my attention were the classy Mahindra Classic, and a beast that I was later introduced to called the Draco. Besides all the frolicing in the mud we were about to do, we did have an aim, of sorts. We were trying to determine just what Mahindra's road-going SUVs are capable of in the face of their venerable progenitor, and something that is custom-made for the sterner stuff. Nearly everybody on the Motoring Team had their inputs on each of these Mahindras to try and find this out.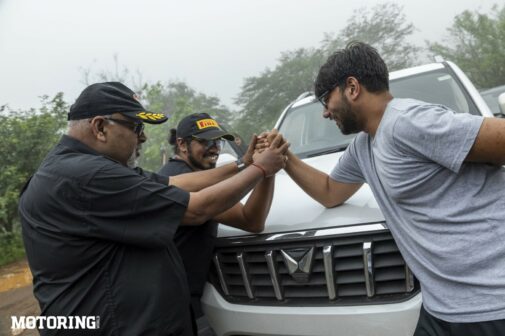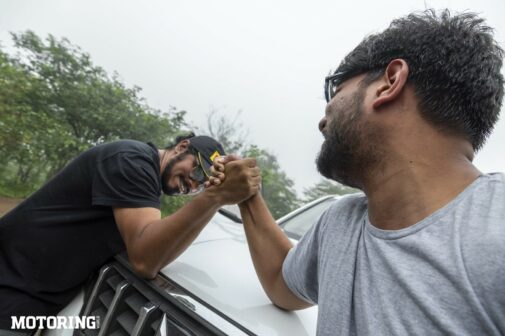 GRAND OLD DAME – RIVAN
I sat side-saddle in the Classic to begin, to get a feel of that old-school off-road magic. Other than improvements that make modern cars more finesse, this tractable old warhorse is seriously capable. It takes a bit more effort to slot in that manual gearbox, and the clutch action isn't as deft as we're used to (or spoiled by), but it'll clamber over rocks, through mush-filled ruts, and wade through lakes without hassle. That diesel engine and that brilliant 4WD system make short work of anything Mahindra Academy's layout had to throw out.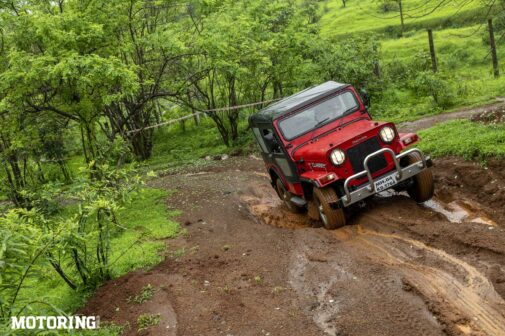 The ease with which it went about the trails at the academy made me worry a bit about the three road-going SUVs we had with us. I mean those cars may have direct injection turbo-petrol and turbo-diesel engines, modern amenities out the wazoo, and desirability as everyday vehicles, but how would they be able to compete in terms of sheer capability? Well, that's something for Keshav, Saurabh, and Janak to decide, as we drew lots, called, or had arm-wrestling matches to decide who would drive what.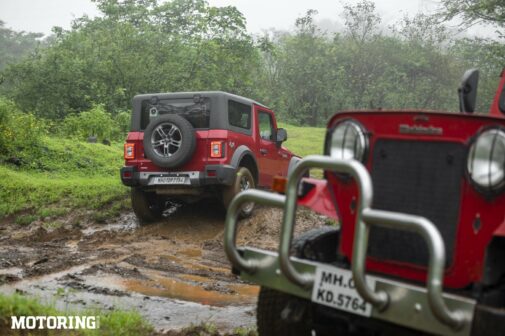 I'll be back with the Draco soon enough (I didn't win the arm wrestle, but Janak was gracious enough to bow out of the way), but in the meanwhile, here's Keshav on the Mahindra Scorpio-N.
IMMOVABLE WHAT? – KESHAV
Now, ever since I found out the list of vehicles that would be at our disposal for Slush Fest, I had called imaginary dibs on the Scorpio-N. Everything else was secondary, especially after all the tales I heard about how capable this huge machine was. I just had to see if it lived up to the hype, and more importantly, how much slush it would kick up.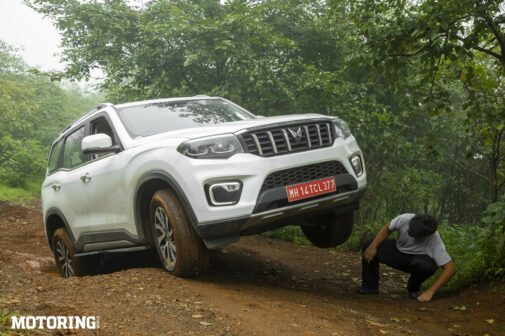 Just imagine, I turned down Saurabh's very generous offer to drive the Thar, as well as the arm-wrestling match that decided who drove the Thar Draco (which would have been an easy win for me against Rivan and Janak). I was a man on a mission, and I would see it through, come hell or high water.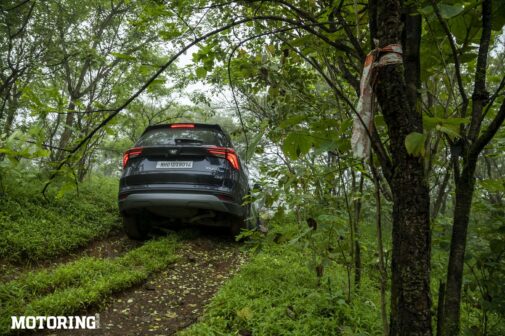 This was my first Slush Fest since I joined Motoring, and I was all set to tackle all the mud, slush, and rocks thrown my way. But then, it wasn't just that, not even close. You see, we were at the Mahindra Adventure Off-Road Training Academy, and they take off-roading very seriously. Steep inclines, declines, deep ruts, slush pits, water crossings, you name it, and the course had it.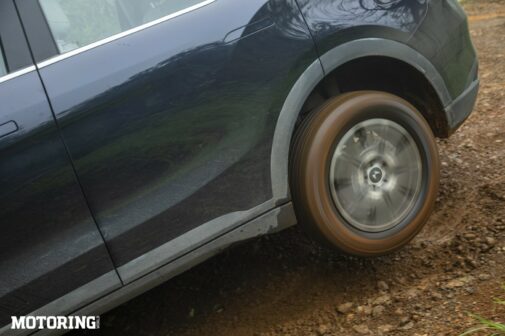 But I had the Scorpio-N with me, a 172-bhp 2.2-litre monster with four-wheel drive paired to an automatic gearbox. Talk about an unstoppable force meeting an immovable object. Slot it into 4×4 low-range, and it managed to crush all the obstacles, one-by-one, with ease. Now, that was impressive, and even more so because it was following in the tracks of the Draco and the Thar so easily.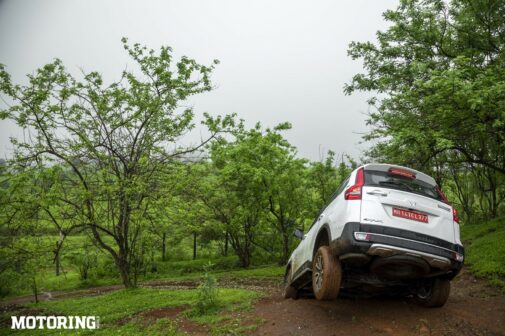 It felt so nimble that at times I forgot that I was driving a two-tonne seven-seater SUV. How much more fun can a guy ask for? The unstoppable force had finally trampled over and decimated the presumed immovable object, and I was at the wheel all the while.
EFFORTLESS & FUN – SAURABH
Unlike Janak and Rivan, who fought an arm-wrestling match for the Mahindra Thar Draco, I didn't have to fight anyone to get my hands on the standard Thar's keys. Since I had already driven the Thar in January last year for five consecutive days, I was willing to trade it with the XUV700 or the Scorpio-N. So, I asked Keshav if he'd like to drive the Thar, but he declined. Honestly, who denies the mighty Thar?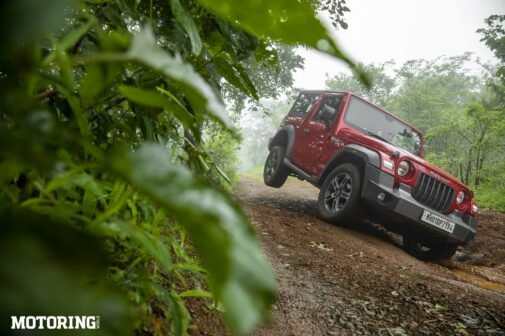 Nearly eighteen months later, I had stepped foot inside a Thar, only this time, it had the 150-bhp 2.0-litre petrol engine underneath, paired to a 6-speed auto gearbox. I was a bit nervous behind the wheel since this was my first time at the Mahindra Adventure Off-Road Training Academy, and I was driving the Thar after a long gap. By the way, the academy has plenty of obstacles to test your driving skills. Thankfully, my anxiety settled as we all started moving toward our first obstacle — a relatively small loop filled with muddy, rocky roads and small ditches.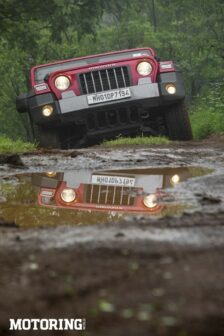 Without wasting any time, I drove through that obstacle with 4L engaged, and it all seemed effortless for the Thar. We went around the same loop in an anti-clockwise direction and had the same outcome. All this was just too easy for the Thar. It gave me so much confidence that I just had to stick to the basics before we took on the next so-called difficult obstacle.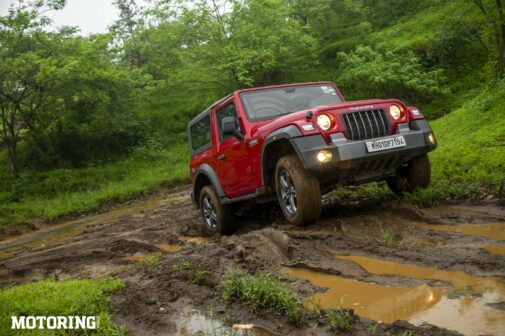 This loop was twice as big as the first one and had twice the amount of rocks, mud, and slush. Not to forget, by the time we reached there, it started to rain, too. Again, I drove around this obstacle both clockwise and anti-clockwise. I couldn't stop myself from grinning because of how smoothly the Thar tackled these obstacles. It's so easy to drive the Thar that it makes anyone feel like Rocky Balboa behind the wheel — a champion. If you're looking for a challenge, don't get the Thar, because it will defeat any challenge you can imagine.
FLAGSHIP STOMPAROUND – JANAK
All these years, the name Mahindra has always resonated with me as vehicles that are nothing but thoroughbred SUVs that are best enjoyed while being driven off the tarmac. And when on it, they have that unavoidable presence of commanding the road. Given the wide spread of Mahindras at this year's Slush Fest I was keen to get in the seat of the Classic, but as fate would have it (or that pesky Rivan getting his dirty mitts on everything) would be, I was entrusted with the keys to the most road-focused SUV of the lot, the XUV700.
Now, I have absolutely enjoyed blasting the XUV700 in the street, and for its sheer size, it is one heck of a vehicle, one that left me highly impressed. But, we are talking about slush, grit, ditches, drops, steep climbs, and water crossings here. If you have ever been to the Mahindra Off-road Academy, you exactly know what I am talking about.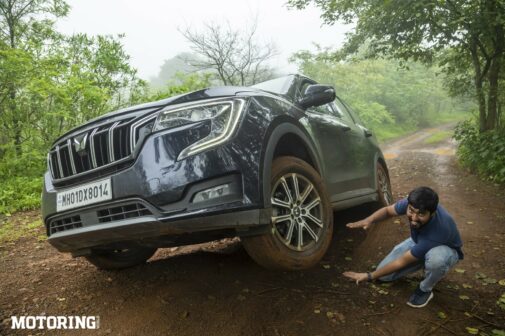 I'll be honest — even after all the off-road expertise that I have gained over the years, I was actually scared as to how the XUV700 would perform. Hopefully, I wouldn't damage it in the whole process. But to my surprise, the SUV blood runs thick in the XUV700, too. I was left absolutely dumbstruck by the capabilities of Mahindra's flagship SUV. It did the same off-road obstacle courses that were done by the Thar and Scorpio-N.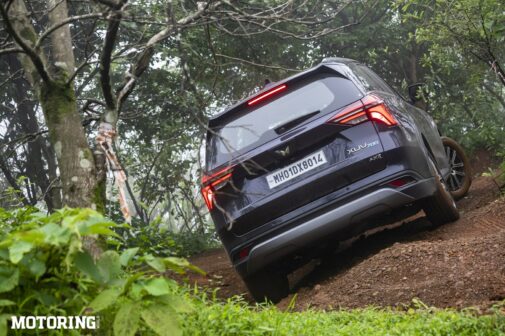 Yes, I had to be mindful of the long wheelbase, and the approach and departure angles, but besides that, it did not get stuck at any given point. Yes, there was a lot of back and forth to get the best out of the road-biased tyres, but it still managed to clear all that was placed in front of it. To me, the XUV700 largely continues to be a soft off-roader, but if the time ever comes and you're caught in a sticky situation, it has the core values of a true Mahindra to get through obstacles when the going gets tough.
PATHMAKER – RIVAN
At one point during the shoot, and our grand test, we needed more slush to kick up — you know for those shots — but the small riverbed was sluggish. The solution to our need for greater mud-plugging came in the form of the Draco. 'Just take it in there and let her rip a little. We need to churn that mud to get some slush,' were the instructions given. I was absolutely astonished at just how easy it was to make an otherwise easily passable slush pit into one that had Kartik and Kaizad diving out of the way to avoid getting splattered.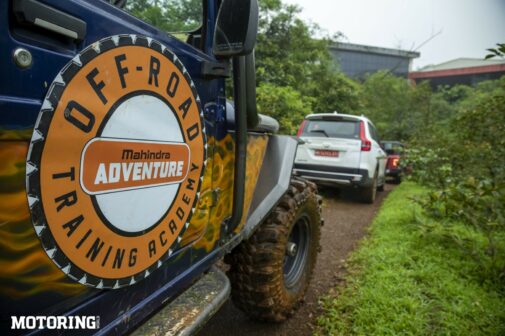 This monster of an off-roader is based on the older generation Thar, but it's got a whole lot more — from a boosted diesel engine making well over 110 bhp and 26 kgm of torque, to some serious hardcore off-road suspension, and big knobby tyres — making it the undisputed king of this particular ring. The second-gen Thar may have been developed at the Mahindra Off-road Academy and makes light work of the obstacles, but it's the Draco that makes even the new Thar feel underwhelming. It may be smaller than either the Scoprio-N or the XUV700, but it'll tell the former who is the real 'Big Daddy' off the tarmac, and leave the latter miles behind on a trail.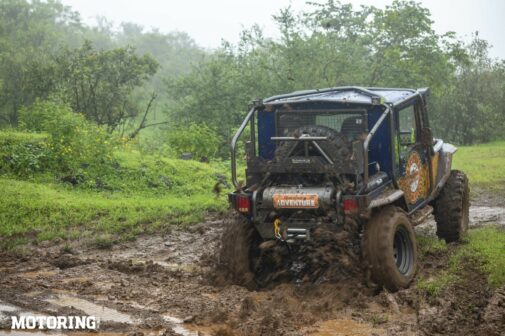 The Draco is simply brilliant at doing the rough stuff, without breaking a sweat, well maybe one or two drops, because, after all, there's no AC in there. It's a barebones, rough-and-tough machine that is modded to take on the likes of the dreaded Rainforest Challenge. At one spot where we stopped to take shots of wheels in the air, the Draco almost refused to comply, no matter how poorly we tried to angle the car out. The massive suspension travel meant the Draco wasn't lifting one wheel up, like a dog about to take a leak.
While the Mahindra Thar Draco is definitely in a league of its own — and that holds true for the Classic to a degree, too — it's clear that offroading capability is hardwired into Mahindra's SUVs. It doesn't matter what you're driving, as if you're in one of these beasts, and are in a pinch, there's a very good chance you and your Mahindra will be driving home comfortably, having laughed off the obstacle with disdain.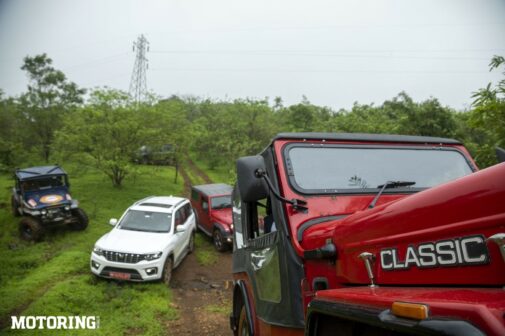 Beyond learning just how capable Mahindra's SUVs are, I've learned another thing from Slush Fest 2022. For the Motoring team, it transcends mucking about in the mud, having fun, or even whatever theme we set for the event. At the end of the day, it's something that brings the team together through thick and thin, even if it's using mud and sticks for glue. For example, we showed we were made of sterner stuff by wrapping up another shoot in Igatpuri before we left for Mumbai.