It's a strange thing, honestly. Every time I look at either of these two cars, I'm filled with a feeling of contentment. Why? I've had nothing to do with the way they've turned out. There's been zero input from my side when it comes to the kind of colour they've been sent to me in (I'd much rather have preferred it if they'd come in electric blue and some ludicrous shade of yellow), and I definitely 
didn't ask to fall absolutely in love with them despite their undeniably appealing outputs.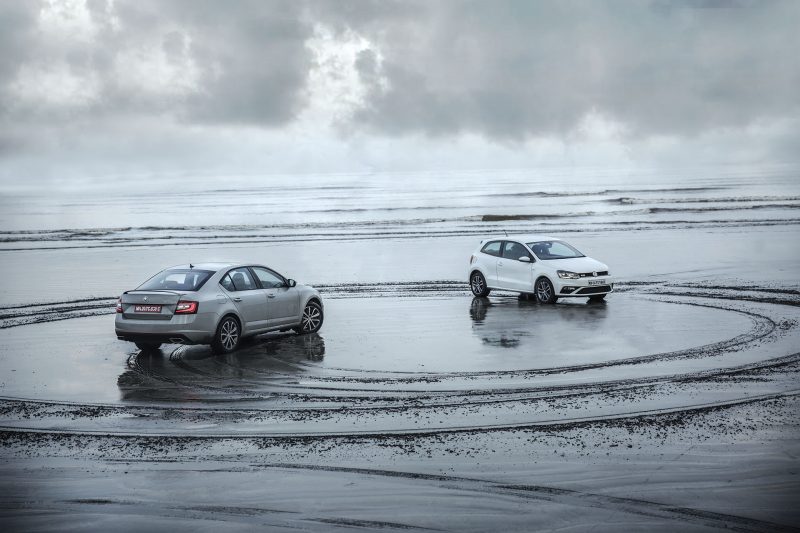 What gives, then? Let's back up. In the grey-and-TC-plated side of things, there's the new Skoda Octavia vRS, the mature, sophisticated and, in my mind, rather handsome (if you exclude the lazy eye thing it's got going on in the front) way to do a sleeper. Granted, it doesn't look very mature and sophisticated hanging it's a** out in all its opposite-lock glory, but we had an empty beach and a receding tide. What did you expect us to do? It's one marvellous thing, the vRS. I'm unashamedly in love with it, a bit like an eight-year-old would be with his first beagle puppy, and not because of an unexplained bias towards the vRS badge (although, admittedly, that did have its own tremendous appeal), but undeniable, sound logic.
The Skoda Octavia has been around for a while now. It's been through different names and variations over the years (even laughably being called the Laura in India for a time), but I'll refrain from ploughing you into a deep slumber by going into its past. What you need to know now is how the new Octavia vRS does for itself. It's not the typical sleeper that I'd have preferred (the spoiler and the wheels give it away slightly), but it's tastefully done. If you can get over the rather odd-looking-yet-endearing-over-time front, it's a really neat thing overall. Superb proportions, solid build quality, ridiculously tiny shut-lines and a purposeful stance go together to make one heck of a looker. It's more of the same on the inside. If anything, I'd say it's actually quite luxurious. A huge touchscreen takes centre-stage that's very easy to use and full of useful information, the steering's brilliant to grip, the seats are bonkers comfortable and Skoda even pampers you with a couple of vRS-badged throw pillows. My colleague immediately felt the need to rub his face gently with the pillows, so you may want to think of laundering them before you give the car out to anyone else, Skoda.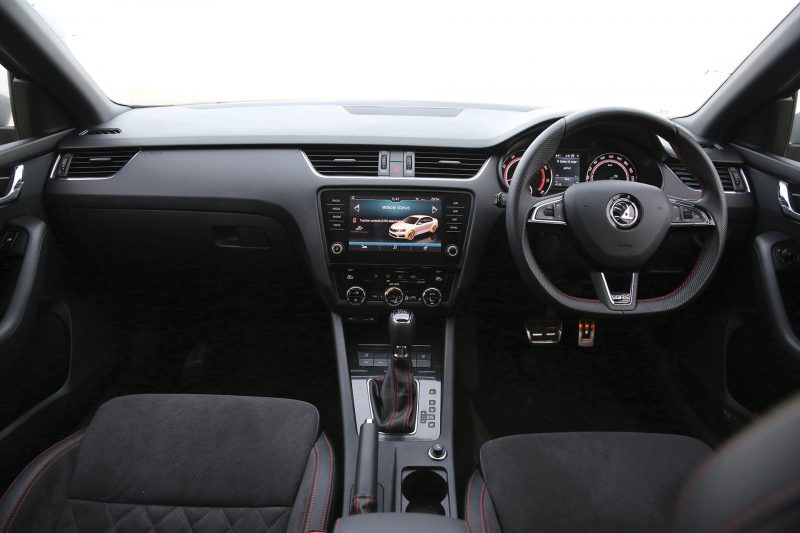 If I went on, however, it would be like focussing on the small group of Goth protestors at a Gay Pride Parade, because the reality is that the vRS's strong suit is its heart. From 1984cc, it makes a grand total of 227 bhp and 36 kgm, and that's funnelled to the road by way of a 6-speed auto, giving you a 0-100 kph time of 6.8 seconds. Yikes. You must understand that in a country devoid of cars that are capable of speed at an affordable price, the Octavia vRS is nothing short of a saviour and an aspiration to people like me. And the best part is that it drives exactly like its figures suggest it would. It can do both — pummel your senses with some brutal acceleration through the gears for one. All you need to do is flick the gear-lever into manual mode, grab a hold of the steering wheel and the paddles behind it and, if you so please, hold on for dear life as it shoots to the rev limiter gear after gear. It even does a bit of a fart on each aggressive upshift, so that's pretty cool, and if you're careless with your throttle modulation like I am, there'll be an adequate amount of wheelspin even in second gear.
The second thing it can do quite well is calmly shock you. Yes, I understand the apparent invalid nature of that statement, but it's true, and a nice way to sum up its dual life, I think. The Octavia vRS, if you so please, will be more than comfortable not screaming itself hoarse to the rev limiter in each gear, and still make good progress. Let me rephrase the last part again — '… and still make great, rapid progress.' That's more apt. You see, it may seem like I'm describing two similar things, but if you've spent even a bit of seat time behind a quick car, you'll find that that's not always possible. Most of these cars are wired to drive in a very focussed manner. That it can still feel rapid without tyre squeals and exaggerated and unnecessary steering movements is an accomplishment I'd expect only of a car of this legacy. The Octavia vRS is good. It's very, very good.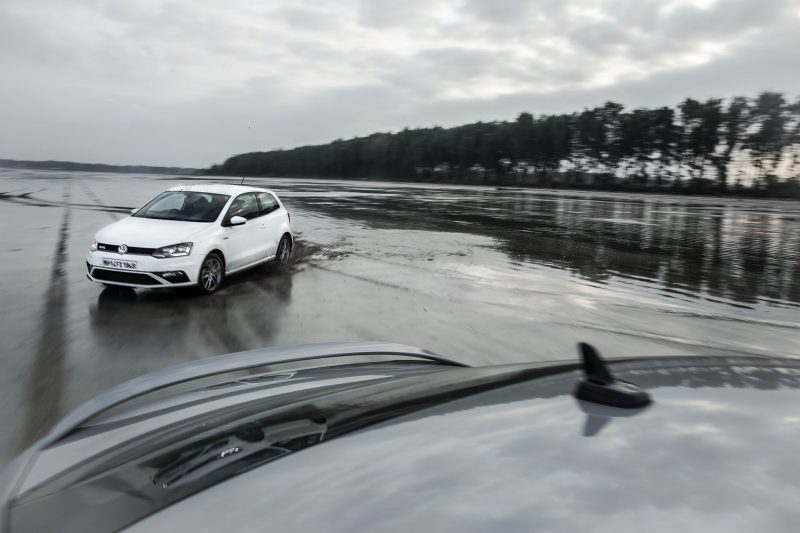 To highlight just how good it is, though, we needed a reference. A benchmark, if you will. This is where the magnificent Volkswagen GTI comes in. An anomaly in the present system of practicality and price consciousness, the GTI is a car for the future. If I were to borrow a few words from my review of the car a few months earlier, the GTI is a future classic. Through no fault of its own, we aren't in a position to fully appreciate the GTI yet. It's one magnificent little thing, and an especially epic thing to drive, but it's just not its time in India yet. The closest we could get something to the vRS, however, was the GTI, and hence it graces these pages.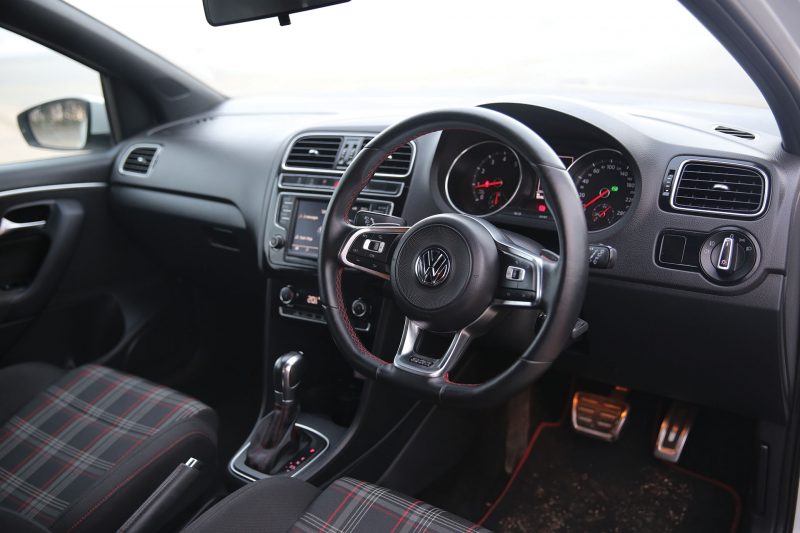 A 1.8-litre TSI engine from the same family gives it 189 bhp and 25 kgm, which is wild enough for most cars, but it's especially wild when you consider it's being used in a car with two doors and a hatch. The biggest commonality is the fact that these two cars cost roughly the same amount of cash, but it's impossible to think that a GTI customer would also be a potential vRS customer. It's a car that's been well documented ever since its launch here in India, so I'll keep the rambling to a minimum, but the key differentiator is the way it drives. Where the Octy can play dual roles like I explained, the GTI is much less comfortable about it. It wants to be urgent at all times. It wants to shout and make a loud display, almost to compensate for the lack of an exhaust note you'd think, at times. And where Skoda's got the ride quality just right, VW's gone for a more extreme setup, I believe. It's harder on bumps, so things you wouldn't usually give a second look at in the Octy is a concern in the GTI. This sort of single-minded approach projects itself in the way it handles corners, too. The Octy's steering is full of feel and feedback through the corners, and while I would have loved it to be a rear-wheel drive setup, it isn't, and I'm actually okay with that. It handles beautifully, and only on the extreme limit, which it will rarely see in a place like India, does it feel like it's screaming for help. The GTI feels even more dedicated through corners. It's very sharp, very precise, and a lot of electronic aids come to your assistance frequently. The GTI, however, just doesn't know how to dial it down. The Octy does, and that's the difference.
This pair is unbelievable. I refuse to dilute their essence and undermine their existence by declaring a winner and a loser. They're cars that we need to be proud of. They're cars that make me excited about the future. They're absolutely bonkers, one more so than the other, and to believe that they're competing against each other would be to disrespect what they stand for. I'll leave you with this, though: One's way easier to power slide. Hazard a guess?
AUTODATA
Volkswagen GTI
POWERTRAIN
Displacement: 1798cc, i-4, turbopetrol
Max power: 189 bhp@5400-6200 rpm
Max torque: 25.4 kgm@1250-5300 rpm
Transmission: 7-speed, auto
TYRES
(F/R): 215/45 R16
DIMENSIONS
L/W/H (mm): 3976/1682/1452
Wheelbase: 2468 mm
Ground clearance: 168 mm
Kerb weight: 1273 kg
Fuel capacity: 45 litres
PRICE: Rs 19.9 lakh (ex-showroom; when tested)
Skoda Octavia vRS
POWERTRAIN
Displacement: 1984cc, i-4, turbopetrol
Max power: 227 bhp@4700-6200 rpm
Max torque: 36.7 kgm@1500-4600 rpm
Transmission: 6-speed, auto
TYRES
(F/R): 235/55 R17
DIMENSIONS
L/W/H (mm): 4685/1814/1449
Wheelbase: 2688 mm
Ground clearance: 135 mm
Kerb weight: 1468 kg
Fuel capacity: 60 litres
PRICE: Rs 24.62 lakh (ex-showroom; when tested)