If you have ever had the pleasure of walking through the self-help section in any bookstore, I'm certain Robin Sharma is a not a name you'd be unfamiliar with. One of his most successful books, The Monk Who Sold His Ferrari talks about someone who's made it in life — but seeks wisdom. And before you know it he sells his Ferrari and heads to the Himalayas for some spiritual awakening. Or something like that. To my dismay it didn't delve into details — surprisingly there was no mention of sonorous V12s, or even the winding roads of Himalayas. Fast forward to about fifteen years later, I wanted to don the monk's tunic and experience it all first hand. Without having to have made it in life — and in a car that's more adept at tackling the Himalayas. So you know if I ever wrote a book it wouldn't talk about selling my prized possession. Ever.
Eclipsed by the tourist-laden destinations like Shimla and Manali, Tirthan Valley is one of the lesser-known spots in Himachal Pradesh. It is a paradise for trekkers, and is also one of the entry points to the Great Himalayan National Park. The Tirthan river which slithers through the valley not only lends it the name, but is also instrumental in making the valley such a hot spot among angling enthusiasts. Its presence is also beneficial when all you want to do is hear the sound of flowing water for hours without being disturbed by any stray noise.
At exactly 500 km from Delhi, Tirthan Valley is also fairly accessible — more so to those living in Chandigarh. But its proximity to cities doesn't take away the challenging drive and the beauty of the hills. An hour's drive from Chandigarh brings you to winding roads — well-paved for the most part — and the snow-capped peaks make their appearance in the distance. And beyond Mandi, you're essentially driving through the hills. It's scenic — and a bit overwhelming because there's so much to take in that it's easy to be inundated with the beauty around you. A sharp left-hander (don't cut!) acts as the entrance to the town of Banjar — and is the entry to the valley. The said left-hander is difficult to execute because not only is it at an angle a protractor mightn't be able to pirouette itself to find out, but also that there's quite an incline. At the bottom, it almost looks undoable. Until of course, a guy with his happy passengers passes you in a ridiculously out-of-place hatchback.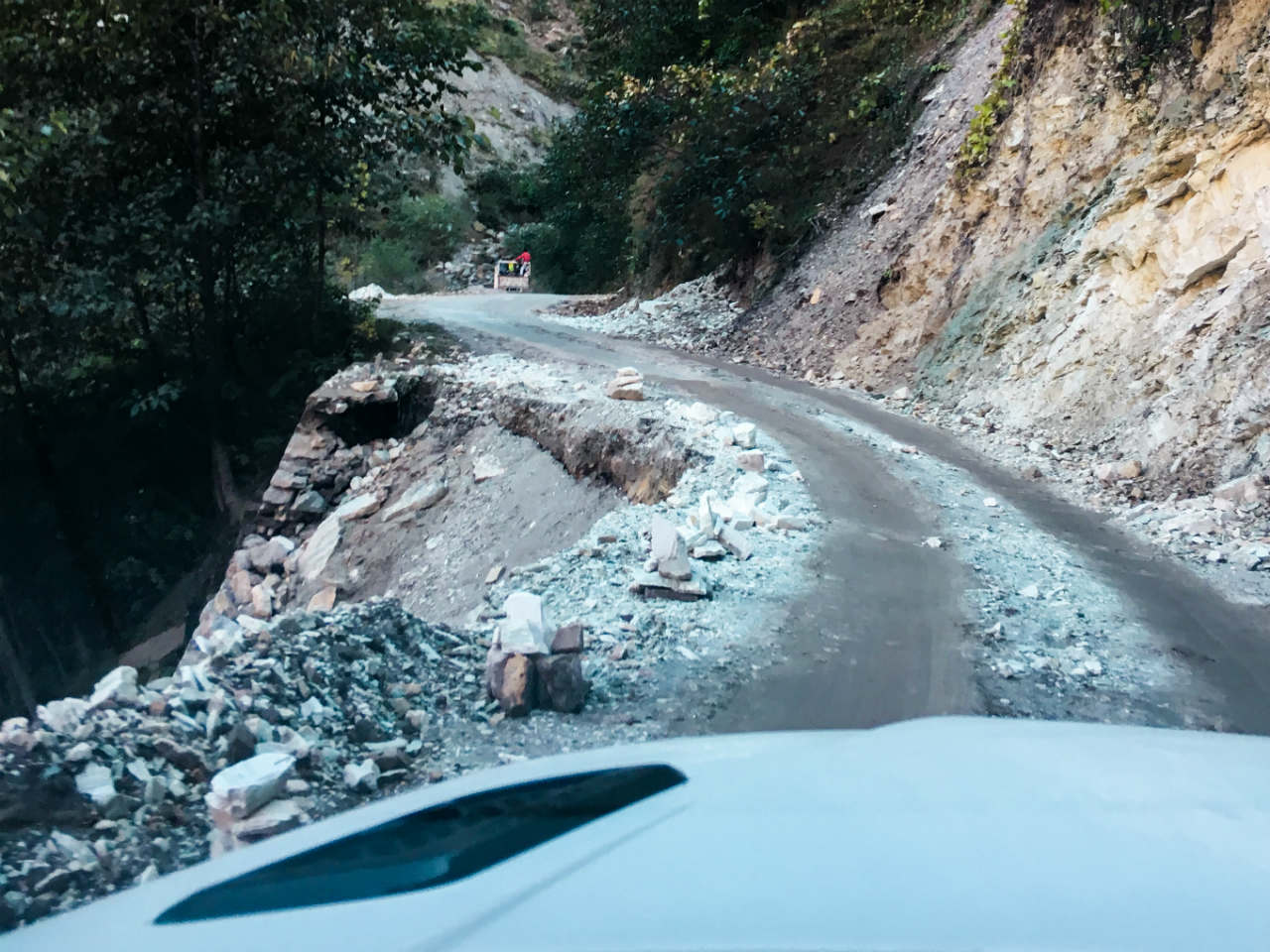 Having said that, while we were skeptical, the Range Rover Evoque Convertible wasn't having any of it. The 2-litre petrol engined vehicle had just successfully helped us venture out into what to us was the unknown. So taking another plunge wasn't going to be an issue. The thing about the vehicle is that while its SUV convertible body style might have not been the most conventional one, it surely knows how to quash prejudices.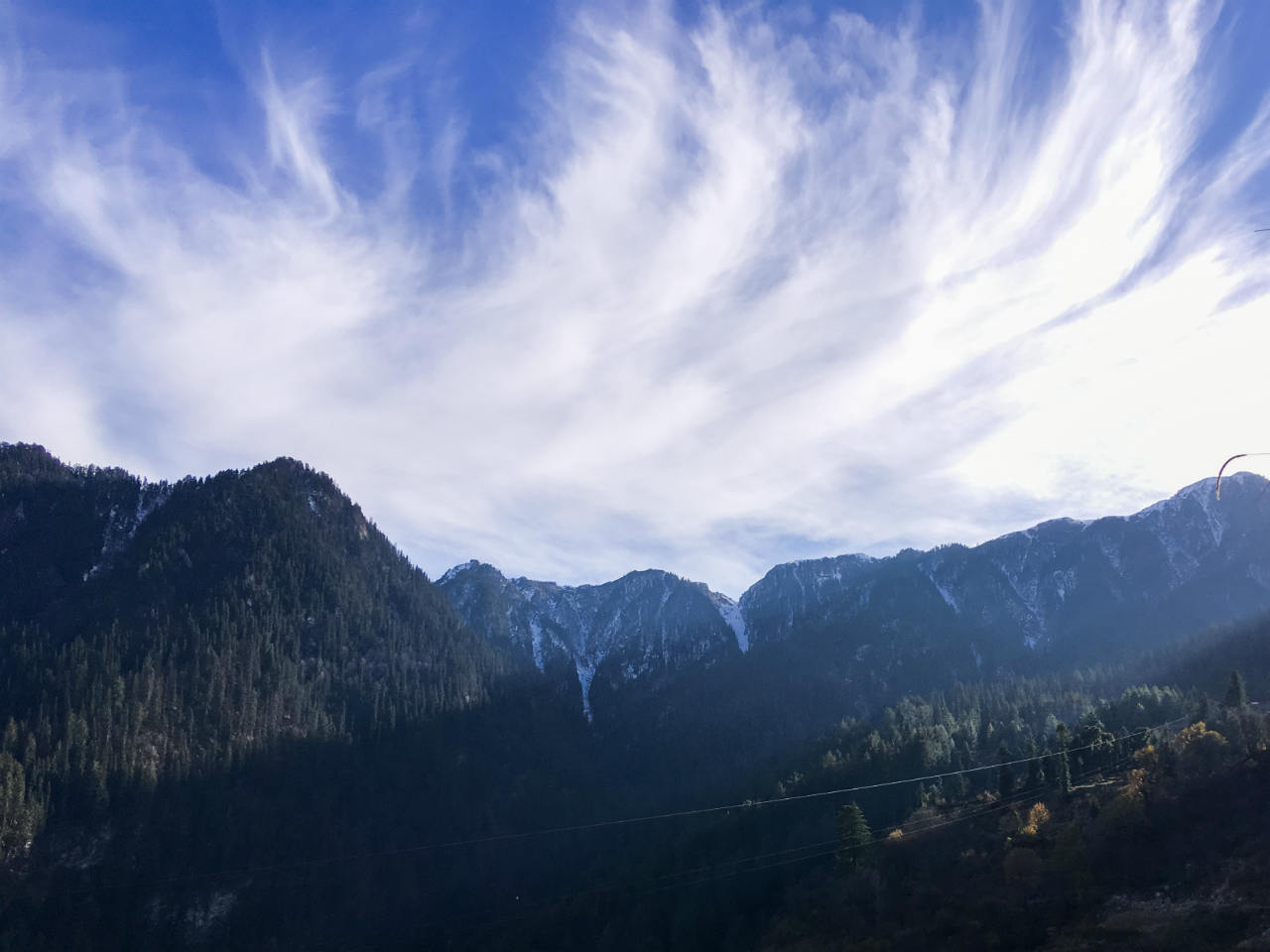 Because the morning after, when we decided to have a closer look at the nearby mountains, the Range Rover Evoque was in its element. There are two ways to do that: one can either trek through the GHNP to a nice vantage point. Or you can drive up to Sharchi village, which is at about two hours away from Banjar, reach Jamala from there, and explore the meadows — and enjoy the view. The drive to Sharchi is where it becomes fun — at the expense of an increased heart rate and a fair bit of danger. The single-lane road is barely wide for a car and a half, so you're literally on the edge. The Evoque Convertible is a little over 2-metres wide with the mirrors out, but anything wider might have been a problem. The multitude of camera choices means it's easier to navigate the Evoque around obstacles that are sat comfortably beyond your view from the cabin. A recent landslide meant in certain parts, a substantial portion of the road had succumbed to gravity. On the plus side, it also meant there were fewer cars trying to overtake me. And if all that wasn't enough, the hairpins continued to get tighter, some with limited access due to fallen rocks, others with sharp inclines. The Evoque continued nonchalantly, without ever breaking a sweat. The roof was down, the sun shining brightly, and the cool breeze proving that my snarky comments about the idea of an SUV convertible were rubbish.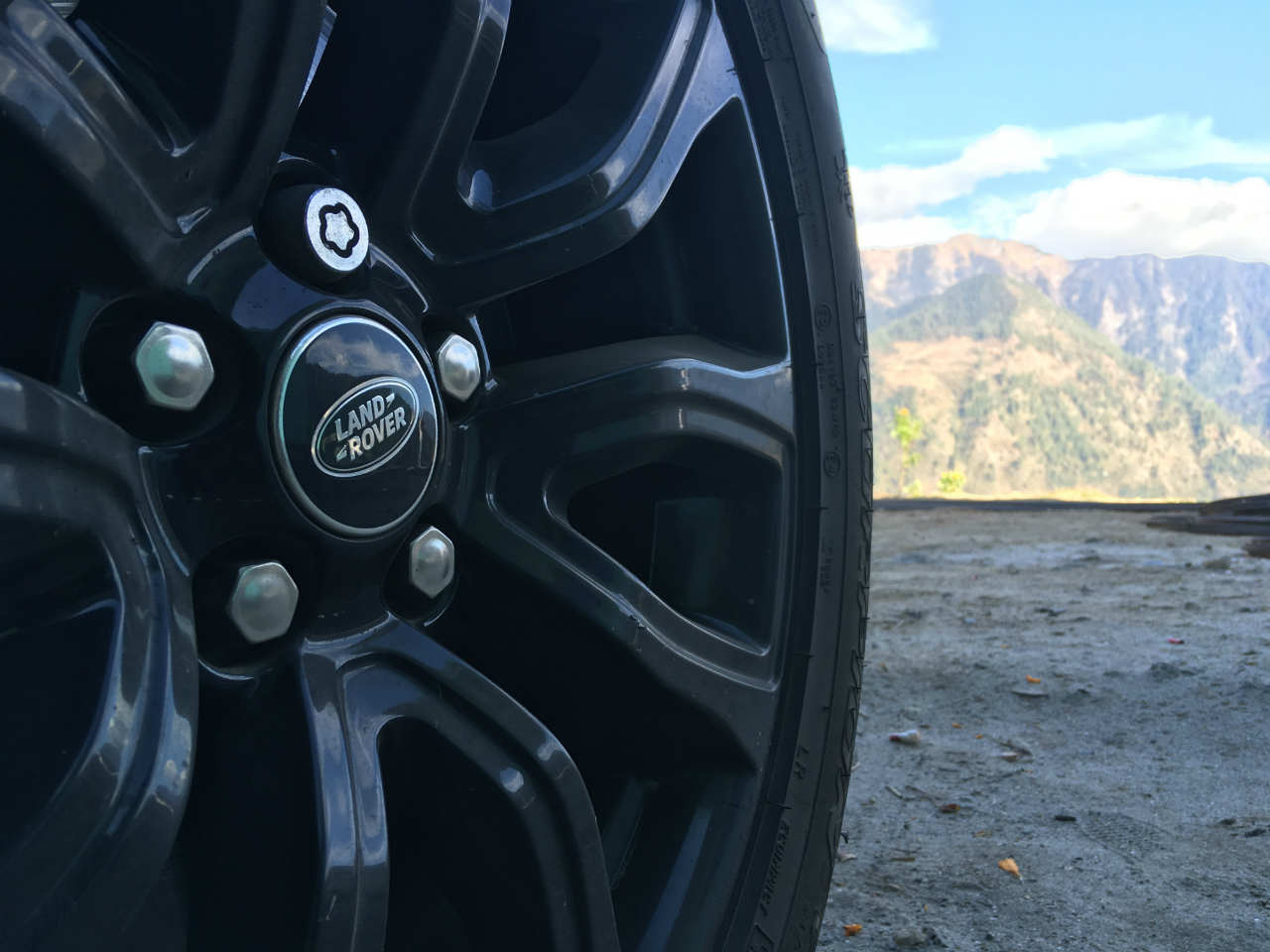 Erm, moving on, what is quite the opposite of my comments is the view from Sharchi. Sadly going further upwards wasn't possible as ongoing roadwork meant the road was closed. But a couple of kilometres worth of trek not only presented the most beautiful scenery I've seen till date but also brought us even closer to snow — without even having to drive on the slippery surface. But the Evoque, I'm sure, would have tackled it like nobody's business. Taking a gander from a little above Sharchi is exactly like enjoying a cuppa from the confines of your balcony as it pisses down…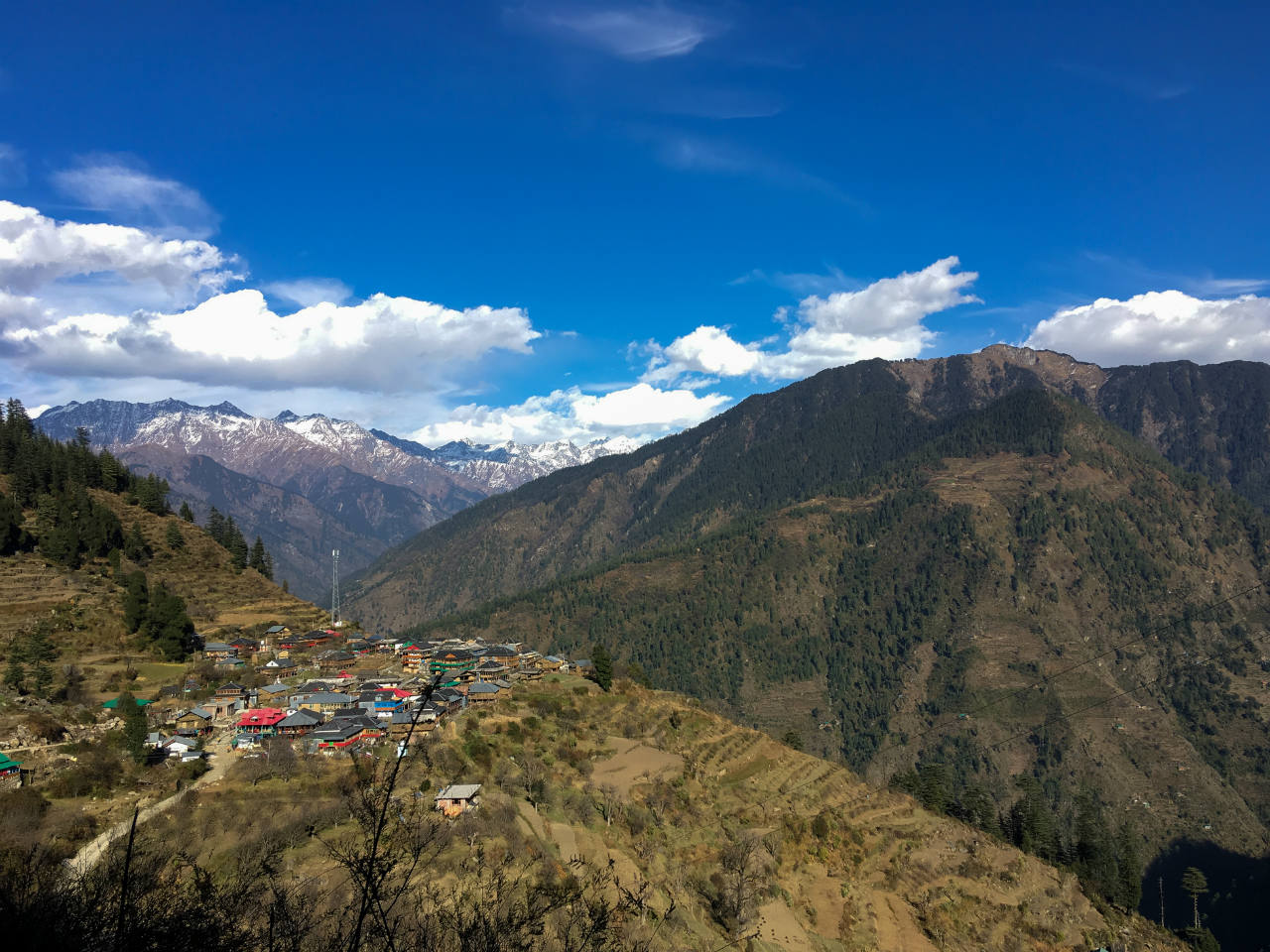 And all of it was worth it: driving through traffic, tackling the slightly difficult road, and even the kilometre or so of an uphill trek, which I would've otherwise hated. The Himalayas have something unique, maybe it's the air or the simplicity of these villages, but not a lot of places I've been to have been as enchanting. From the tall Deodhar trees lined on both sides of the road to the vistas that keep improving as you travel upwards, the trip from the banks of Tirthan to Sharchi also helps reflect how far we've come—literally and figuratively both.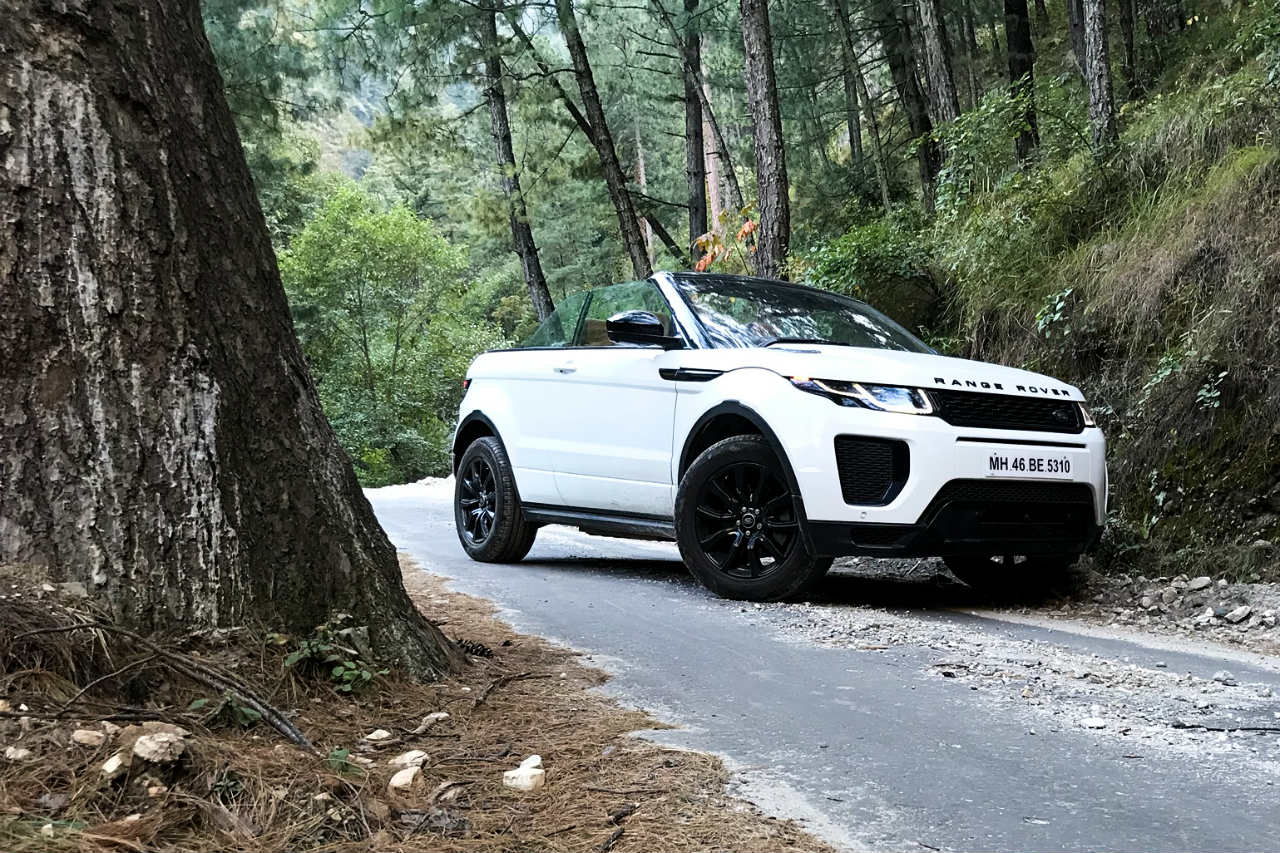 Quite like the Range Rover Evoque Convertible as well. Like a full-sized Evoque it has the plethora of driver aids, including the hugely capable Terrain Response System, a hard-working all-wheel-drive system, and a steering that feels far from dead. By now you must have guessed that I'm a tad enamoured by the SUV, and its 237-bhp-producing 2-litre petrol engine deserves another mention. It adds so much to the Evoque's character that you can't help but like it more as you drive. It can keep pulling relentlessly, despite the surface, the drive mode, or even in this case, height above sea level.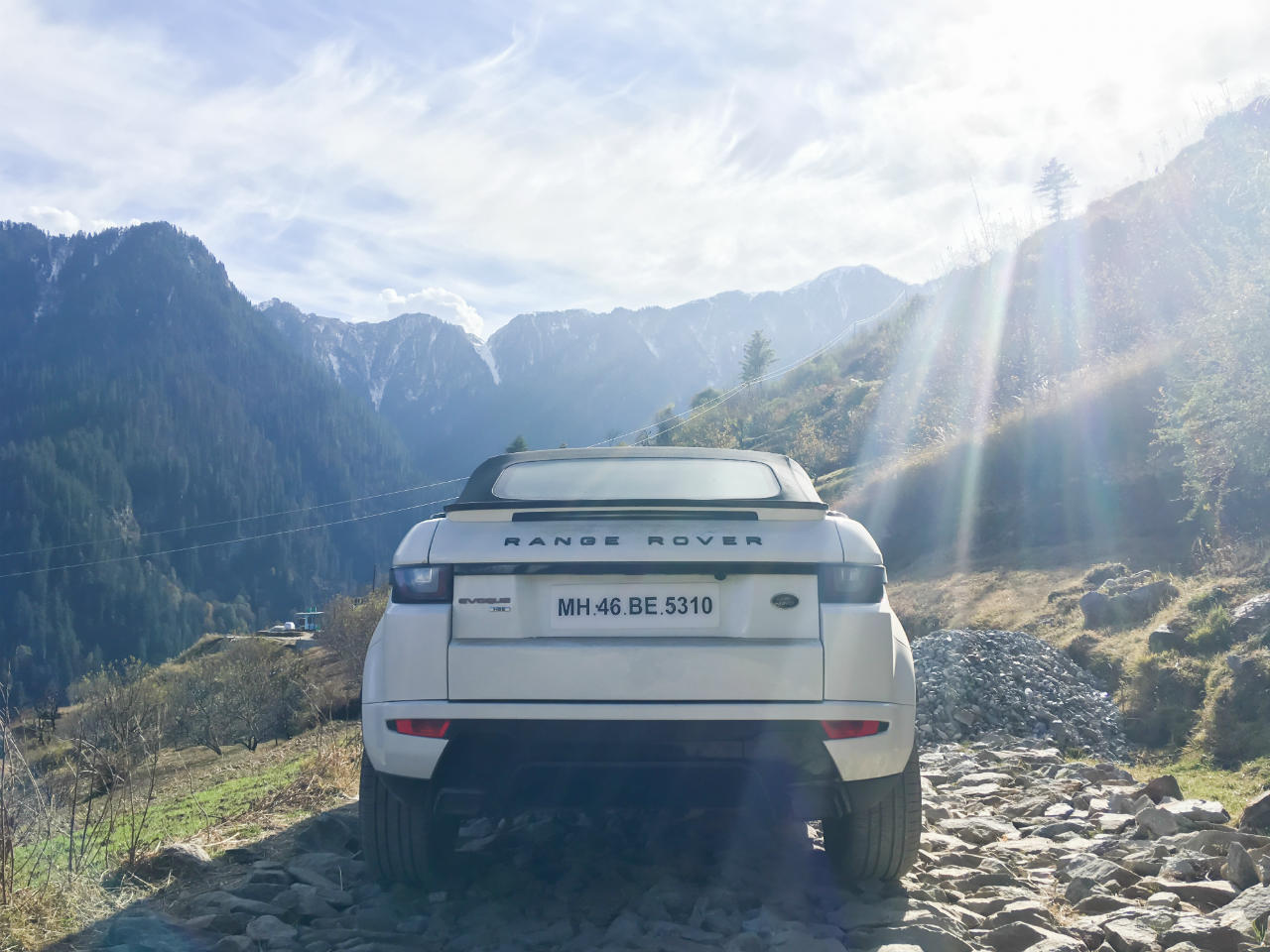 And boy does the Evoque Convertible look neat. It reminds me of the slightly oddball MINI Coupe BMW had launched a few years ago. Which, unlike what one would think, is a great thing. The waistline sits right where it does on the regular Evoque, but the roof is low and that adds to the fun. Be it down (like it was in the Himalayas) or up (like it was when we returned to the civilisation), the roof has a strong part to play in making the Evoque Convertible look desirable. And the frameless doors, a sharp-looking fascia, and the rear (with the rather boxy rear end, and a sloping fabric roof; a good mix of both worlds, really) with its 'letterbox' boot make it stand out like no other.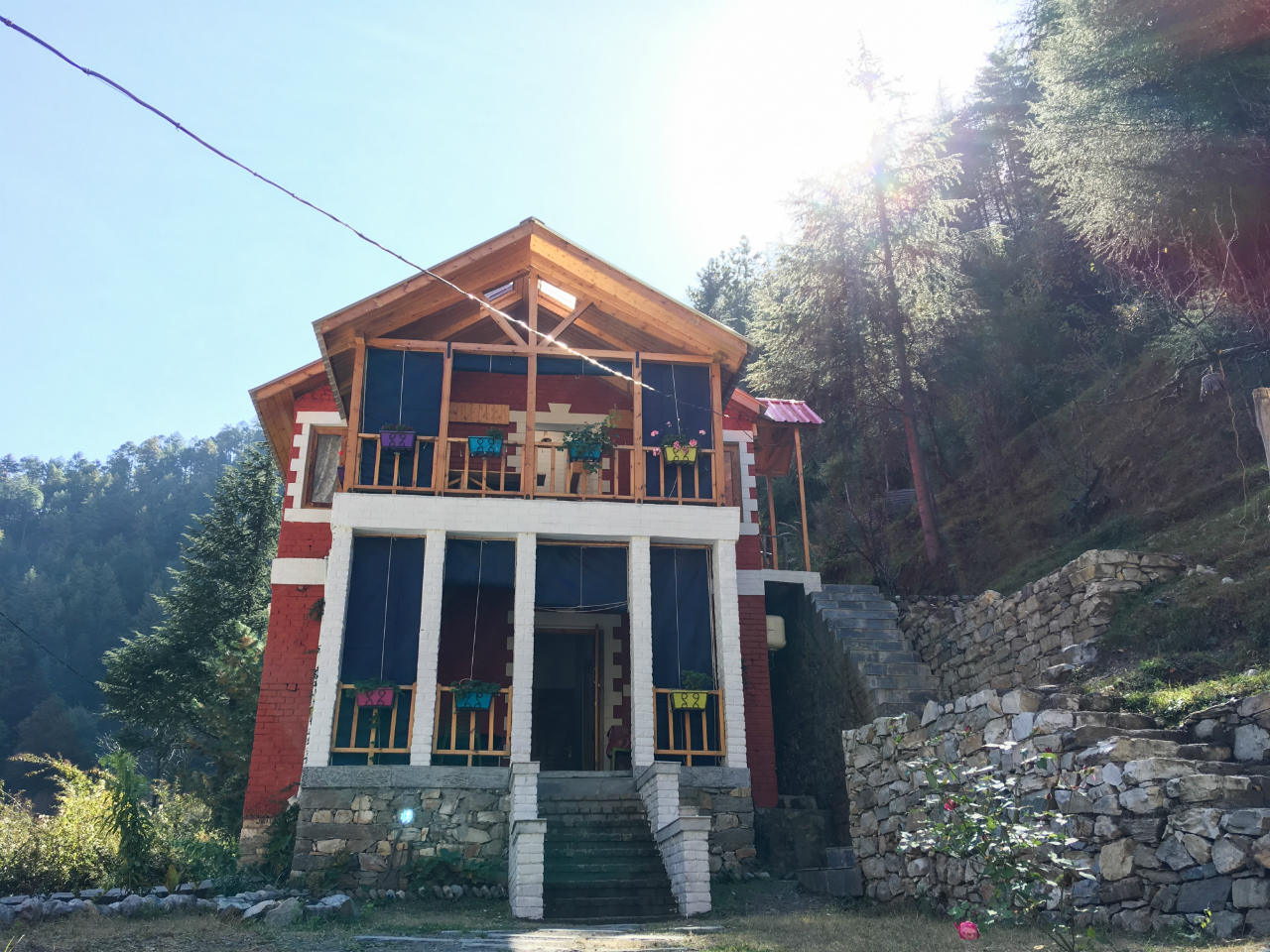 The other thing like no other was our homestay right at the bank of the river Tirthan. Fittingly called Offbeat Abodes, it's run by Manish Rai and his team, and offers everything — from a good, well-designed abode to freshly prepared delectable food, and the perennial sound of flowing water from the river. When Manish decided to leave his business in Delhi and head to the Himalayas to run a homestay, I'm certain a lot of people must've questioned his sanity. But look at the place now, and they, I'm sure, will eat their words. The serenity here is complemented by the mountain right across the river. The sound of the river — have I mentioned that already — is soothing beyond words. The room heater did enough to maintain a decent temperature in the month of November, but December onwards it becomes colder, so if you're planning a trip, pack more woollen clothes.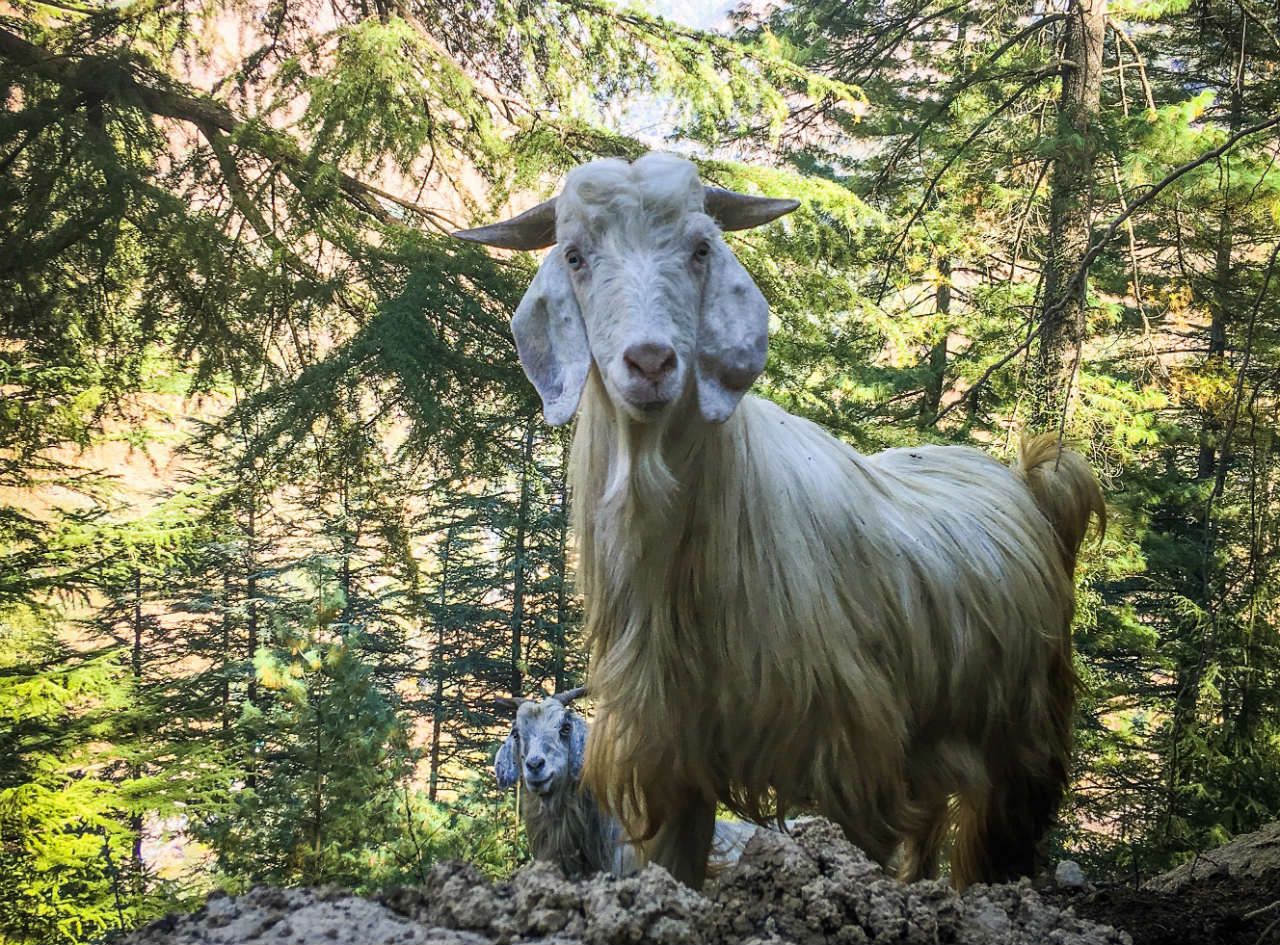 One more thing that mustn't be forgotten is that Tirthan Valley has enough things to do even if you're here for a week. Apart from what we did, there are a couple of lakes (Serolsar), waterfalls, the famous Jalori Pass, and even two prominent forts that need to be visited. You can choose to camp, or opt from a decent selection of homestays. The local trout fish is a delicacy that mustn't be avoided, but other home-cooked meals can also satiate your desire for good food, if you're not a fan of fish.
For those who opt for taking their own car, a few things must be noted. There's a petrol pump in Larji, which is about an hour away from Banjar. So try not to test your luck. It's always a good thing to carry a portable tyre inflator because the local shops are either far (there's one on the way, right before taking the aforementioned left-hander into Banjar) or have wonky pressure gauges. Although there are school kids, tourists, and shepherds around, it can be a bit deserted at times. And Vodafone connectivity — possibly the only other British thing apart from Brexit that's cocked up so badly — is next to none, so have an alternative number with you. The villagers are happy folks — and are quite helpful, too. They love to talk, if you break the ice. And that isn't a huge thing, especially if your vehicle does that for you…
Which eventually brings me back to Robin Sharma and his successful book. Ferrari doesn't make SUVs, but if the Italians want, they can always take a leaf out of the Brits' handbook on how to produce cars that are strong and stylish at the same time. And no Ferrari owner will have to sell his car again when the going got tough. Or you know, just get an Evoque Convertible already!