Porsches have always been special to me. Not because I spent a long time working with the brand, or because I grew up a fan, but because they make amazing cars. It is one of those brands that realised motorsport is the path to success and did not give up on it, however tough the times may be. Newer Porsches have everything you'd expect to see in a luxury car, and the most important ingredient of what makes a Porsche, a Porsche. The feeling of driving a car that has the driver as its focus, never mind the number of seats or doors, and now even an engine. Every time I have driven a Porsche, I have thought of how this car would be on a racetrack. Probably, the universe had enough of me whining about this, and convinced Porsche India to organise a track day at the Buddh International Circuit. In attendance would be an amazing lineup of Porsche cars, including the 911 GT3 RS. Whether it was the universe or a marketing decision, we don't really care, do we?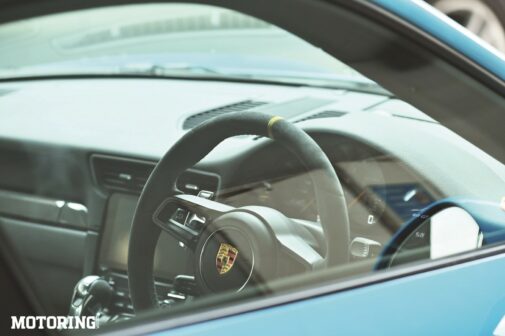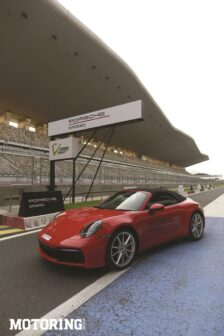 What we do care about, for sure, is what was in store on this track day. The day was divided into several activities, like most well-organised track days are, and involved a long list of cars. On the menu were the 718 Spyder, 911 S Cabriolet, 911 GT3 RS, Macan GTS, Cayenne Turbo, Panamera Turbo S, and the Taycan. That's over 4000 bhp, and approx Rs 17 crore, whichever number impresses you more. What interested me the most was the 911 GT3 RS. As far as I could see, everything else on this list was something I had driven or would get to drive in India, but the GT3 RS is an elusive creature. Most people who can afford it don't appreciate it, and those who do, don't let anyone else drive it. Mission GT3 RS it was, for me.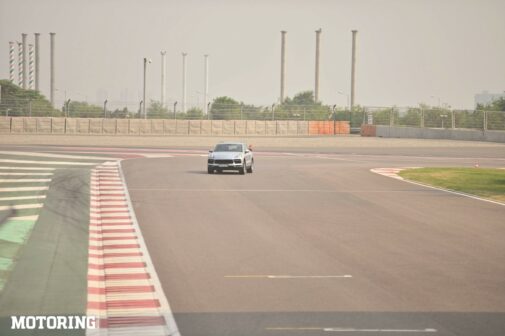 I am sure I wasn't the only one with such intentions, and there was a schedule to stick to. We started the day at the braking section, where we had a Panamera Turbo S waiting for us. It was a regular 'blast off-brake hard-swerve' bit, where each participant got three runs. Sadly, no one ran over any cones, and the most memorable part was hearing the deep-throated V8 every time someone went on a run. And, of course, the fact that the Panamera Turbo S with carbon ceramics, brakes really well.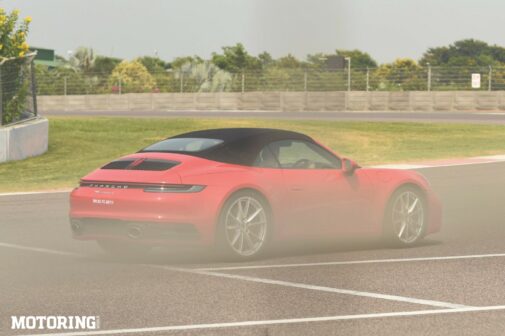 Next up, a short handling section and a test. We drove the 911 S Cabriolet twice on this circuit, lit up with bright orange cones, and then got one shot with the GT3 RS. Our friendly bunch of instructors was naturally concerned and had a simple theory they followed. If you can't manage the GT3 RS on this slow-speed 500-metre section, then let's not take a chance and send you out onto the track. Fair play, I say, and I didn't miss a beat throughout this section. No cones were hurt, and all the excitement of driving the GT3 RS, for the first time ever, was professionally contained. One fellow participant did murder a couple of cones, and I'd be lying if I say I didn't think about asking the instructor if I could get a few extra laps in the GT3 RS in his/her place. Clearly, I took the test part more seriously than the others.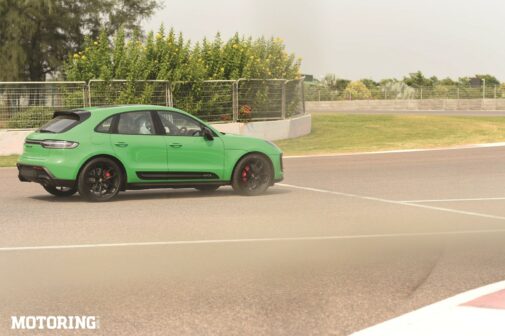 After this brief taste of the sports cars, it was time for a cornering exercise. Last corner of the track, but in a Cayenne Turbo or a Macan GTS. V8 rules, right, so my choice was the Cayenne Turbo. A choice I should have made after knowing what the exercise is, but V8 rules. On paper, or in this case on the walkie-talkie, the exercise was simple — come into the last corner, brake at the marker, hit the apex cleanly, and you're done. Not so simple, when the car you drove minutes ago was a razor-sharp supercar, and now you are in a 2.2-tonne SUV. For the first couple of runs, I was glad I was not being tested in this exercise, and wondering if the Macan GTS would have been a better option. For an SUV, the Cayenne Turbo did really well, and the exercise was good fun. For people who do not drive on the track often, it was the perfect way to understand how to drive clean and fast.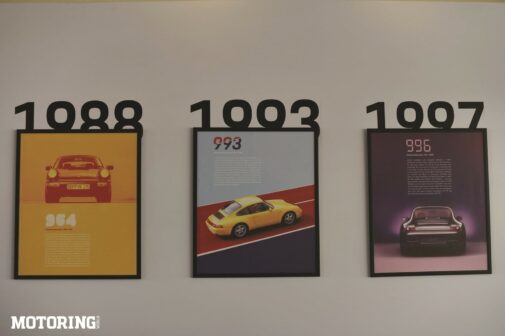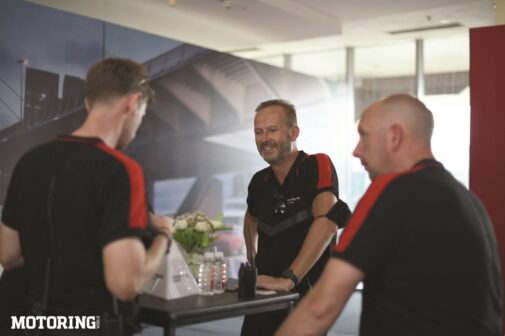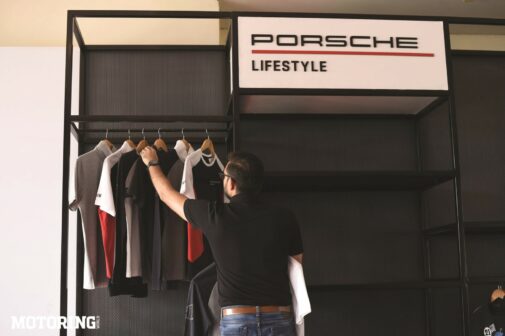 Lunch seemed like a really long break, but my dessert was the track time that followed. The schedule was three sessions of six laps each, two per car, and two drivers per car. So, you do your two laps in the 911 S Cabriolet, swap with your co-driver, and they do their two laps, and then both of you move on to the next car. The downside, we drive in a convoy with a lead car, and as everyone knows, in a convoy you are only as fast as the slowest car. Yes, I get that we need to be fair to all, and not take any risks, but I can grumble about the luck of the draw or to whoever made these groups.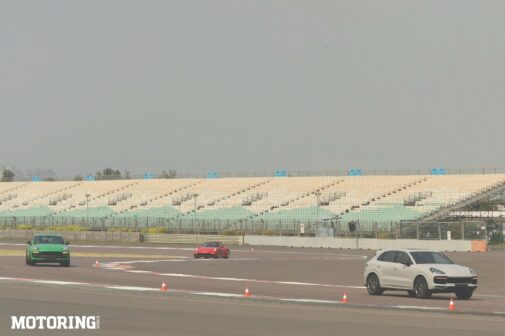 The first car on the track for a lap was what turned out to be the biggest surprise of the day. The 718 Spyder was a manual. A manual Porsche, at a racetrack. In India. I mean, hell yeah! Not to be confused with the Boxster Spyder, the 718 Spyder is a real and rare gem. It is exactly the same as a GT4, with the same 414 bhp and 21 kgm, 4-litre flat-six that revs up to 8000 rpm, and a 6-speed manual with long ratios in the first and second gear, but short throws. With the speed of the convoy I was in, the 718 Spyder could have done the entire lap in second gear. The 718 Spyder was a hoot though, a proper track tool, ready to attack every corner with the same zeal and precision, every single time. The 911 S Cabriolet, after the 718 Spyder, felt quieter and more comfortable. Driving a 911 anywhere, especially a track is always fun, but what I really wanted was to finish my two laps and drive the GT3 RS.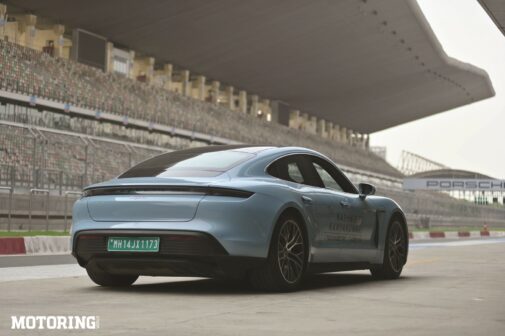 People who say don't meet your heroes or something along those lines, either don't like machines or haven't met the GT3 RS. It is truly a video game car, which has been brought to life, featuring a mahoosive rear wing — the biggest on any Porsche ever — which is six feet wide and taller than the car. Courtesy of many such tricks, even some F1-inspired stuff, the GT3 RS has twice as much downforce as the old GT3 RS and three times as much as the current 911 GT3. It screams 'take me racing', and the naturally aspirated 4.0 flat-six screams, too, maniacally, up to 9000 rpm. Porsche calls it the most track-focused 911 ever, and boy does it show. On the track, it is one of the most involving cars I have ever driven. Two laps are not a lot, but the GT3 RS was impeccable. The way it sounds at 9000 rpm, or how the steering is razor sharp, or how beautifully balanced it is, or how it just sticks to the track, I can go on and on. The GT3 RS is beyond phenomenal, a testament to what engineering can do and how alive a car can make you feel. Truly unforgettable.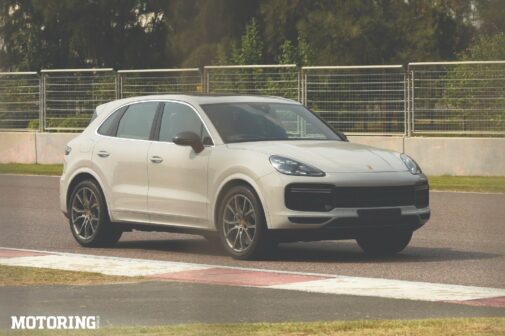 I did drive the Panamera Turbo, Cayenne Turbo, Macan GTS, and the Taycan for more laps, but everything just felt calm after the GT3 RS. All these cars were fast and capable, but the benchmark in my mind was too high and too fresh. Porsche's family traits are carried over well through the entire range, including the Taycan, and it is heartening to see that changing times are not making the sportscar maker lose focus of what made it the legendary carmaker it is today. I am sure there will be electric versions of pretty much everything I drove today, but I hope Porsche never gives up on cars like the GT3 RS and 718 Spyder. The world will always need a little magic and these cars are simply that, magical.