It all began when Porsche India invited Motoring to be a part of its attempt to create the longest relay in the country, in a Macan GTS. A good number of our media fraternity obliged, and so did we — I almost dove on that grenade, so to speak, as the dates overlapped with the day I would be turning 34. The route that we had been assigned — Visakhapatnam to Kolkata — was also a region I had yet to explore. It was a confluence of too many desires that brought about me, getting into the amazingly comfortable bucket seats of a Python Green Macan GTS at 5:30 am, outside a hotel in Vizag, on my birthday!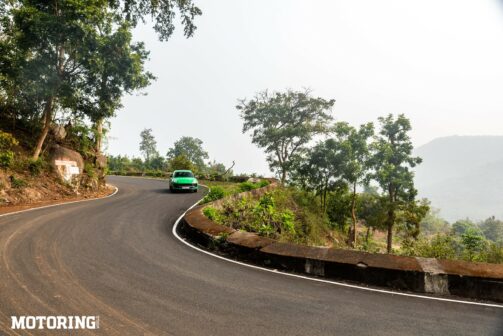 There had been a great deal of planning that had gone into this. Govind and I had sat at a cafe for hours researching locations, timings of sunrise and sunset on the east coast, accessibility, and so on and so forth. Our first stop was going to be a beach we had scouted digitally and by hearsay — always ask the locals politely, and they're happy to help, especially if you're sitting in this gorgeous Macan GTS. We pulled up to the beach, and waited for the sun to come up.
It had been a while since I had seen the sun come up over water, and I had vivid memories of the first peaking of the sun turning the sea orange. As I fidgeted waiting for the sun to come up, I admired the Macan GTS. Yes, this Python Green paint job is a Rs 4.92 lakh optional extra, but it looks absolutely stunning, and contrasts beautifully with the tasteful black highlights. Those 21-inch black alloys are also drool-worthy, and highlight the red brake calipers in an oh-so-sporty manner. That black spoiler, the LED light bar, and the quad exhausts surrounded by what looks like carbon fibre (it's plastic)… it's all so eye-catching.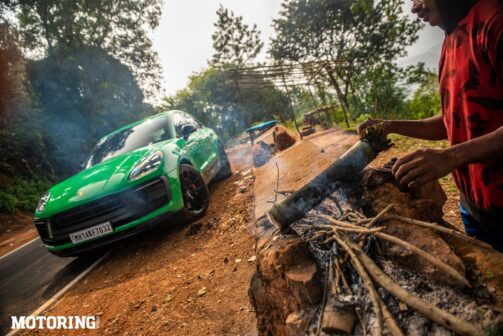 I'm a bit surprised that I'm a fan of this muscular, stretched 911 design — I wasn't a fan of it on the Panamera or the Cayenne — but on the Macan, it meets my traditionalist taste. I couldn't wait to see the orange light of the rising sun play with that lurid green finish, but the smog played spoilsport. It wasn't something I expected for some reason, but it dampened my spirits slightly. Still, I had 400-odd kilometres to travel today until our first stop in Chatrapur, Odisha, and it included a detour towards Araku Valley.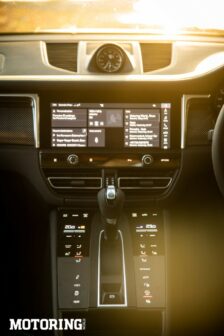 Based on our research — cobbled together from the locals, Google Maps, and Govind's network of friends (spread across the length and breath of this country) — I'd really be able to enjoy the Macan GTS on those twisty, winding, and sparsely populated roads. And boy did I! The standard Porsche Macan is quite a fun SUV. It's chuckable, has ample grip, and is enjoyable, to say the least. The Macan GTS ramps the enjoyment up by a factor of five. 0-100 kph in just over 4 seconds, 435 bhp and 56 kgm of torque always at your command, the lightning quick 7-speed dual-clutch gearbox, and that confidence-inspiring all-wheel drive system work superbly to bring about what I can only describe as joy.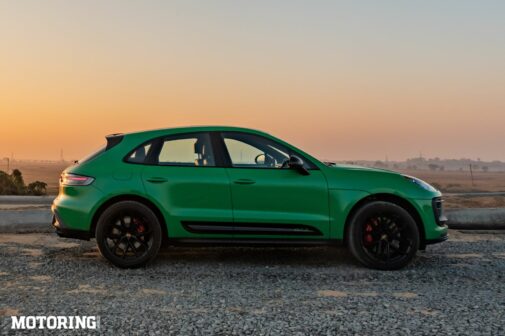 I was afraid those slim 40 aspect tyres and large rims would take a beating over the rougher patches, and I did restrain myself over them at first. But I soon realised that this car doesn't need mothering. It unequivocally has the go to match the show. Just as our stomachs started to rumble, intruding on the amazing drive we were having — the Macan GTS' size, power, and general adaptability can't be described by another word than sublime — Govind suggested we try some 'Bamboo Chicken'. A specialty of these parts the name is apt as you have chicken with some spices, roasted in a large bamboo shoot, over a wood or coal fire.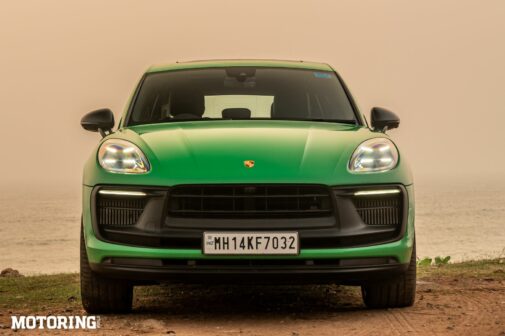 A little wary of undercooked chicken, I nibbled at it, but found it to be surprisingly flavourful — the overt hints of bamboo and pepper came through well. 'It's definitely something I'd have again,' I thought to myself. A full belly and a warmed seat (we were in a hilly enough region and it was early enough that we didn't miss ventilated seats) usually means sleep can set in, and that held true for Govind in the passenger seat. That gave me some alone time with the Macan GTS, and we got to know each other quite well.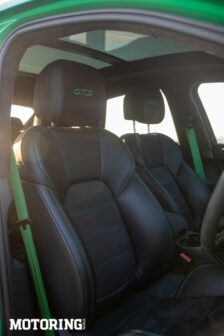 It was always eager, and it liked to make itself known. The Python Green finish is something that only catches the eye when it comes within sight. The exhaust note when Sport mode is engaged lets everyone know it's coming around the corner. And it goes around a corner so well — the superb AWD system distributes power instantly, and only if you switch the nannies off, will it allow you to misbehave. I was on a public road, so I kept that little devil on my shoulder in check. But, even in the 40-80 kph range, the Macan GTS was definitely an eye-opener to drive.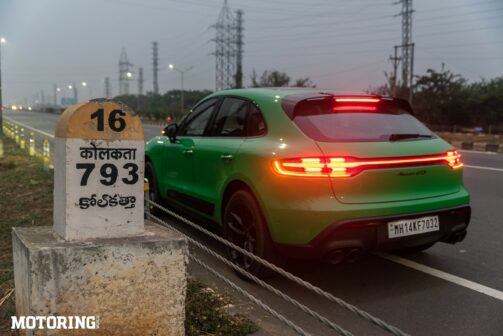 It was an easy cruise after we joined the NH-16, which would lead us to Kolkata. It's a well-maintained six (mostly six, sometimes four) lane, tolled highway (no exceptions for those without FASTags), with a speed limit that varies between 80 kph and 100 kph. Google Maps showed a number of forest reserves, sanctuaries and such along the way, but the foliage seemed too dense to risk the Macan GTS, even with its AWD system and a dedicated off-road mode. That terrain seemed daunting even if I were in a Defender. As the sun began to set, we set our sights on getting to Chatrapur, our stop for the night.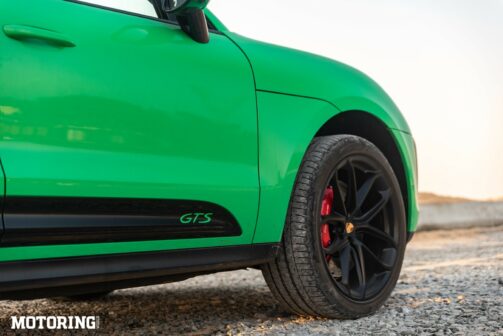 By the time we had stopped, it was well after dark, and other than a lingering, loving look at the Macan GTS, I trudged to the hotel room, and conked off for the night after a morsel. We were up early enough to catch the sun as it rose over Tampara lake, and as I moved the SUV into position, I noticed something on the clear MID on the right side instrument cluster pod. It was showing me I had been driving rather efficiently the previous day, despite some, frankly, boisterous antics to get a drift shot. This 2.9-litre V6 was going over 10 km on a litre of fuel. Now, that's not bad at all!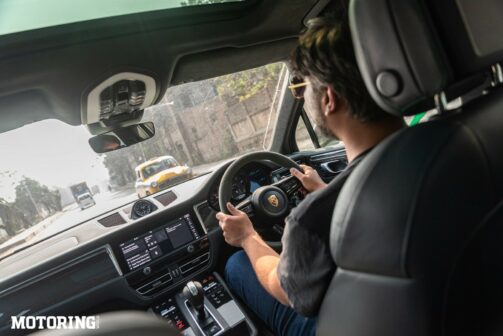 Most of my second day with the Macan GTS involved setting off on rather random roads that trailed off the NH16, in order to get that perfect shot of the Porsche on a narrow strip of land — with the Chilika lake on one side, and the Bay of Bengal on the other. However, despite a particularly promising lead, one that saw the SUV happily chug along a rutted trail, that saw us cross the train line (incidentally, if you're travelling from Vizag to Kolkata by train, there's actually a spot marked on Google Maps where you can see just that) there was no access for a four-wheeler.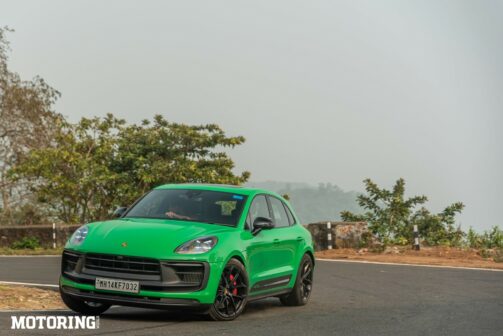 After more than a few hours spent rather fruitlessly, we decided to call it an early day and head to Bhubaneswar. After all, we had about 450 km to cover the next day, and some of it was through Kolkata traffic, which I had heard disturbing tales of. In fact, our flight back to Mumbai was at 9:40 pm, and we thought an extremely early start was in order, which helped our case to head in early. As was the case whenever we entered an urban centre, the Macan GTS turned heads. I kept the switchable exhaust on the muted setting at those points, but there was still no shortage of admirers.
It seemed like we had underestimated the quality of the road, and just how easily the Macan GTS can make up ground. It cruised comfortably, weaved in and out of truck traffic with supreme ease, and kept me quite entertained throughout the journey. Everything in there is built to provide the thrill of driving, and boy does it all work so well. Even the occasional four-legged pedestrian and some of the more dim-witted two-legged ones, couldn't raise a hairy moment, and I have to make special mention of the superb Bose audio system, which is unfortunately a Rs 2.45 lakh extra.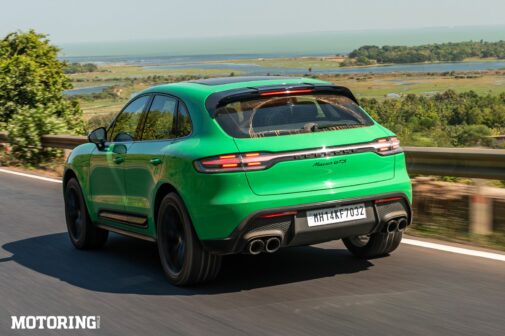 We reached Kolkata well before we had planned — we even managed to get one shot of the lovely green Macan GTS highlighted against one of Kolkata's iconic yellow taxis — and before I knew it, I had to hand over the keys. It almost took more willpower than I had to do that, and I walked away feeling that usual melancholy, when something good ends. I guess I'm mature enough to now know that nothing good lasts forever, and it shouldn't. Otherwise, how would we know the difference between a good time and a bad one? I do know one thing, though, and that is that through whatever times, the Macan GTS is the best of companions. Maybe I'll ask to do the entire run of the relay by myself next time.