It was a moment filled with the irony of ages. I was following in the green car with the window down, as the red one's rorty exhaust filled the EV's cabin with the sweet-smelling aftermath of internal combustion. Every movement the red one made seemed like a mischievous event, while the green one chased it shouting, 'Me, too! Me, too!' Somehow, the fact that both wore the same badge seemed to be irrelevant, because these cars were decades of context apart. The MG Comet EV is the newest green kid on the block, but its ancestor, the MG Midget 1500, was clearly the one that hit all the right buttons (at least on this Xennial's heart and mind).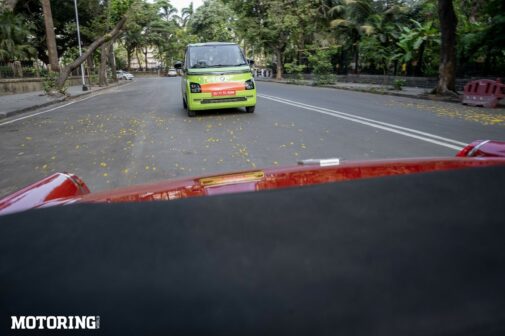 The Midget has a name that would probably get it cancelled in today's day and age, but it is still very clearly what I think a car should be — topless, low-slung and light. And red, of course, which this one was. It belongs to Amal Tanna and, like his car, he seemed to be serious about fun. What's more, he'd booked a Comet EV and was more than mildly interested in the car that looks nowhere as fetching as the Midget. As Srinivas Krishnan, ex-Motoring editor pointed out during the shoot (after noting the absence of a glovebox) 'Well, the whole thing is a glovebox on wheels anyway.'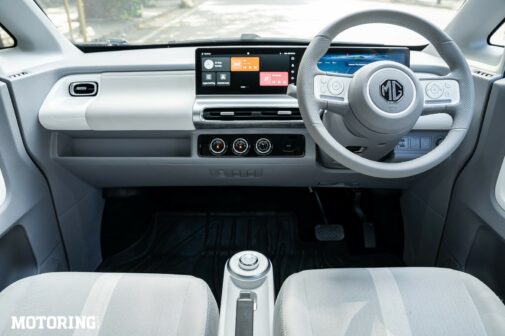 The Comet EV may be visually confusing, but it means well, and it also got as much attention as the Midget without producing so much as a whisper. If the evident interest and questions I got while driving it are any indication, it's going to sell quite well despite its relatively high sticker price. It's not going to make its tyres squeal like the Midget can, though. This particular MG is from 1979, the final year that the Midget was made. It has black bumpers necessitated by US regulations, and it had a 1493cc inline-four that was good for 160 kph back in the day. That speed in a car that was this low and light? That had to be a life-changing event, one way or another, that's for sure.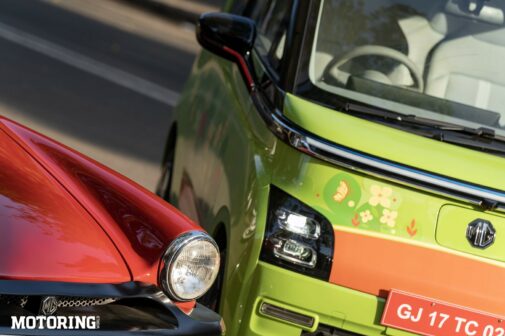 That also made me think of how the Comet EV hit 108 kph on the way to meet the Midget. The car itself was stable at that speed, but I couldn't help but keep glancing at the range readout every few seconds. Eventually, I decided that Eco mode was the only one that made sense and ignored the other two, Normal and Sport. I made my peace with the dull regulator response, and also realised that the claimed range of 230 km was probably unrealistic. Now, I don't know what ideal driving conditions are, but the real world certainly doesn't have them. In stop-go traffic through cities with flyovers, speed breakers and bad roads — the exact opposite of IDC — the Comet EV will travel between 160-180 km before needing to hunt for a socket. It's not a bad range, to be fair, but I'd have wanted to hit at least the 200-km mark for the price MG's asking.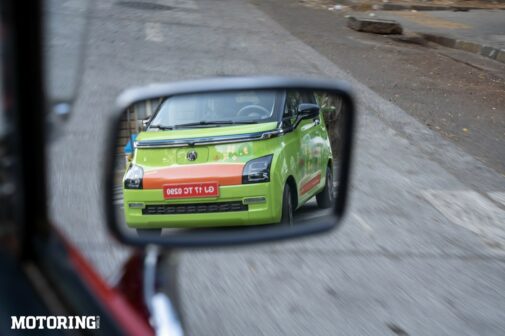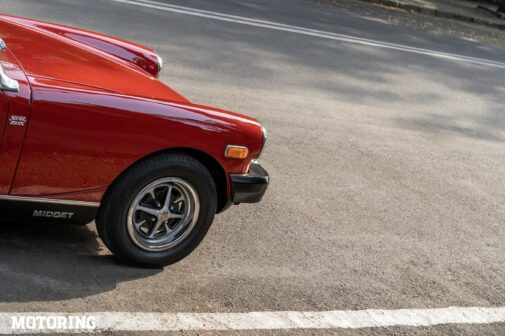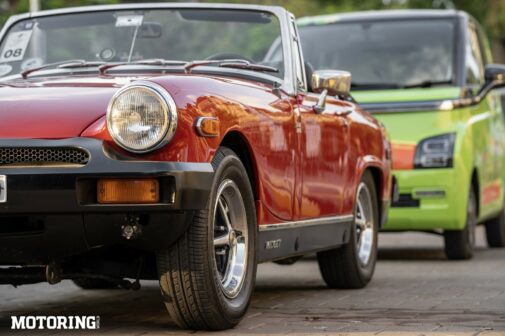 For all intended purposes, the Comet EV's 41.42 bhp and 11.21 kgm are sufficient for a car that is designed to fit the term 'urban mobility solution' that everyone likes throwing around these days. And as such a transportation container, it's quite likeable, too. In tight spaces, it didn't so much turn as folded in on itself and fit wherever I asked it to. I also thought the interior was surprisingly high-quality, until I remembered its price and figured that it had to be. There was a lot of space in the footwell, and just enough space at the rear for a pair of average-sized humans. And with the rear seat folded down, its rear half could turn into a large boot as well. For a family of one or two, this EV isn't a bad option at all. However, MG should immediately consider getting rid of the shoddy-looking wheel caps.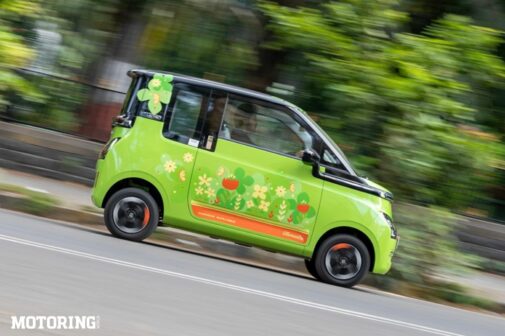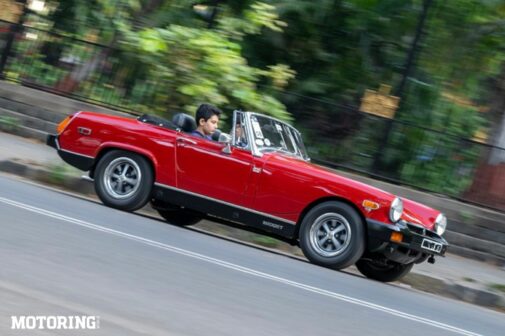 Also, the Comet EV's horn seemed to be pointed inwards, or perhaps there was no place far enough away to install it. At least it was a good way of startling a first-time passenger, and most excellent for getting a driver to stop honking all the time. Also, where the Midget could probably twirl into and wag out of a corner, the Comet EV's boxy and tall proportions meant that it was like rattling around in a can if driven hard. However, driven with consideration, it showed a comfortable ride quality that was quite unexpected. I mean, where did they put the springs required to cushion passengers to that extent? Mind you, I didn't drive with four people in the car, which might change the impression that I got with two people up front.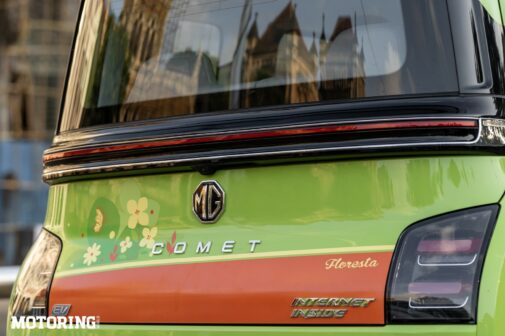 In a convertible, you leave considerations of NVH in the wind and celebrate the joy of motoring in all conditions. In this regard, again, the Comet EV was a surprise, as it showed far better sound insulation than you'd expect, and it was only near its top speed that wind roar and tyre noise got as loud as the Midget's exhaust. Also, the Comet EV I got came with the optional  Florista decal set that channelled the hippie spirit that was prevalent in the Midget's time. And while it may have looked incongruous on a transportational device, I didn't mind it. Neither did I mind that I had to rub elbows and shoulders with the passenger. The strengths of the Comet EV are its size and ease of use, and we'll just have to get along with the rest.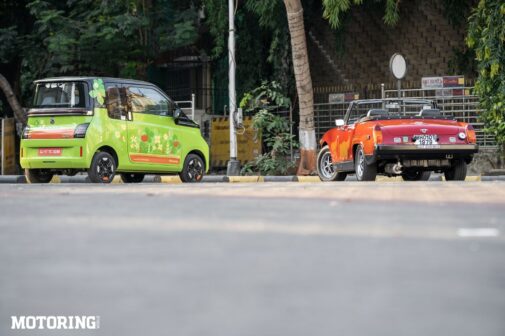 Where the Midget was family-heirloom material, the Comet EV is going to be a tool of convenience. And, to be honest, this new MG is the first EV that addresses the need for a truly compact electric car that our crowded conditions demand. So what if every single auto-rickshaw driver took its dimensions far too personally and proceeded to race against me? The sight from the day that will remain with me was Tanna's son of 12 years cleaning the Midget's windshield. There are cars and then there are cars, even if both wear the same badge. As I watched the road blur past from the Midget's passenger seat, I had a realisation as sunny as that morning's sky — the tide may have turned, but the undercurrent of history still has its place in the flow of life. And then I realised I had to start looking for a charging station right away.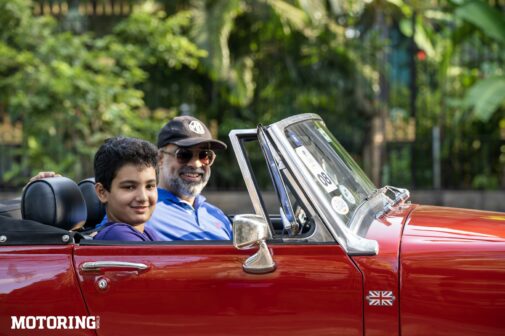 A big thank you to Amal Tanna for waking up early on a Sunday morning and suffering our antics. May your tribe grow ever larger!