'It is only a matter of a few years and we will lose complete control of our cars,' said someone over dinner the other day. This triggered my anxiety because a) I don't like talking to strangers about things terribly close to my heart, and b) as dystopian it may sound, his vague idea of the future of motoring doesn't seem entirely impossible. Does that mean the current steady adoption of advanced driver assistance systems (or ADAS in short) is a step in the wrong direction? The reality is far from that, actually — you only have to take a look at the ADAS and AI-equipped MG Astor to see why.
Before delving deeper into what these systems mean, and how these features make driving and owning a car more hassle-free and safer than ever, here's a recap of what the MG Astor is. It's a stylish SUV that MG presented in late 2021 to cater to the demands of those who were looking for a five-seat car, loaded to the gills with new-gen features and looking like a product several price segments higher. The petrol-only car shares a lot with the MG ZS EV (except the power/drivetrain) but like the ZS, it's also a global product — something that's reflected not only in the way it's designed but also in the way it's been specced. The stylish interior is a testament to that. While it keeps its global roots and quality intact, the Astor offers what we Indians absolutely appreciate: almost human-like interaction via its onboard AI bot.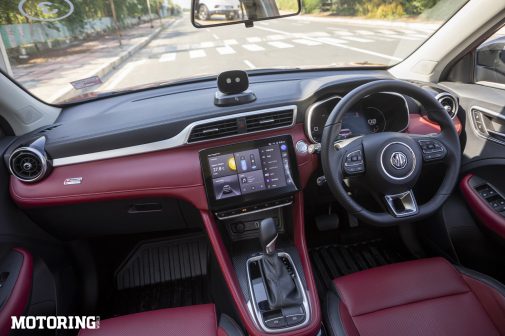 Perched atop the classy dashboard is something that can only be described as a personal assistant straight out of a typical Pixar movie. It's unique in execution and 'talks' to humans with emojis and the expressive 'eyes'. From getting news and other information ( from Wikipedia) on the go, handling car functions (like music, AC, sunroof, navigation, telephony) to telling jokes on demand. That's like having a stand-up comic who doubles up as your friendly assistant. The best part about this is that you won't have to take your eyes off the road to access the multitude of features, not even once.
What further ups the Astor's safety quotient are the driver assists, which don't just help the driver make the right decision but can also, using camera and radar tech, prevent crashes and thus save lives. MG says that the Astor is equipped with SAE Level-2 autonomy, which means that while it's not completely autonomous, it allows the car to take control of the steering, brake and accelerator in cruise or emergency situations. MG offers things like speed assist, lane assist, rear-cross-traffic alert and blind-spot detection as part of the suite. None of this means MG has skimped on the basics either, as the Astor comes equipped with up to six airbags, disc brakes on all four wheels, hill assist, traction and stability control and ABS. My personal favourite features, from the safety point of view, are adaptive cruise control (where the car understands what the vehicles around it are doing and maintains its pace accordingly) and forward collision prevention, which includes automatic braking not just when the traffic ahead slows down but also when a pedestrian jumps right in front of you out of nowhere. Last but not the least, the intelligent headlamp control ensures that the Astor stays considerate towards other road users. It does so by automatically switching to low beam when it detects oncoming traffic, in order to not blind them. Smart!
All of this is complemented by a 17.78 cm all-digital instrument panel, which displays a plethora of information crucial to the drive. Heated outside rearview mirrors are equally important, especially for those who want to explore new roads with their Astor in cold weather. The i-Smart tech gives the Astor 80+ features, including nifty ones like being able to unlock and enter the car using just the MG mobile phone app. This Digital Key feature is complemented by the ability to keep a check on the car's location (geofencing), anti-theft immobilisation, and even the Jio Saavn Premium app for all your music streaming needs. The 25.7 cm high-res touchscreen makes accessing content like this and more not only easy but also enjoyable. Keeping up with the times, there's an air purifier and also a large and wide panoramic sunroof that makes the well-appointed cabin seem even nicer. The seamless integration of third-party apps also makes life easier, because you don't need to look anything up on your phone when information on just about everything can be pulled up on the infotainment screen.
Importantly, there's nothing that says hassle-free better than a wide network of sales outlets and service stations, and MG has got that covered too, with 270+ such centres spread across the country. Needless to say, the Astor is a great window into the future that doesn't take driving fun away from you. It has many features that aren't just segment-first but which are unavailable in cars twice as expensive. If you don't believe me, perhaps you could get behind the wheel of an Astor at your nearest MG showroom — I suspect you'll agree.