The Maruti Suzuki Grand Vitara hybrid is India's most fuel-efficient car, at least based on ARAI ratings. That 27.97 kpl figure comes in ideal conditions, rarely replicated in the real world. So, what better way to get a real world figure than a long drive, say one from Delhi to Mumbai? Incidentally, it also happened to be my first — I'm not sure why, but a Mumbai to Delhi (or vice versa) drive has always been on my bucket list — and I wanted it to go swimmingly. It was a confluence of my own desires (an occurrence that seems to be getting rarer), as I really wanted to know how far the Grand Vitara could take me.
A shoot in the morning prevented us from leaving Manesar bright and early, which is generally considered the best time to leave for any road trip. Our first stop for the night was Jaipur considering we left well after lunch time, and it was a smooth four-and-a-half-hour drive. We were just trying to get to our beds as soon as possible, as we had many miles to cover the next day, places we had planned to shoot at, and mileage to calculate. After some simple dhaba fare — by which I mean deliciously filled with butter and ghee — we retired for the night.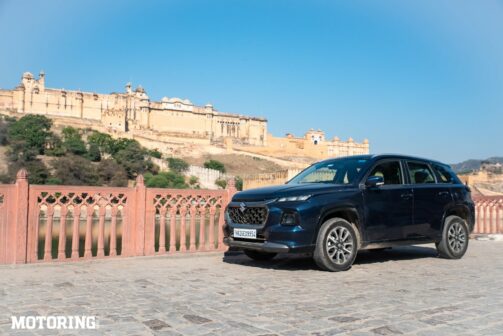 As we had covered just about 250 km the previous day, we wanted to jet out early, though that didn't seem on the cards either. I awoke the next day at a less than brisk pace (I had just attended the Hyundai GID 2022 that involved driving for about 2300 km, cumulatively, in less than a week), and then proceeded to eat a hearty breakfast, which meant that it wasn't particularly early before we actually set out. We managed to sneak the Grand Vitara (which was a bit of a task as the petrol engine was slightly noisy on a cold start) right up to the Amer Fort, just before the crowd came in, and then bustled off towards Nahargarh Biological Park.
This wasn't just meant to be a sight-seeing trip though. Govind's sources had told of a road that went through it, and connected to Jaipur. It would be a bit of a detour, but the Grand Vitara seemed eager, and 550 km on the distance to empty was enough to assure me that we could go adventuring. Sadly, it was not to be. It seemed the park was closed for the day (we weren't able to ascertain why), so we then decided to hit up a back up spot I was very keen on — the salt flats near the Sambhar lake.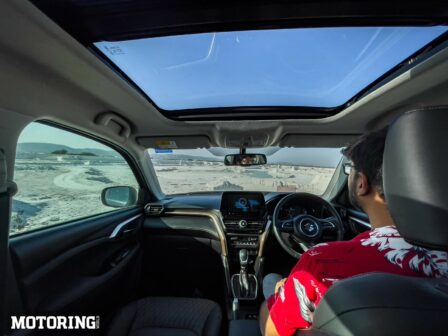 This detour would prove to be a much more worthwhile endeavour, and I got to actually test what the Grand Vitara's suspension was capable of handling. Some of those narrow village roads off the highway are in a state of perpetual disrepair, but the Maruti midsize SUV stayed quite sure-footed the entire way. After trudging along for quite a bit more than an hour, we were rewarded with a stunning vista — flat salt pans stretching out to the horizon, and a hint of the rather dry lake behind, all of it being baked by the relentless sun. Autumn may have been setting in some parts of India, but here, the sun rules all. Quite unlike the marchy, stinky salt pans I'm used to seeing on the Eastern side of Mumbai, these looked almost pristine white and brown, with the occasional bit of shrubbery dotted around.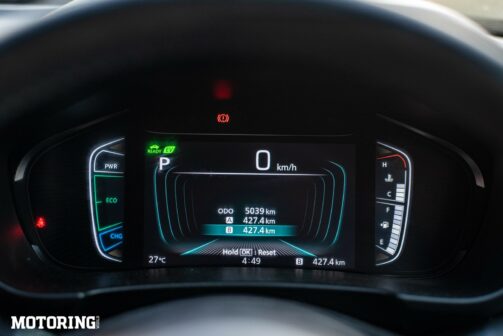 And, like any of the slightly crazed Motoring crew I work with, I had to get the car onto that patch, as it would make for a thrilling shot. I had handbrake drifted the mild-hybrid petrol manual when I first drove the SUV, and thought I could replicate the feat with the hybrid, which, with this backdrop, would make for… well the shot you see above. To be honest, the Grand Vitara hybrid doesn't like that sort of driving, and even with the traction control system off, it was loath to perform the way its mild-hybrid sibling did. Still, it was a pretty enjoyable experience — sneaking onto the salt pans (you're generally not allowed), making some impressive doughnuts while trying to drift the car.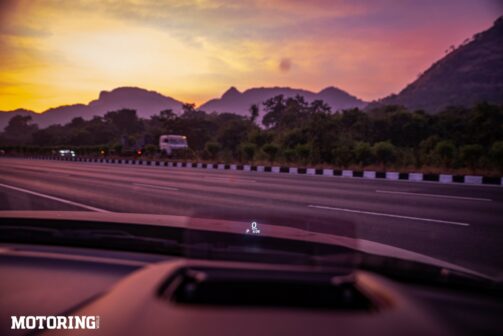 What that did result in, was the lowest mileage I had seen while driving the Grand Vitara, a measly 14 kpl! I thought my antics near the Sambhar lake and the attendant drive from, and back to, the highway might see that figure drop lower. We then headed to what we thought would be a coup de grace of the trip — the marble slurry dumpyard in Kishangarh. From the pictures we had researched, we had hoped it would look like the Grand Vitara was literally on a lunar (or at least alien) landscape. However, some bright spark with money and connections had also realised what a wonderful spot it makes for photography, and has been monetising it quite well. Rs 5000 was asked for when we tried to get permission to shoot.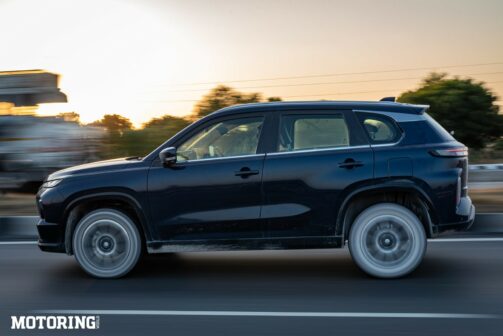 Both these detours — which didn't seem like much by themselves, but added more than the allocated hours to our trip — and the addition of minor mystery of the missing FASTag (it's an embarrassing tale of losing the tag in the door storage, getting a new one made, finding the old one that was now invalid, finding out the new one was invalid for some other reason, and getting a third one) meant that we weren't going to be able to power through and reach Mumbai very late on the same day.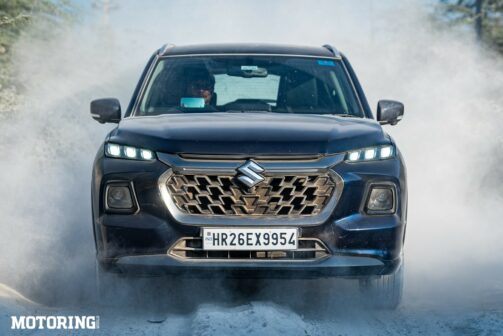 Vowing to at least start the next day early, we settled in Udaipur for the night, having covered about 515 km. We fuelled up the Grand Vitara hybrid just the one time on the way, but to do the 13-and-a-half hour journey (about 745 km) from Udaipur to Mumbai meant that we'd stop early on, top up the tank, and then head on non-stop. So, we stopped at quite a picturesque petrol pump, which also had an unfortunate sign failure. Some of the lights had stopped working and the Rs 95.24 for diesel looked like a poorly drawn swastika. The sun came up as we filled up the tank, and the distance to empty showed over 800 km — I wasn't worried about getting home at all.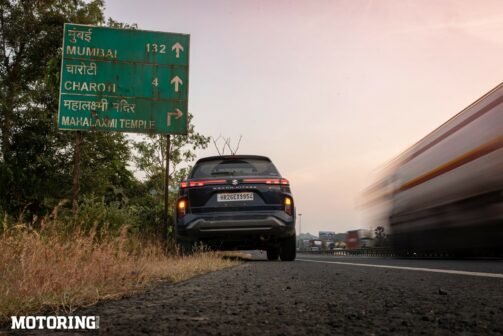 However, time was of the essence. Other than two stops for food (one of which was a leisurely one at the amazing Hotel Ahura in Dahanu, which serves proper Parsi food, and has its own bakery), we sped on towards Mumbai. I came to know the Grand Vitara quite well, and they way the hybrid system functions. It tolerates rambunctious driving, but doesn't enable it in any way. There was a noticeable difference in mileage — almost 5 kpl — when cruising at speeds higher than 100 kph, when compared to those just below. This thing is tuned to get you to faraway places, but at an easy-going pace.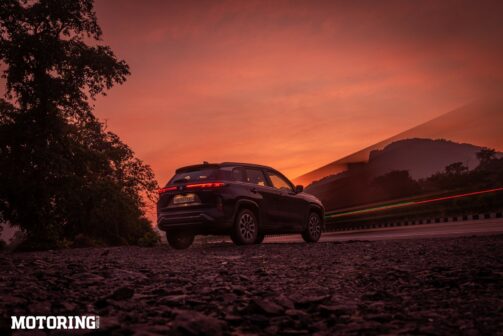 If you need to dart around slow-moving three-wheeler and truck traffic, then the Grand Vitara obliges with an initial burst of speed. Sustained pushing isn't this hybrid's strength, and if you drive it with that in mind, this SUV is quite an effortless cruiser. Body roll is well contained, the chassis feels taut, the suspension is just the right amount of soft to round out almost anything, and that hybrid is definitely the most frugal thing on the market. The 1500-km Delhi-Mumbai trip could have been done in two days, and on just one refill of the 45-litre tank, but that wouldn't have made for nearly as good a story now, don't you think?
The day ended with me safe (and very tired) at home, the Grand Vitara with over 120 km of range left, and the knowledge that if I had driven in a manner more attuned to Maruti's midsize SUV — gentle use of the accelerator and never going above 100 kph — I would have been rewarded with a mileage figure north of 20 kpl, quite easily. Add to that, the Vitara does a more than decent job of keeping you comfortable while mile-munching. Sure, that front seat could use a bit more lumbar support, that HUD seems on the flimsier side, and the cloth covering the sunroof is abysmal, but overall, I would highly recommend the Grand Vitara hybrid for those who need a marathon runner.