Let me begin this story with a disclaimer. Ideally, this story was supposed to feature in the Car Vs Bike issue, but for some reason, Mahindra was unable to provide us with the Thar as promised. Yes, we could have just dropped it entirely and that would have been the end of it. But, just like you folks, we too were very keen on having these two machines have a go at each other, which is why they are present in our Summer Of Speed special.
It's 4 o'clock in the morning and I have just picked up half-asleep Rivan from his place to embark on a trip to Pune. Why? Well, Mumbai is very much a concrete jungle as opposed to Pune which has a lot of open spaces consisting of rocky and dusty terrains, a natural habitat for the machines. And secondly, because our long-termer Hero Xpulse 200 4V was with our in-house photographer Kaizad in Pune. Come to think of it, I think Kaizad wasn't that keen on meeting us midway for this shoot. Anyway, the day for me started with a 160-km trip to Pune in the Mahindra Thar. The hardtop version with a petrol motor under the hood mated to a 6-speed torque converter. Yes, I know what you are thinking here. What is an automatic doing here if we are planning to go off-roading with these machines, right?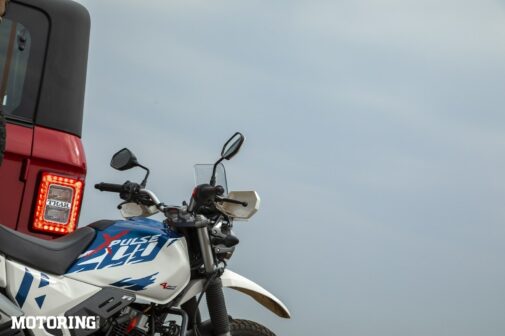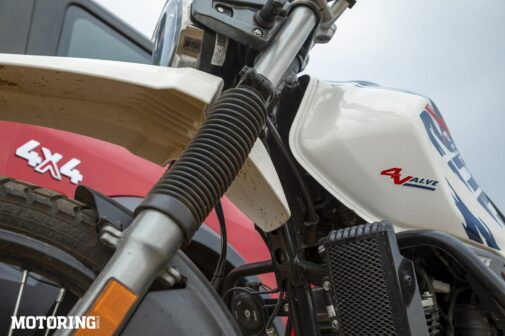 So, you must obviously be aware that Mahindra sells the Thar in both petrol and diesel variants and with the option of a manual or automatic gearbox, right? Apparently, it is the petrol automatic 4×4 that sells the highest. It was a surprise to me as well and since then every new Thar that I've spotted on the road, most of them are automatics. But, I soon realised how much it was making sense as I spent more time driving the Thar.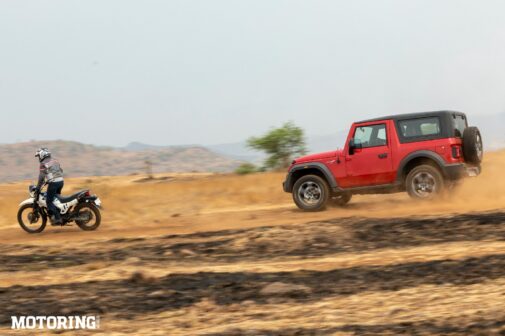 Until now, the Thar was a very rugged pure off-road-focused jeep that featured bare minimal creature comforts. But, as cool as it would look on the outside, the cabin was the exact opposite, with very basic interiors. Even the ride quality wasn't that great either, as most bumps would get transferred to the cabin and breaching the triple-digit territory meant signing up for a scary situation. But now, all of that has changed. Mahindra has made the current Thar a lot easier to live with as it has attained a sparkle of glamour to its off-road DNA. It now comes with a nice-sounding stereo system with a touchscreen display and plusher interiors. It even has cruise control, but for some reason it wasn't getting activated on this one. And while you are enjoying all of this, you somehow don't want to be shifting gears every now and then. Yes, the torque converter does hold on to the gear for a bit longer than needed, but that's okay as long as you are blessed with a nice comfortable ride at 100-110 kph on the expressway, and everyone ahead of you gives you the way. Yup, the last bit is the bonus kick that you enjoy when you are driving a vehicle this big.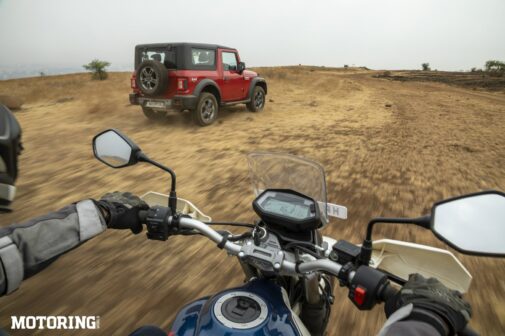 While Rivan had been snoozing for most of the journey, we soon reached Pune. It was now time for me to change from the Thar's steering to the seat of the Xpulse 200 4V. Having extensively ridden the standard Xpulse and the 4V variant during the first ride, I was more than happy to get back on its saddle. The Xpulse 200 4V is the upgrade to the standard Xpulse 200, which has undergone a couple of upgrades to answer the shortcomings faced with the latter. The motorcycle has a 4-valve head and revised gear ratios that lets the motor be more relaxed while touring.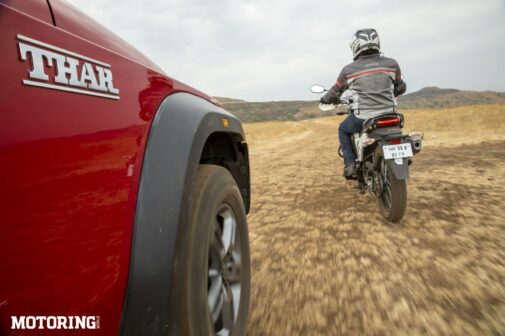 By now, motorists had started to ply the streets of Pune with their infamous sense of road manners. While Rivan was landing in a tight spot to make way through the traffic without mowing down any motorists, on the Xpulse, I was slipping my way through traffic like a fast river fish. And whenever the road was crowded, the Xpulse was happy to make its way through the side rough road patches. Come bumps or speed breakers, all I had to do was keep a constant throttle and the Xpulse would simply glide over all of them.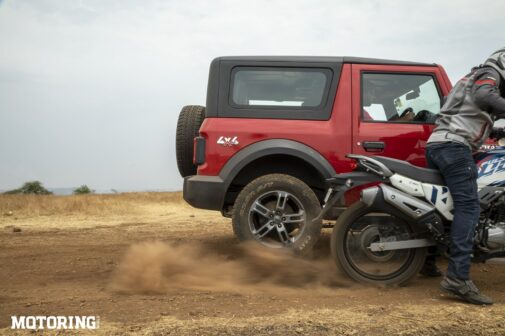 Soon we arrived at the top of a hillock on the outskirts of the city, with a wide expanse of dirt all to ourselves. It was time to unleash what these fantastic machines are capable of. The Thar and the Xpulse 300 4V both are off-road-ready vehicles right off the assembly line. Starting with the Thar, it is present here with lots of off-road experience under its belt acquired from its predecessors over the years. A butch, squat stance, four wheels at each corner of its bodywork, barely an overhang in sight and a seven-slat-wide grin on its face, the Thar is what any off-roader would want to have in their garage. What Cadbury is to chocolates in India, the Thar is to jeeps. The 2.0-litre petrol mill in this one is tuned to produce a humble 150 bhp but compensates with 32.63 kgm of gushing torque available at as low as 1500 rpm. The gearbox comes with a transfer case to split the power between the four wheels, and it also has a 4 Low option. It means when on tarmac, one can enjoy the comfort of the automatic and off the road, one doesn't even need to bother — it will do everything for you.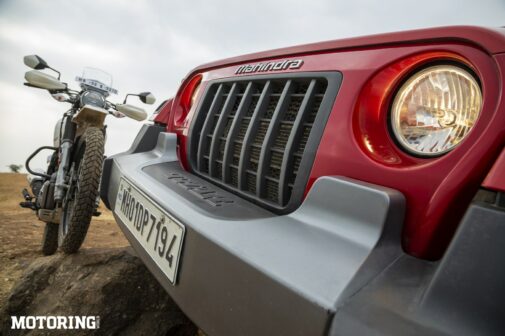 On the other hand, the Xpulse 200 4V comes with a 21-inch front and 18-inch rear spoke wheels coupled with long-travel suspension. It has 226 mm of ground clearance, tips the scale at just 158 kg, and has a slim profile with an upswept exhaust. This means, you don't need to even think twice before riding off into mud, grit, tall grass, rocks, or sand. This bike can literally go anywhere. And even if you did get stuck, thanks to its low kerb weight, it was easy to pull the bike out of the obstacle. It is that simple. The Xpulse packs a 199cc single-pot oil-cooled motor that produces 18.8 bhp and 1.76 kgm, which it transmits to the rear wheel via a 5-speed gearbox. The dual-purpose tyres are a bit sketchy on the tarmac, but offer a lot more grip off it. So, with such a capable motorcycle at my disposal, I was jumping and sliding around to my heart's content.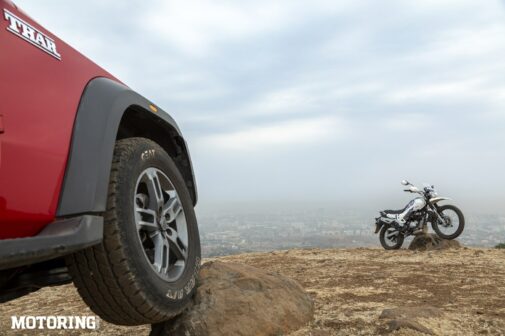 In the case of the Thar, the wide contact patch created by each of the 225/65 R18 tyres was all that was needed to take over almost anything. To climb rocks, shift the small transfer lever beside the shifter knob to 4H, and the Thar would scale it without any hassles. That said, straight-line antics are for rookies, and the Thar was hell-bent on proving its mettle. We chalked out a short but technical patch that had a gravel patch, a tight corner for a hard braking point, followed by a loose-surfaced flowing corner that ended with something like a chicane of sorts. Rest assured, the Thar cleared through all the obstacles without showing any signs of instability.
By the end of the shoot, the heat from the sun was gaining its intensity. Both machines were clean at the beginning of the shoot, were now covered in dust and dirt, and to be honest, looked far better this way. Bringing these two machines together was more than just highlighting the kind of evolved machinery that we have when it comes to off-roading. The Thar and the Xpulse 200 4V are the easiest means to get your hands on an off-road machine that does almost everything that you'd wish for a fraction of the price of other expensive off-road SUVs and motorcycles out there. There are all-purpose vehicles that also double as everyday machines that ferry you to the office and back home. And what is any better than standing out from the crowd with a dirty off-roader, rather than merging with the herd with something that everybody else drives or rides.