It was the last day of the Mahindra Royal Escape and I was strolling in the Pratap Niwas palace's open courtyard trying to kill time before boarding my flight to Mumbai. That's when I heard a thunderous roar from a fighter jet splitting the sky open, and executing a perfect gravity-defying vertical Charlie. This manoeuvre is always the showstopper at the Republic Day parade. From witnessing this spectacle to driving the all-new Mahindra Thar wherever possible, this trip had many firsts for me.
This was the all-new Mahindra Thar's first official media drive, also my first drive for Motoring. We started from Udaipur at 0900 and I was assigned a hardtop Thar in red that ran on the new 2.2-litre diesel mHawk which produces 130 bhp and 32.63 kgm, paired to a 6-speed manual 'box. As much as I wanted a petrol automatic one, I never got enough of this torquey diesel mill. Our nine-car convoy was led by the exclusive Mahindra Legend and there were a couple of Scorpios that acted as the advance and sweep vehicles driven by extremely skilled drivers. Driving in convoys can be boring for some, but I loved every bit of it. Throughout the drive, the Mahindra Adventure team on the walkie-talkies shared more knowledge than we could have asked for, be it about the old Mahindras or Rajasthan's culture. Credit to them for making the long journey engaging.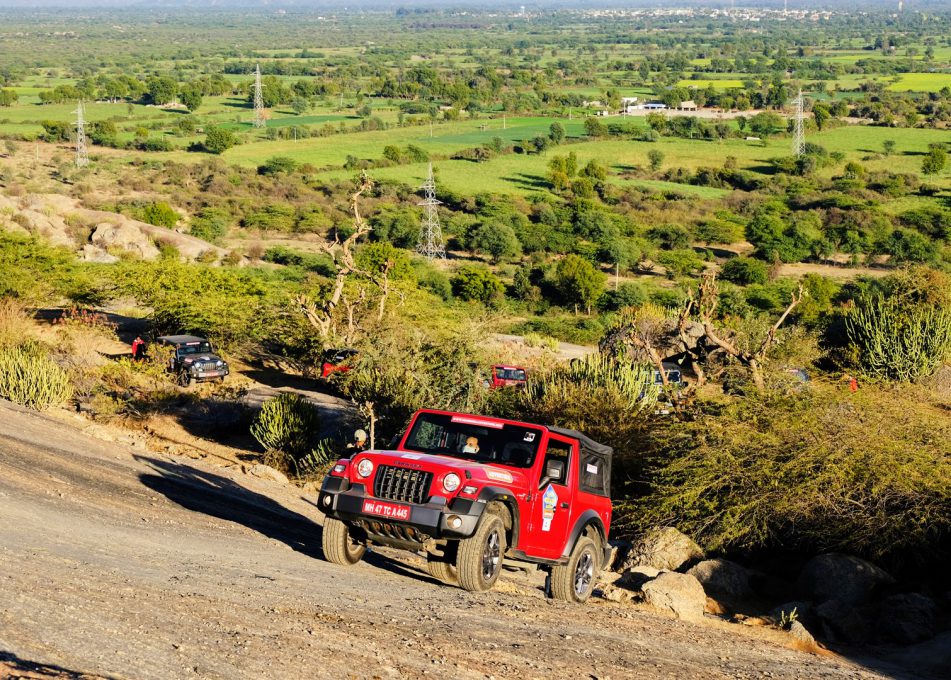 On day one, our first stop in Udaipur was at the Shikarbadi Hotel to meet Mewar's prince, Lakshya Raj Singh. He was kind enough to answer a few questions about his passion for Jeeps, 4x4s and automobiles in general. We even got an exclusive look at his car collection. After lunch, we drove down to Jawai Lake. This place gave us a small glimpse of the Thar's off-road capabilities, though it definitely had the stomach for more, so we climbed up and down a hill. Shifting into 4L, the Thar paced through it with ease. Of course, we did all of this in the purview of the instructors, as they constantly gave us instructions on the radio. Climbing up the steep granite hill was no stress and the Thar deserved all the credit here. All we did was follow instructions. After reaching the top, the view gave me the Lion King vibes until someone muttered that there was a leopard sighting in the area a few days back. That was enough to get us moving again.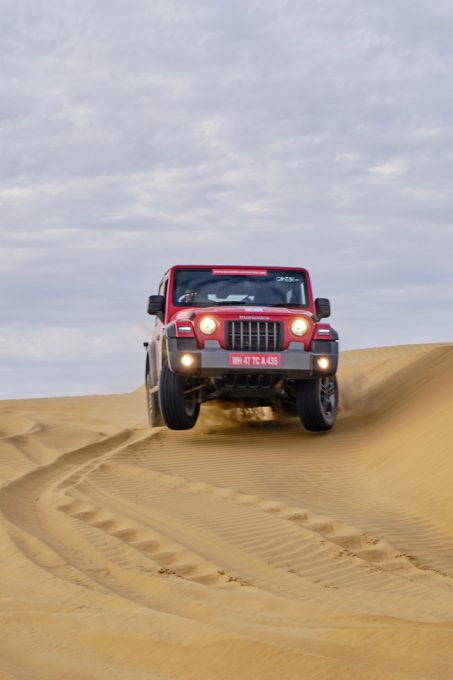 Keeping two cars' distance, we slowly climbed down the hill, and drove through the village to a spot where I saw one of the most scenic sunsets of my life. And not too far away in the middle of the lake, we even had an unbothered reptile as company, minding its own business blending with the rock it was laying on. It had skipped dinner that night only to enjoy the sunset just as much as we did. Without wasting any time, we scooted as soon as it was about to get dark. Moving on from Jawai's Leopard Sanctuary, our next destination was Jodhpur's Pratap Niwas palace.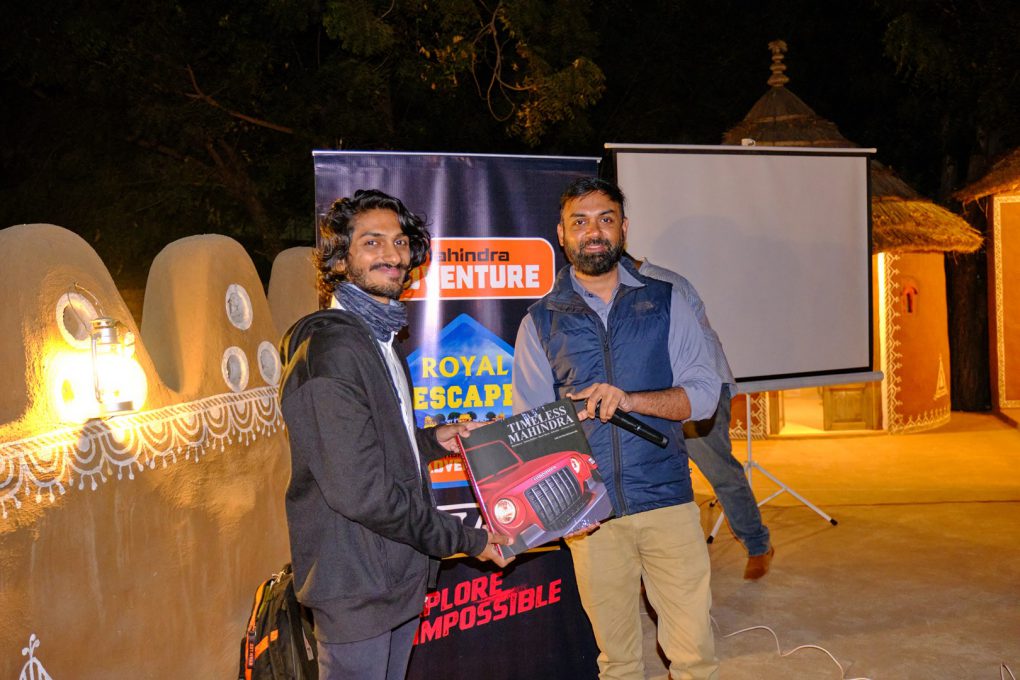 After covering almost 290 km, we reached the palace by 2245. Everyone was evidently tired after a long day of driving and shooting. Next day, we hit the roads around noon, this time heading to Jaisalmer. On our way, we made our lunch stop at the Thar Oasis Resort in Dechu, also called the Gateway of the Thar Desert. This was the last resort that had greenery around it and the next few days we were only going to be surrounded by sand. We were soon going to enter familiar territory. To be clear, the Thar's familiar territory, and here I made sure that I had enough layers of clothing.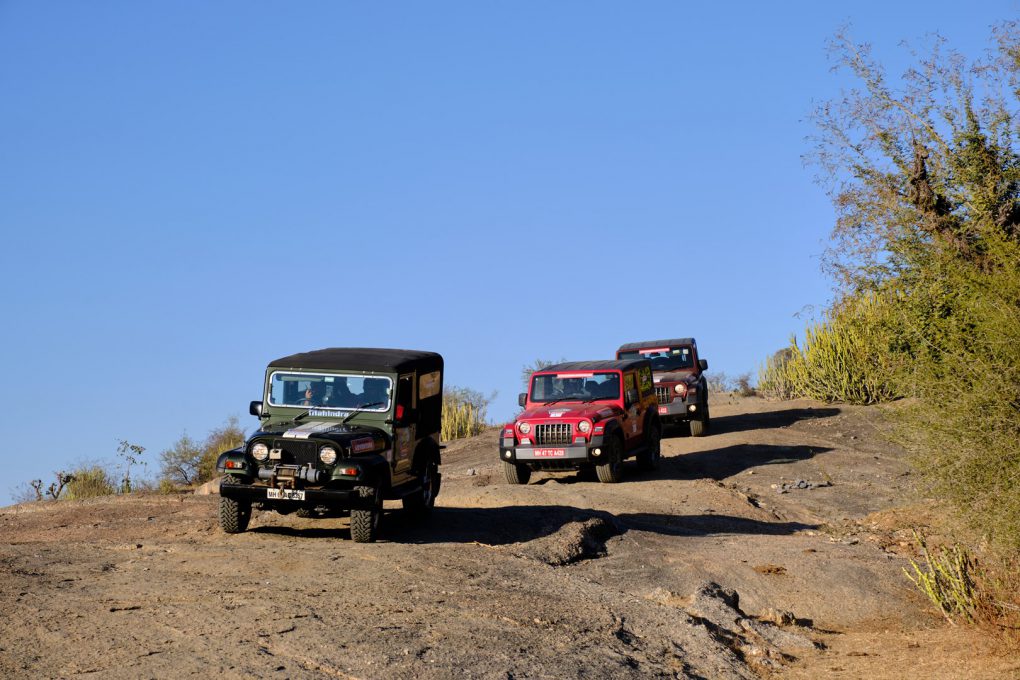 Jaisalmer was awfully cold in the night, so I went to bed early and took as much rest as I could because I wanted to save all my energy for the following day. On our way to the dunes, we stopped at the Khaba fort then drove through an abandoned village and reached Desert Glamping for light lunch. The Mahindra Adventure team reduced every car's tyre pressure. This was to give the tyre a wider contact patch when driving on the sand. At the briefing, the instructions were crisp: keep it engaged in 4L, drive in second or third gear, drive down slowly from the crest, don't spin your wheels too much, and most importantly always have momentum when you're approaching a climb. I didn't want to be known for beaching the Thar, so I followed all the tips down to the T.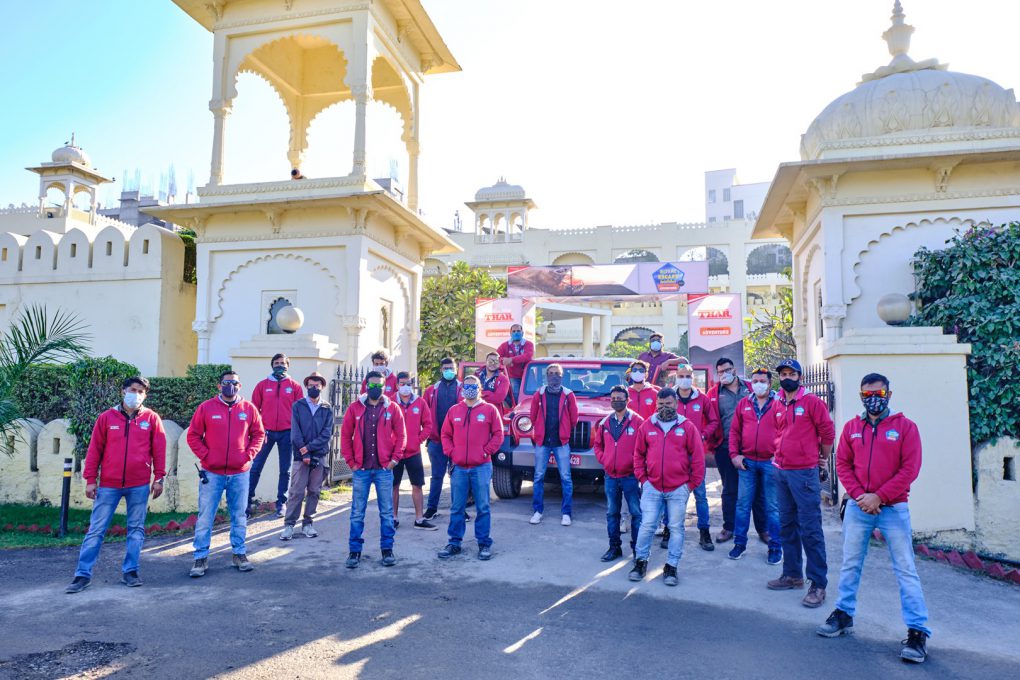 I drove it in 4L and in second or third gear, depending on how steep the climb was. Whenever I couldn't climb a dune, instead of gassing the throttle and spinning my wheels, I reversed and came back with more momentum or sometimes took a different line. Honestly, the new Thar made every one of us look like professionals, when in reality we were mere spectators to its dune-bashing abilities. Oh, and we were told that the cars we were driving were hand-made pre-production models that were inferior to what the customers have got or will get. I can only imagine how refined and capable those cars would be.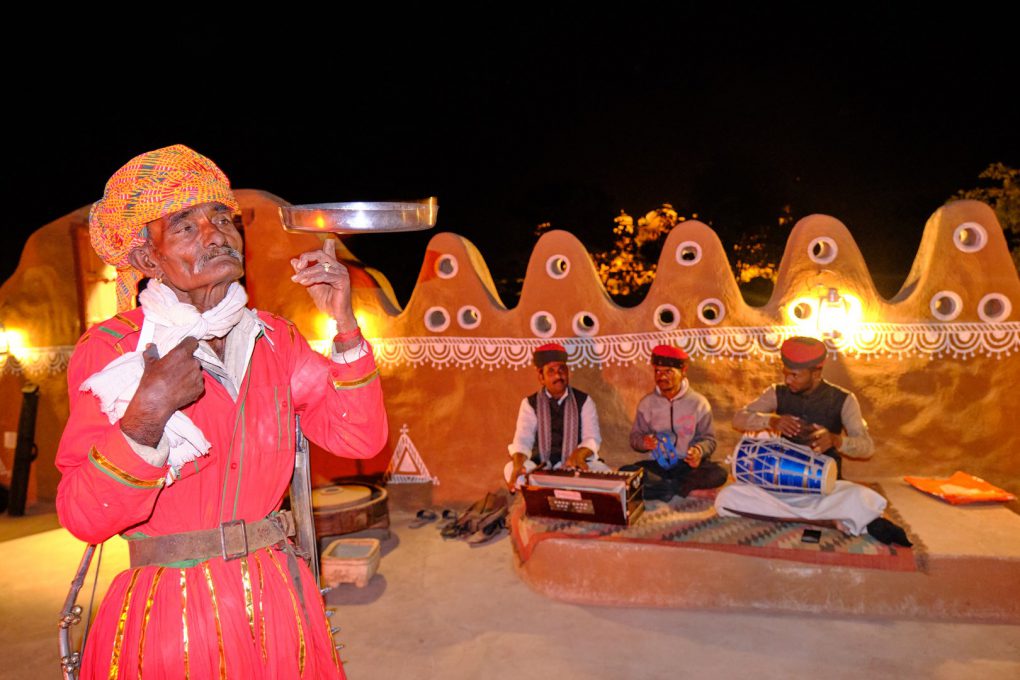 Sadly, due to lack of light, we couldn't go deep inside the desert. The Thar made the dunes we drove on look easy; perhaps there were more challenging ones deeper into the desert. Well, there's always next time. To overcome that disappointment, I made a small dune circuit for myself while everyone else was busy shooting. Bashing my way through that small circuit, not once was I interested in looking at the vehicle data that I'd set on the display. My mind was only focused on the dune ahead. And every time I climbed one, it gave me a sense of accomplishment which pushed me to take on the next dune with more confidence. The grinning behind the wheel didn't stop, and it almost felt like I was riding a rollercoaster that I could control, for once. I used to wonder why anyone would do this for fun. Now I know.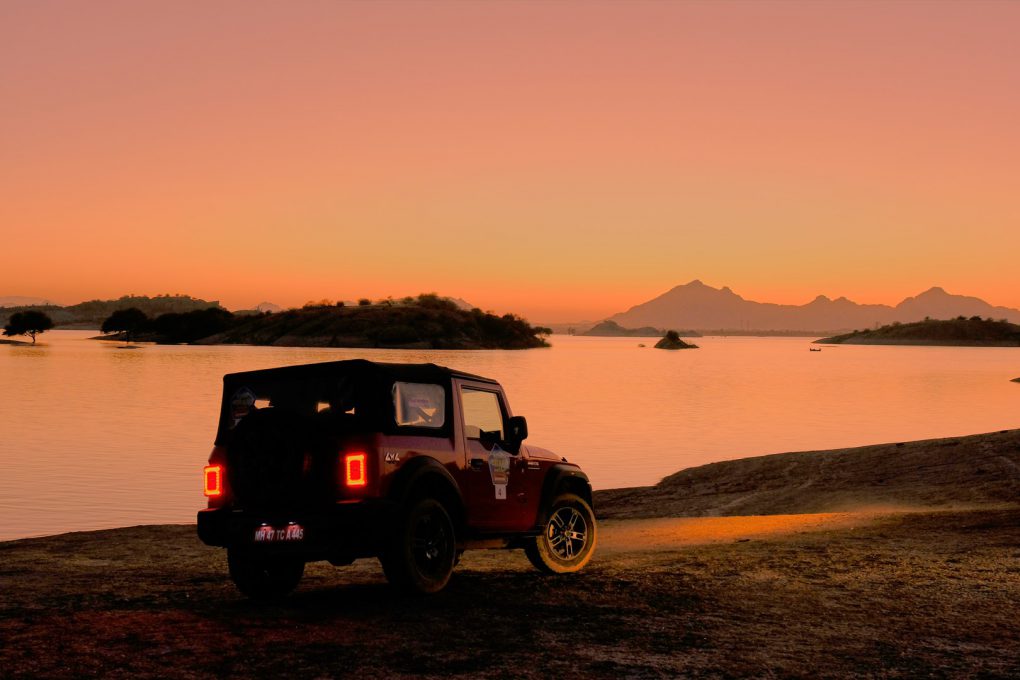 As my own little session came to an end, I was ready to witness another sunset that was nothing short of mesmerising. Standing next to the Thar, I watched the sky change its colour from tangerine to fiery red. That, for me, was a royal moment. Slowly, darkness pitched in and we drove to a bonfire that welcomed us for dinner on a dune. The next day, from our Jaisalmer hotel we took a different route to Jodhpur, stopping by at Osian's Rohida Desert Camp for a late lunch, and from there on to our final destination which was again the Pratap Niwas palace.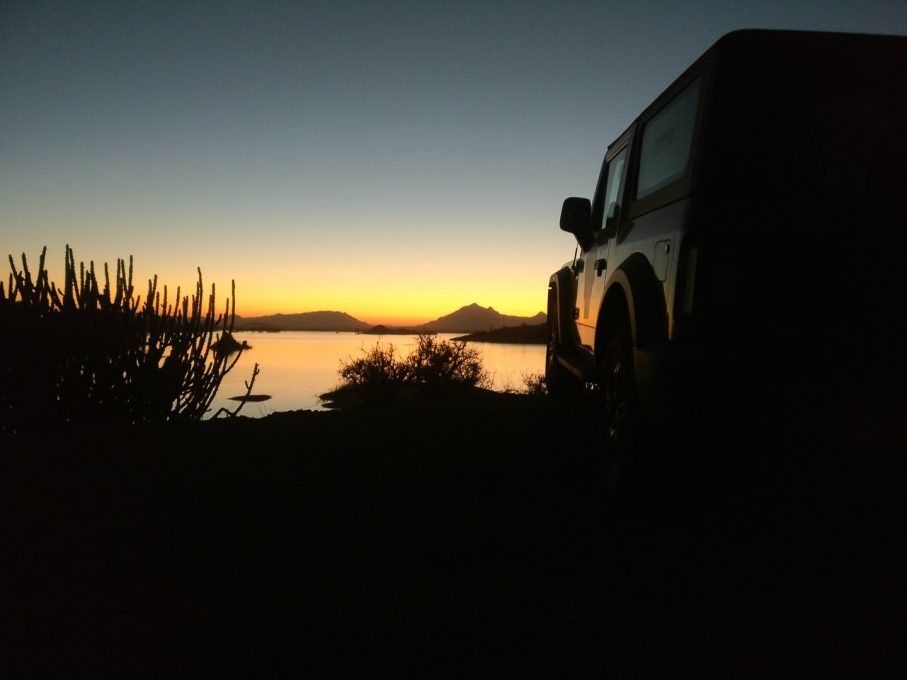 Off-roading might seem fun, but it is an extreme sport and therefore dangerous, too. Mahindra Adventure is that one group you can safely rely on if you seek adventures like these. They have expeditions for customers and non-customers, both. I, for one, can't wait for the next time.
PHOTOS Mahindra Adventure