They say you can't sit in two chairs at once. They're clearly unaware of the Hyundai Motor Group. No, not the Hyundai Motor Company that has sold India some great cars through its wholly owned subsidiary Hyundai Motor India Ltd. since 1996, but the aforementioned parent organisation that also owns the newest Korean kid on the Indian automotive block, Kia Motors. Just a few hours ago, my inbox rattled with two new emails, one from Kia and one from Hyundai, both announcing the appointment of Euisun Chung as chairman of the Hyundai Motor Group. Makes me wonder why they were both skittish about this story.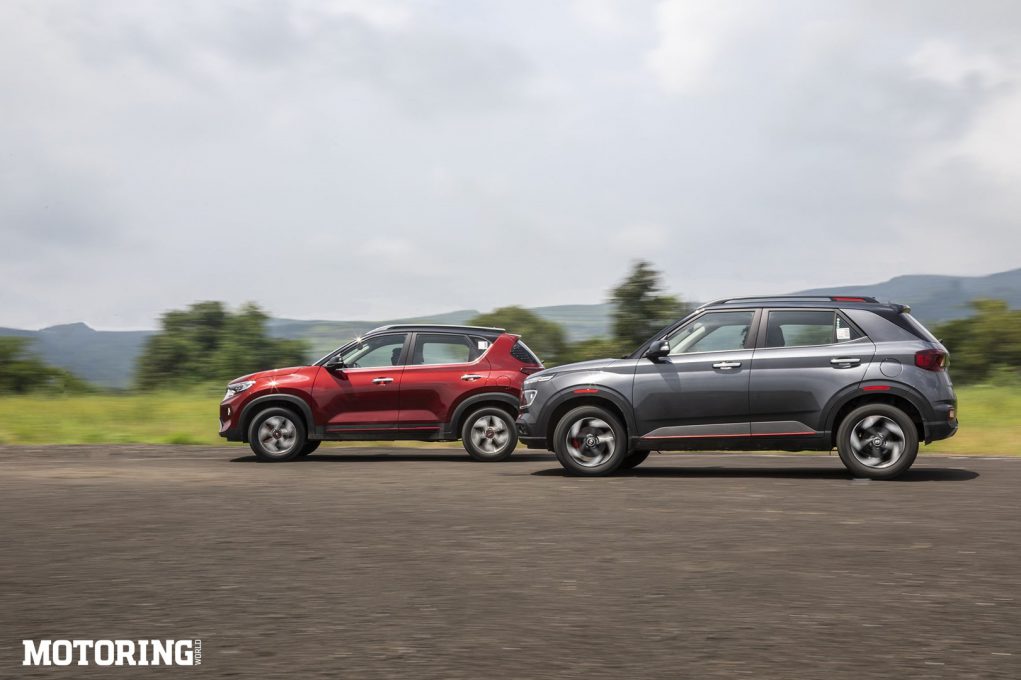 Perhaps all this distance away from the Korean Peninsula, the unifying possibility of Kim Jong-un blowing them both up doesn't quite register anymore. Or perhaps the Kia Sonet does have a chance of upsetting the order that Hyundai has established over two and a half decades, one that continues with the Venue. Nonetheless, an opinion will not unsettle confident manufacturers, as sure as marketing clichés that come as standard equipment in brochures. In fact, I think it's quite a clever strategy, one that is quite plain to see, but I shall come to that later. The machines always come first.
To begin with, the name 'Sonet' isn't inspired by a 13-line poem. Instead, it's a portmanteau of 'social network'; anyone who's seen the documentary The Social Dilemma will likely flinch at this. The Venue, on the other hand, still lends itself to location-based humour. For this particular story, we had both the Sonet GTX+ and the new Venue Sport trim propelled by the lovely 1.0-litre three-cylinder turbo-petrol, its progress monitored by the new 6-speed iMT, the gearbox that allows one to shift gears manually but which has no clutch pedal. In fact, this gearbox is just one of the ways in which the Korean expertise with technology comes through in both the cars.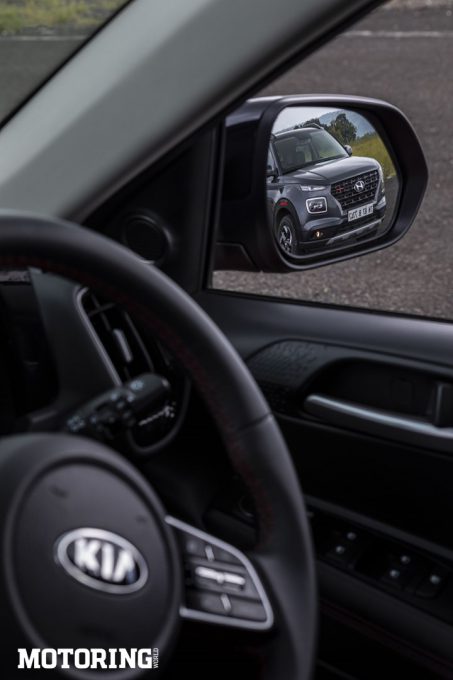 Speaking of technology, the Kia out-Hyundais the Venue, probably because it is the newer car and had the benefit of sizing up its step-sibling before being launched. On its website, Kia claims that the Sonet is 'wild and connected', but that only serves to summon the image of a tiger mauling someone while glancing at Fitbits strapped to each of its legs. I thought that was funny until I went through the Sonet's list of features and realised that it's no joke. There's way too much going on here for me to list out, but what I appreciated most were the voice-activated windows and the cooled front seats; the former are giggle-inducing the first few times, though slower than using the buttons, while the latter are most welcome in our conditions.
It is quite audacious of Kia to encroach on the feature-space that has traditionally been Hyundai's domain; the younger Korean even manages to feel more premium than the elder one, enough to make one wonder if they indeed came from the same parts bin. However, underneath it all, the Venue and the Sonet display more or less the difference between my 35-year-old and 37-year-old selves; the latest me has more gadgets, newer spectacles, and a bit more silvery bling on my face, but otherwise I'm pretty much the same. Likewise, beneath the badges and the sheet metal stands the same car.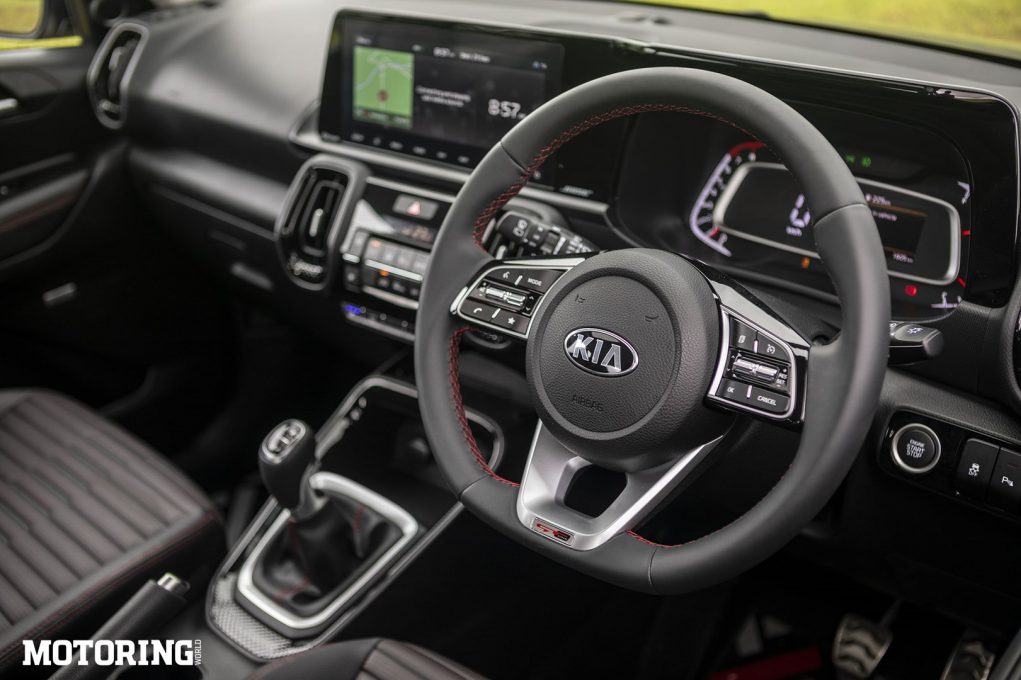 Both have just about enough space for two comfortable adults at the back or three who'd better be comfortable with each other. Also, I do prefer the Venue's analogue meter readout to the Sonet's digital one. And the Kia, continuing its tech assault, offers you drive modes — sand, snow and whatnot, but it's overkill on a compact SUV, really. But — and this is the surprise — there is no great difference in driving them. I went in expecting the day-vs-night feeling I got between the Seltos and the Creta; the former is definitely more fun to drive, the latter is more comfortable. And yet, I came away thinking, 'Did I not pay enough attention? Are they really that similar? Why?'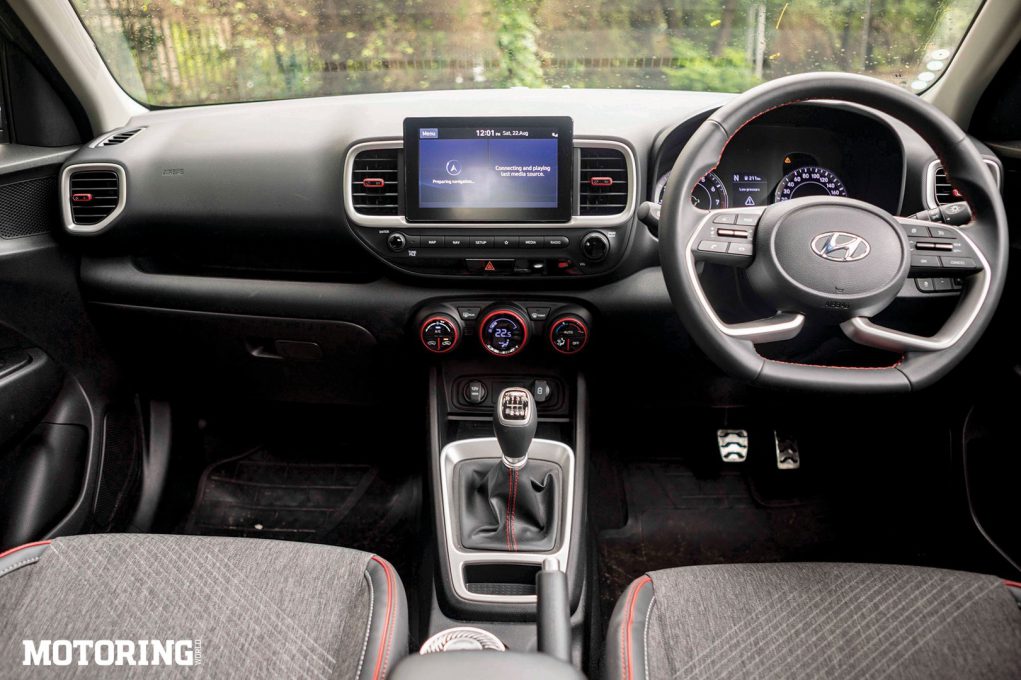 Okay, the Sonet's suspension is stiffer, but even that was marginally so; most of us thought it could be put down to higher tyre pressures. But as it turned out after checking, they were fine, so it is actually a little stiffer. Not that I can confidently say it's a much better handler than the Venue. It's all about the same; in fact, the Venue's ride is that bit more comfortable and it does everything the Sonet can. Both handled roundabouts with the same controlled amount of body roll, both were equally stable at high speeds and under hard braking, and both were fun to drive. And if you think that's confusing, wait till you see the number of variant and trim options and combinations between the two. But does it make sense? Yes, if you're looking to carpet-bomb customers into your fold.
Another bomb, as usual, was that brilliant motor. I've lived with that motor for the better part of a year in the Venue, and honestly, in no way have I found it lacking; Hyundai has even managed to make a three-cylinder lump sound good! It's efficient, refined and has an entertaining nature, essentially all that you'd expect from a modern petrol engine. The intriguing thing was the new iMT. Was it another gimmick? Or a masterstroke? As usual, the answer is somewhere
in between. It takes no time to get used to, it feels convenient as heck, and it's quite idiot-proof, too, as I checked by shifting into sixth gear at 20 kph. Both the Sonet and the Venue screamed their beeps at me, enforcing a level of behaviour modification just shy of MKUltra.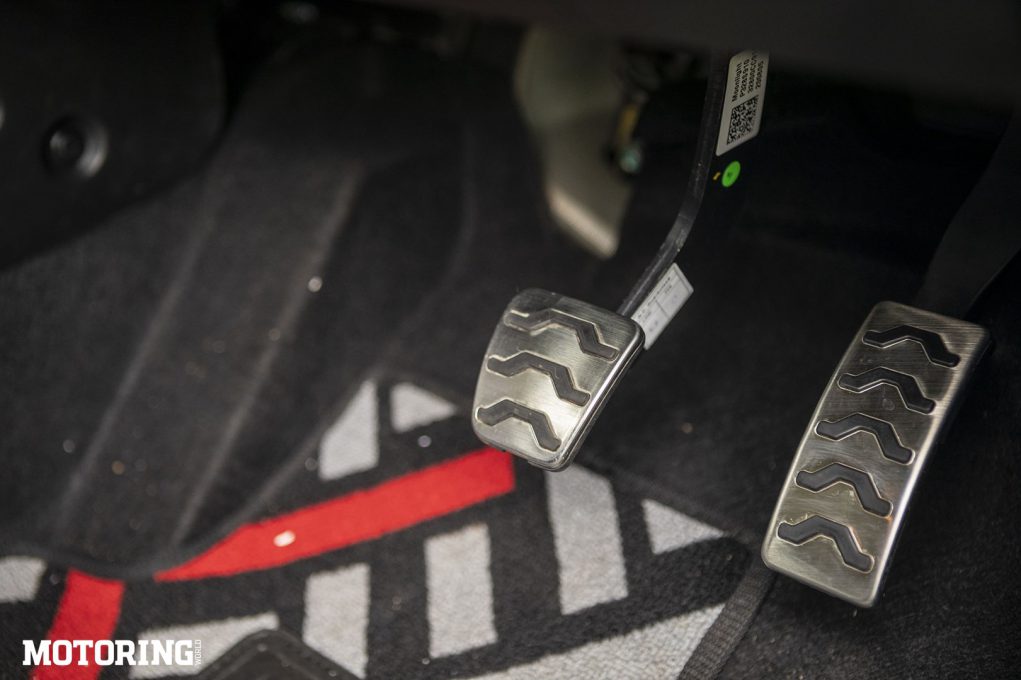 Gear shifts in both were clean and neat, with a little bit of lag while their ECUs confirmed that I was indeed not being an idiot that time around. However, if you like the finesse that a clutch pedal allows, you won't appreciate the iMT. If you want the shifting feel of a Fast & Furious movie without bothering your left leg to 'double clutch' like Dom wrongly said, the iMT will work just fine. In terms of the motor and transmission, even though there are purported differences, I felt they weren't distinct enough to matter. Maybe the Sonet vibrated its open doors a bit more, but I didn't have an accelerometer at hand to measure its frequency.  However, the one obvious way in which the two are nothing like each other is their appearance.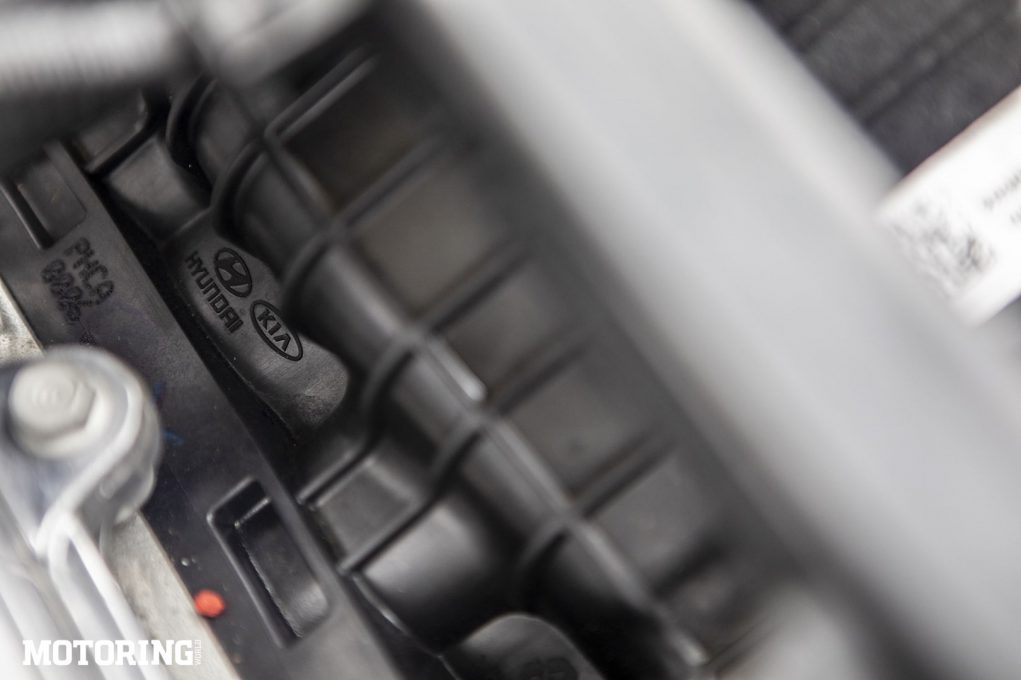 The Sonet is apparently inspired by a baby elephant and points Kia's signature 'tiger nose' grille at the world. The 'elephant' bit might explain why the Sonet is a bit wider and taller than the Venue, though it's exactly as long. For me, it's a mixed bag as far as looks go; I like the Sonet's rear end, but the Venue's overall stance. I imagine the target audience might be just as ambivalent after the initial hoopla around the Sonet dies down. I bet no one will ever care that they're the same car, either, or that there are Hyundai logos on the Kia. It's not possible for one car to do it all, so two of the same makes some sort of sense. The rules of 'divide and conquer' always remain the same.
Again, they're similar to the point that neither's website mentions ground clearance or kerb weight. Understandable, too, when you consider the staggering number of variants and trim levels; they'd have to open a new website each just to list the weights of each. It doesn't matter. Does the fact that Hyundai has XXX outlets and Kia has XXX, matter? Probably not, either. What matters is how the Korean company is indeed raising the bar for cars, especially ones like the Venue and Sonet, and the ones below them. It's no exaggeration to say that they feel far better than some cars in higher segments.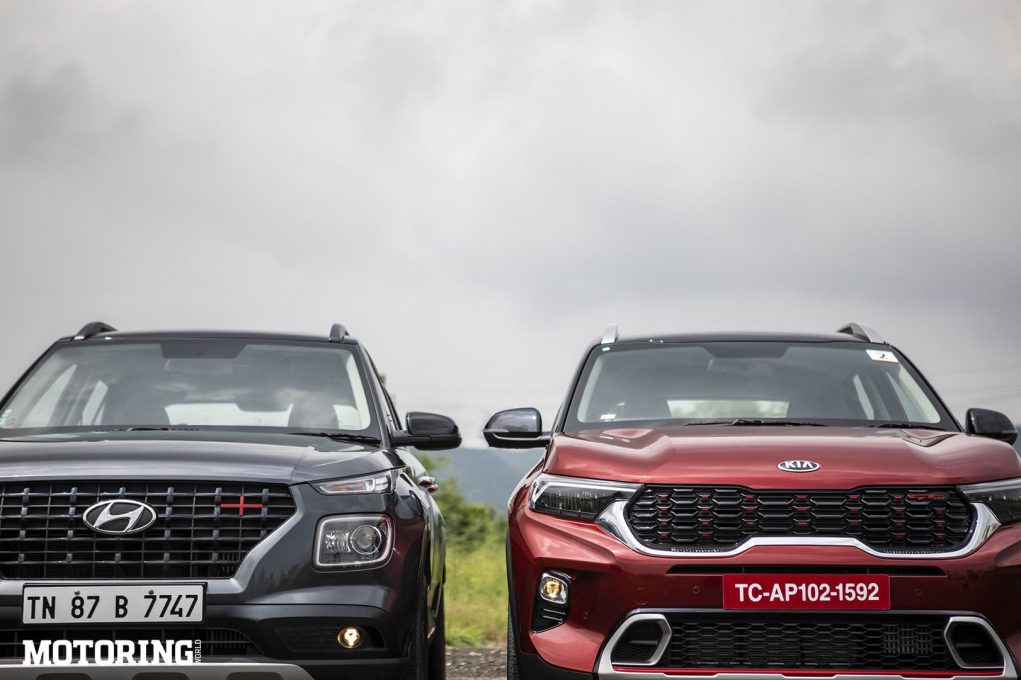 It's hard to believe today that Korean manufacturers were once considered cheap knock-off factories. But then so was Japan before that and look how that turned out. With either the Venue or the Sonet, we get two cars that are safe, comfortable and efficient, and both have a tight and compact way of going about their business. Ex-showroom prices for the Venue Sport iMT start at Rs 11.27 lakh, while the Sonet GTX+ iMT goes from Rs 11.99 lakh, without extra accessories. And neither is overpriced, I'd say, just that I'd probably go for the cheaper manual versions.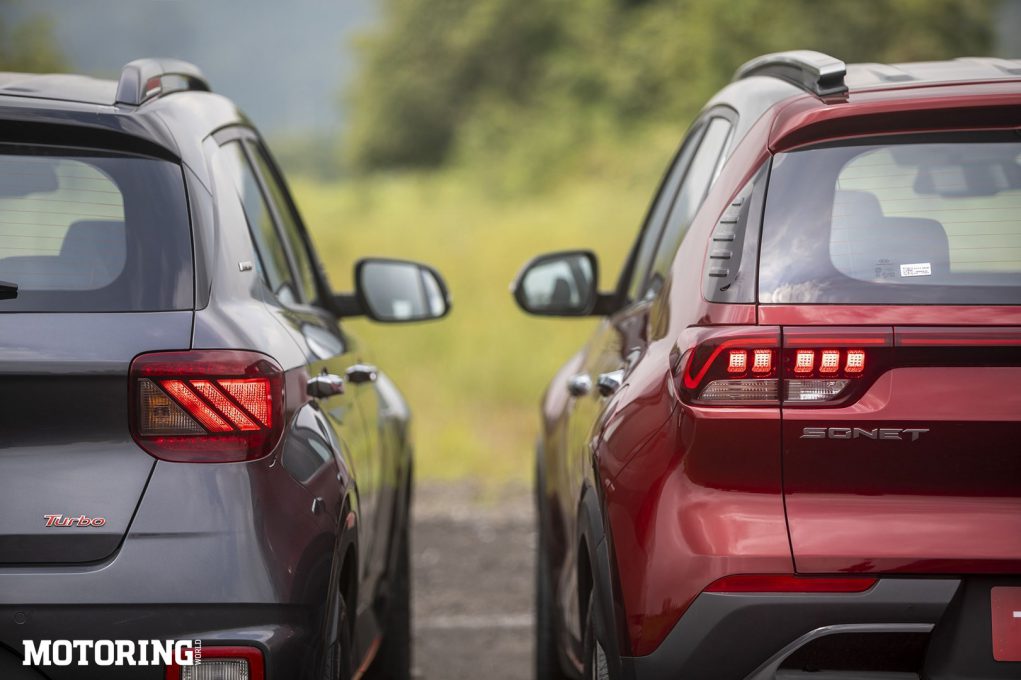 I know these days the word is thrown around enough to make even clichés roll their eyes, but in this case, tempered internal competition is indeed a great driver for innovation. 'Innovation' is the word I was referring to, in case you were wondering. To come back to the point about strategy, as Kia and Hyundai try to outdo each other in India, fixing fights as they go, their rivals might just be pushed to the edge of the spotlights. It's a canny thing to do, a classic misdirection technique used by magicians everywhere, playing with perceptions and aspirations to get to the target — more sales.
To both Hyundai and Kia, I can only say one thing — congratulations, Hyundai Motor Group. And as convenient as it'd be to leave it on a neutral note, I won't. For me, in this particular case, the Venue wins because it's less gimmicky. Which, for once, automatically also means that the Sonet does, too, if its techy nature appeals to anyone. iMTs or not, we just can't avoid false neutrals sometimes, can we?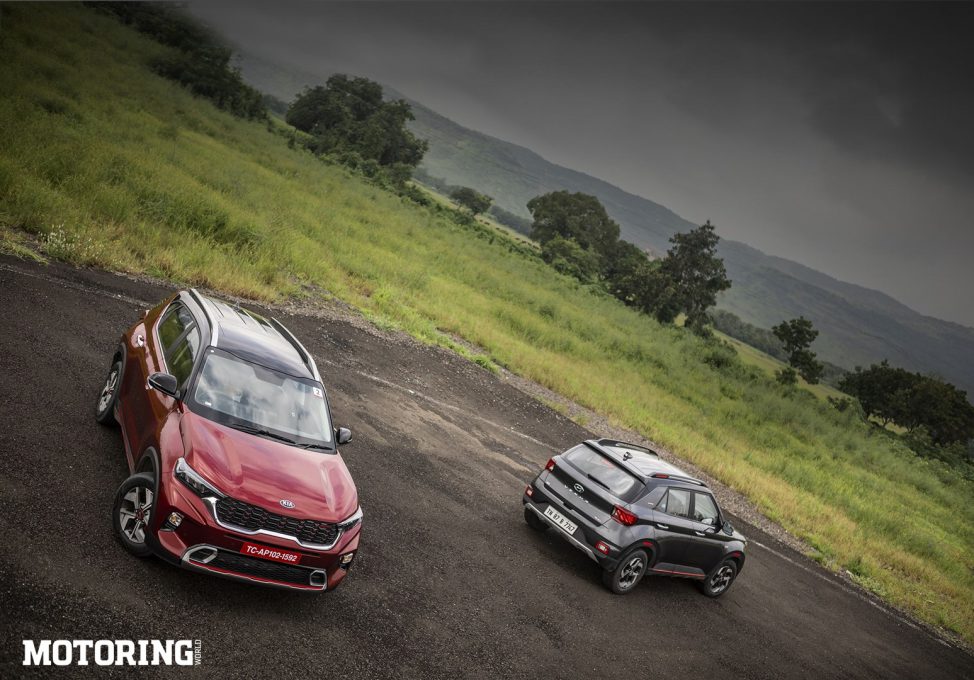 AUTODATA
Hyundai Venue Sport
POWERTRAIN
Displacement: 998cc, I-3, turbo-petrol
Max power: 118.35 bhp@6000 rpm
Max torque: 17.5 kgm@1500-4000 rpm
Transmission: 6 AMT
TYRES
F/R: 215/60 R16
DIMENSIONS
L/W/H (mm): 3995/1770/1605
Wheelbase: 2500 mm
Ground clearance: NA
Kerb weight: NA
Fuel capacity: 45 litres
PRICE: Rs 11.27 lakh (ex-showroom, Delhi)
AUTODATA
Kia Sonet GTX+
POWERTRAIN
Displacement: 998cc, I-3, turbo-petrol
Max power: 118.35 bhp@6000 rpm
Max torque: 17.53 kgm@1500-4000 rpm
Transmission: 6 AMT
TYRES
F/R: 215/60 R16
DIMENSIONS
L/W/H (mm): 3995/1790/1642
Wheelbase: 2500 mm
Ground clearance: NA
Kerb weight: NA
Fuel capacity: 45 litres
PRICE: Rs 11.99 lakh (ex-showroom, all India)
Get In Gear — Hyundai Venue iMT Review