In the world of travel, some destinations shine like dazzling stars, while others lie in the shadows: the hidden gems ready to be discovered. Union territories often belong to the latter category, and we at Motoring, in our quest to celebrate The Essence of Motoring, are on a mission to unveil their hidden charm. Our latest escapade takes us on an extraordinary journey from Daman to Diu, one of those union territories that keep their treasures well-guarded.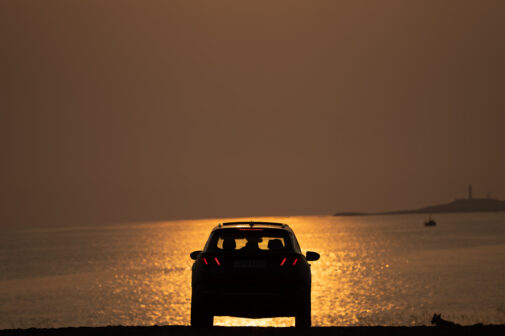 Our journey kicks off in Daman, a coastal town gracefully nestled along the western shore, within the union territory of Dadra and Nagar Haveli and Daman and Diu. After a refreshing round of sightseeing in Daman, we realize that Daman is the perfect blend of the past with the present.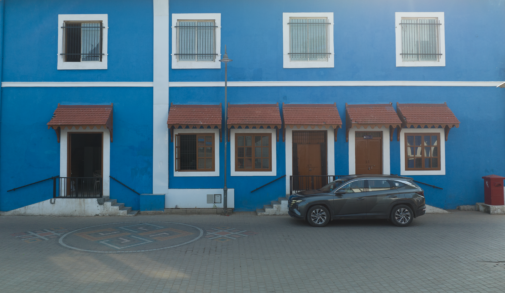 The crown jewel of Daman undoubtedly is its newly revitalized promenade beachfront for about 7-8 kilometers, with its final stretch still undergoing the finishing touches. Once this beauty is fully unveiled, it will effortlessly connect Devka and Jampore, running alongside the historic lighthouse road and offering a breathtaking pause at the majestic Daman Fort. This promises to be a truly mesmerizing experience once the final strokes of transformation are applied.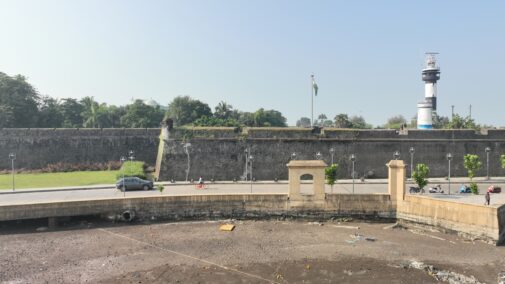 Our curiosity led us to explore Devka and Jampore beaches, but with their black sandy shores and brownish seawater, they fall short of the postcard-perfect imagery we had in mind. However, the revamped promenade breathes new life into the entire scene.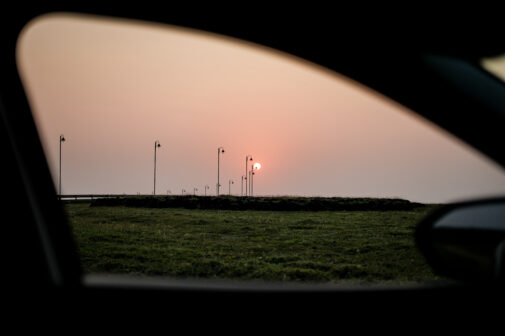 Yet, the real treasure of Daman lies within the walls of the restored Daman Fort. Here, a tapestry of vividly hued houses shares whispers of Portuguese heritage, traditions, and historical epochs. The ancient church, currently undergoing meticulous restoration, stands as a poignant monument of the evergreen time.
Leaving behind the charms of Daman, our journey to Diu unfolds. Covering a distance of approximately 700 kilometers by road, a journey that could have stretched to a grueling 13 hours, we at Motoring opted for a different path. We embarked on an adventure, driving from Daman to Surat, and then transitioning to a unique mode of transport.
Our conveyance isn't your typical boat; it's a Ro-Ro Ferry, connecting Hazira in Surat to Ghogha in Bhavnagar. This maritime route sails us through the expansive waters of the Gulf of Khambat, affectionately known to locals as the Gulf of Cambay.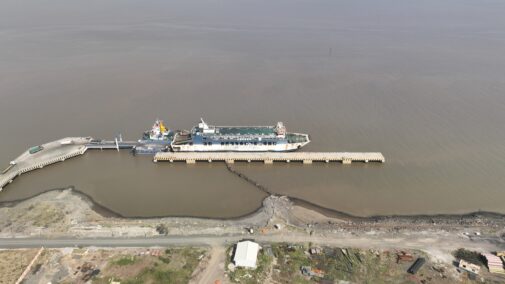 Upon our arrival at the ferry terminal at 3 PM, we eagerly anticipate the unfolding of our extraordinary voyage. As we board the Voyage Symphony, our chosen vessel, we venture into the serene surroundings of the Cambay Lounge, blissfully unaware of the unexpected adventures that lie ahead.
The Cambay Lounge is a tranquil oasis, with only our company as the sole occupant in sight. Other passengers can opt for Business Class or Executive Class, where most travelers have comfortably settled in. The ferry, you see, is host to an eclectic mix of passengers, including trucks, cars, motorcycles, and even a full-fledged wedding procession. Yet, the ferry's capacity feels curiously underutilized.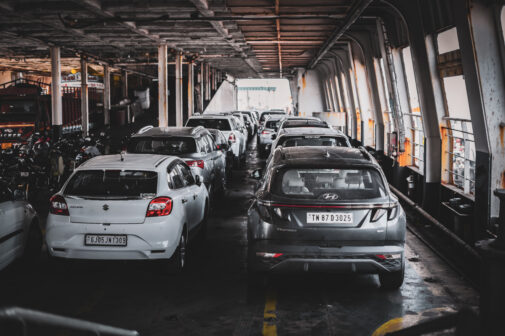 However, destiny has a curveball in store for us – the unforeseen. We find ourselves marooned in the midst of the vast ocean, realizing that we have merely covered 20% of our journey. A heating issue has surfaced in both of the ferry's engines, necessitating an unscheduled halt for cooling down. Our anticipated 4-hour journey transforms into a challenging 8-hour odyssey, testing both our patience and the irresistible urge to hop into our trusty Hyundai Tucson and continue the road trip. In the end, we retired at Bhavnagar close to midnight, wearied but laden with tales that will be recounted for years to come.
The following day, after a hearty breakfast featuring Bhavnagari Gathiya, Khaman, and Dhokla, we embarked on the journey from Bhavnagar to Diu. The expedition proceeds seamlessly, with the Gujarat Coastal highway providing a well-maintained four-lane concrete road, reminiscent of our Hyundai Tucson journey on the Samruddhi Mahamarg. Although some stretches of the road remain under construction with diversions, our dependable Tucson's gentle suspension ensures we remain enveloped in supreme comfort.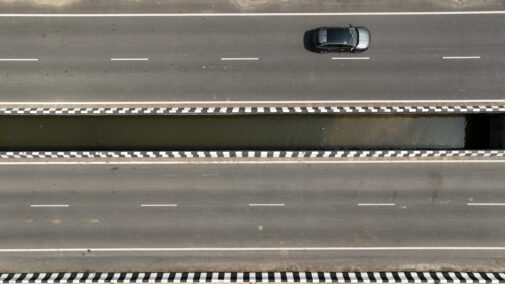 As we reach Diu, we can't help but be entranced by the history that permeates the air. This former Portuguese colony continues to resonate with its colonial influence. Our Hyundai Tucson serves as our guiding ally as we explore the historical landmarks that recount Diu's opulent legacy. The Diu Fort, an emblem of Portuguese supremacy, bestows awe-inspiring vistas of the Arabian Sea, standing tall and dignified as the island's guardian.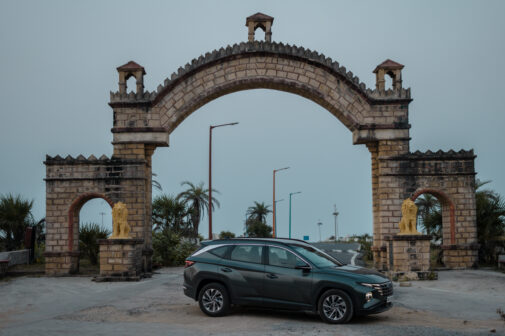 St. Paul's Church, a slice of Portugal nestled in the heart of Diu, presents magnificent Portuguese architecture, evoking a sense of déjà vu from our previous journey to Goa with the Hyundai Verna. However, Diu has more to offer than a chronicle of the past. Nagoa Beach and the newly developed Ghoghla Beach, are concealed gems, offering the perfect refuge from the hustle and bustle, akin to discovering a trove of serenity.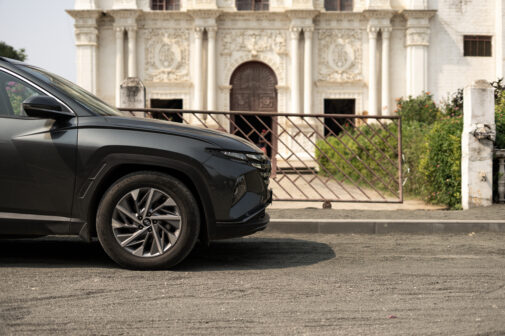 Next, we pay our respects at the INS Khukri Memorial. This solemn monument pays tribute to the valor of the crew of INS Khukri, an Indian Navy frigate that met its fate during the 1971 India-Pakistan war. It stands as a memorial to the heroes who safeguarded our waters.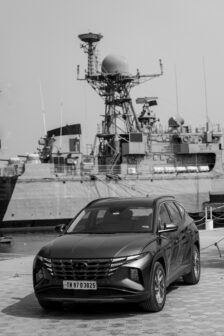 In alignment with INS Khukri, another INS Khukri, bearing hull number P 49, was commissioned in 1989 and retired in 2022. It was subsequently transformed into a museum ship, a privilege we had the honor to visit. It was fortunate to immerse oneself in the living history of the brave souls who had laid down their lives. Experiencing an Indian Navy frigate so up close is something not everyone gets to have.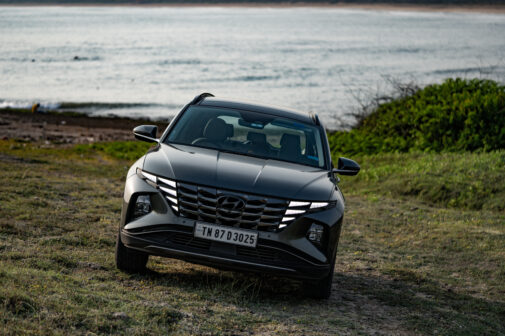 Our expedition isn't only a journey through history and picturesque locales, but also an indulgence in the richness of life. Daman and Diu unveil a distinctive cuisine, blending Indian and Portuguese flavors in a tantalizing culinary symphony that dances on our taste buds.
As a vegetarian, I satisfied my tastebuds with a sumptuous Gujarati Thali that ended with a sweet delight. But if you are a non-vegetarian visiting, don't overlook the local seafood; it presents an orchestra of flavors in every bite, a non-negotiable experience; as told by friends.
After experiencing the Ro-Ro Ferry and its issues, we decided to ditch the ferry and drive all the way from Diu to Mumbai, a journey of about 900 kilometers and 17 hours. We were confident with our reliable partner, the Hyundai Tucson, which cruised along the way comfortably. The ventilated seats and the dual-zone climate control ensured we remained safe from the scorching heat, and Apple CarPlay kept navigating through the mixed highways of Gujarat. Even after nearly driving for 17 hours, we arrived home feeling fresh, thanks to our dependable companion, the Hyundai Tucson.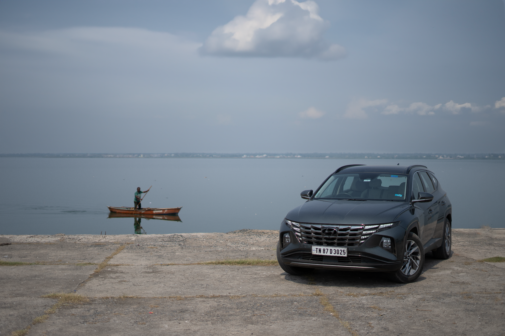 With our remarkable voyage, we not only uncover the link between these two unique territories but also celebrate the remarkable Hyundai Tucson. The Tucson isn't merely a vehicle; it's our adventure partner, co-navigator, and sumptuous haven on wheels. It embodies the perfect blend, where comfort seamlessly merges with the spirit of adventure.
Photos by Nizar Thambi Sunil Jones