This is one match-up I had been straining at the leash to have a crack at. I'm a hot-hatch aficionado and, as I think I have mentioned before, I own the older Polo GT TSI. Barring a few quibbles, I was quite taken with the most recent facelift. Sure, the new Polo GT does feel a touch dated, but the fact that it is still desirable to a budding enthusiast is downright admirable. And then, the Hyundai i20 N Line rolled into town. I was now confused, as this racy-looking thing would also be a worthy addition to my fantasy garage. The first car from Hyundai's (semi) performance sub-brand gave a rather strong impression of being a fun buy when I first drove it.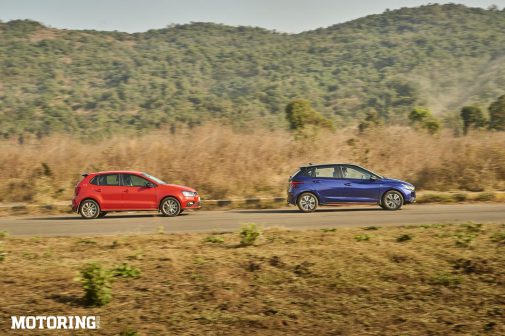 This is why they're both here today; I had to know which one I would rather spend my money on. In isolation — and even on paper — it seemed like the top-spec i20 N Line N8 DCT's Rs 11.97 lakh (ex-showroom, Delhi,) price tag was worth the Rs 1.7 lakh premium over the Polo GT. I mean, it's more spacious, it's definitely better equipped, and it even looks sportier. However, I felt that Volkswagen's budget hot hatches had a certain je ne sais quoi, which I hoped to identify.
Out came my rolodex containing my list of test and shoot locations. For this, I needed smooth-ish (obviously empty) roads that I could essentially use as a track. I wouldn't be as formal as to actually time myself, because I wasn't just looking for which one was quicker, or faster, or handled better. I was able to answer those questions when I had driven them earlier — the Polo GT was quicker and faster, while the i20 N Line handled better. I was hoping to find out which one would make it into that garage I sometimes dream about.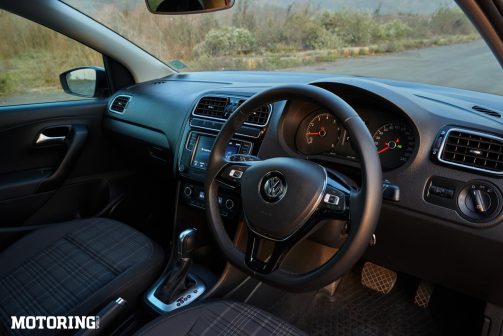 I started with the i20 N Line, and had a colleague try and keep pace in the Polo GT. I was reminded of just how much I like being inside the Hyundai. The all-black theme contrasts nicely with the subtle red highlights, and the seats are quite comfy. My only causes for complaint were the digital instrument cluster — which looks overly digital — and that I wasn't quite sitting as low as I'd have liked to. As I shifted into sport mode and stood on the brushed aluminium accelerator pedal, there was some hesitation before the engine started lugging it.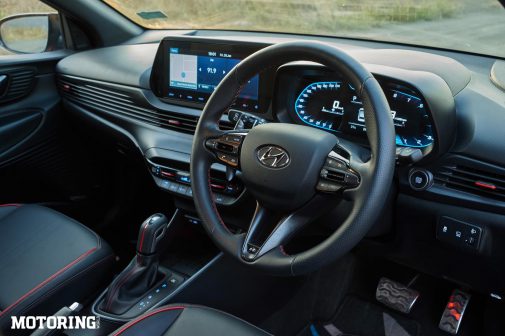 Now, this 118-bhp 998cc three-cylinder turbo-petrol is a sprightly one, and I know this from having driven the Hyundai Venue in manual form, and the Grand i10 Nios Turbo, which has it in a lower 99-bhp state of tune. It's almost like the 7-speed dual-clutch auto restrains the motors, rather than enhancing it. In fact, Hyundai has tuned the powertrain to favour comfort rather than excitement. While the logical side of me understands that, the enthusiast in me was wondering about the wasted potential. Sure, it's buttery smooth, refined and hassle-free — which is great in the city — but that manic edge is missing.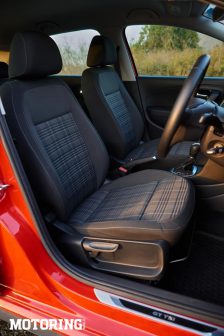 Coming up to the tighter sections of the makeshift track, it was the steering that really shone through. I could feel exactly what the wheels were doing, and how hard I could push, though the suspension setup seemed to be geared for longer corners. Body roll was superbly contained, but the stiff suspension did make low-speed ride a little jittery. Like I said, though, when the corners become longer and flatter, the i20 N Line comes into its own, and is a thrill to drive. It feels rock-steady, and there's no bobbing about. The all-round disc brake setup also works brilliantly when speed needs to be shed quickly, making it quite confidence-inspiring.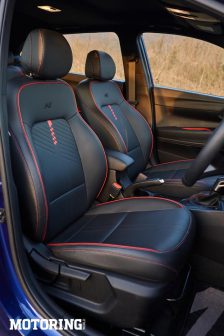 Despite the nostalgia that filled me as I got into the Polo GT's cabin, I have to admit that it looked and felt even more dated in light of the i20 N Line — there are too many hard plastic bits in a dull colour. The VW also lags in the equipment department even with the addition of kit such as cruise control, an auto-dimming rear view mirror and a telescopic adjustment for the steering. However, I don't understand why a feature like the front armrest was removed from this Polo's features list, as even my 2013 model has one. Also, unlike the i20, the Polo only has adequate space in the front, but the seats are rather well-bolstered.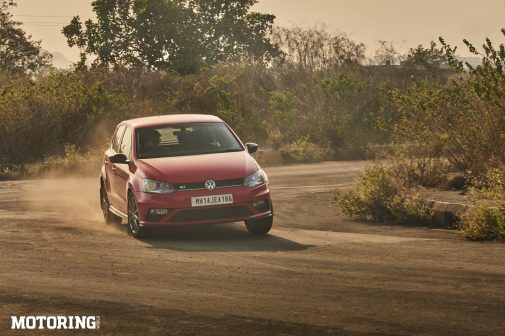 Both outside and in, it's evident that the Volkswagen is a 12-year-old car, and that makes the amount of fun on offer even more surprising. The steering is still a little too numb, and the suspension isn't set up for outright cornering ability, but the Polo has always been a rather chuckable hatchback, which is something I was reminded of as I took off in front of the i20 N Line. Mid-corner undulations unsettled the Polo less than the N Line, and it can, if pushed, even perform decent hand brake-assisted drifts. Still, it's missing the crispness of control that the Hyundai possesses.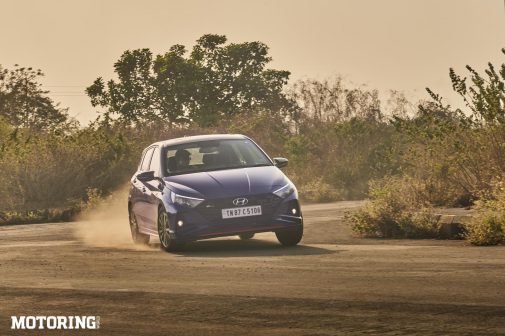 It may seem like I'm repeating myself, but the Polo's 108-bhp 999cc turbo-petrol engine is an absolute gem. There's nearly always enough grunt to make the 195/55 R16 tyres squeal, it's always raring to go after the tacho needle swings past the 1800-rpm mark, and it'll pull lustily all the way to the 6000-rpm redline. I do like the sound the engine makes when it's put through the wringer; in fact, I think I prefer the VW's soundtrack over the Hyundai's, and that's despite the fruity note that the i20 N Line makes at low revs.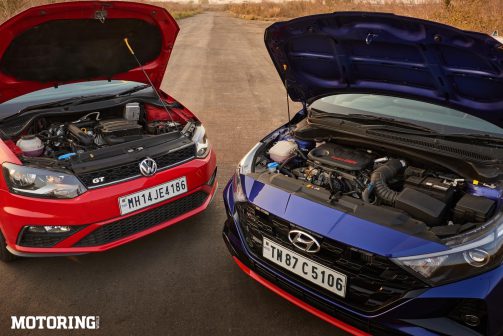 Ironically, gunning out of a corner is a pleasurable experience that is almost hindered by the 6-speed torque convertor auto gearbox. It's not that there's anything wrong with the unit — as far as torque convertors go, it's smooth and precise — but it's just not a match for how capable the engine is. The Polo GT can get a bit rabid in Sports mode, which I like, though I do wish it had paddle shifters for a greater level of engagement.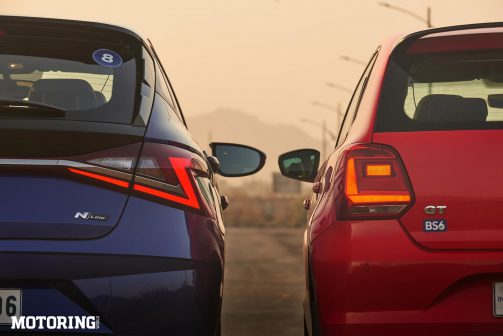 If I'm being completely honest with myself, neither of these marginally souped-up hatchbacks hits the right spot in their stock state. A manual gearbox for the i20 N Line would be the first of the few changes I'd recommend. Incidentally, the Polo TSI is available with a manual gearbox at Rs 8.98 lakh (ex-showroom, India) though just not in GT trim, which is a shame as I feel the manual version is more deserving of the GT badge. At this point, my imagination kicks in, drawing forth thoughts of an i20 N Line with the Creta's 8. 138-bhp 1.4-litre turbo-petrol engine, and then of the nextgen Polo with the Taigun's 148-bhp 1.5-litre turbo-petrol.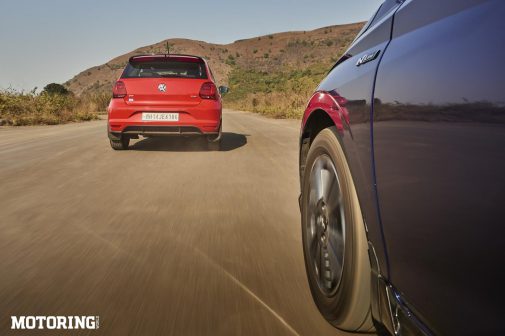 Neither of those dreams is going to become a reality any time soon, and so, I now have to choose between the ones that are currently available. I'm a bit surprised that as old as the Polo GT is, it still delivered a drive experience that's more enjoyable overall than the much more contemporary i20 N Line. It's rather compromised in many other aspects, and in a typical 'Which car should the common man buy' scenario, I'd wholeheartedly endorse the Hyundai. But if it's a question of what's going to be in my garage, it would have to be the Polo GT.
AUTODATA
Hyundai i20 N Line DCT N8 Dual-Tone
POWERTRAIN
Displacement:
Max Power:
Max Torque:
Transmission:
998cc, I3, turbo-petrol
118 bhp@6000 rpm
17.54 kgm@1500-4000 rpm
7AT
DIMENSIONS
L/W/H (mm):
Wheelbase:
Ground Clearance:
Kerb Weight:
Fuel Capacity:
3995/1775/1505
2580 mm
170 mm
NA
37 litres
PRICE
Rs 11.97 lakh (ex-showroom, India)
AUTODATA
Volkswagen Polo GT
POWERTRAIN
Displacement:
Max Power:
Max Torque:
Transmission:
999cc, I3, turbo-petrol
108 bhp@5000-5500 rpm
17.84 kgm@1750-4000 rpm
6AT
DIMENSIONS
L/W/H (mm):
Wheelbase:
Ground Clearance:
Kerb Weight:
Fuel Capacity:
3971/1682/1469
2470 mm
168 mm
1093 kg
45 litres
PRICE
Rs 10.25 lakh (ex-showroom, India)