'On a dark, desert highway, cool wind in my hair (cause the Hyundai Creta's sunroof is open), warm smell of pollution, rising up through the air.' My addendum to the classic Eagles hit comes as we enter Gurugram after spending most of the 2021 edition of Hyundai India's Great India Drive in picturesque Rajasthan. It wasn't meant to be a particularly long journey, starting out from Hyundai's spanking new headquarters in Gurugram on November 25, and heading to the village of Soda in Rajasthan via Jaipur. What it was meant to be, was an embodiment of the ideals that the Korean brand espouses.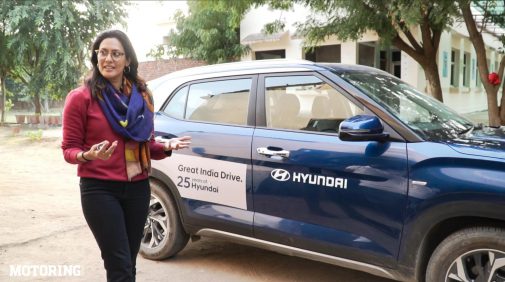 Hyundai entered the Indian market 25 years ago with the beloved first-gen Santro, and what a long journey it's been since for the company. For all its successes — such as being credited with popularising niche segments like the premium hatchback one, and becoming the largest importer of passenger cars in the country — the brand has had to overcome significant adversities, just one among them being the ongoing global pandemic. Today, a buyer looking for a dependable, tech-savvy and easy to maintain means of transport can choose from 12 Hyundai models, with ex-showroom prices ranging from below Rs 5 lakh to about Rs 27.5 lakh. There's an enviable mix of engine types, powertrains and transmissions to choose from in Hyundai's portfolio, including an all-electric one.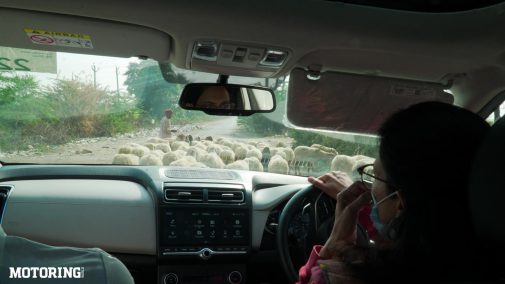 The Korean brand has even said that it's planning on bringing six new battery electric vehicles to the country by 2028, and that it'll have set up the attendant infrastructure by then, to complement that fleet. Hyundai is also ramping up its efforts to become carbon neutral, by improving on innovation and increasing sustainability. It's not just in terms of lowering carbon emissions, but facilitating the development of India's youth and the impoverished. These were the themes that underlined the Hyundai Great India Drive 5.0.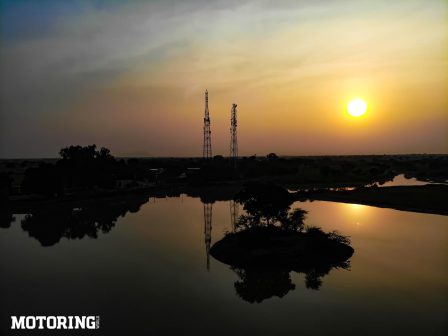 A night drive on the Delhi-Jaipur highway awaited us, a significant five-hour drive that the Hyundai Creta diesel-automatic we were driving made rather short work of. It takes little to get it up to legal triple digit speeds, and it's effortlessly frugal for much longer than you'd expect. A mandatory stop after about three hours made me realise just how comfortable I had been. No sweat stains on the back of my shirt, thanks to the cooled seats, and the bassy eight-speaker Bose audio system, which had the right kind of long-drive tracks on, made mile-munching trouble-free. My compatriots in the back seats had no complaints either, seeing as they slept through the first part of the drive.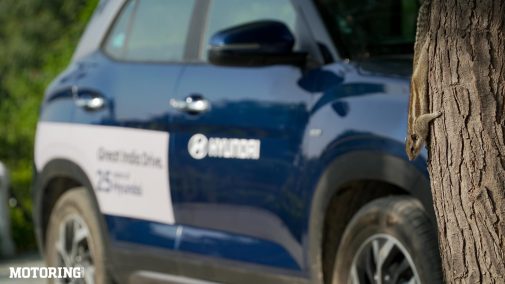 As night properly set in, the high-set seats and the powerful headlights ensured I had a good view, which was especially useful considering there was more pedestrian traffic of the four-legged kind as we approached Jaipur. If it wasn't for the flight to New Delhi, I would have felt rather refreshed after the way I had arrived. As such, we had a bit of a schedule to maintain, so we were off to bed, and an early start was called for.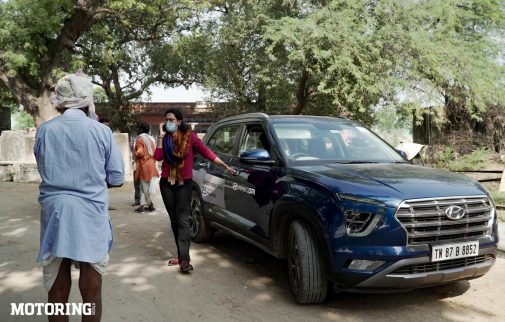 We spent much of the early morning taking in the fresh air, and admiring the regal Rajasthani architecture, and the way the Creta boldly contrasted with it. What was also a pleasant experience was that the AQI levels, displayed on the Creta's air purifier system, didn't jump into the high 500s, which it consistently did in Gurugram whenever the door or window was open for more than 30 seconds. After a solid meal of pyaaz kachori and kalmi vada, we headed over to meet a person who has brought about real change in her environment.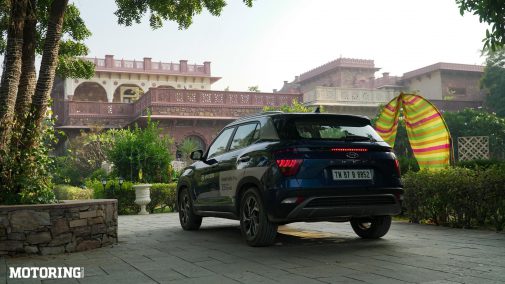 Chhavi Rajawat is a personification of the themes Hyundai has chosen to adhere to. As she puts it, 'One of my claims to fame is that I was the first sarpanch with an MBA.' She was elected to office in 2010, and has since transformed her ancestral village of Soda into one where sustainable development has benefited the residents. A confident hand at the wheel of the Creta (her first car was a Hyundai) Chhavi tells us a little about some of the problems she has had to overcome over the course of her 10-year tenure as the sarpanch. The first major issue was that of drought. Rajasthan is not a state that's known for torrential rain, and there is a common perception that most areas are dry as a desert. While that may be true of some parts of the state, it is most certainly not for Soda.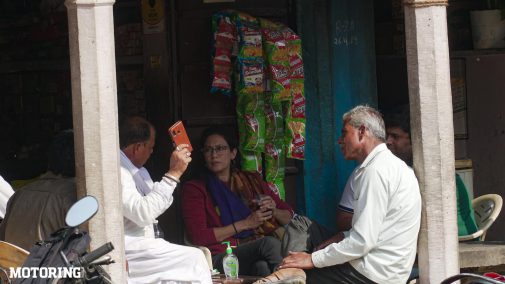 Hurdles within the bureaucracy had prevented her from taking action as soon as she came to office, but with the help of donations, and the fact that all the village's residents pitched in, a rain-fed reservoir was created. It took a few years, but now the reservoir is filled to the brim and is truly a beautiful sight to behold. The rich black soil that was found at the time of excavating the reservoir was used for the farms, and the additional silt and soil was used to make islands within the lake. The green isles are now home to a few species of migratory birds.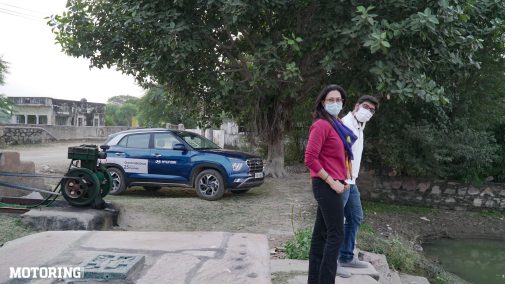 From water pipes for irrigation and sustenance, drainage for sewage, to solar panels for electricity, the village of Soda has undergone a significant transformation. Speak to any of its residents and they'll tell you how Chhavi is not just someone who brought change to the village, but to their way of thinking too. Social change in a conservative country like India is much harder to bring about, but it is something Chhavi has managed, to a certain degree. Some of the younger ones, both male and female, have been inspired by her example, and are looking to participate in the further development of the village.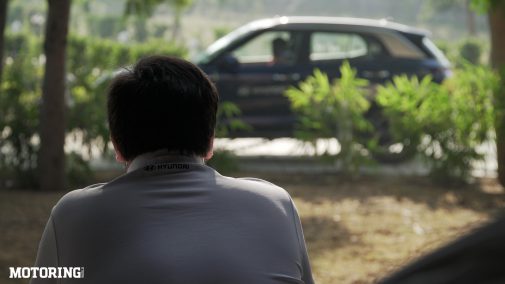 Her commendable efforts towards sustainability and innovation have now moved beyond the political arena. She elected not to stand for a third term as sarpanch — much to the disappointment of the village — in order to help her community in a different way. The Eminent Girls College, situated just outside the village of Soda, was in very poor financial shape in 2015, which prompted Chhavi to invest in it. She took upon herself the task of creating a place where young women could pick up professional and vocational skills, which would provide them with a greater number of opportunities in their working lives. She's also looking to expand the number of vocational courses offered by the school at the moment, which would help the girls tackle problems in the rural environs of Rajasthan.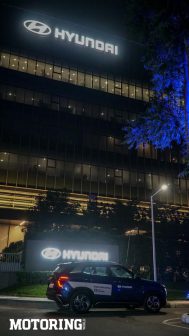 Our 80-km drive back to Jaipur from Soda was one of quiet contemplation. As Chhavi deftly manoeuvred the Creta through the evening traffic, tranquil music playing on the superb speakers, I felt inspired to try something that would create change in my surroundings. As Chhavi says, 'You start small, you start somewhere. Eventually you'll get somewhere. Don't think about how small it is for you, or about what some people may think.' Considering just what an eye-opener this trip had been, I felt motivated to try just that. My aspirations may not be as big as Hyundai's or as Chhavi's, but it'll be something, and that may just be enough.