I'm happy to announce that I've now been invited to participate in Hyundai's annual Great India Drive for the second year in a row. Based on the itinerary sent, I had assumed the 2022 GID — the sixth edition of the event — would be a more rough and tough experience. We were to take the recently launched Hyundai Tucson up to Kargil, through the Zojila Pass. It wasn't meant to be too challenging a drive — mid-November doesn't usually get icy and snowy, and the Tucson, especially the AWD version with the HTRAC system, is touted to be quite capable.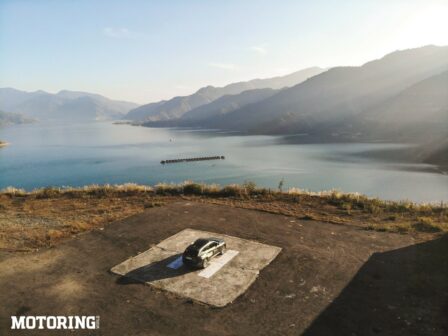 We were flagged off from the Taj Dal lake in Srinagar — the stunning view from the hotel in the glow of the rising sun made me want to circle back to the lake later — and headed towards Sonamarg, which was about two hours away. It wasn't an arduous drive, but the scenery got better and better. I was surprised by the sheer amount of snow-capped peaks. I know, these are the Himalayas, but the quantities of it this early in autumn came as a surprise. We were told that it's been a little unseasonably cold, and that might make the passage to Kargil impassable.
We lounged in Sonamarg as the sun began to set early, and there was even talk of maybe settling down there for the night, which was disappointing. I was excited to drive through snow and on ice for the first time, and the Tucson I was driving (and the 10-car strong convoy we were in) should be able to help me where my skills failed, so I wasn't worried. It was after the sun had set, around 5:30 pm that we got the go-ahead to get in our cars and hot-step it to the Zojila Pass.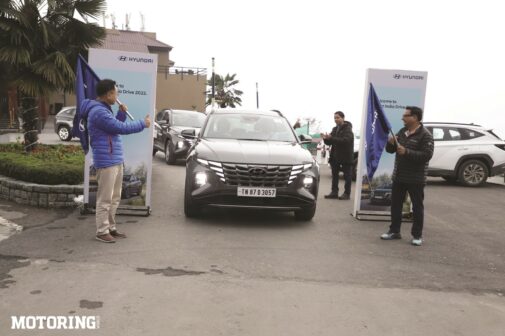 Blue sky turned to inky black, just like it would anywhere else in the world, but the clarity of the colours in the sky (as they reflected the snow-covered ground we drove over) was new, as were the number of stars that appeared out of the night sky. A quick stop at Dras, which is claimed to be the second coldest inhabited place in the world (I don't know about the claim, but -20 degrees Celsius is cold enough for me), and then we headed to Kargil. The cold, and the stark star-lit beauty of this landscape did have me feeling on top of the world, literally and figuratively.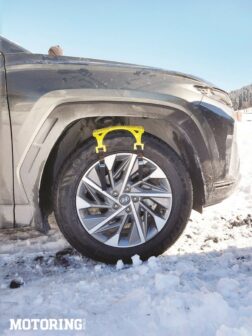 After we set off again towards the Zojila Pass, something occurred that I had not expected at 11,000 ft above sea level (one very valid interpretation of 'on top of the world'), a massive traffic jam. However, it was something I am used to, being from Mumbai, but being surrounded by snow and mountains was new, not to mention the crisp fresh air. It was a five-hour-long wait, trudging slowly up to the pass, to find out that fresh snow had caused an avalanche, and emergency vehicles were clearing a path through.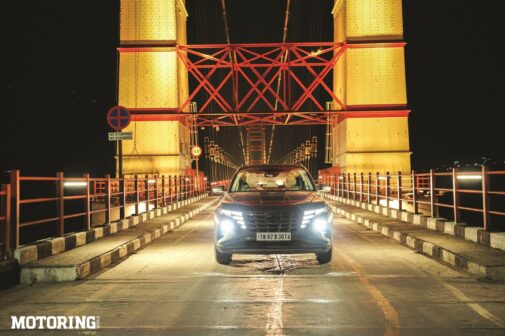 Unfortunately, the indulgence in patriotism meant that we had arrived at a massive traffic jam, something I had not expected 11,000 ft above sea level (one very valid interpretation of 'on top of the world'), but something I was used to nonetheless, being from Mumbai. It was a five-hour-long wait, trudging slowly up to the pass, to find out that fresh snow had caused an avalanche, and emergency vehicles were clearing a path through.
Other than one hairy moment, where the Tucson slipped on some ice and nearly bumped into the vehicle in the front. This SUV handled these treacherous roads with aplomb. Most patches are kept in excellent nick by the Border Roads Organisation, but the conditions put any man-made structure at a much higher risk of being demolished.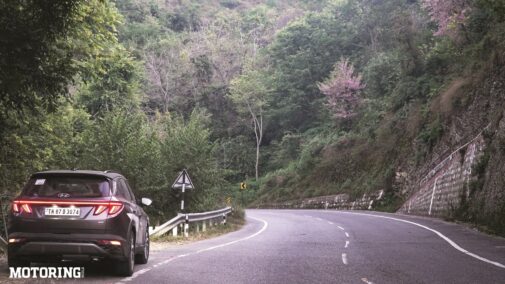 Tired, but not too saddle sore, thanks to the Tucson's well-bolstered and adjustable driver's seat, we arrived in Srinagar quite late again. I bid goodbye to the rest of the convoy, and headed to my stop for the night — a quaint homestay that was near Dal lake. I really wanted to take in the atmosphere I had seen in so many movies, and heard so much about. As the mist rolled back and the sun rose the next day, I pulled down the windows and cruised, slowly, down the road that circumferences the lake.
However, there wasn't too much time to lounge around. I had to reach New Delhi the next day, and then head off to Tehri to experience a very different sort of 'on top of the world'. This 800-km drive would take us nearly two days, as traffic coming out of the Jammu-Srinagar highway is truck-heavy, and backed up for miles and miles. I still had to marvel at just how good the roads were even here, and wished some of this expert road engineering would be seen in Mumbai soon.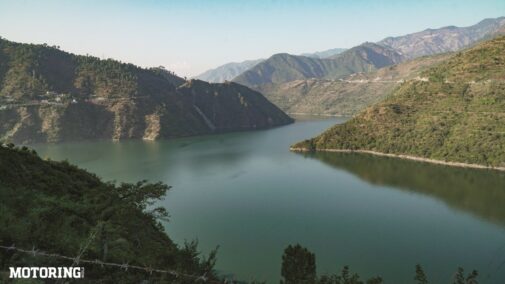 Considering we arrived in New Delhi at around 4 am, we decided on a day of rest for us, and some TLC for the trusty and reliable Tucson. It had brought us comfortably through quite a harrowing and time-consuming drive, but one that had brought a feeling of conquering something, and Hyundai's flagship SUV had a large part to play in that. We had planned to set off to Tehri quite early so that we could be done with the high mountain passes while we still had daylight. It wouldn't be quite as dangerous as the Zojila Pass, but risky enough to warrant caution — there's always the peril of landslides.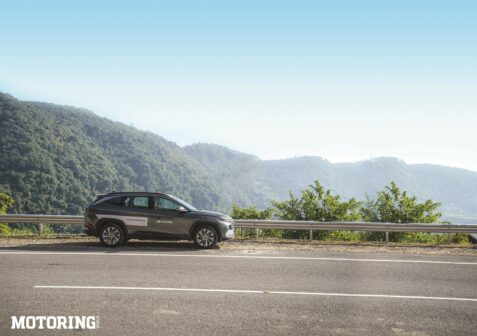 The smooth four-lane highways in Uttarakhand, which bypass the holy cities of Haridwar and Rishikesh well enough to avoid being enmeshed in crowds, but close enough to get a good view of the ongoings and sights. As we started climbing another section of the Himalayas, the torquey 182-bhp 2-litre diesel engine shone through here, just as it did on slippery slopes just days before. The AWD system made ample grip available, and the Tucson was happy to push out of corners with a certain degree of verve, which was surprising for something this size. The 8-speed auto was always ready to be in the right gear when sport mode was used, and you could keep a good pace no matter how twisty the road gets.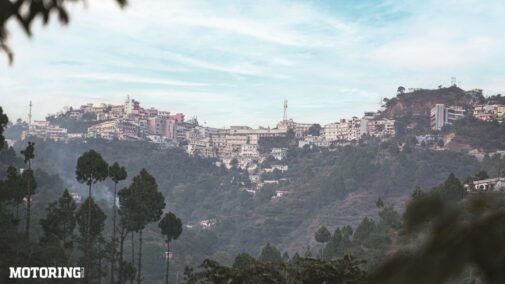 It was rather late by the time we reached our hotel, and I was, by now, quite tired. I had been driving for over five days, and for over 1500 kilometres, and while the Tucson seemed ever ready to munch some more miles, my battered frame needed a rest. I groggily (and reluctantly) handed over the keys to Sunny (who had a trick up his sleeve regarding where we were staying), and snuggled into the rear seat. I liked that I could adjust the rear seat backrest, and that there was, figuratively, acres of room to spread out.
I was somewhat surprised that when we had stopped, I was asked to board a boat — all the while Sunny white teeth could be seen gleaming in the dark. He attributed it to his fear of water, but I could tell he had a glint in his eye that said, 'Just wait and see.' It was properly dark by the time we got to what seemed like a hotel floating in the middle of Tehri lake, and as cool as that sounds, I was now approaching fatigued, and couldn't have cared less.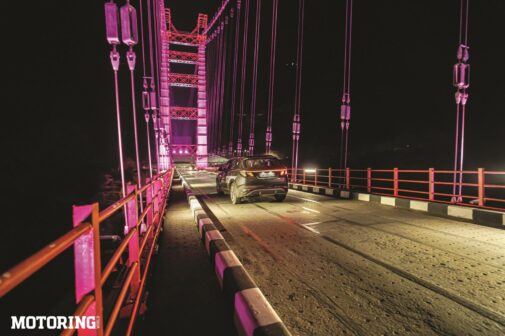 Sunny, very cheerily, made me swallow my words when we woke up the next day, and saw the stunningly beautiful vista in front of us — the hills of Gadwal framing the serene and quiet Tehri lake, as the sun comes up behind, and drives the morning mists away. Through avalanches and landslides, snow, and bonafide hillclimb experts on the roads of these northern states, the Tucson had brought to us a feeling that I could only describe as being 'on top of the world.' And it did so consistently through the 2022 edition of the Great India Drive. So much so that I'm looking forward to getting my hands on its keys when Kartik is done with it as his long-termer.