It's no secret that sedans have been relegated to a minority when it comes to Indian's buying choices, and that's not restricted to mass-market segments. Despite that, competition in the midsize-sedan is hotter than ever, which has prompted us to bring together the current cream of the crop to find out who rules this relatively small roost. The Volkswagen Virtus and Skoda Slavia may be badge-engineered siblings, but they seem to have their own individual sporty and high-tech charm, while the Honda City can now boast of segment-firsts like a hybrid powertrain and autonomous driving tech.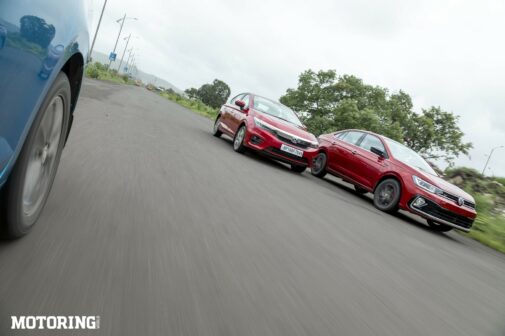 However, the question of which would you choose in a Rs 20 lakh budget is a valid one. The Slavia and Virtus have ex-showroom prices that are quite close to one another (Rs 18.39 lakh and Rs 18.42 lakh, respectively), while the City e:HEV is pegged higher, at Rs 19.89 lakh, exshowroom, Delhi. So, is the Honda City hybrid worth springing for? Are there really any differences between VW and Skoda's sedan? These are the answers we've come looking for.
Gloriously Fun
I'm not the biggest fan of the Slavia nameplate (there's too many segways that can be made from the name), but I like the meaning of the word, which translates to 'glory'. And that holds true of the Slavia — it looks gloriously bold, while retaining those typically Skoda design elements. Although this light blue finish looks a little dull in bright sunlight, there's no denying the Slavia has road presence. Its size and proportions definitely make it seem large and in-charge, and while I like the 16-inch alloys, I wish they had been sportier, to match this sedan's capabilities.
That large size also means there's plenty of room on the inside, and the light beige and black theme, with that gold stripe on the dash, make the Slavia feel airy. There's no real lack of features or creature comforts, but the front seats really do take the cake. They offer excellent support, are six-way adjustable, and come with a ventilation function. You could sit here for hour after hour, and not feel discomfort. For the driver, everything you'd need is within easy reach, though I'm still in two minds about the steering design (with those scroll-type buttons), and I definitely am not taken with the touch controls for the climate control system.
You'll get every bit of information you need from the digital instrument cluster and the slick touchscreen infotainment system, but I have to admit, I still don't like that the instrument cluster doesn't fill the entire binnacle. On the other hand, that 10-inch touchscreen infotainment system is extremely easy to use and comes with wireless Android Auto and Apple CarPlay besides. One point to note, though, is that the rear seats aren't quite what they're made up to be. Sure, it's spacious for two, and quite comfy besides, but fitting in a third person in the rear bench won't be recommended for long rides.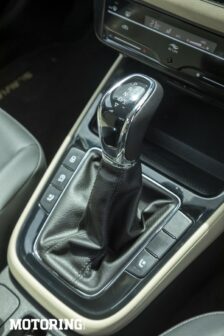 Where the Slavia really shines is when it's time to get going. That strong 1.5-litre four-cylinder turbo-petrol unit is a shining example of a good engine. 148 bhp and 25.49 kgm of torque is sent to the 205/55 R16 front tyres via a brilliant 7-speed dual-clutch automatic, and in a car that weighs just 1278 kg, it makes for a blisteringly quick midsize-sedan. It definitely felt like the quickest car in this comparison (even if by a minute margin), and it earns its stripes as a fast and dynamic car.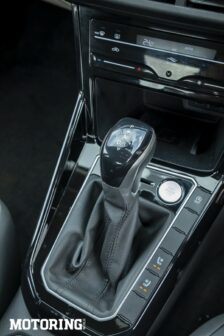 That rigid MQB-A0-IN platform, coupled with how the suspension is set up — it feels like the firmest of the lot, which means low-speed ride can get a little busy — make the Slavia an absolute hoot to hooligan around. Another feature that adds dynamism (for those looking for it), is the mechanical handbrake — boy it's fun to find a deserted patch of road (rare, but worth it) and perfect the art of getting a great drift shot. The Slavia can be driven in a sedate manner, too, and it's pretty good at acting the stately sedan, but when you don't have passengers with you, it is gloriously fun.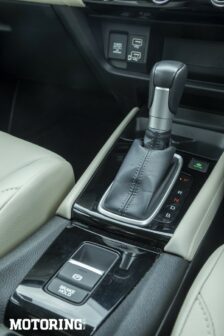 Uncommon Sense
The fifth-gen Honda City that's been on sale since 2020 is another car that can play the stately sedan, and it does so with more aplomb than its European rivals. Despite the relatively smaller wheelbase length, the Honda feels better packaged, and even seating three in the rear won't be a problem in terms of shoulder space. However, neither the front, nor the rear seats are as well-bolstered — not uncomfortable, but just slightly less supportive for the thighs and lumbar. The 8-inch touchscreen infotainment screen is another pet peeve, as it feels slower and more cumbersome than the others available. Still, the driver's seat is a nice place to be, with that simple, but clear, half-digital cluster, and the leather-wrapped steering.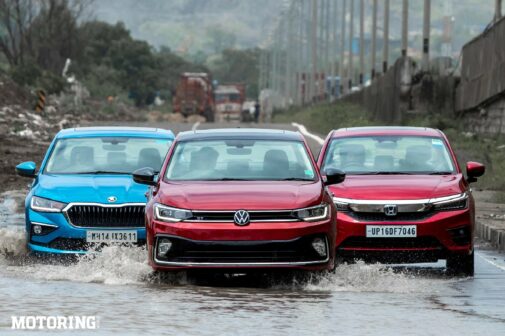 The City e:HEV gets a larger number of comfort features than its standard counterpart — such as the cooled front seats, but the active safety features (called Honda Sense) are of particular interest. First time drivers, and those that can adapt to the system, may be able to keep them on at all times. As loath as I am to admit it, I can foresee myself using the adaptive cruise control and lane keep assist functions on something like the straighter bits of the Mumbai-Pune Expressway. However, I'd definitely keep them off everywhere else, but I'm biased against anything that actively changes the way I drive, family and bosses notwithstanding.
You'll be able to see some level of distinction on the outside as well. Unlike the ICE-powered Citys, the hybrid gets a sportier body kit with the grated bumpers and a tasteful boot spoiler, which do enhance the look of the sedan. Chunkier tyres would help the City's stance, but I have to admit, these 185-mm thick tyres do a more than decent job of everything, and excel at delivering that near-20-kpl mileage figure on the highway.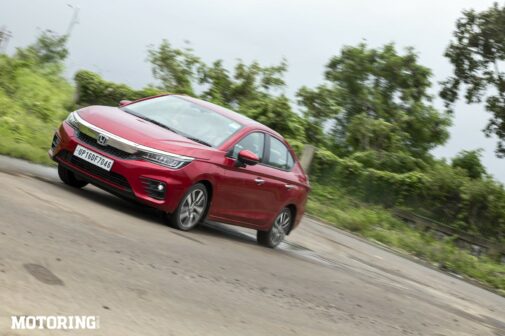 What also helps do that is the slightly thrummy 97-bhp Atkinson cycle petrol engine paired to near-silent 108-bhp electric motor. That combined 124-bhp is definitely less than its rivals, but the Honda isn't a slow poke. It moves with alacrity when needed, and doesn't fall too far short of the Virtus or the Slavia. And you'll be able to extract well over 16 kpl in absolute stopgo traffic, too. The City e:HEV is also better over sharper ruts in the road, but one would also experience a fair bit of roll when it's pushed hard into a corner, and the tyres finally give way.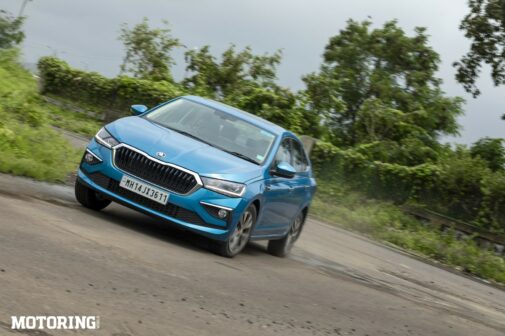 There's no way to counter that understeer (it's got an electronic parking brake that works well enough) other than slow down as soon as you can, which the all-round disc brakes do quite well. You'll feel the City e:HEV pitch as it sheds speed quickly, in a confidence-inducing manner. It isn't the driver's car its predecessors were, but you can have a fair bit of fun in it. And if you do drive it in a sedate manner, which the City e:HEV is better suited to, it rewards you with unmatched frugality, which makes it a sensible pick.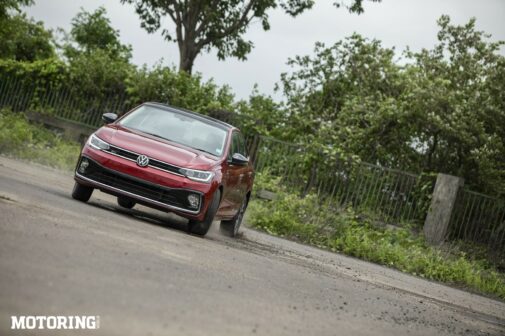 Vice and Virtues
One might say there's little that sets the VW apart from its badge-engineered sibling from Skoda — body panels, powertrains, the chassis, suspension, and almost every bit of tech on-board is shared — but the Virtus still manages to be distinct. Both, outside and in, you'll feel that solidity that VW (and Skoda) are known for, but the design elements and colour schemes used really do make the Vistus seem a bit more, well, premium. Those blacked-out 16-inch alloy wheels contrast beautifully with the red paint, and the lighting arrangement makes it look sportier, and more mature.
That's the case on the inside as well, at least for the sporty bit. The overall cabin quality showcased by the Europeans doesn't feel as luxurious as the City due to the more extensive use of hard plastics, but the parts do feel durable. The features set is quite similar, though design choices have been for the interior layout that favour the Virtus in my eyes, like the red highlights on the dash, the flat-bottom steering wheel, and the placement of the buttons for seat ventilation. I have the same problem with the Virtus' AC controls and digital instrument cluster as I do with the Skoda, and the same liking for the infotainment system, seats, and space. Speaking of, the Virtus and Slavia get cavernous boots, while the City e:HEV suffers in comparison, due to the battery pack taking up space.
There are minute differences in the way the Slavia and Virtus drive, though one would have to drive them back-to-back, and be quite sensitive, to identify them. The Virtus is marginally more sedate, and the suspension feels a little more pliant, making the VW feel slightly more mature, but also a shade less exciting. Yes, those who carry passengers more often will like the Virtus, but those who are limited to front-seat usage will be more inclined towards the Slavia. However, bear in mind that the VW and Skoda are so similar to drive that most will be hard-pressed to choose one over the other, at least in this context.
That they are also only priced Rs 2000 apart is another reason making a choice between the VW and Skoda is difficult. I'd honestly say you can't go wrong with either, and it comes down to a personal (and very subjective) choice based on one's own aesthetics. If you're in the market for a fun, modern, and spacious sedan under Rs 20 lakh, the Virtus and Slavia are both very good bets. However, in my view, the Virtus edges ahead by a miniscule margin as it turned out to be a little more mature and frugal.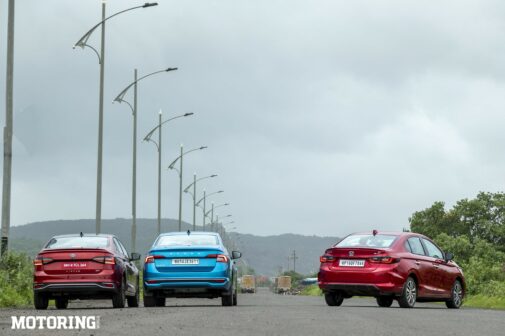 Unfortunately, the Honda City e:HEV takes the cake in that department. It's far more efficient, and makes much more sense if you aren't looking for outright excitement. It isn't that the City hybrid doesn't thrill, it's just that the Europeans do it so much better. And then there's the fact that it costs about Rs 1.5 lakh more than the VW and Skoda. On the other hand, it wouldn't take a considerable amount of running to make that amount up in terms of fuel costs, if you average more than 1000 km a month.
To sum it up, if I was to give out a crown for best midsize-sedan, I'd give it to the Volkswagen Virtus, but honestly, it's all too close to call. It's just that the sporty, yet slightly more grown-up nature suits me better than the marginally more rabid Skoda Slavia, and much more than the comparatively sedate Honda City e:HEV. I know this is a debate that'll come up when we're discussing who should get our Car of the Year 2023 award, and I'm prepared for it.
AUTODATA
Honda City e:HEV
POWERTRAIN
Displacement:
Max Power:
Max Torque:
Transmission:
1498cc, I4, petrol-electric
127 bhp
25.79 kgm
e-CVT
DIMENSIONS
L/W/H (mm):
Wheelbase:
Ground Clearance:
Kerb Weight:
Fuel Capacity:
4549/1748/1489
2600 mm
165 mm (unladen)
1280 kg
40 litres
PRICE
Rs 19.89 lakh (ex-showroom, Delhi)
AUTODATA
Skoda Slavia Style 1.5 TSI AT
POWERTRAIN
Displacement:
Max Power:
Max Torque:
Transmission:
1498cc, I4, turbo-petrol
148 bhp@5000-6000 rpm
25.49 kgm@1600-3500 rpm
7AT
DIMENSIONS
L/W/H (mm):
Wheelbase:
Ground Clearance:
Kerb Weight:
Fuel Capacity:
4541/1752/1507
2651 mm
179 mm (unladen)
1278 kg
45 litres
PRICE
Rs 18.4 lakh (ex-showroom, India)
AUTODATA
Volkswagen Virtus Performance Line
POWERTRAIN
Displacement:
Max Power:
Max Torque:
Transmission:
1498cc, I4, turbo-petrol
148 bhp@5000-6000 rpm
25.49 kgm@1600-3500 rpm
7AT
DIMENSIONS
L/W/H (mm):
Wheelbase:
Ground Clearance:
Kerb Weight:
Fuel Capacity:
4561/1752/1507
2651 mm
145 mm (laden)
1275 kg
45 litres
PRICE
Rs 18.42 lakh (ex-showroom, India)