Okay, this is it. Time to send it,' said my mind as I chased my brother in a barely visible orange Maruti Suzuki S-Presso as he powered towards the last corner at the Ajmera Indikarting Dirt Track in Mumbai. I was following the dust cloud in a Renault Kwid Climber, with the throttle pressed to the floor. At the last moment, I let off, twisted the wheel and yanked the handbrake, all at once, and the rear end kicked out, swinging the car like a pendulum as I immediately counter-steered. I was laughing hysterically, my brother gave me a thumbs-up, and Kaizad (safe behind a tyre barrier) had a huge smile on his face as he looked at his camera screen. We were having an absolute blast.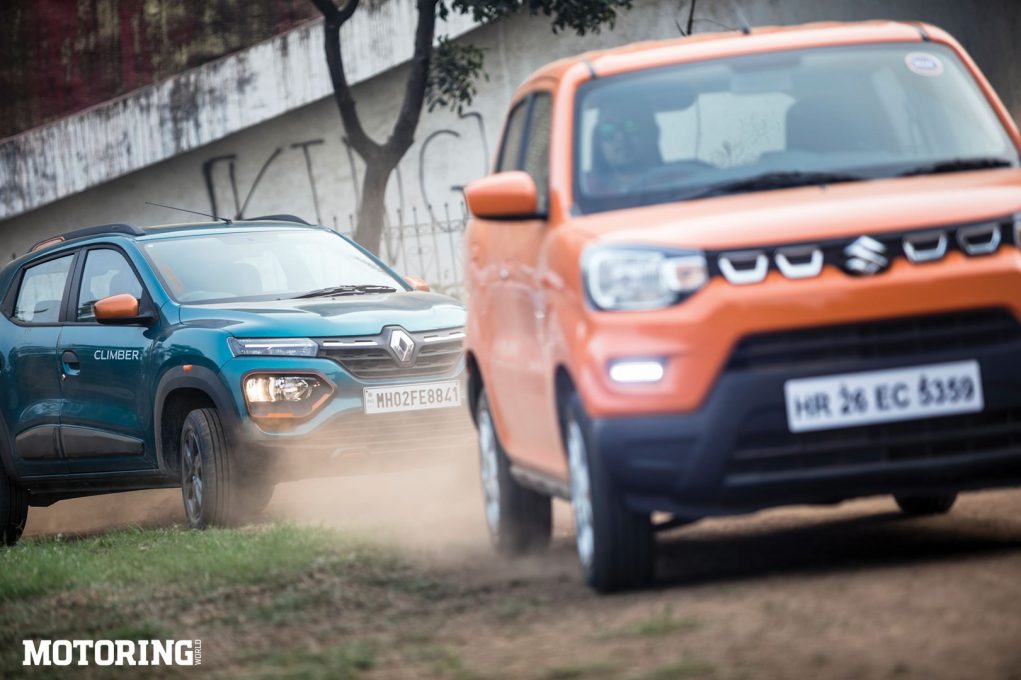 But what's going on here, you ask? And what are two entry-level hatchbacks doing sliding around in the dirt? And how could those possibly be fun? Well, over time my idea of fun has barely changed. The route to attain it, though, has. Elsewhere in this issue, you'll find a story featuring a Lamborghini Huracan Evo that can hit 100 kph in under four seconds. Last month, we drove a matte-black hooligan of a car, the Mercedes-Benz G350d. Both, obviously, are tonnes of fun. They are fast, exotic and you will never get out of them without a smile on your face. But this is where my definition of attaining fun starts to change. Over time, I've realised it's no longer the actual numbers, but more about the feeling. And for big, powerful and fast cars, that moment comes far higher up the speedometer than what is normally safe. Which brings me squarely to the two cars you see here.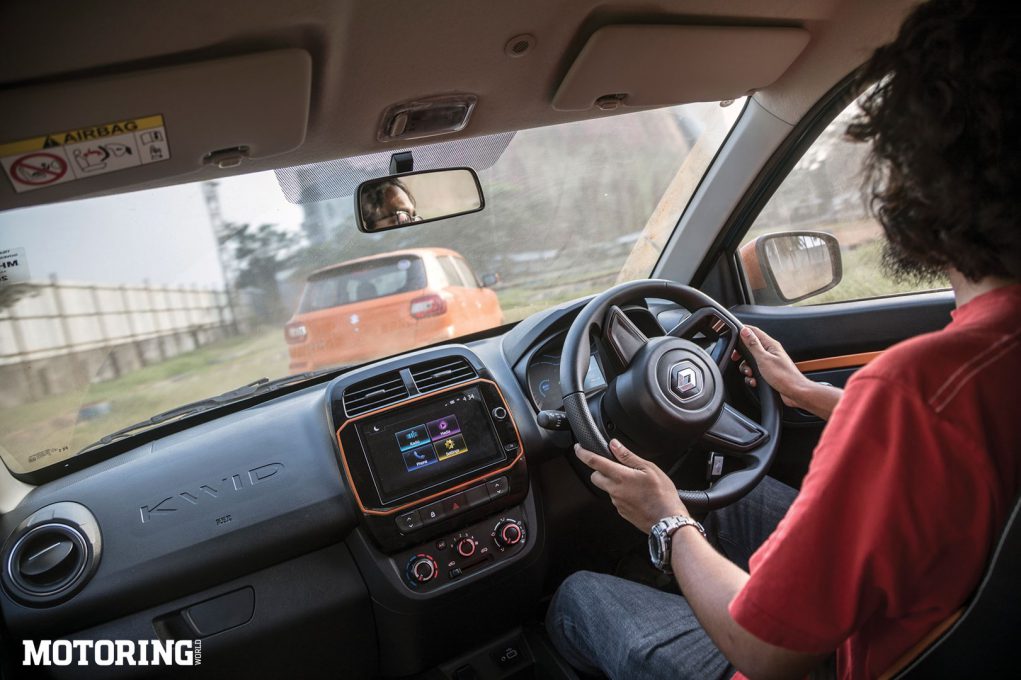 The Maruti Suzuki S-Presso and the Renault Kwid Climber are small, vibrant, fun and, most importantly, versatile. And by the end of this feature, I will convince you to stop scoffing and go give one of these a shot. So let's dive right in, shall we? The old Kwid wasn't an ugly car (Renaults rarely are), but with this update, it's taken the game up by a few notches. The general shape is identical, but the new face is absolutely stunning. It's gone full Star Wars with it, with narrow LED slits for the turn indicators and the headlights moved to a lower position on the bumper. It looks young and fantastically playful. Another area Renault have taken a huge step forward is paint schemes. The blue on the facelifted Duster was lovely and the dual-tone one on the Kwid is no different. It is a deep pearly blue with orange accents and it has some serious visual appeal. It's quite simple — if you see a Kwid on the streets, you aren't going to forget it in a hurry.
By contrast, the S-Presso is incredibly bland. It is tall and boxy, and if you ignore the face, the body looks like a slightly shrunk Wagon R. Sure, the orange is bright and hard to ignore, and the front grille gives it character, but I'm still waiting for the S-Presso to grow on me. Inside, the S-Presso is relatively bland, too. But then again, at this price point you can't expect anything more. Mirrors are adjusted by hand and the steering lacks any adjustability whatsoever. But Apple Carplay is present and that's a bonus. By contrast, the Kwid isn't better-specced, but it's definitely prettier inside. The dual-tone seats and the blacked-out dashboard look so much better. And I like having the digital speedo/tacho in front of me as opposed to the S-Presso which carries it in the centre of its dashboard.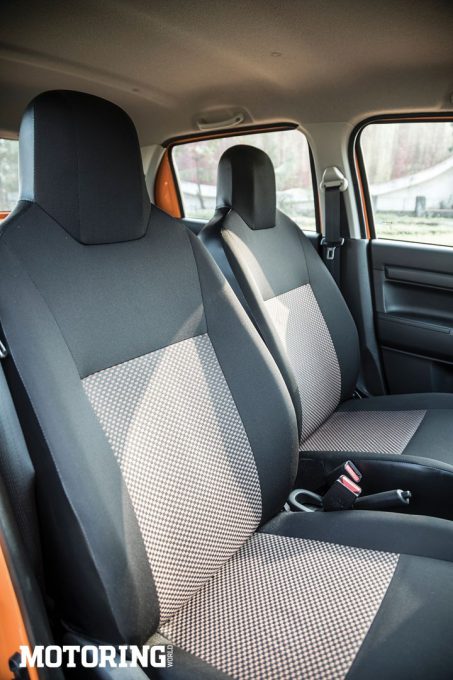 So why are these 'urban hatchbacks' on a dirt track, then? Well, you see, people buy small cars for one primary reason — practicality. And the way I see it, that practicality doesn't stop at space. Sure, these cars are tiny and convenient in traffic, but that's just the tip of the iceberg. For example, the S-Presso is listed in the SUVs section on Maruti Suzuki's website and not in the hatchback list. And the Renault Kwid, in Climber trim, has a more rugged appearance. So what better way than putting that prowess to the test, eh? And yes, we've stuck to their AMT versions because, well, practicality.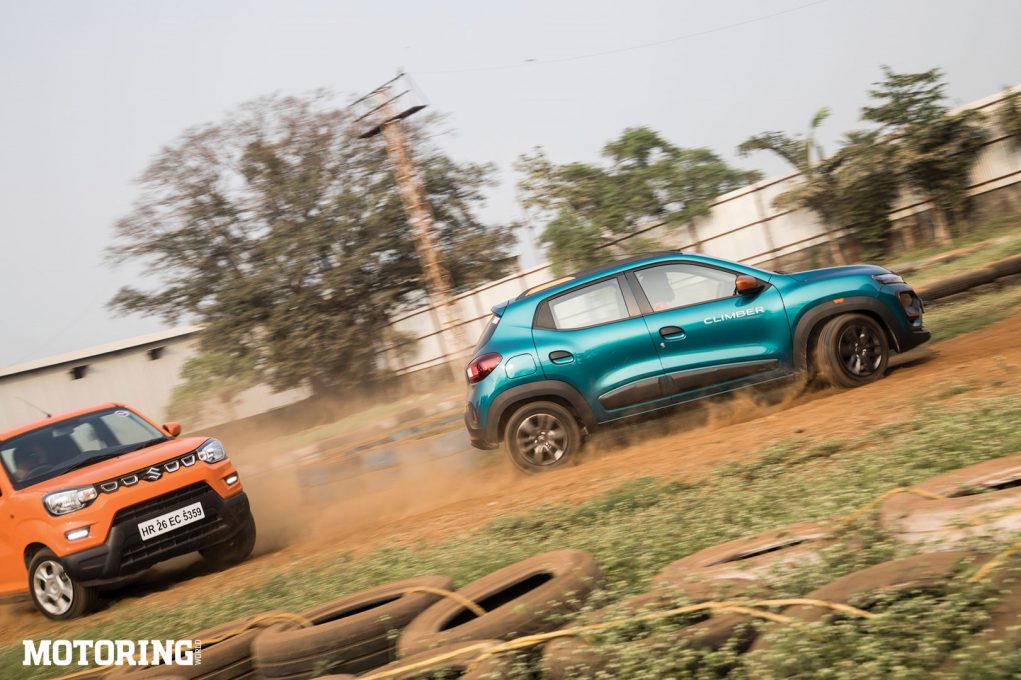 Both come with 1.0-litre engines with almost-identical power/torque outputs. But what makes them so enjoyable is their low weight; both are under a tonne each. And because they are low on power, 60 kph feels like 120 kph. And it is this combination of low weight and low power that makes them so much fun. Luckily, the good guys at the Ajmera Indikarting didn't mind us hooning around to our hearts' content. Admittedly, I was a little sceptical about taking these to a dirt track, especially with AMTs, but we lined them up nonetheless.
The track had sections of soft sand/dirt, hard packed and bumpy mud, and a couple of short straights. Perfect. I started out with the Kwid, taking it gingerly at first. But it felt so composed, I immediately started pushing it harder. And my heart lit up with joy. The engine revved smoothly as I approached a corner. A dab of the brakes was all I needed to shave speed before turning hard as the Kwid scampered away with a hint of understeer on the loose surface. Does the AMT help? Of course not. It always wanted to shift just before I entered a corner, which isn't really conducive to going fast, but it wasn't so bad once I got accustomed to predicting its shifting habits. And pretty soon, my confidence was through the roof. But my brother in the S-Presso constantly seemed to be getting away which is why I started using the handbrake. I didn't catch him, but it did make me feel like a WRC driver.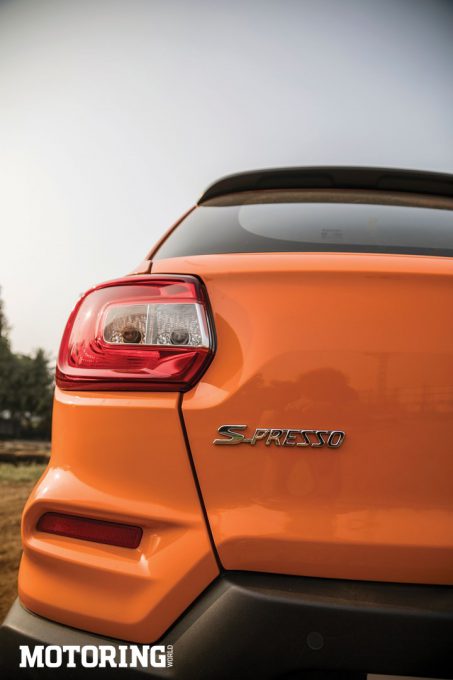 A while later, I hopped into the orange Maruti and everything instantly felt a little taller, a bit further away. The steering felt nowhere as nice to hold as the thicker, smaller unit in the Renault and the brakes didn't have the same feedback. What did feel far better, though, was the way the engine revved. Man, was it quick! Both cars might have 67 bhp, but the S-Presso was noticeably faster. But when I reached the first turn, there was noticeably more body roll, too, thanks to its height and suspension setup. And while it certainly felt quicker around the track, it didn't inspire the same amount of dynamic confidence that the Kwid did.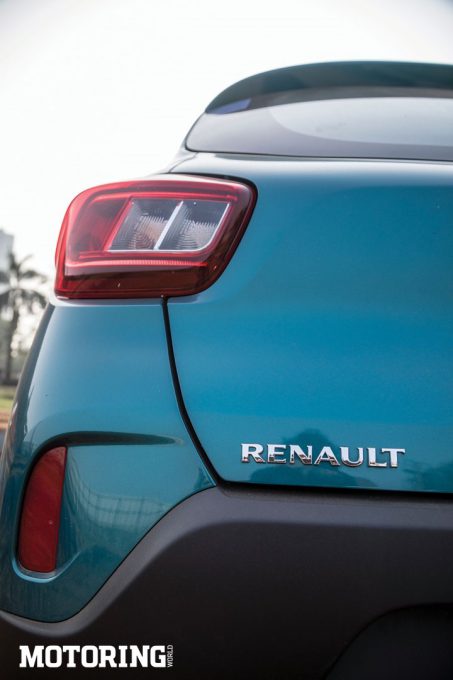 There was only one way to find out for sure, though — timed laps. I expected the S-Presso to be a couple of seconds quicker, purely because of how much time it could make up on the straights. But after two timed runs each, I was left surprised. Remember the saying, 'Slow is smooth, smooth is fast'? Well, the S-Presso was quicker, managing a fastest lap of 31.73 seconds, but the Kwid did it in 31.87 seconds! Honestly, though, I couldn't care less about lap times. The fact was that I was having the time of my life.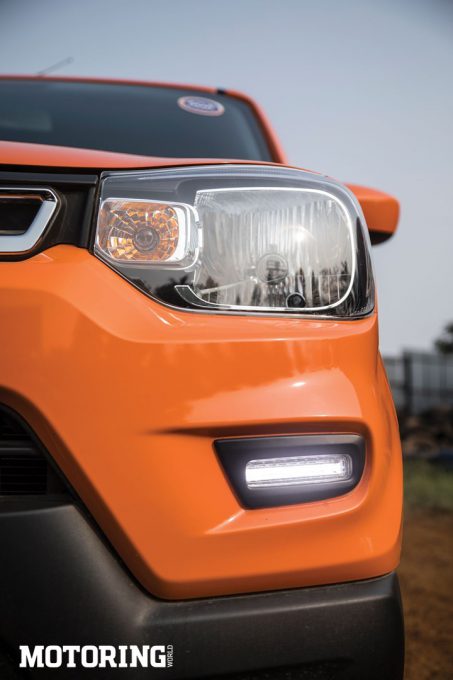 The cars felt like a pair of puppies scampering around in clouds of dust without a care in the world, with emancipated visions of Colin McRae sliding a car, and pulling the handbrake at will. All of this at a speed that is actually attainable by lesser mortals like you and I because every time I felt like I was doing 60 kph, it was actually much slower. And unlike a dedicated sportscar, there are no drawbacks. We drove these cars off the track onto the tarmac, through peak traffic and back home. Comfortably. And I intend to head back to the dirt track to repeat these shenanigans again.
Strangely, bare-basic cars like these two are so unfiltered, you feel more connected to them. Obviously, they don't offer the velocity and feedback of a BMW, but they do communicate to you at a much safer speed. Because excitement isn't about what the car is doing and at what pace, but about how that is making you feel. And a small hatchback, low on power and weight, makes you feel alive like very little else can. If you're still not convinced, I strongly suggest you join me for a few dusty laps.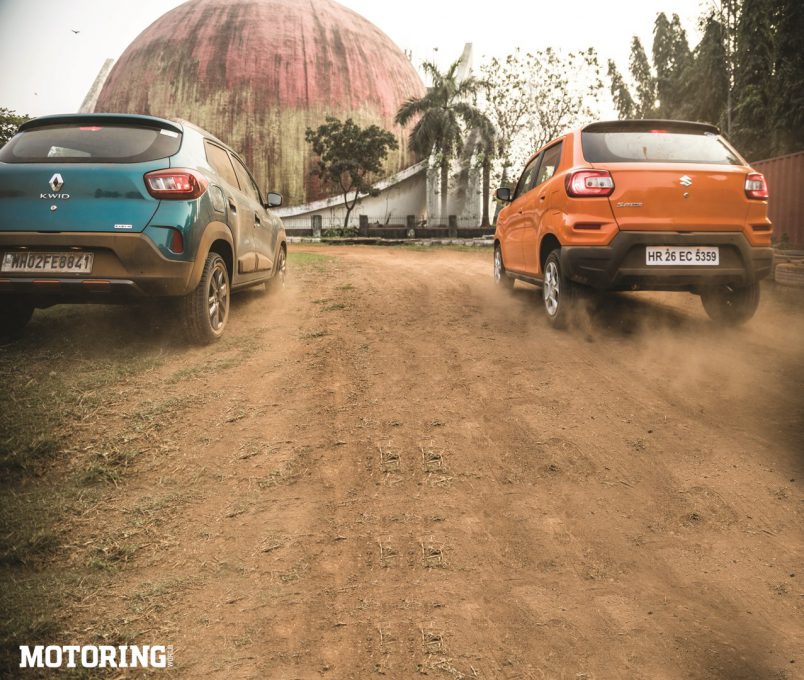 AUTODATA
Renault KWID Climber
POWERTRAIN
Displacement: 999cc, inline-3, Petrol
Max power: 67 bhp@5500 rpm
Max torque: 9.3 kgm@4250 rpm
Transmission: 5-speed, AMT
TYRES
F/R: 165/70 R14
DIMENSIONS
L/W/H (mm): 3731/1579/1490
Wheelbase: 2422 mm
Ground clearance: 184 mm
Kerb weight: 755 kg
Fuel capacity: 28 litres
PRICE: Rs 4.92 lakh (ex-showroom)
AUTODATA
Maruti Suzuki S-Presso
POWERTRAIN
Displacement: 998cc, inline-3, Petrol
Max power: 67 bhp@5500 rpm
Max torque: 9.2 kgm@3500 rpm
Transmission: 5-speed, AMT
TYRES
F/R: 165/70 R14
DIMENSIONS
L/W/H (mm): 3565/1520/1564
Wheelbase: 2380 mm
Ground clearance: 180 mm
Kerb weight: 767 kg
Fuel capacity: 27 litres
PRICE: Rs 4.91 lakh (ex-showroom)
[This story originally appeared in our January 2020 issue]