Let's assume we're in a parallel universe where the BMW X6 comes face to face with the Mahindra Thar. The Thar stares down its opponent with its rugged, no-nonsense grimace, while the X6 calmly looks on with a nonchalant grin. Sounds like a scene that would fit right into the oh-so-ridiculous movie, Cowboys vs Aliens. Harrison Ford probably lost most of his credibility by starring in this movie, but back in the real world, the X6 did actually meet the Thar. So let's forget cockamamie movie plots for the moment and delve into how this actually played out.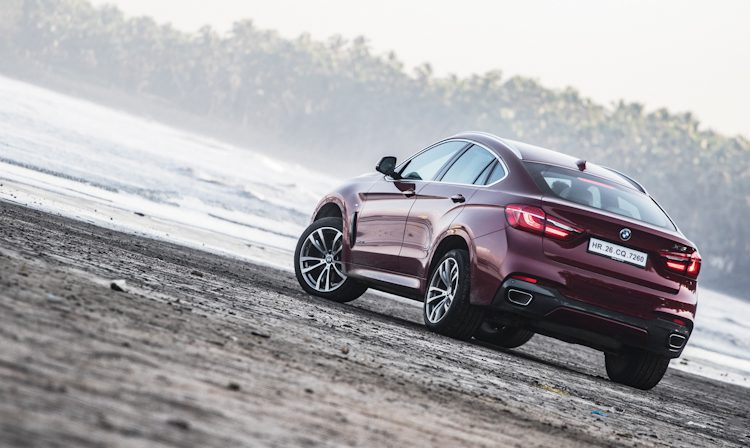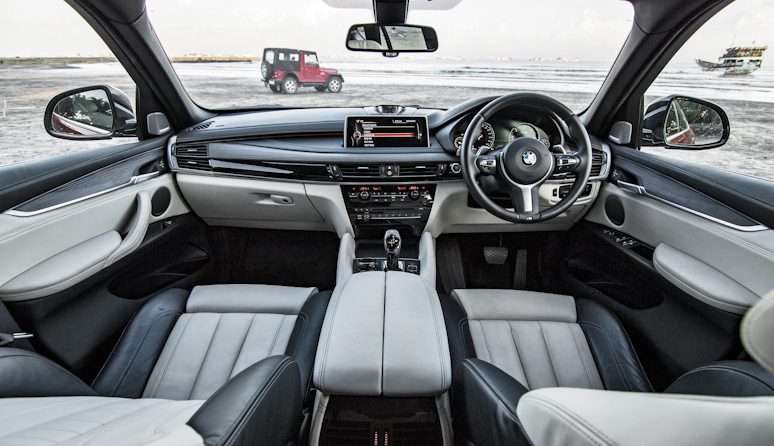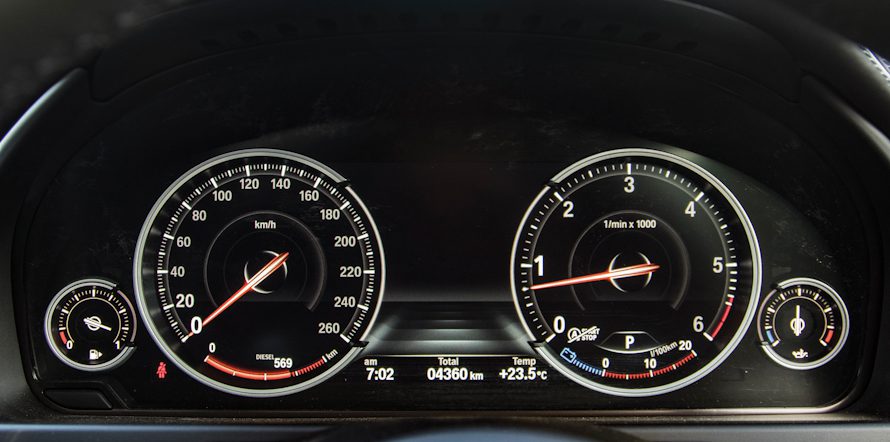 These are two vehicles that are so drastically contrasting, they make the actual spectrum of light look like a mild cup of English breakfast tea. Yes, you might want to get some crumpets to get through this one. The Thar comes battle ready for any off-road skirmish you may be up for or not. However, on actual asphalt it feels bulky and awkward. On the flipside, the X6 feels sporty and planted on the street. But with a car this beautiful and luxurious, would you really have the heart to get off the street and chase that Thar up a mountain side? Every time we consider it, that sneaky little price tag is peeking at us with sighs of disapproval.
Once you climb into the Thar, the absence of frills and fancies is immediately noticeable. The interior feels absolutely cavernous, which could be due to the aforementioned lack of any frills. Although it does feel rather purposeful, I'm sure a basic infotainment system would have gone a long way in placating its owner. However, the lack of any music is probably a good thing when you're struggling to keep it in a straight line out on our bumpy highways. Attempt triple-digit speeds with the Thar and you will start to resemble a DJ at his console, spinning and scratching the wheel this way and that. The seating position in the Thar is relatively higher than the other cars on the road. Presumably, you may soon start feeling like an actual DJ, high up in your cabin, with an audience wherever you go.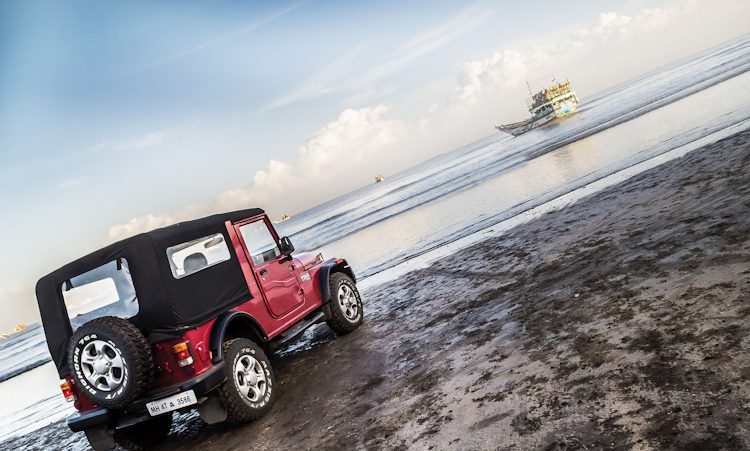 Let us now descend from the mighty Thar and comfortably slide into the X6. Wait; compared to the Thar, you might just have stumbled into an alien mothership. There are so many different buttons that are scattered all over the cockpit. But you're already too busy fiddling around with the automatic seat controls as absolute comfort completely engulfs you. The infotainment screen will allow you to explore a vast interface that makes almost everything electronically customisable. And as you explore this mini virtual world within the X6, you'll soon discover that even the colour of the cabin lights can be changed to suit your moods and fancies. I personally preferred the traditional BMW blue and white, but there's even a complete red which could either put you in an aggressive sporty driving mode or make you feel like you have your own personal nightclub. It's a good thing the X6 comes equipped with a Harman Kardon surround-sound system to titillate your ear drums.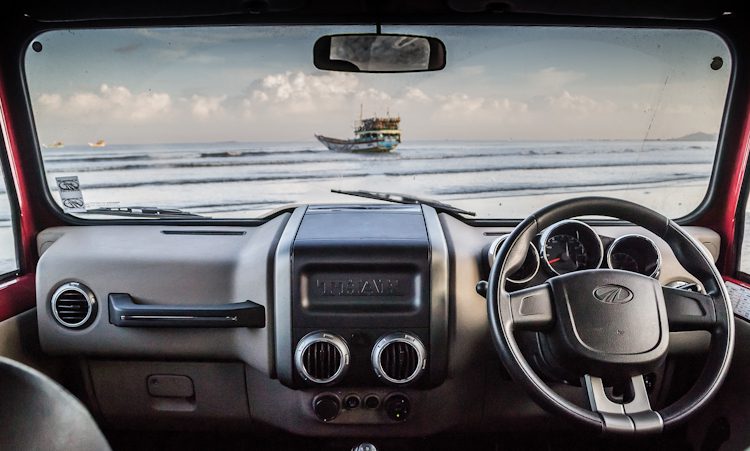 Speaking of aggressive sporty modes, the X6 40d that we have here, has about 306 horses churned out of a 3.0-litre twin-turbo inline-six. Slot it into Sport mode and you've got yourself a rocket ship. This is BMW's mash up of a coupe and an SUV (it likes to call it a Sports Activity Coupe) and it's amazing how nimble the X6 feels, considering that you're jostling around a behemoth weighing more than two tonnes. Despite the fact that the X6 is larger than the Thar in all dimensions excluding height, it feels like a much smaller car. It's much easier to manage while you're ambling through city traffic. This is when you'd be better off in the Eco Pro or Comfort drive modes, but there's still the Sport and Sport+ modes. Get out of the city, throw it around some curves and you'll notice that BMW has done an impeccable job with regards to body roll — there's hardly any at all. The 8-speed automatic gearbox keeps the engine purring all the way until you hit the 200-kph mark and then it begins to feel a bit stressed out.
Let's clamp about 100 kph off the X6 and you get the same feeling in the Thar. Mahindra's 2.5-litre CRDe engine puts down about 105 horses and evidently it isn't too happy crossing that 100-kph barrier. What you do have is oodles of torque, ready to get you over most obstacles, making small work of those nasty dividers and rudimentary speed breakers. Aside from that, it's rather cumbersome getting through city traffic. The clutch will have your left calf muscles bulging after spending a few hours in it. But then again, traffic isn't what the Thar was made for.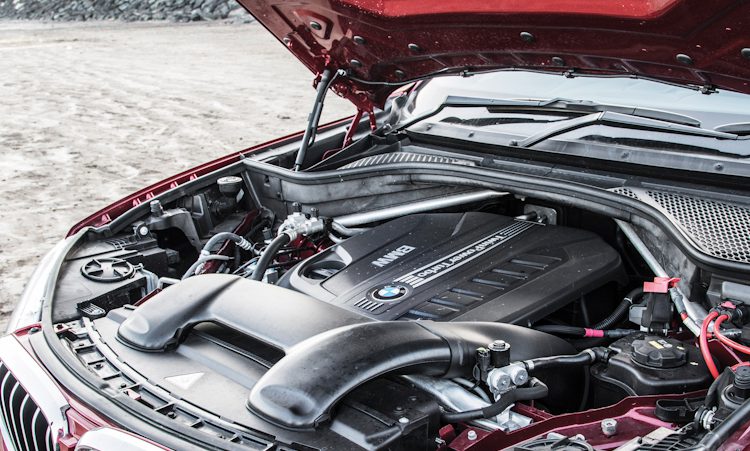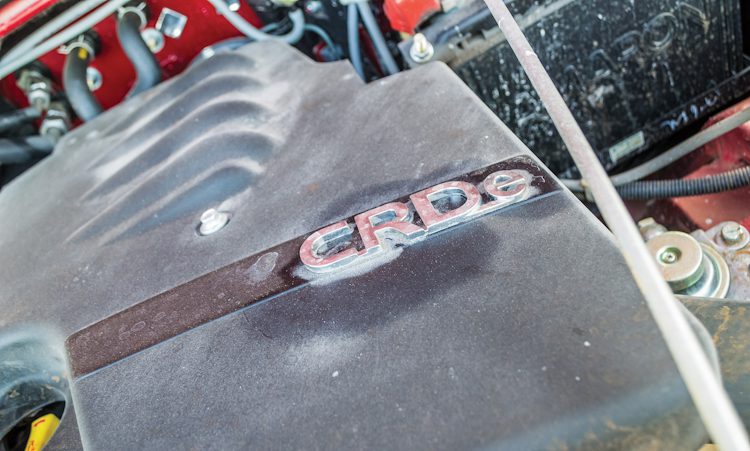 Where the road ends is where the fun begins. Let's abandon that clunky gearbox and slot it into 4X4 mode. Granted, it may take you a while, given that reaching the 4X4 lever is a bit of a stretch. But once you get there, the Thar begins to show its true colours. Pick a direction and the 4X4 drive, combined with the rear differential lock will help you get there. Just please make sure it's not off a cliff or into a rock face. The Thar certainly makes up for all its on-road shortcomings with its off-road potential. Just make sure you lock up your valuables in the glove compartment or carry them with you. The soft-top on the Thar ensures that all ambitions of having Fort Knox-like security are discarded as soon as you step in. But then again, you'll presumably only need the bare essentials where you're going.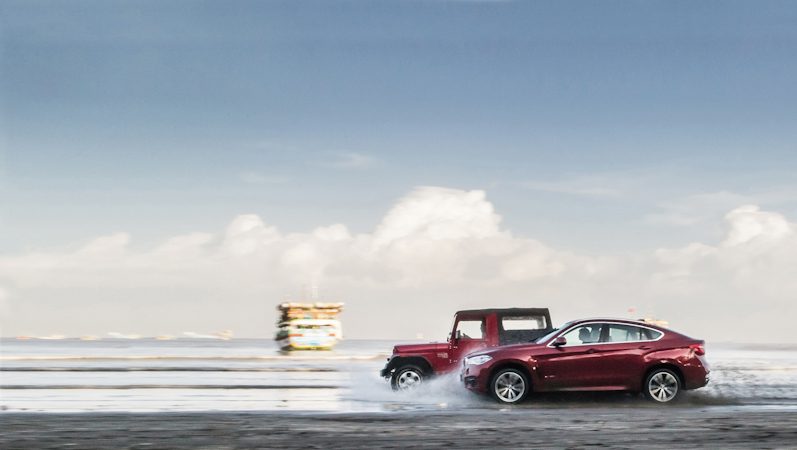 Probably the only thing that these two, vastly different vehicles have in common, is a rather imposing, in-your-face road presence. The X6 with its wide stance, sheer size and trademark kidney grille, and the Thar with its rugged jeep look and towering dimensions – they both command attention. Although, one thing I did notice, rather strangely, is that the Thar seems to get way more heads turned than the X6. And even more surprisingly, quite a few of those heads turned out to be from the fairer sex. So I did ask a few female companions of different ages about the Thar and they all seemed to absolutely love it. So maybe all those rugged, macho, design elements on the Thar do seem to have a very positive effect on the desired audience. Well, at least there's some compensation for all the car's shortcomings on the road. And I'm sure if you're a female driver, you already have a fan following of drooling petrol-heads. But if any of you dudes have wives or girlfriends, I'd suggest following one simple philosophy: What happens in the Thar, stays in the Thar.