The life of an automotive journalist has its ups and downs. It's almost a shame that, at times, a car is available for a shoot — and just for that one shoot. There's barely time to drive it extensively, due to a variety of constraints; I mean, COVID restrictions, the story has to be written up, there's other shoots that need to be organised, the vehicle needs to go to another publication and so on and so forth. After a few months of this recurring theme (Queen's Under Pressure was the soundtrack for that duration), there came a Saturday where I had some time, and a BMW M340i at my disposal. Naturally, that meant I was going on a little getaway.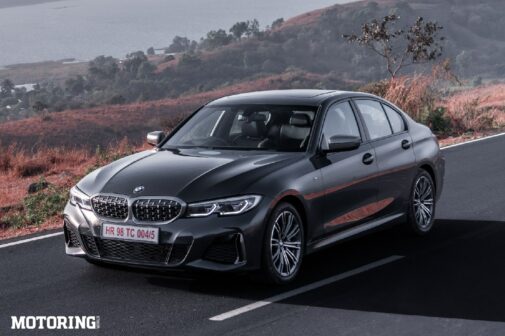 I'm not much of a planner when it comes to getaways, as they're usually motivated by an impulse. It starts as a small spark of restlessness, which then burns down the jungle of restraint and burgeons into a forest fire of 'I need to get the hell out of here.' I shortlisted four of my favourite places to drive to, and then rolled a four-sided dice to decide which one I'd be setting off to. The one thing that I did decide on was that I would like to watch a sunset over the hills.
So, I set off in the afternoon, when most people are retiring after lunch and the roads are more or less empty. It came as something of a surprise that I was thankful I was driving the M340i, and not the much more hardcore M3, especially as the roads out of Mumbai aren't the best paved. It's not like this car's ride quality is supple, but at least there's enough give to not make the drive back-breaking. Another aspect that I was thankful for was the M340i's size. Anything larger than the 3 Series would have been cause for nervousness at the cramped toll booths.
As I finally got on the Mumbai-Pune expressway, I figured I could cruise with ease — but that's not why I was out that day. I needed to feel a rush — the kind where a little devil on my shoulder egged me to unleash at least some of the meagre driving skills I possess. I definitely wasn't going to pull off anything flashy on the expressway, so I knocked the little horned guy off my shoulder – temporarily. By the time I reached that empty, curvy stretch of road chosen by the dice, though, he was back on my shoulder. He couldn't have gotten his timing more spot on.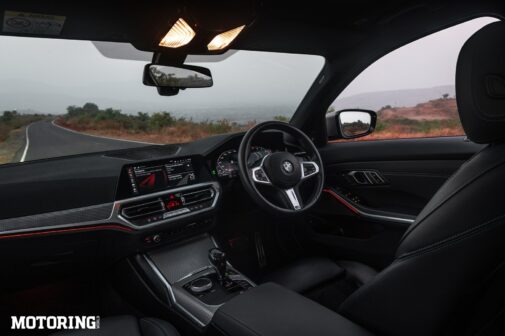 The M340i was the near-perfect companion on this little excursion. Making 376 bhp and 50.98 kgm of torque, the 2998cc, six-cylinder turbo-petrol engine is not overwhelmingly powerful, and the rear-biased xDrive all-wheel-drive system keeps the car as stable as a house, even when pushed hard. This drive was meant to be a venting session, and though I'm not usually one for turning all the electronic nannies off, I took a minute to do just that. Sport mode engaged, traction control off, and away I went — the little red guy had his pitchfork sunk deep into my shoulder for grip, and was grinning from ear to ear.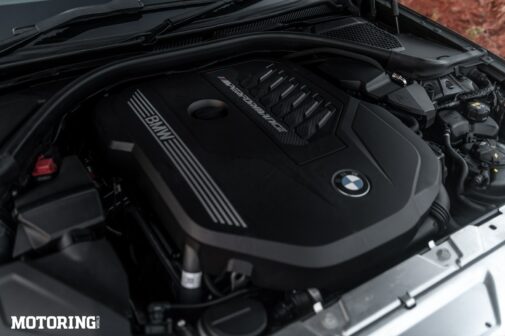 The angry six-pot screaming away, the feel of oversteer kicking in, turning the steering wheel slightly in the opposite direction and then modulating the loud pedal in order to drift through a long corner — it's ironic that this excited and relaxed me at the same time. The level of concentration involved was liberating, as there was no time (or inclination) to think about anything else. After blitzing past the initial climb, I took the tighter corners marginally slower and turned the electronic aids back on, in order to preserve the tyres.
This is where I found that there's ample grip for 'regular' cornering too, and not just for flamboyant drifting. Thanks to the direct and feedback-rich steering — especially in Sport mode — I was confident enough to push even harder, without unsettling the car. The imp on my shoulder was saying, 'To hell with the tyres!', but fortunately, it was around this time that the angel on my other shoulder finally woke up and warned me off further shenanigans. After all, the summit was close. Turned out that I had timed it just right — the sun was about to disappear behind the hills.
Stepping out from the tastefully appointed M340i's cabin into the rapidly cooling evening air, I felt my enthusiasm being replaced by a sense of peace and serenity. The climb up here had been exactly the catharsis I needed. I stood for a while, watching the sunset and thinking about what I should have for dinner. That's when — despite all the effort I had made to literally distance myself from work — I realised just how perfect this location would be for a shoot. My thoughts now filled with organising said shoot, I stepped back into the car.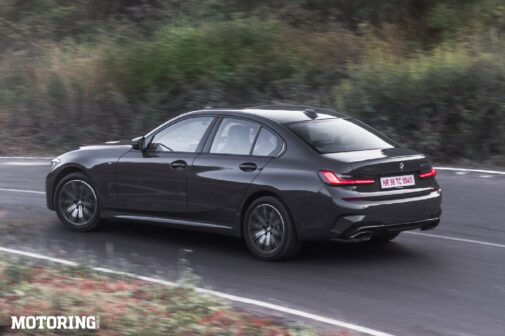 The soft, blue ambient light I had selected lit up the cabin, and I felt elated that this expedition to get away from everything had worked out better than I could have hoped. It wasn't just that the BMW M340i's talents had helped me find some peace of mind; it had also aided me in getting those creative juices flowing. With the devil on my shoulder sated, for now, the drive back home was much calmer. I made some calls using the seamless infotainment system with its voice commands, and set up the shoot. The story would be about how the M340i, along with this brilliant bit of tarmac, had helped me do my job better. Like I said, the life of an automotive journalist has its ups and downs, and, for the moment, life was looking up.
AUTODATA
BMW 3 Series M340i xDrive
POWERTRAIN
Displacement:
Max Power:
Max Torque:
Transmission:
2998cc, I6, turbo-petrol
376.6 bhp@5800 rpm
50.98 kgm@1850-5000 rpm
8AT
TYRES
F/R: 225/45 R18 / 225/40 R18
DIMENSIONS
L/W/H (mm):
Wheelbase:
Ground Clearance:
Kerb Weight:
Fuel Capacity:
4713/1827/1440
2851 mm
110 mm
NA
59 litres
PRICE
Rs 64.9 lakh (ex-showroom, India)