My love for motorsports began when I first saw Michael Schumacher's scarlet red Ferrari on TV. It was annihilating everybody that came in its way, and I still vividly remember how the V10 engine's howling sound made me feel as the Ferrari flew by. Fast forward to the present, nearly a week before Formula E made its debut in India on the streets of Hyderabad, Scuderia Ferrari's Charles Leclerc refreshed every Ferrari fan's memories as he took the wheel of Michael's precious scarlet red Ferrari from the 2003 season. The V10's visceral sound is still echoing in my head as Charles lit up the Abu Dhabi race circuit in the F2003-GA. I've had a spell cast on my mind as a result of watching that video an unhealthy number of times.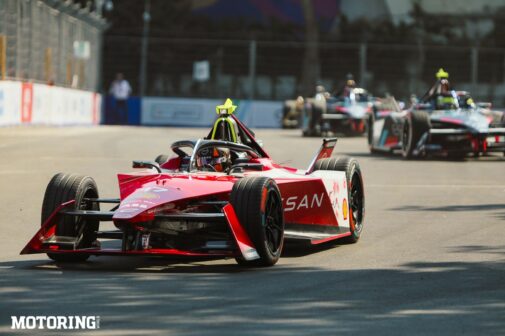 Call it good or bad, but times have changed, and we're moving towards a world where motorsports is evolving at an alarming rate. Formula E is in its ninth season. The Gen3 cars this season are a massive improvement over the Gen2 cars from last year, for instance. They're lighter, smaller, efficient, and can achieve a top speed of 322 kph. Currently, these are the fastest electric cars in the world. If I am being honest, I've never wholeheartedly followed Formula E; it was always an odd race or two every season. I was never interested in the electric whine of these cars until I saw them race in Hyderabad. Yes, you had to be present to see it. The sheer excitement, the wheel-to-wheel racing drama, and the brilliant drivers all contributing to the sport's allure.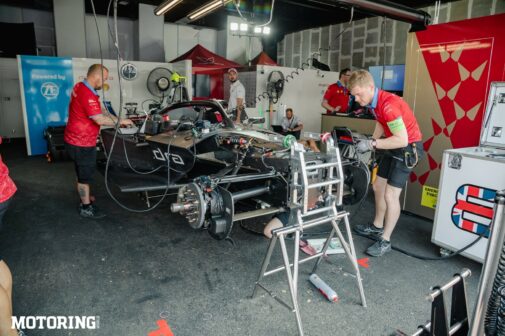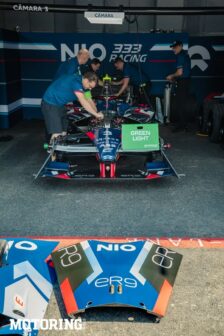 It was all thanks to the Mahindra Racing team, who graciously hosted us at the ePrix, and the days leading up to the race weekend were quite the spectacle. As a motorsports fan, I was ecstatic to attend our country's official FIA race event. After all, it had been nearly a decade since such an event had occurred at this level. This was also my first time attending an official FIA Formula E race weekend, from the Free Practice sessions to the final Race. I had to keep my excitement in check as I prepared for the long weekend of racing as both a fan and a motoring journalist. No pressure, then.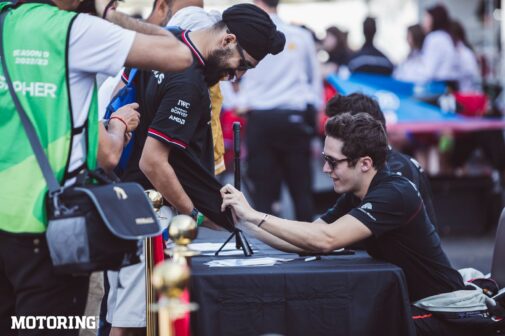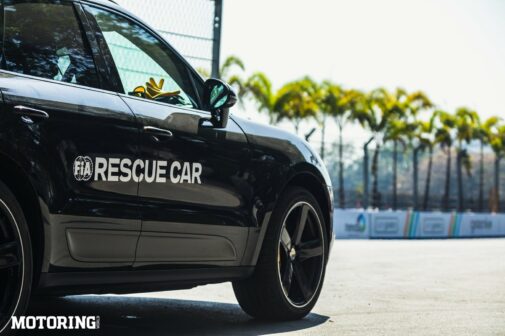 Welcome Home!
Mahindra Racing hosted a grand party in Tech Mahindra's sprawling campus in the run up to the home race. I was excited to see the sharp-looking Gen3 cars and find out what all the fuss was about. Mahindra Racing's Gen2 race car sat like a relic in one corner of the floor, next to a racing simulator. While the majority of the guests were drinking at the bar or sampling various appetisers, I went straight into the sim seat to experience Mahindra Racing's M9Electro on the Diriyah Street Circuit. These race cars are no joke, and even driving them on a racing simulator for 45 minutes can feel like you've run 10 kilometres. Imagine driving them in real life on tight street circuits.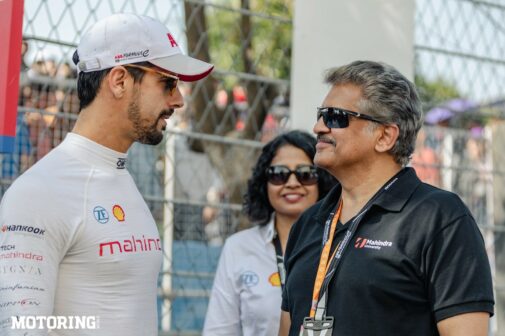 We saw Mahindra Racing's M9Electro with its three drivers for the season — Jehan Daruvala, Oliver Rowland, and Lucas di Grassi — at the unveiling. Jehan joins Oliver and Lucas as a Reserve Driver. They've been doing an excellent job, and the pace has been promising this season. Mahindra Racing's best result came in the first round of the Mexico City ePrix, when Lucas qualified first and finished in a hard-fought third place. Nonetheless, the first three rounds taught the team a lot as they prepared for their first Home Race weekend. It was time to put the best foot forward on home soil.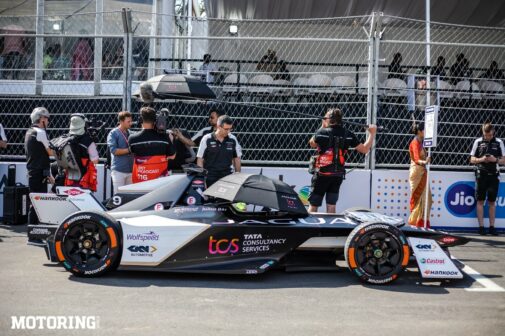 Sweating It Out
After nearly waiting for half an hour in the long queue to get my media accreditation pass, I went straight to the pitlane to get a sneak peek inside the team's garages. Most race circuits have all of the garages in one line along the start/finish line. However, because the pitlane in the Hyderabad Street Circuit is curved, some garages start from turn 17 onwards, while the rest are on the start/finish straight — fascinating. In the Nissan pits, the mechanics practised changing the front wing on the e-4ORCE 04 race car. Oh, and they're really quick, because they did everything in less than 5 seconds. As expected, the Mahindra Racing garage was busier than the Jaguar TCS Racing Team garage. Officially, it was also the Jaguar team's home race weekend.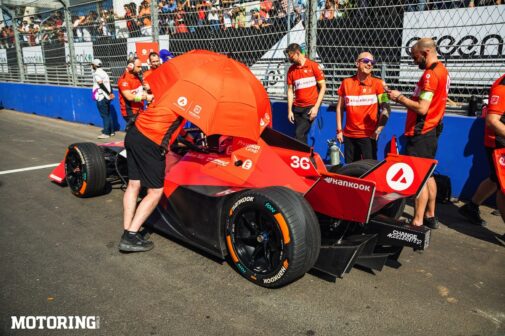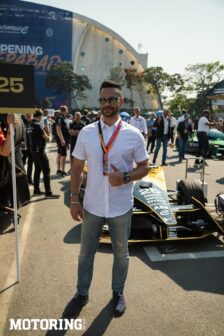 I'd just been strolling up and down the pitlane for about one hour, and the heat was already getting to me, and I wondered how these drivers manage in such conditions. During the Jaguar press conference, Sam Bird mentioned wearing a trash bag over his hoodie while working out, which prevents your body's cooling circuit from working, causing more sweat and preventing your body temperature from dropping. That's the level at which these athletes are willing to work, and I haven't even mentioned the psychological side. Hearing that gave me just enough motivation to explore the Street Circuit on that scorching day, since I needed to scout a few locations for Kaizad to shoot the race from.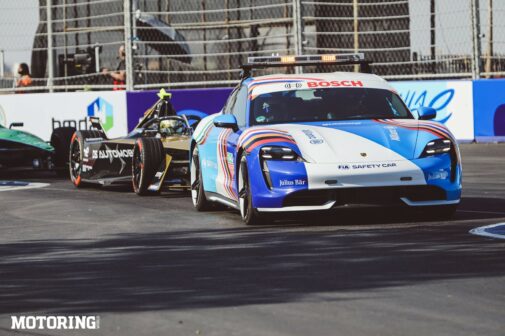 Walk and Talk
I had decided to cover the race from the media centre, because I had walked for more than 10 kilometres the day before. Kaizad was as thrilled as ever about doing some cardio with his camera equipment. This was also his first FIA event, and he wanted to make the most of it — by the way, many thanks to Nissan for hosting Kaizad at the ePrix. Now, not everyone was given access to the Grid start; only a few photographers from the media centre were randomly chosen for it. As it turns out, this was Kaizad's lucky day as he was one of them. As for me, I was patiently waiting in the media centre for the race to begin.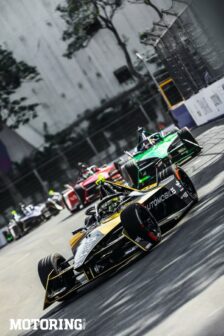 When like-minded people who are passionate about racing come together to watch a race, there is never a dull moment. When one of the home team's drivers overtook or gained a place, I could hear cheers from one area of the media centre. There was also a lot of swearing and nail-biting. It was a thrill to see everyone celebrate the drivers who stood on the podium at the end of the race. Jean-Éric Vergne (DS Penske) drove a terrific race to hold off Nick Cassidy (Envision Racing), who had a massive battery advantage but couldn't capitalise on it owing to the safety cars.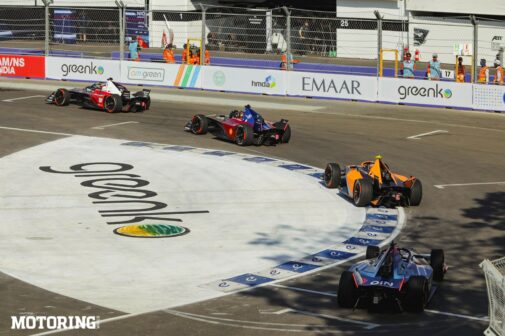 The fact that the electric whine from these race cars sounded like my vacuum cleaner was no longer bothering me. All that mattered was how these drivers maintained their composure on dusty tarmac with poor grip levels, while putting on a wonderful performance for motorsports enthusiasts. This is, at the end of the day, what we all want to see. Hardcore racing. I'm shocked that it only took one race weekend for me to become a Formula E follower.