I've never really had a head for numbers, but here are a few that even I can comprehend. In 2022, the Ford F-Series pickup truck exited dealerships in the USA to the tune of 653,957 units. That made it — for the 46th straight year — the best-selling pickup truck there. It also made it — for the 41st straight year — the best-selling car in that country. The next-best model (the Chevy Silverado pickup) fought the good fight but still came in at 140,000 units less than the F-Series (for some perspective, India's best-selling car in 2022 was the Wagon R, which moved just over 2 lakh units). All of this tells me two obvious things — that the Yanks can't get enough of pickup trucks, and that the Ford F-Series makes them go especially weak in the knees.
This is not surprising, given its capabilities. It's the 'Xerox' of the pickup truck world, and offers models that begin at bare-basic and go right up to ultra-luxe (by American standards, anyway) — and all of them are built to chew up any terrain that you care to throw at them. This clearly shows that Ford got the F-Series right from the get-go, when it introduced the model in 1948 as a replacement for its car-based pickup truck line; since then, Ford has sold over 40 million of them — and one of these has a home in Bengaluru.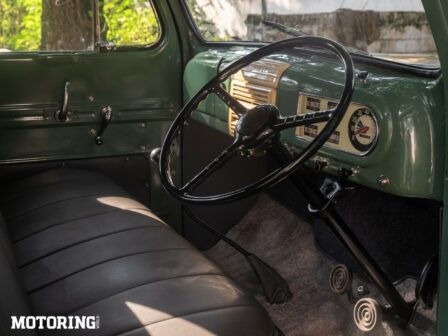 'Be careful, don't touch him,' said Christopher Rodricks, vintage-car restorer extraordinaire, as I came within an inch of doing just that. The 'him' in question was a large brown dog, appropriately named Blackie, who had what looked like one glass eye. 'He won't bite you as long as you don't touch him' Rodricks continued, as he parked his scooter in a corner of his workshop, Rodricks Restorations (featured in the May 2020 issue of Motoring). I withdrew my outstretched hand and took two quick steps back, as Blackie muttered something in dog and went off to investigate a pile of mud. I was thankful for the timely intervention, since having an intact hand was going to be essential for taking photographs of the glorious Ford F1 parked in front of me.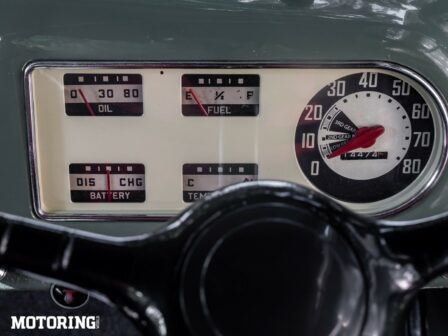 The F1 is a very significant vehicle in the history of Ford, and the American automotive industry in general. It was an instant hit when launched, and it helped cement Ford's position as the preeminent manufacturer of pickup trucks in the USA. Indeed, given the fact that it's been a raging bestseller for over four decades in various iterations, one might even say it's one of the most iconic vehicles ever made. Ford's intention at the time was to produce a truck that was bigger, tougher and more powerful, practical, roomy and comfortable, and they nailed it after pouring a million dollars into the project. It also decided not to platform-share with its passenger cars, and developed a much stronger bespoke truck frame.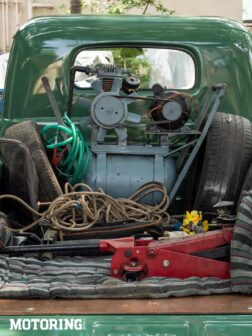 The 1950 model (like all generations) was offered in a variety of configurations, including a two-door cab, a four-door cab and a chassis cab. A 239 cubic inch (3.9-litre) 'Flathead' V8 engine that produced 100 bhp was also offered, paired with a three-speed manual transmission. Things like a driver's side sun visor, an ashtray and a glovebox were standard, while a number of optional extras included a heater, a radio, a sunroof and a passenger-side turn indicator (no, really). The F1 became hugely popular as a tough all-rounder of a vehicle, seeing use by farmers, contractors and families alike. It was also very popular with hot-rodders, and to this day is modded and drag-raced.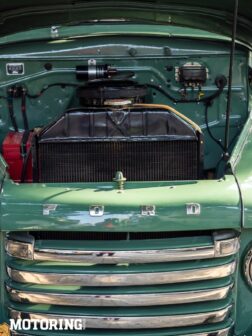 This particular truck (an export model right-hand drive version) was in fine cosmetic shape, looking almost like Rodricks had travelled back in time and transported it to the present. In reality, he had travelled to Indore to buy a 1933 V8 Ford from Manvendra Singh Barwani, the vintage and classic restorer and expert — but had been told when he arrived by Barwani that he preferred to part with the F1 and the older car as a pair, so that they would find a good home together. The decision was a relatively easy one for Rodricks, and the deal was struck.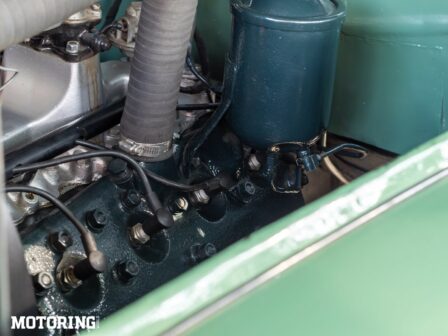 Rodricks' father began the restoration process soon after, but for one reason or another, it wasn't completed. Rodricks then set himself a deadline to fully restore the F1 in time for the recently concluded 21 Gun Salute event in Vadodara, to which end a near-ground up mechanical restoration was carried out. When he first bought it from Barwani, the F1 had a diesel engine in it, but the original V8 was stored in the load bay, so that was the first thing to be restored, followed by the gearbox, differential, brakes, wiring and so on. The paint was merely touched up, since the truck had been carefully stored at the Rodricks home until then.
Its design was simplicity itself — three levels of rounded oblongs up front (the grille, bonnet and roof), muscular wheel arches merging perfectly with the front and rear, beautiful white-wall tyres and a no-nonsense loading bay lined with plywood. Looked at from any angle, the F1 was both an imposing and a jaunty sight; you could almost hear it drawl 'Howdy' and imagine a toothpick hanging out of the side of its grille. Nothing about it looked extraneous, but even if that had been the case, I'm such an unabashed fan of the Art Deco school of design that I would have let that pass.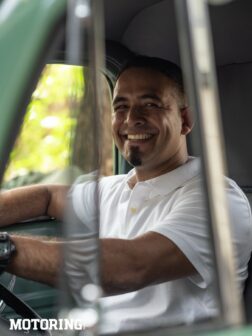 The cabin was similarly utilitarian and without fripperies — a comfortable bench seat covered in vinyl, a beautiful two-tone dashboard, some switches and handles, a steering wheel, a rear-view mirror, a gear lever and pedals. The instrument cluster looked like the face of a radio from that era, and stuck to the basics — a speedometer, odometer, fuel gauge, oil pressure gauge, coolant temperature gauge and battery voltage gauge. All you need to get started (and to keep going), then.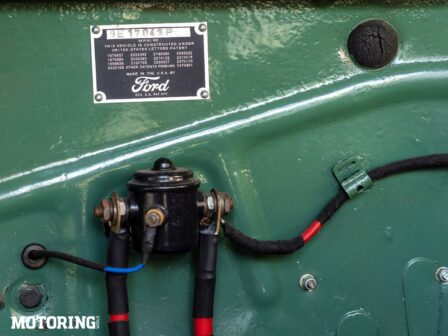 Climbing into the high cabin was relatively simple because of the running boards, and settling into the springy seat gave me a commanding view of the world outside through the large windscreen. Waiting to be cranked was the 'Flatty' V8, with a two-barrel carburettor and a 6.4:1 compression ratio, putting out 100 bhp and 24.3 kgm of torque; not world-beating numbers even for that era, but deemed sufficient by Ford for the purpose. Power and torque were sent to the rear wheels by the 3-speed manual transmission (with a non-synchro 1st gear). In case your battery or starter motor went dead, you didn't need jumper cables — a hole in the lowest slat of the grille lined up with a similar one in the radiator support, revealing a bolt in the middle of the fan pulley. Heaving it to the right started 'er up, if all went well. Thankfully no such drama was required on this occasion; a twist of the key and the venerable V8 rumbled to life, settling into a woofling idle.
'I use this truck like it's meant to be used — as a daily driver' said Rodricks, as we pulled into Bengaluru's legendary traffic from his workshop. The F1 made quite an impression right away. People smiled and waved. Two-wheeler riders drew up alongside and stared. A state transport bus driver tooted his horn. Dogs began chasing us and then decided they had taken on rather more than they had expected. It was all in a day's work for Rodricks, who was used to all that attention. 'I'm heading out later today in the truck to drop off some parts; the half-tonne payload makes it absolutely perfect for the sort of work that I do' he said, as we deftly steered around an autorickshaw that seemingly had a death wish.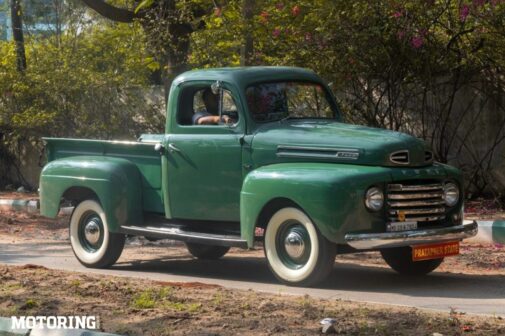 For such a big machine, the F1 was surprisingly easy to drive — and comfortable, too. The seat was essentially a sofa with springs, and together with the telescopic double-acting shock absorbers (advertised at the time as 'aircraft type shocks'), it soaked up the worst of Bengaluru's roads. The V8 was… well, a V8; great gobs of torque down low to propel you forward without a hitch, even at slow speeds in top gear. It sounded great, too — not a spine-tingling roar like in a muscle car, but a comforting, wholesome burble that put you at ease. We didn't have the space to push the engine to its limit, which was probably just as well given that the brakes weren't of actual F1 level, but Rodricks assured me that he worked up a decent clip every now and then on appropriate roads.
Later, over a slap-up breakfast at a popular cafe, Rodricks and I exchanged notes about our mutual passion for all things vintage — cars in his case, analogue cameras and vinyl records in mine. We talked about how the landscapes of the automotive, photography and music world had changed so radically over the decades — but also how, inevitably, the best aspects of all of them could be traced back to seminal events in the past. The Ford F-Series gallops today because the F1 walked, and if you ask me, it's more desirable than its contemporaries. Or perhaps I'm just old at heart.