A motorcycle with clip-ons and rear-sets is a need. The thought presented itself after I rode the BMW S 1000 RR, the Royal Enfield Continental GT 650 and the Ultraviolette F77, all equipped with the aforementioned control points for human limbs. And as with many of my whims, I thought this was yet another fleeting idea that seems vital in the moment before its inevitable disappearance. But no, not this time. This time it was serious enough that I started looking at the Yamaha R15 M as a completely logical addition to the garage, but at least that intention
quickly made itself scarce. Why this sudden compulsion for the two-
wheeled foetal position?
Well, it was always right there lying dormant under the surface. I grew up watching MotoGP and so a natural leaning towards the racing crouch was always inevitable. And when I came into this line of work 15 years ago, the R15 presented itself as a long-termer, and so began the phase of needlessly hard braking, cornering and accelerating on the way to work. And then I bought an
RX 100, and installed clip-ons and rear-sets on it along with 17-inch wheels, a process that culminated in some rather scary moments because the rear brake was AWOL half the time. Subsequently, I attempted to install said components on my Bullet 350 which was surely a severe humiliation for a plodder born in 1975. Yet, I took it to Chennai and back with that very setup.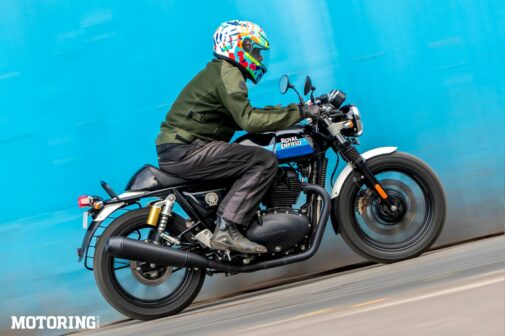 Much later came the Continental GT 650 long-termer which I hogged from day one until it went back. I loved that bike and I still do, but I firmly believe that lightness is the one non-negotiable trait a motorcycle must possess, something RE is yet to figure out. And of late, I found myself thinking if the Hunter's footrest assembly might fit on the Classic, and that fashioning a low-slung 'bar shouldn't be all that difficult along with a free-flowing pipe. I could tolerate a bit of weight for beauty, I suppose. A chrome-and-thunder café racer from the days of ye olde jukebox-racing London. It won't matter that it's slow because all I need a motorcycle to do is feel fast.
I'm a full-time member of the 'Riding Slow Bikes Fast' club, and I don't think outright velocity is the answer anymore. Whether that's because of our dangerously populated roads or whether common sense is finally prevailing (highly unlikely), I don't know. What I do know is that the time spent with the bikes I mentioned at the beginning brought back the feelings I've missed. That active riding position sharpened the senses to rival Damascus swords. Old muscle memories came flooding back, instinctively reminding me to grip the bike with my legs, leave my arms loose, and engage my well-padded core.
Being the staunch opposer to any actual exercise that I am, I quite liked that as an excuse to add a sporty bike to my overflowing garage. But what are the realistic options I have? The bike has to be light, fast enough, and beautiful to look at. Low 'bar/s and rear-sets are obvious musts. And you know what? There is no production bike that matches that description! (Don't you dare say, 'KTM RC') You'd think there'd be takers for that sort of motorcycle and that manufacturers must have cottoned on to that need, but apparently neither seems to be the case. Last month, the gentlemen from Triumph persistently spoke about the Thruxton series while unveiling the Speed 400 and the Scrambler 400 X, so that seems to be the only hope in the foreseeable future. And I wonder why that is. Hunched over in that position and looking forward to the world seemed like the most natural thing in the world; after all, it is the first one all of us adopt long before we're born.