To be honest, I personally am not a huge fan of Chinese motorcycle brands. 'Why is that?' you may ask. Well, in general, these brands usually tend to try and get too many things going at the same time, and sometimes make a mess of it altogether. That was what I had expected from Zontes when I went to have a go at the new Zontes 350R. On the contrary, that wasn't exactly the case with this particular motorcycle. Yes, it does have the tell-tale signs of its Chinese origins, like the few flimsy plastic parts, and the various multiple buttons for everything. But, somehow all that seemed to fade away once I started it up and took it for a spin.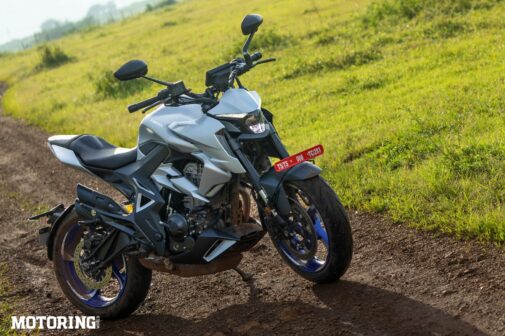 The Zontes 350R gets a 348cc liquid-cooled engine, which produces 37 bhp and 3.26 kgm of peak torque, and is paired to a decently refined 6-speed gearbox. While the gearbox felt a little clunky in the lower gears, it smoothened out once I hit an open stretch, and then, it felt almost seamless. This engine is complemented by a pair of gruff-sounding pipes, too. Upon pushing the machine a little bit, it seemed clear that this bike is capable of holding its own against most of its competition.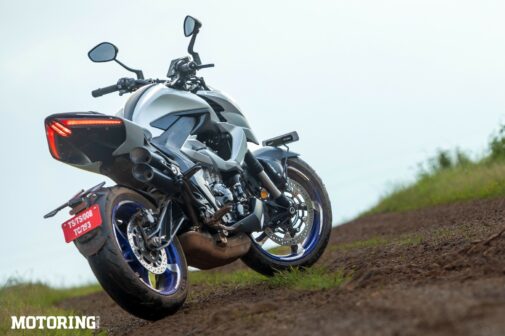 The suspension is reasonably stiff, with good feedback from the USD suspension up front and the mono-shock at the rear. The Spanish-made J.Juan radial disc brakes also do a good job of giving the motorcycle additional confidence in terms of stopping power. Weighing in at 180 kg, the bike managed to feel fairly light and comfortable to manoeuvre. The seating ergonomics also seem to be well-balanced between being relatively aggressive as well as comfortable. I loved the bold stance of the bike with its menacing-looking LED headlamp unit as well as its sleek rear end.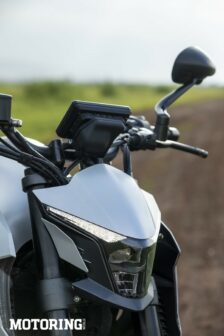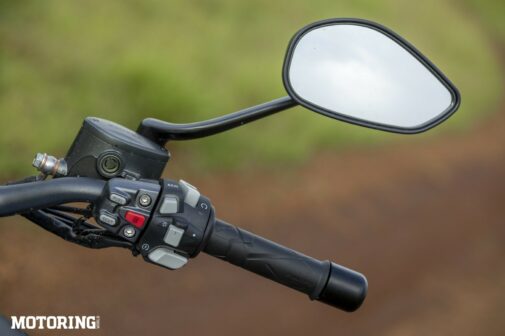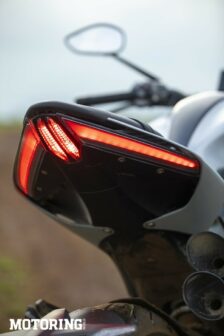 For those worried about the fuel consumption, the 350R also comes with an eco mode. As I pressed the Eco button, I did feel a slight decrease in power, but very slight mind you. It was like it was just suggesting to me that I could go a bit easy on it, while it made a few adjustments internally. It also features a fuel tank capacity of 15 litres, which is quite decent in comparison with other bikes in its range.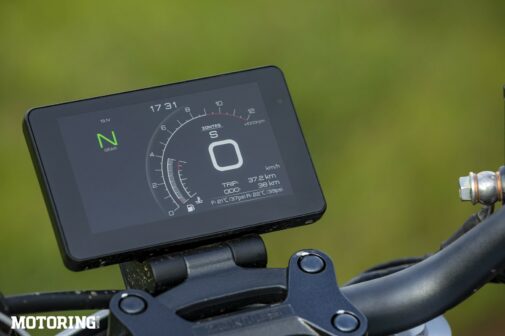 The 350R comes with a totally keyless operation, dual-channel ABS, and a tyre pressure monitoring system, which I found to be a very useful feature. It also gets an adjustable 5-inch full-colour anti-glare LCD unit, with a screen-mirroring function that can be very useful when using navigation. The instrument panel also has a very organised layout and does not feel unnecessarily cluttered, and that is a good thing. Another interesting feature on the bike is the back-lit switches and buttons, which you don't see every day.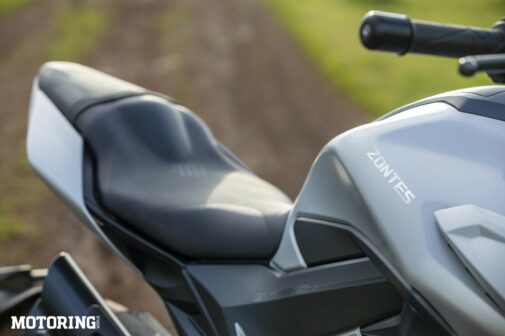 One thing I did find fault with, though, is the placement of the USB charging port — it is located in a very uncomfortable spot. It would become an obstruction to the steering if one is to plug in a USB cable on the move, and can also damage the cable in the process. The fuel cap, as well as the seat lock, are both operated by handy buttons, which totally eliminate the need for a key. This could seem to be slightly problematic if, let's say, the battery dies, which would be mighty inconvenient. But no need to worry, Zontes has introduced an add-on 24-hour emergency roadside assistance service, and a two-year unlimited km warranty too.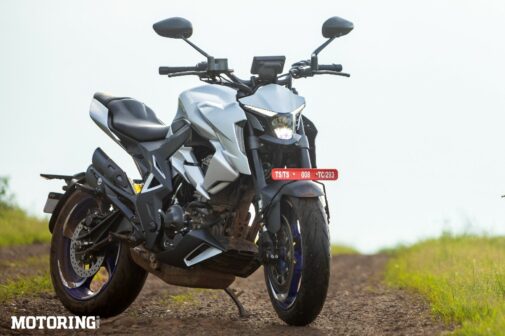 In conclusion, I would say that Zontes has managed to do a pretty neat job with the 350R. It has managed to bring in a fairly decent 350cc naked motorcycle to the market, one that is fun to ride, and handles well, too. The general feel is of a well-built motorcycle, and from what I've seen, I wouldn't be surprised if it does better than the rest of the competition due to its features and performance. All that remains to be seen now is how well it is received by the masses.
MOTODATA
Zontes 350R
POWERTRAIN
Displacement:
Max Power:
Max Torque:
Transmission:
348cc, single cylinder
37 bhp@9500 rpm
3.26 kgm@7500 rpm
6-speed
BRAKES
F/R: 320-mm disc / 265-mm disc
TYRES
F/R: 120/70 R17 / 160/60 R17
DIMENSIONS
L/W/H (mm):
Wheelbase:
Ground Clearance:
Seat height:
Kerb Weight:
Fuel Capacity:
2010/795/1120
1380 mm
152 mm
795 mm
180 kg
15 litres
PRICE
Rs 3.15-3.25 lakh (ex-showroom)