Photographs by Sherman Nazareth
It looked like a good idea ever since we rode the first-ever R15. A big, fast parallel-twin with irresistible styling and natural handling that only a Yamaha is capable of – that would be just perfect for India. What began as the wild imagination of enthusiastic motoring scribes way back in 2008 gradually took shape over the years into the R25 at first and now, this, the YZF-R3. A seven-year-long wait for the obvious step up from the brilliant R15 has pushed the Indian motorcycle enthusiast over the limit, but Yamaha is hoping to make up for lost ground by banking solely on the R3's merits. Not a bad plan, at the end of the day, given just how good the R3 is. Sorry about giving away too much right at the start!
R3? What Is That?
The R3 forms the bottom end of supersport motorcycles in many parts of the world. In India, though, it belongs to the premium layer of small capacity, big thrills motorcycling, joined by the likes of the KTM RC390, the Kawasaki Ninja 300 and Z250, the Benelli TNT 300, the Hyosung GT250R and the soon-to-be-launched Mahindra Mojo 300. The R3 runs a full fairing, clip-on handlebars, very sticky rubber and a 321cc parallel-twin motor that make its sporty intentions very obvious. It also happens to sit bang in the middle of Yamaha's R series of motorcycles, starting with the R125 going right up to the R1. That's a pretty serious lineage to live up to!
Does It Have The Numbers?
Not the best of them, perhaps, but it does. A 321cc parallel-twin motor is what sits tight within that full-length fairing and it's fairly loaded with technology to make it as efficient as modern-day engines can be. The fuel-injected, liquid-cooled, 4-valve engine produces 41.4 bhp at 10,750 rpm and 3 kgm at 9000 rpm. Those figures, as most of you will be quick to identify, don't make it the segment benchmark, but they are still very impressive, to say the least. It's a short-stroke motor and it revs all the way to 12,500 rpm, giving it a good balance of decent low-end grunt and a wide rev range. What makes the engine performance package even stronger is the 6-speed gearbox, which is really smooth and allows for flawless quick shifts, no matter how aggressive you are.
Is It Seriously Fast?
In the real world (read Indian roads), it definitely is. With my 93-kg kerb weight, the R3 showed me a speedo-indicated top speed of 172 kph down the back straight at the Buddh International Circuit and the engine still felt like it had room for more had the straight been longer. Lighter riders amongst you will definitely witness higher top speeds than that, although anything above speed limits is frankly irrelevant on the roads. Ahem. A more practical application of all its grunt is acceleration – and the R3 doesn't disappoint. It accelerates from 0 to 100 kph in what feels like a shade over 5 seconds, with the first 60 kph coming up in around 3 seconds. Not bad at all, don't you think?
What's really likeable about the R3, however, is the way the engine feels and responds throughout its rev range. It's not frantic or volatile, but it's not numb either. It's a sweet balance of refinement and a mild rawness — typically Yamaha, you could say — which makes for friendly thrills, but not monotonous docility. In a sense, it feels like an extension of the first-gen R15 in nature and I'm sure many of you will love it for being so. It is a pretty unstressed motor, brought about by an offset crank and lightweight construction and also helping put the power down to the tarmac are well-balanced gear ratios which should be as good going up your favourite set of twisties as they are around India's fastest racetrack.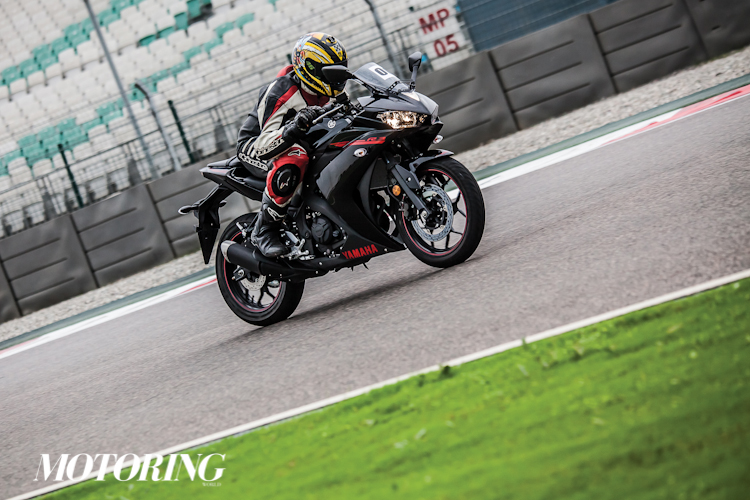 Handle Without Care?
It would be an understatement to say the R3 handles well. Much like the MotoGP machines we adore (more the ones that bear the number '46' up front than '99', I must confess), the R3 is simply a natural at cornering and you can pretty much get your knee (and elbow, if you're willing to try) down at the first corner you encounter. The clip-on handlebars are wide and positioned a bit high up, the latter being an eyesore perhaps, but you won't complain once you're let loose around a few corners. The riding geometry and overall ergonomics, too, are spot-on if you want a track-friendly bike that you can also ride to work during the week.
The 1380-mm wheelbase and the 169-kg kerb weight are definitely contributors to this easy cornering ability of the R3, but it's primarily down to the diamond-type tubular frame (preferred over an aluminium twin-spar unit to keep costs in check) which honestly doesn't hamper handling in any way – not unless you're speaking in racing terms, at least. The R3 is shod with MRF Zapper tyres (110/70 R17 up front, 140/70 R17 at the rear) which are just perfect in terms of grip, no matter how hard you brake or lean in. Despite a light drizzle and dust on the BIC's track surface, the R3's tyres barely showed signs of distress, except the odd (and negligible) wiggle. No ABS for now, unfortunately, although Yamaha has promised to introduce it in the near future — let's hope it keeps its word!
Moving on to the suspension, the conventional telescopic fork up front is simply beautiful in the way it soaks in mild undulations (the best I could find at the BIC), but more importantly in how it tackles aggressive braking. The rear monoshock, too, does an admirable job given that it showed no signs of lethargy despite my heavy weight and nor did it come across as stiff. Overall, then, the R3 is simply an excellent handling package, especially if you want all that power without compromising on comfort. I love it and if you're as dreamy-eyed about getting your elbow scraping the kerb as I am, I think the R3 is the bike that will help us get there!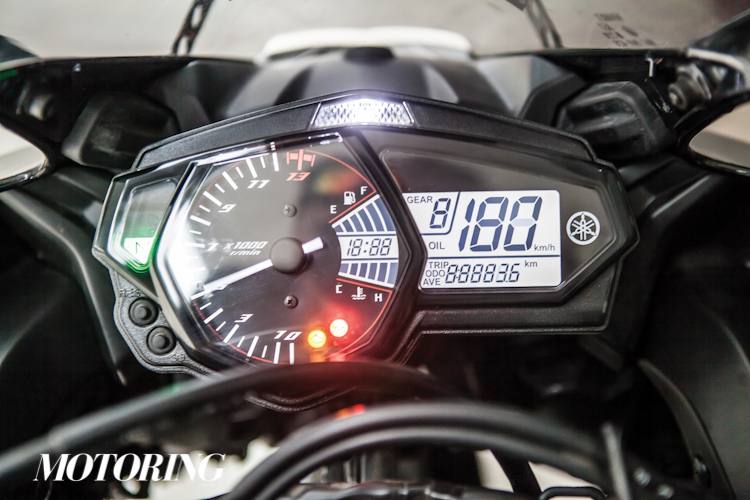 Is It A Track-Only Machine?
Most definitely not, although it is certainly very fulfilling to ride around a racetrack. Like you, I am as eager to find out how it performs around our favourite riding roads where we have tested most of its rivals. Ergonomics-wise, the R3 will definitely be the comfiest of its two clip-on-equipped rivals (it's also perhaps the roomiest) and the pillion seat, too, is ample and not altitude-sickness-inducing like the R15 V2.0. The setup, by default, can never be more comfortable than something equipped with a conventional handlebar, but the advantage is, if you plan to ride long distance to a racetrack (it's not that uncommon these days, is it?), the R3 will keep you happiest in the saddle. 
I'm planning to do exactly that, in case you wonder!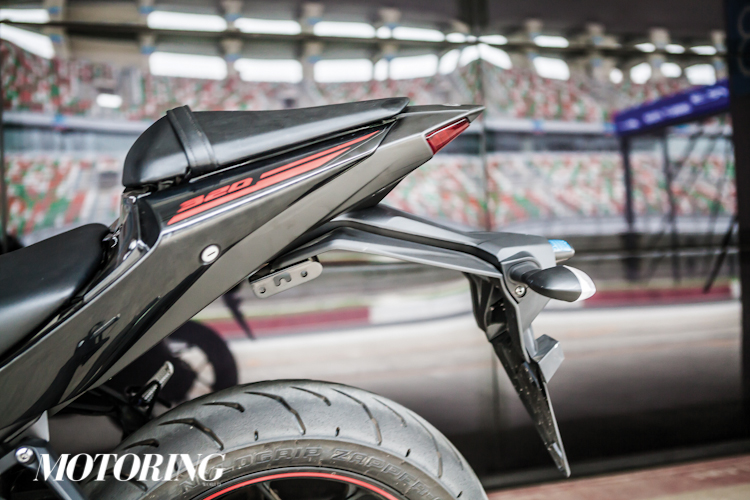 Worth A Buy?
With its Rs 3.25 lakh (ex-showroom, Delhi) price tag, the R3 is definitely not cheap, but it is the cheapest desirable (being the operative word here) twin-cylinder performance motorcycle you can buy in the country right now. Apart from the lack of ABS, there is nothing really you can find fault with and if you really enjoy a great handling package at realistic speeds, you will love the R3. Right now, and for a long time to come, the R3 will continue to be produced through the CKD route (imported entirely disintegrated from Indonesia), since Yamaha doesn't see sense in setting up a ground-up production line for a segment it believes lacks the volumes required to recover the costs involved. Hard to argue with that, but it still is good value for money if this is the kind of motorcycle you've been waiting for. Just don't forget to slap a big yellow 46 on the front, okay?
MOTODATA
YAMAHA YZF R3
POWERTRAIN
Displacement: 321cc, parallel twin
Max power: 41.4 bhp@10,750 rpm
Max torque: 3 kgm@9000 rpm
Transmission: 6-speed
CHASSIS
Type: Diamond-type tubular steel frame
SUSPENSION
(F/R): 41 mm telescopic fork / monoshock
BRAKES
(F/R): 298 mm disc / 220 mm disc
TYRES
(F/R): 110/70 R17 / 140/70 R17
DIMENSIONS
L/W/H (mm): 2090/720/1135
Wheelbase: 1380 mm
Kerb weight: 169 kg (without fuel)
Fuel tank: 14 litres
PRICE: Rs 3.25 lakh, ex-showroom, Delhi