A new Yamaha is always something to get excited about. Sure, perhaps it's not true for a Yamaha commuter, but you didn't think of a 100cc bike or even a scooter when you read 'Yamaha', did you? What you probably thought of, more likely if you're of a certain vintage, were machines that made more smoke than barrels of gunpowder and were as explosive, too. However, if you're a more recent person, I bet you thought of the YZF-R15. And if you did, I also bet that you're looking forward to this new motorcycle, the YZF-R15 v3.0. I thought they'd stop that naming system with v2.0 instead of continuing to make their bikes sound like software updates, but no such luck.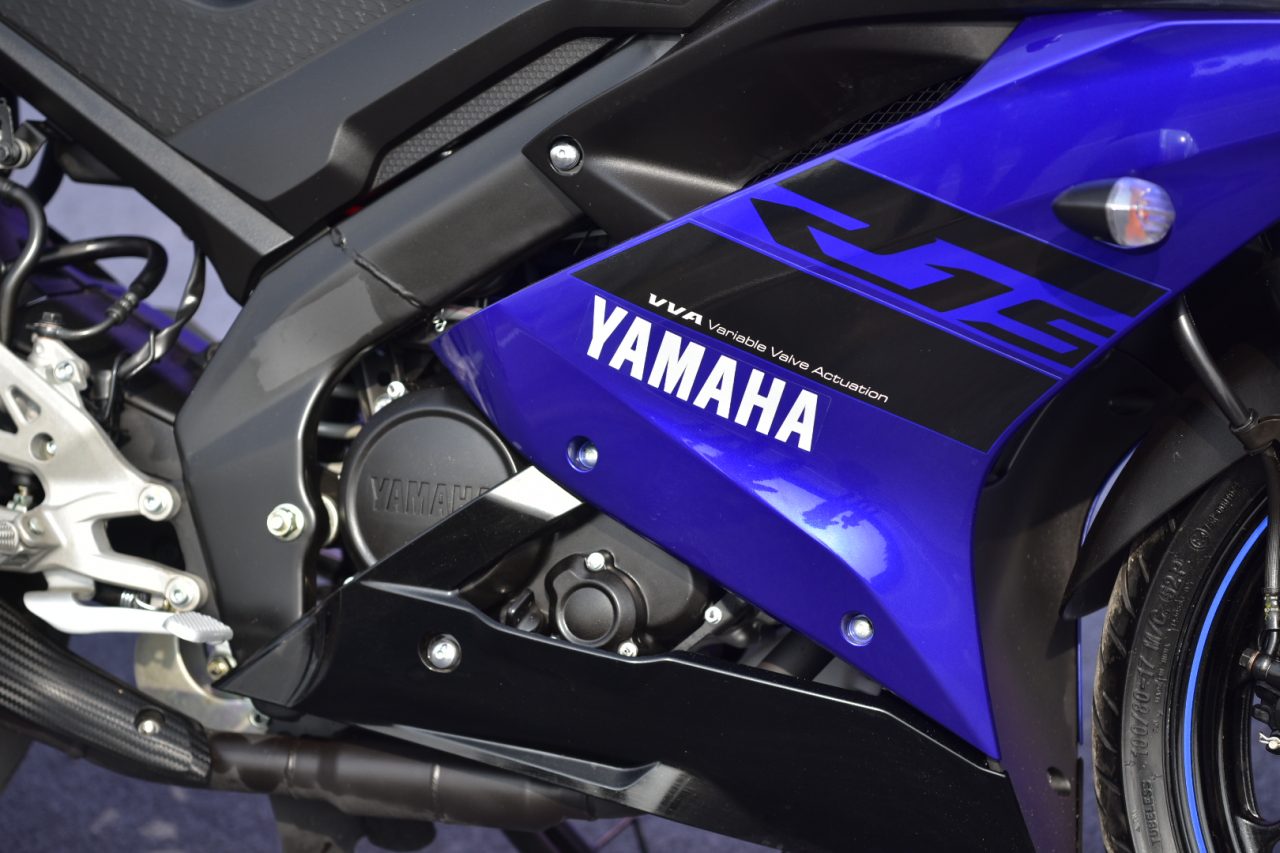 The new R15, though, is far more than the update that the previous one was. For starters, I just cannot get over the way this bike looks. And I've already typed out enough previews and tweets about it to have run out of flattering comments. Suffice it to say that this is the first R15 that looks conclusively proportionate. It looks more at home at the Madras Motor Race Track than ever. And that hints at what's about to follow.
The third-time charm reference in this story's introduction was not to do with this bike's generational nomenclature. Rather, it was an inference that anyone riding a new motorcycle will relate to; the R15 felt better and better with every exit of the pit lane, and I did three of them until I felt I could write something about the bike's performance.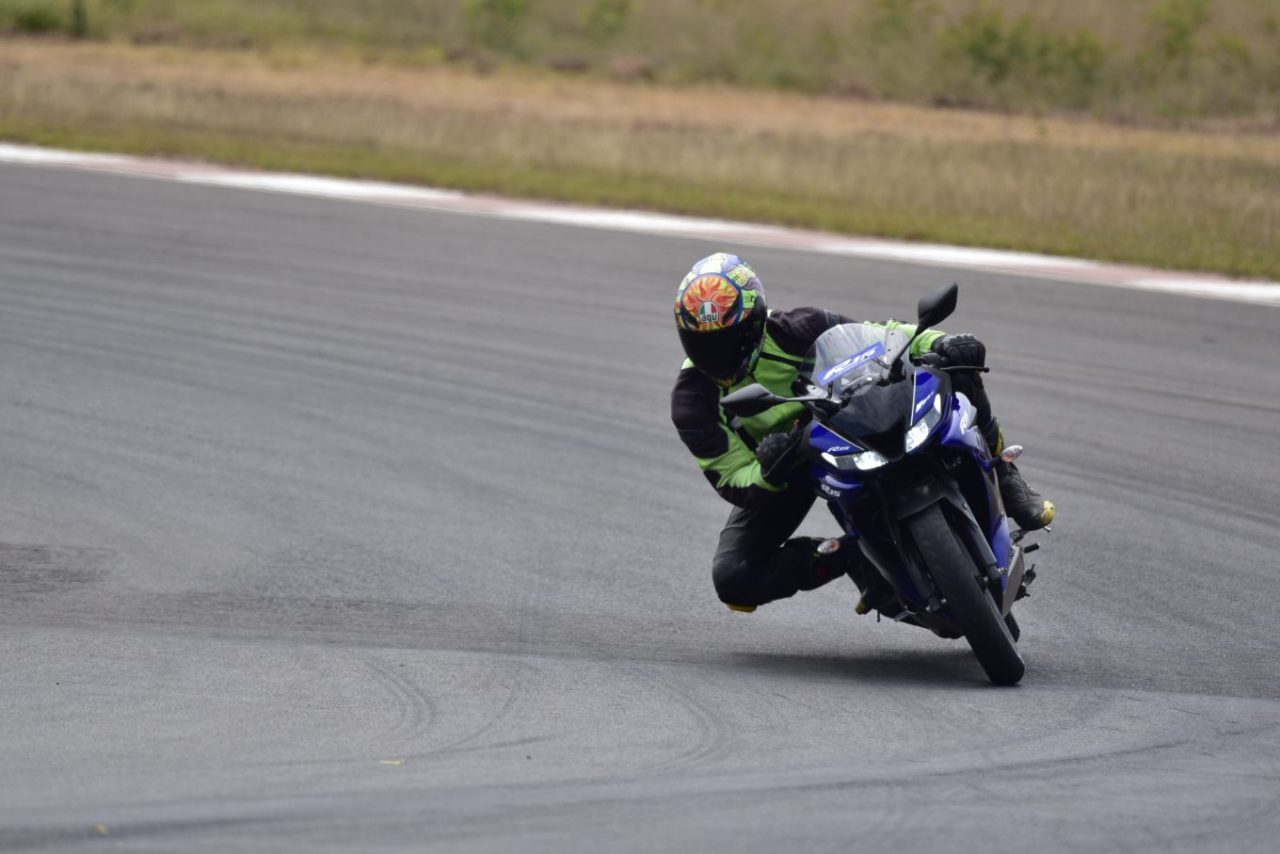 Sure, it's easy to just gun the motor on the straight bits and watch the clear digital speedometer climb past 130 kph with enjoyable eagerness. The 155cc four-valve motor's variable valve actuation uses two different cam profiles either side of 7400 rpm to make for good low- and mid-range grunt as well as a fun top-end rush. A total of 19 bhp kicks in at a maximum of 10,000 rpm, an increase of 2.7 bhp over the previous bike, but torque remains the same at 1.53 kgm. Wonder how it managed that one. Add in an increase of 3 kg to its kerb weight to bring the total to 139 kg, and you have a level of performance that feels very similar to the older motor, but with an added edge to it.
And I expected that, really, because there's only so much you can do to a production 150cc bike while maintaining user-friendliness and reliability. If anything, I was worried that the changes to the motor might've robbed it of its usual sweet nature, but they haven't.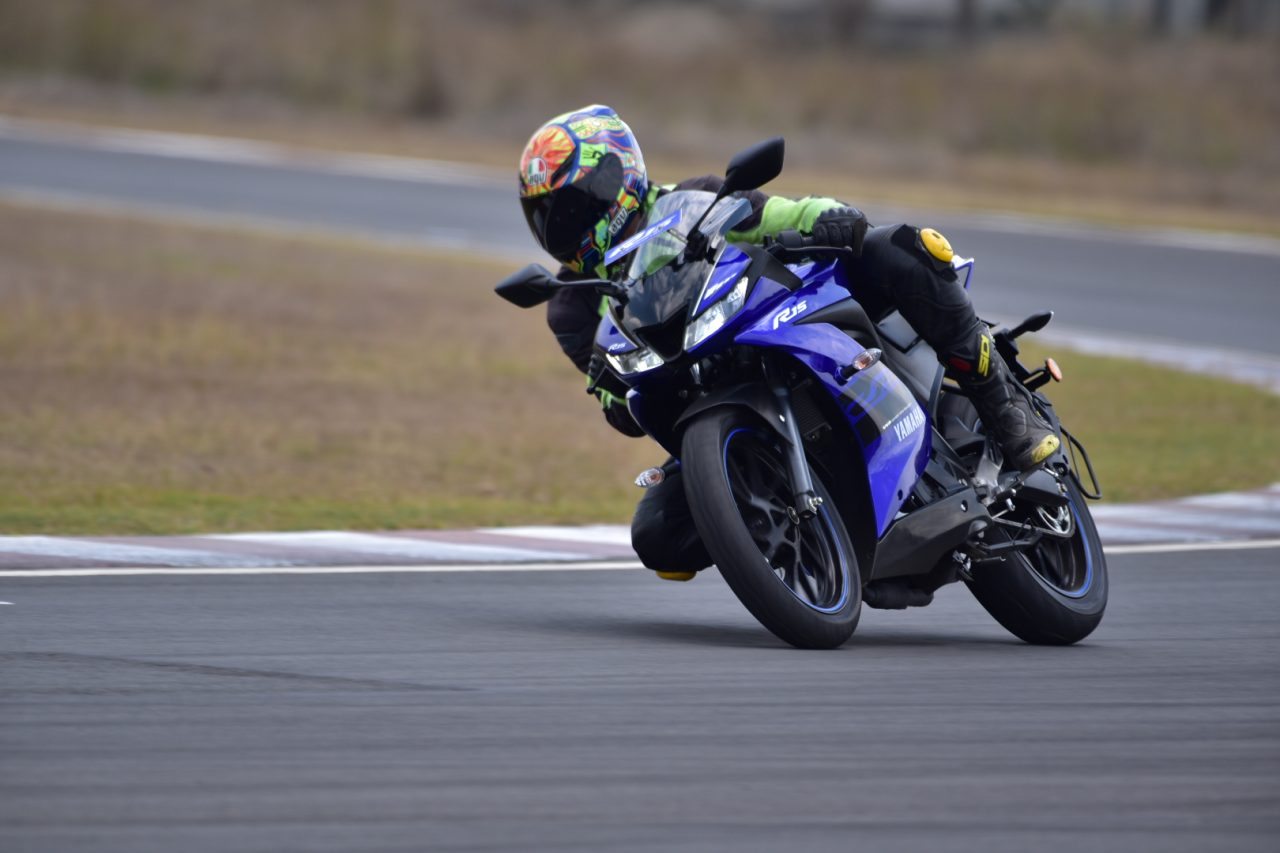 However, the most gratifying part of a bike like this – indeed, it's the benchmark set by the first generation R15 – is its handling. And that's where I was initially put off by the new bike. The riding position is as racy as the bike looks, so commutes are going to be forearm workouts for sure, but I'm not going to complain about that on a bike that does full visual justice to the word 'supersport'. What I will question, though, is the logic of having a front MRF and the optional rear Metzeler tyre on the test bikes.
I have half an engineering degree which is nowhere close to the ones filling Yamaha's R&D department, I'm certain, but how are two different tyres from two different manufacturers made of two different compounds supposed to make a motorcycle feel cohesive when going fast? The front just doesn't feel communicative enough and doesn't inspire much confidence when approaching a corner at speed. This is a first for an R15 and an MRF tyre in my experience. Asking the engineers present at the ride brought the answer, 'According to our evaluations, this is the best combination.' I don't know what the parameters of those evaluations were, but I have to respectfully disagree. A front Metzeler would probably change my opinion. For the ride, though, we only had tyre-pressure drops to resort to.
However, the more laps I did, the better the bike felt, and I realised that you just have to trust the front to grip which is something that people braver than me are surely capable of. After I started ignoring the front tyre's stoic silence and muffled the warnings of my survival instincts, I did get a feel for the R15's behaviour at speed. And it feels good, indeed.
High-speed stability is excellent despite chassis geometry having been sharpened up over the older bike. The wheelbase is shorter, too, for quicker handling. I honestly couldn't tell the difference between this and the older bike in terms of corner entry or change of direction, but I can tell you that it is bloody quick to hustle around the track. On my third exit, I trusted the front completely (okay, as much as I could) and the R15 responded by flowing into and out of corners with speed and grace. If it wasn't for that third exit, my impression of the bike would've been very mixed indeed. Again, a better, more communicative front tyre is probably the answer. Or I should just learn to love life and limb a little less.
What also helps the R15 maintain its poise at speed is the slipper clutch; it held the bike in a straight line while downshifting and felt brilliant in general. Clutch action was light, too, and I loved how I could focus on entering a corner faster and faster, safe in the knowledge that hard downshifting would not send me hopping and skipping off my intended line. It is also an example of how a feature adds real value to a motorcycle instead of being a shallow gimmick.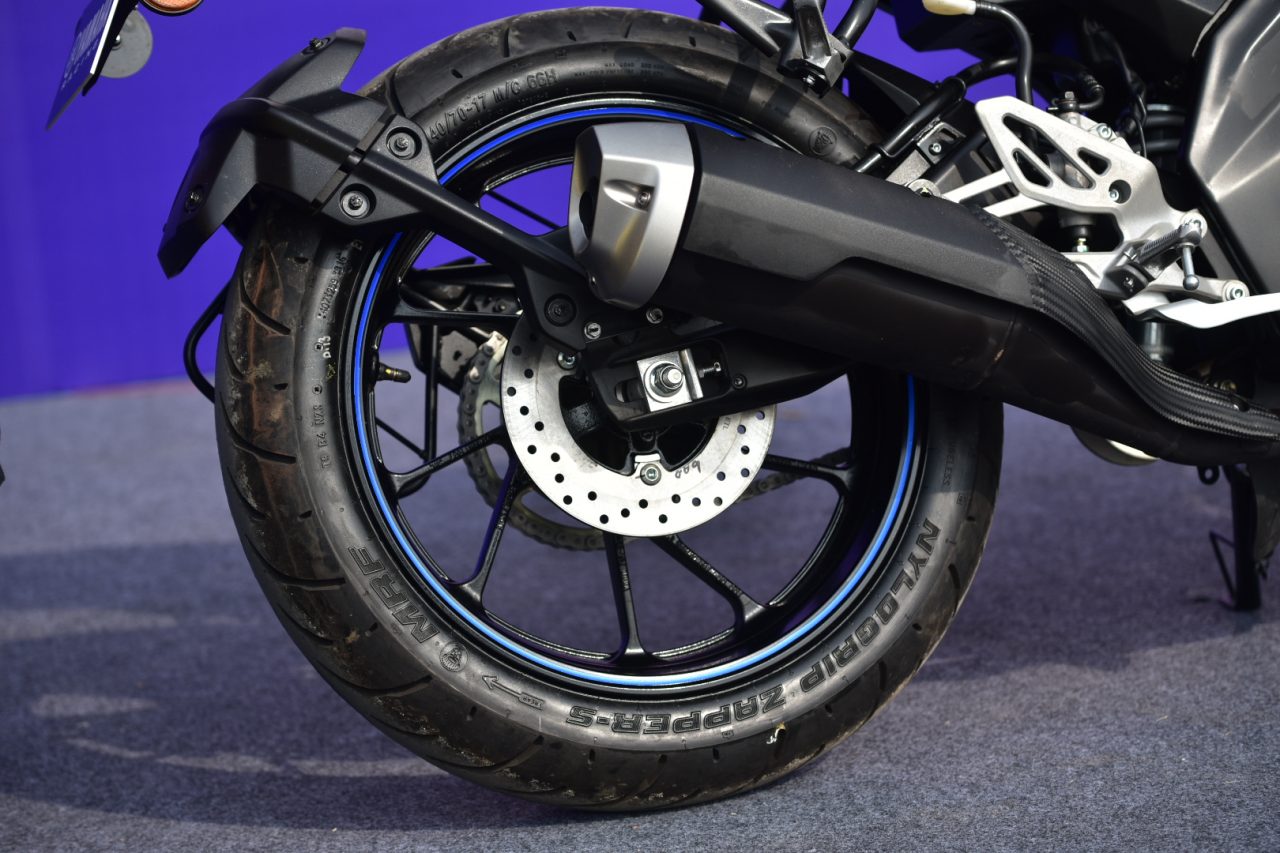 Speaking of value, few things are as precious in life than good brakes. And I, like almost everyone else at the ride, had mixed reactions to the R15's anchors. I rode two different bikes between three sessions; one bike's front brake was soft and didn't have any bite whatsoever, while the other bike was much better. On both, though, initial bite could've been better. This was probably because Yamaha's own riders had been bombing around the track on the test bikes, glazing the pads to various degrees. Indeed, they rode more than any of the journalists present. Should've just asked one of them to write the story, as a fellow journalist was keen to note.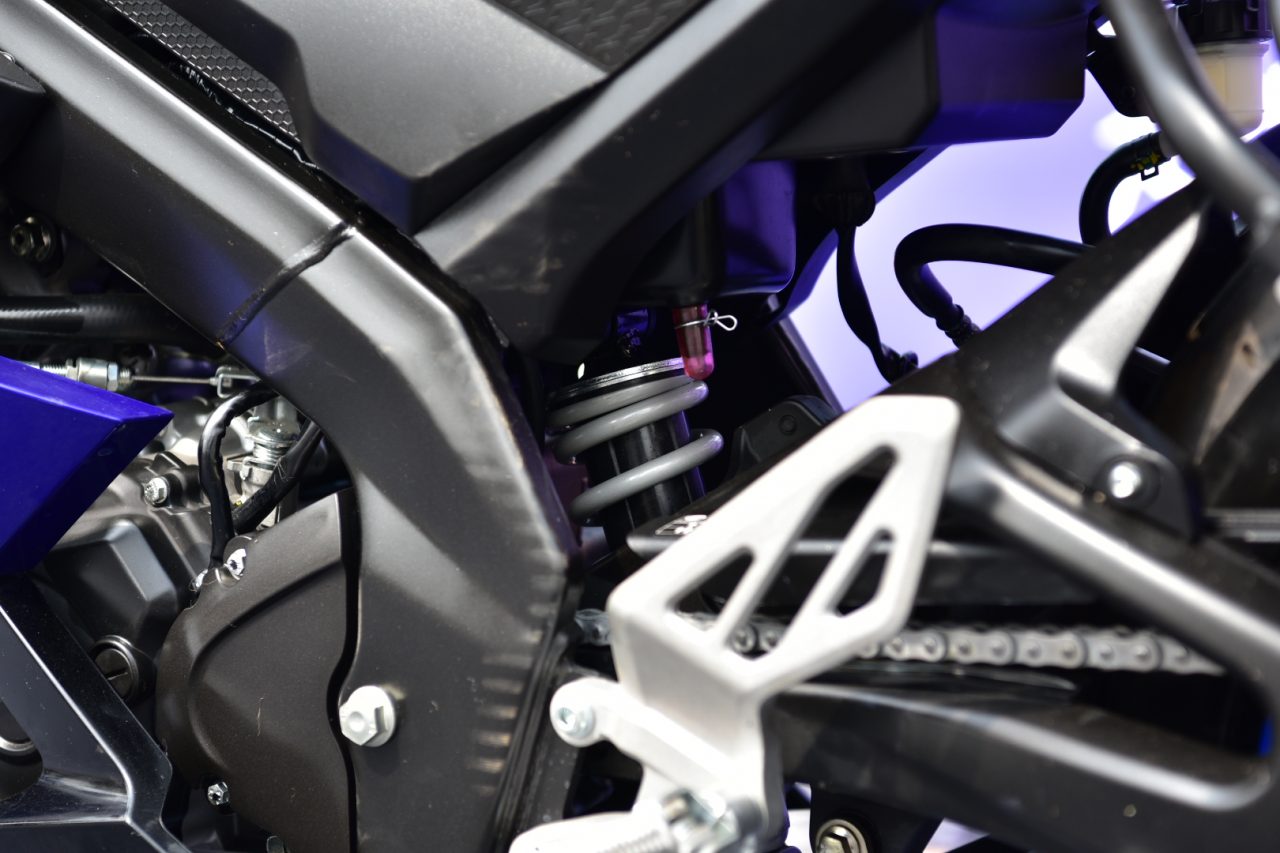 All in all, this R15 is full of feel-good firsts. Unfortunately, it has a few not-so-good firsts for a Yamaha, too. There is a weld in that Deltabox frame, ostensibly to accommodate the wider swingarm, which looks like the chassis was cut, realigned and welded over. I cannot tell you enough how shocked I was to see that. It's not what I expect from Yamaha. That along with the mismatched front tyre (in my 45-minute-riding-time opinion, of course) leaves me feeling like Yamaha has slipped ever so slightly from its usual lofty quality standards. I hope this is an exception that doesn't become the rule.
And despite seeing more niggles on a Yamaha than I'm used to, I still have to say that the new R15 is a great motorcycle, especially those looking to get involved in the fulfilling activity of pretending to be a racer. It looks right, it feels right to sit on, and that motor's character doesn't fall short on any count on the track. Heck, I don't remember the last time I didn't wish for more power on a 150cc bike. For now, it's available at an introductory ex-showroom price of Rs 1.25 lakh, a very appealing amount for the motorcycle you get. And the price will go up in coming months (savings that could go you-know-where), which is why you should head to a Yamaha showroom right away if you need this bike. And trust me, you do. Just keep roughly Rs 4000 aside. And thank me later.
PHOTOS Suresh Narayanan
You can have a look at our detailed photo gallery of the Yamaha YZF-R15 v3.0 by clicking on the link here.