Fickleness is a direct result of evolution. People are fickle, ready to write things off or jump onto bandwagons, as and when it hands them bragging rights. It wasn't too long ago that people wrote off Valentino Rossi, saying he was over the hill and couldn't cut it with the newer lot of racers. And it wasn't too long ago that people wrote off the Yamaha R1, too, calling it too fat and underpowered for this day and age. People gave up on both, but they remained my favourites. Quite fitting, then, that Rossi's resurgence coincides with the R1's.
Racing has always been in Yamaha's blood; even the old R1 had a MotoGP connection with its crossplane-crankshaft motor that sounded like the YZR-M1 MotoGP machine. However, with the new R1, Yamaha seems to have thought, 'If we're going to bring MotoGP to the road, why not go all the way?' So, Rossi was brought in to develop the new bike and he was the first person from outside the factory to ride the prototype R1 before its launch last year. And recently, the bike won the prestigious Suzuka 8 Hours Endurance Road Race, Yamaha's first win at the event in 19 years, in the hands of Yamaha factory test rider, Katsuyuki Nakasuga, and MotoGP riders, Pol Espargaró and Bradley Smith. Quite ominous for the R1's rivals, I'd say. Looks like that MotoGP-derived face isn't just an 
optical illusion.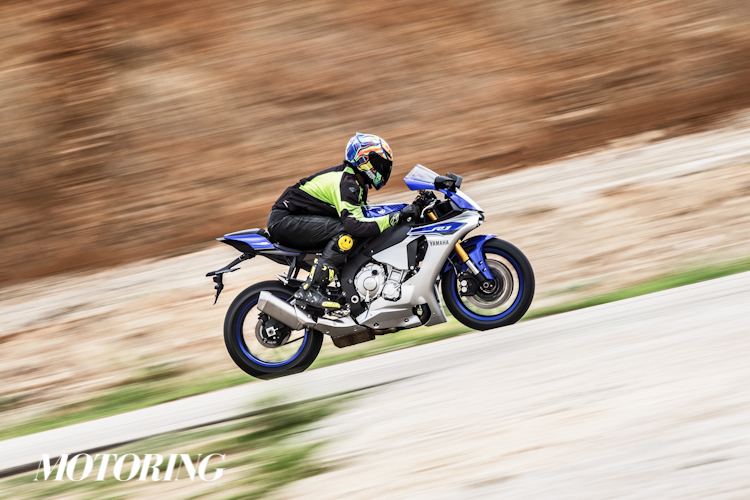 After months of looking at photos, seeing the R1 standing in front of me is a bit surreal. I still am a big fan of the old 'snake eyes' R1 and despite its race-ready face, I was having a hard time accepting the new R1's appearance. Until now, that is. The new R1 looks much better with only a few feet of reality separating you from it than in photographs on a screen. It looks incredibly compact for a litre-class inline-four, and despite its extremely high-quality finish and all the features you could wish for on a motorcycle like this (and then some), the R1 exudes a sense of spartanism, something found only on racing machines. It no longer has the beauty of the older bikes, but it certainly has a lot more purpose. There's no doubt that it wants to shake off its road-biased bits and head to the 
nearest racetrack.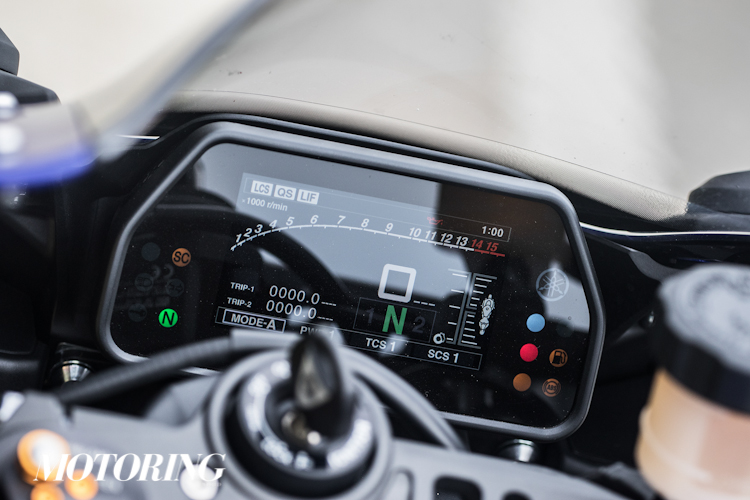 Those near-invisible LED position lights flanking the central air duct are one of the coolest touches I've seen on recent motorcycles. What I'm still not sure of are those foglamps masquerading as headlamps; Yamaha wanted them to be hidden for a cleaner-looking face, but I find them a bit funny. However, that's where the visual amusement ends. The rest of the bike is all racing business. The tank, with its four vents on either side, looks like it was nicked from an M1. Behind the rider's seat, the rear cowl is a see-through unit, perfect for jokes about the rider's posterior ventilation and plumbing… okay, that's the last one, funny or not. Overall, though, the R1 makes me wish I had immediate access to a 46-themed decal set. And if its appearance hasn't convinced you yet, the sound certainly will.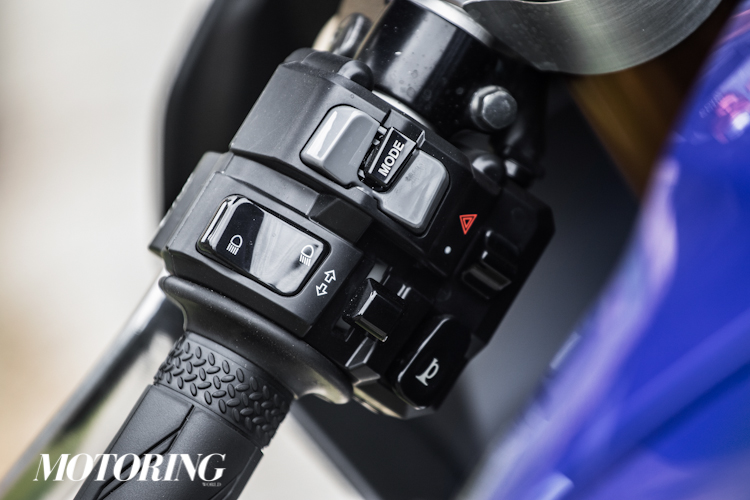 As I clamber on board, the R1's concise dimensions become all the more apparent. I find it hard to believe how nearly 200 bhp worth of material can occupy such little space under me. The riding position, dictated by the bike's size, is compact but not cramped, and is something Rossi played a big part in deciding. However, as I'm physically the exact opposite of a MotoGP rider, I resign myself to the fact that fitting behind that fairing visor is an impossibility. I notice the meter console and immediately conclude that it's probably the coolest one I've seen sitting inside a motorcycle cockpit. And then, as soon as I hit the starter button, I'm inside a mirage that has me exiting a pit lane rather than taking off down a long, empty highway. Right from the moment I first open the throttle, the bike is complete; it just has that feel. Rarely does that happen.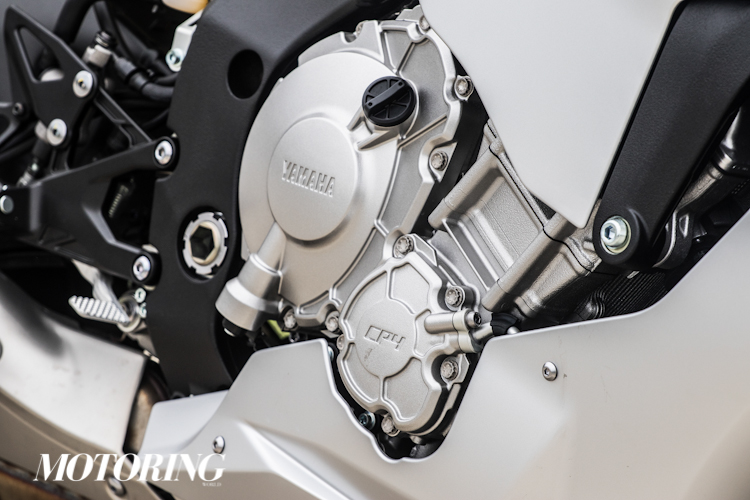 I can't tell you just how much like the M1 this bike sounds. It's much quieter, of course, but it's the sound that only a 270-180-90-180-degree firing order inside an inline-four can make. And it's this major detail that sets the tone for the ride. The 998cc motor makes 
197 bhp (without ram-air induction) and 11.5 kgm at revs that should ideally not be seen on a public road. First gear feels quite tall at crawling speeds compared to other litre-class machines like, say, the Kawasaki ZX-10R and this has me using more of the clutch to keep the motor from stalling. Then again, this is one R1 that isn't made for the road.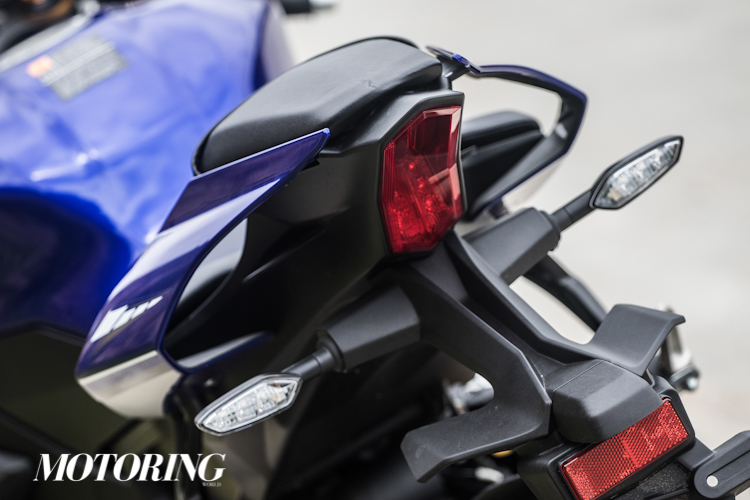 As the R1 flows through a series of bends, its taut and precise feel has my mind magically materialising kerbs at every corner I approach. It's the most 'one piece' motorcycle I've ridden yet; every component on this bike meshes together to form a mechanical entity that holds deep yet lucid conversations with the seat of your pants. Twisting the throttle does not produce a mad rush of horsepower like conventional inline-fours. Instead, there's a feeling of being perched on a 190-section tyre being twisted by tidal torque, while the rest of the bike provides the composure needed for my reassurance.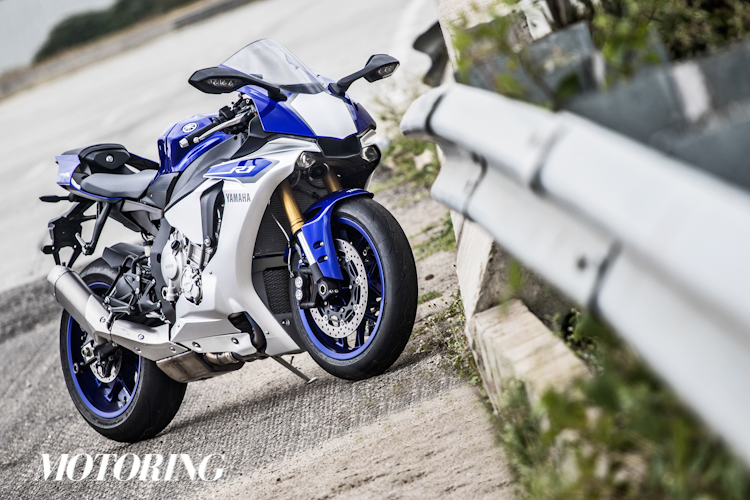 Even when the bike is flying in the lower gears, there isn't an overwhelming sense of imminent disaster; the R1 simply feels natural and forgiving. And that's probably the reason why it is deceptively fast. The unconventional sound and the motor's smoothness make me think that it's not revving all that much — but it very much is. It's only when the wind feels unusually violent that I look down at the LCD screen and see a number that makes me back off the throttle more in surprise than out of fear. It's the way the R1 becomes a part of its rider that's the most impressive part of the motorcycle. And the biggest reason for that is a whole lot of acronyms.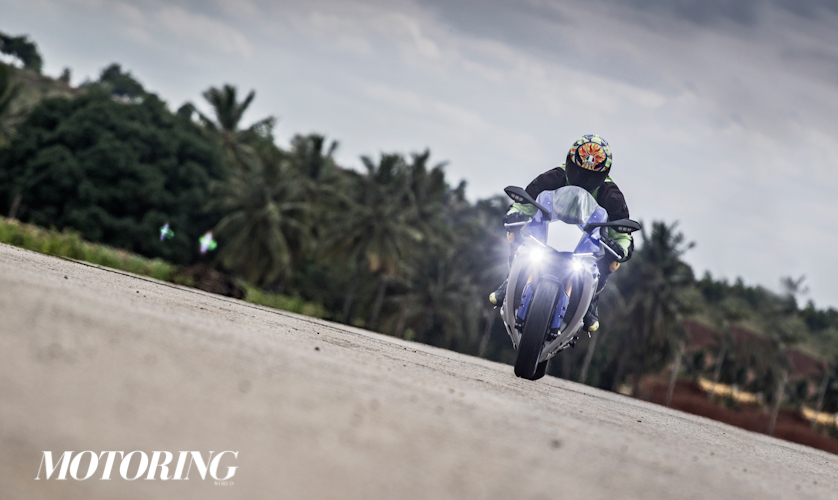 For the R1, the biggest gain from MotoGP is its electronics package, and there is enough of it in here for hardcore tech magazines to demand a long-termer. The bike gets a six-axis Inertial Measurement Unit (IMU) which measures the bike's movements in three dimensions and adjusts traction control, slide control (!), front lift control, launch control, the quickshifter, 
lean-sensitive braking and the unified braking system. It might look like electronic overkill, but these systems combine to become the biggest reason why a bike this powerful and tiny is rideable at all. I'm in no way qualified to comment on the electronics' proficiency at the limit of the R1's ability. But even I can tell that they make this bike easier to ride than any litre-class motorcycle I've ever ridden.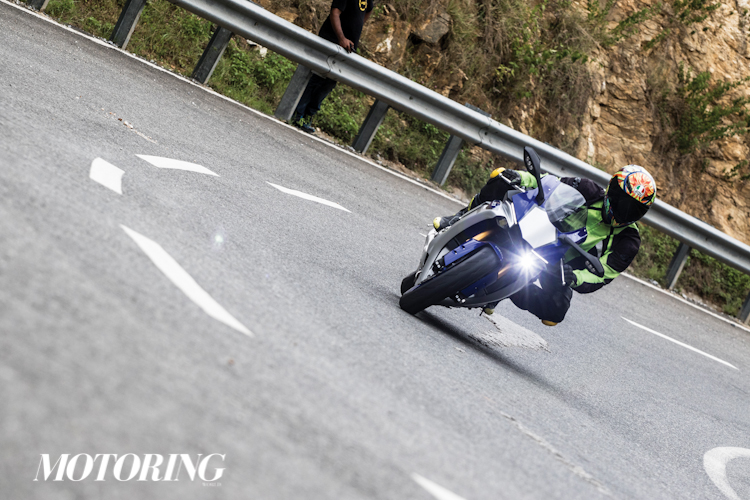 Perhaps it's this seamless fusion of mechanical design and software prowess that makes the R1 feel so alive and adaptable. With its fun-size dimensions, big yet controllable power and an unpretentious manner of going about its business, it's impossible to not fall for this bike. Even the powerful brakes, which lack the usual ferocious initial bite seen in bikes of this class, seem to be designed to be as friendly as possible. They deliver all the power you need, but without threatening to flinging you over the 'bars. A deal does not get more real than this.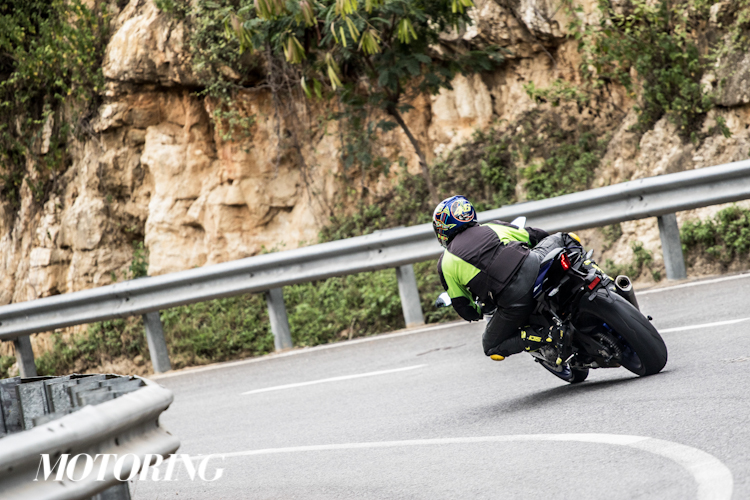 The new R1, then, is a purebred motorcycle with a sole focus on rapid forward motion without scaring its rider silly. Its rivals are in for a shock and anyone who rides it will instantly love it for the way it feels. And then there's the fact that no other motorcycle on the planet will be lucky enough to be mistaken for an M1. With the background of Yamaha's 60th anniversary this year, the R1 is back and ready to prove itself against the best in the world. Just like old Vale, then.
PHOTOS Kartik Sadekar
MOTODATA
2015 YAMAHA YZF-R1
POWERTRAIN
Displacement: 998cc, inline-four
Max power: 197 bhp@13500 rpm
Max torque: 11.5 kgm@11500 rpm
Transmission: 6-speed
CHASSIS
Type: Aluminium deltabox
SUSPENSION
(F/R): 43 mm inverted forks / monoshock
BRAKES
(F/R): 320 mm twin discs / 220 mm single disc
TYRES
(F/R): 120/70 ZR17 / 190/55 ZR17
DIMENSIONS
L/W/H (mm): 2055/690/1150
Wheelbase: 1405 mm
Kerb weight: 199 kg
Fuel tank: 17 litres
PRICE: Rs 22.34 lakh (ex-showroom, Delhi)