WAIT! YAMAHA MAKES BIG BIKES, TOO?
Cheeky! Yamaha makes some of the best big bikes, to be honest, and so what if the last time we rode a factory-issue one was in 2007? Okay, so we did feature that privately-owned current-gen R1 for our 200th issue but it would fair to say that Yamaha's big bike activities in India have been bleak, at best. Not for long, hopefully. Today, the naked streetfighter scene in India is jam-packed with a range of entries from every worthy manufacturer and, realistically, this segment is great for business. I should say 'was', because the MT-09 looks like it wants to do a burnout over everyone else's sales graphs and pie diagrams.
MT PROMISES?
Yes, it does, and it delivers, too! The '09 sits tight between two other MTs, the '07 and the radical-looking '10, and it's an obviously rational pick for India when you consider its performance/value balance. Its steel diamond-type chassis houses a four-valve per cylinder, 847cc, triple-cylinder DOHC motor – that's already a good start on paper – which lays out 113 bhp in the most intuitive, progressive manner. That it also has 9 kgm of torque (at 8500 rpm) and the most basic layer of electronic assists (three riding modes, three-level traction control and ABS) makes its case stronger and Yamaha has been wise in fixing it up with YCC-T (Yamaha Chip Controlled Throttle), its own version of ride-by-wire. In essence, therefore, the MT-09 is basic but not austere.
LOOKS ODD, DON'T YOU THINK?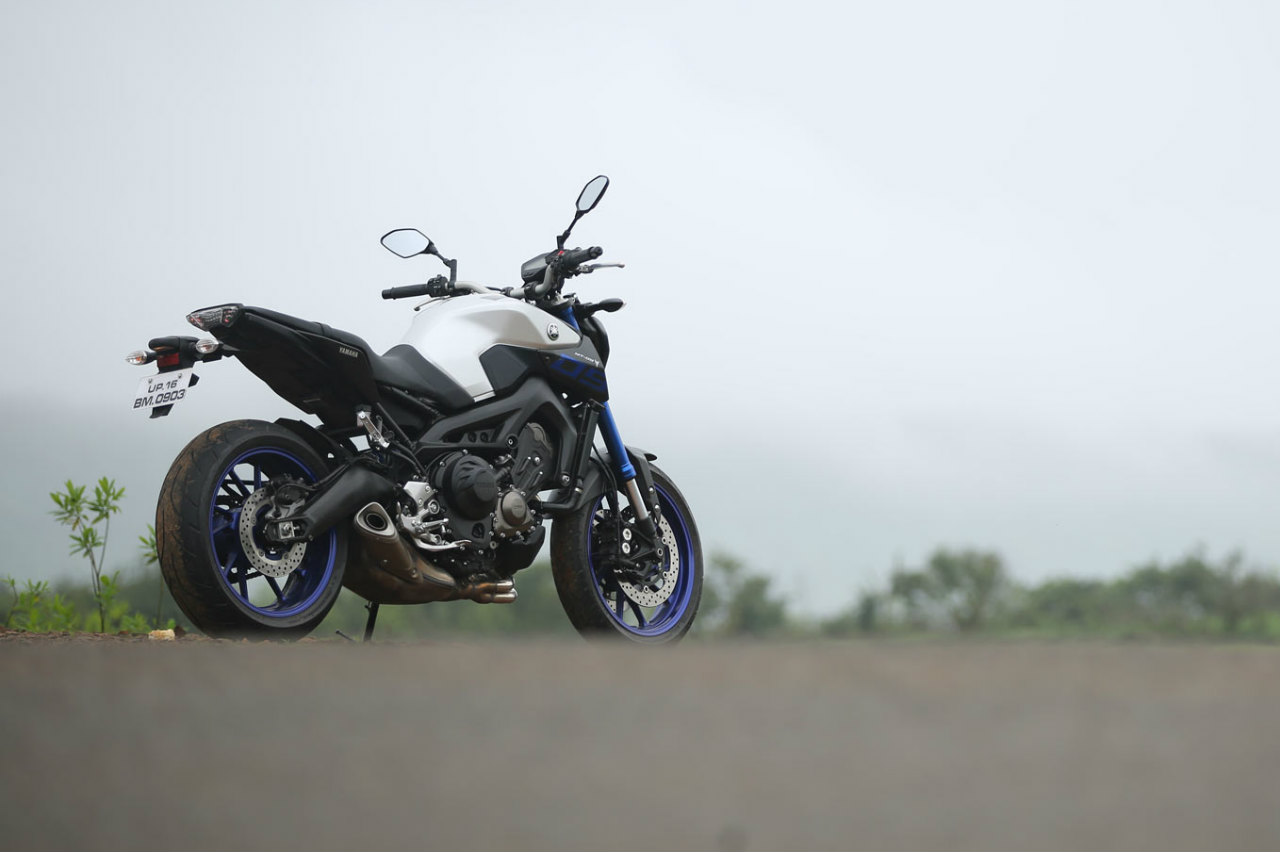 Not really, but I get what you mean. There's an edgy, almost prototype-ish look to it and those anodised blue bits on an otherwise mostly-grey motorcycle look great, to my eyes. From a distance, it looks no bigger than a 250 or a 400 should and it has a light, airy sense of visual mass that makes its 191 kg kerb weight seem believable. It gets better when you settle into its 815 mm high seat.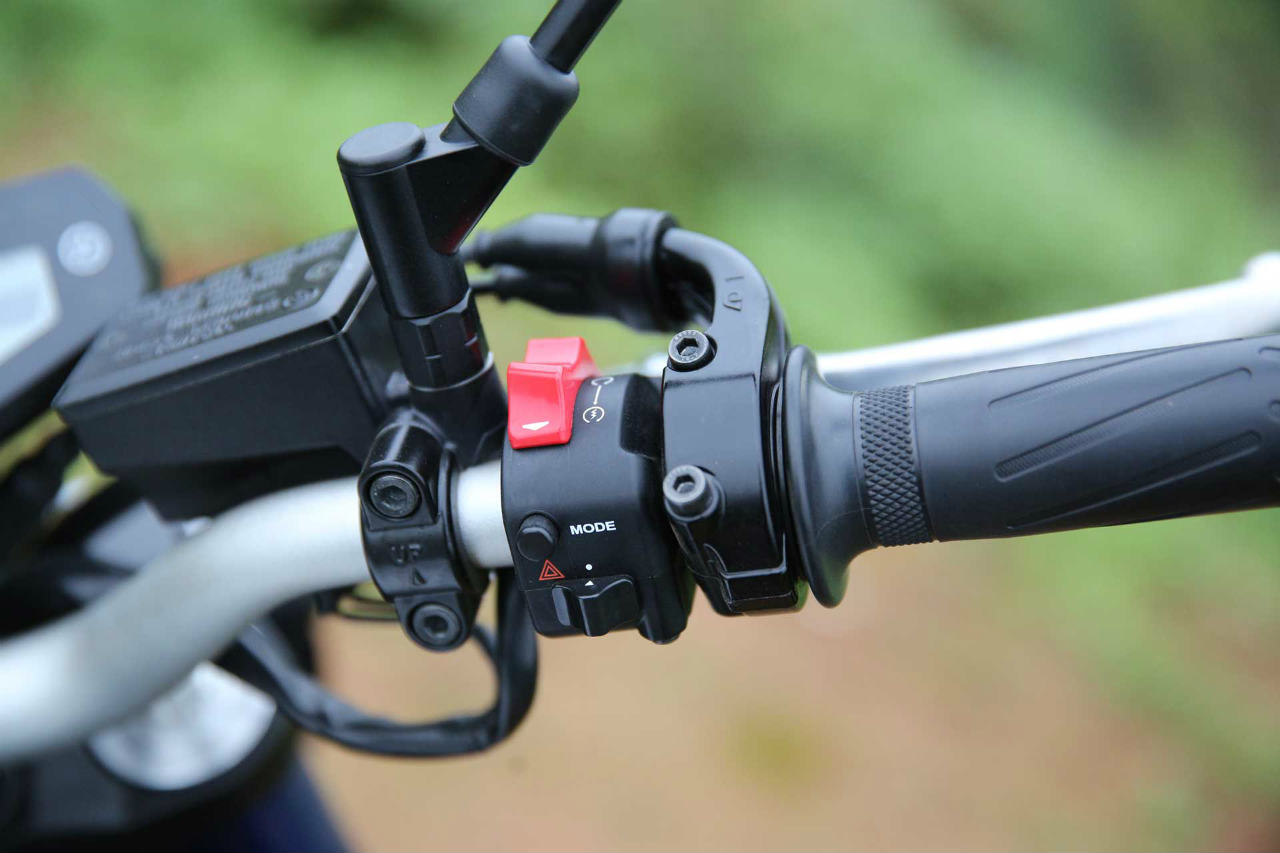 From the rider's perch, it looks and feels even more like a prototype because of how bare and exposed everything is and the only time this test-mule impression doesn't work in its favour is in the look and feel of its switchgear. Sure, all of it is extremely intuitive and must be quality-tested to apocalyptic levels but it just feels dated on a motorcycle as expensive as this one.
WHAT'S IT LIKE TO RIDE, THEN?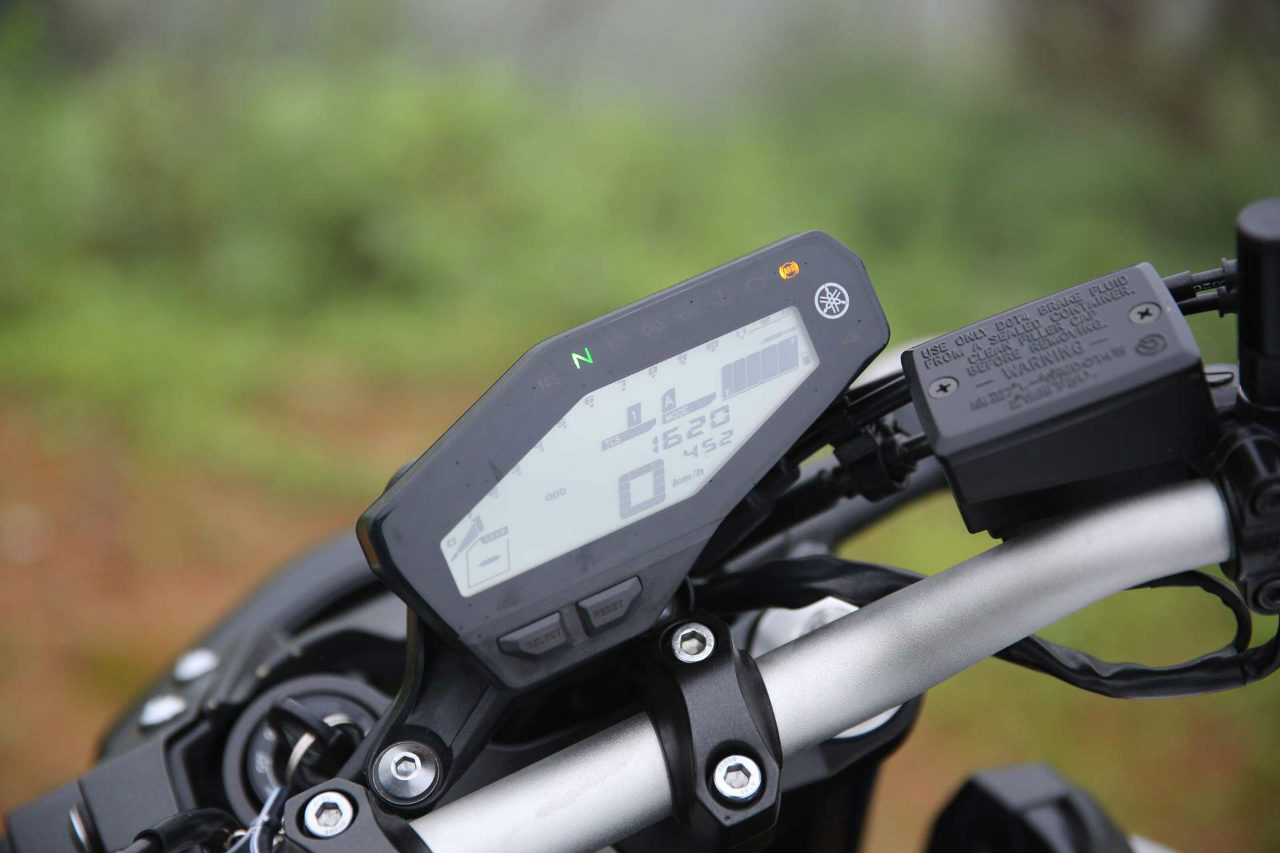 Once you fire it up, there's no looking back. That almost-in-line-four engine and exhaust note is prominent if not too menacing but it offers more than an ample peek into its intent. Encouraged by this, I selected 'A' mode, which is the sharpest of the three (STD, for standard, is the default setting and B is the most restrictive one), and given that the road was damp but only in patches, turned traction control off. This was a great idea, especially in hindsight, because it brought me face-to-face with how fantastic the MT-09 really is. I'm sure I was helped by my recent extended stints on almost all of the important naked big bikes out there (the Street Triple S, Monster 797, Z900…) because, on the MT-09, I felt absolutely at ease. Everything fell into place with such perfect synchronisation, it was almost too good to be true. There was no big-bike animosity and no handshake hiccups. It was as if I belonged on it. As if we'd been doing this together for a long, long time.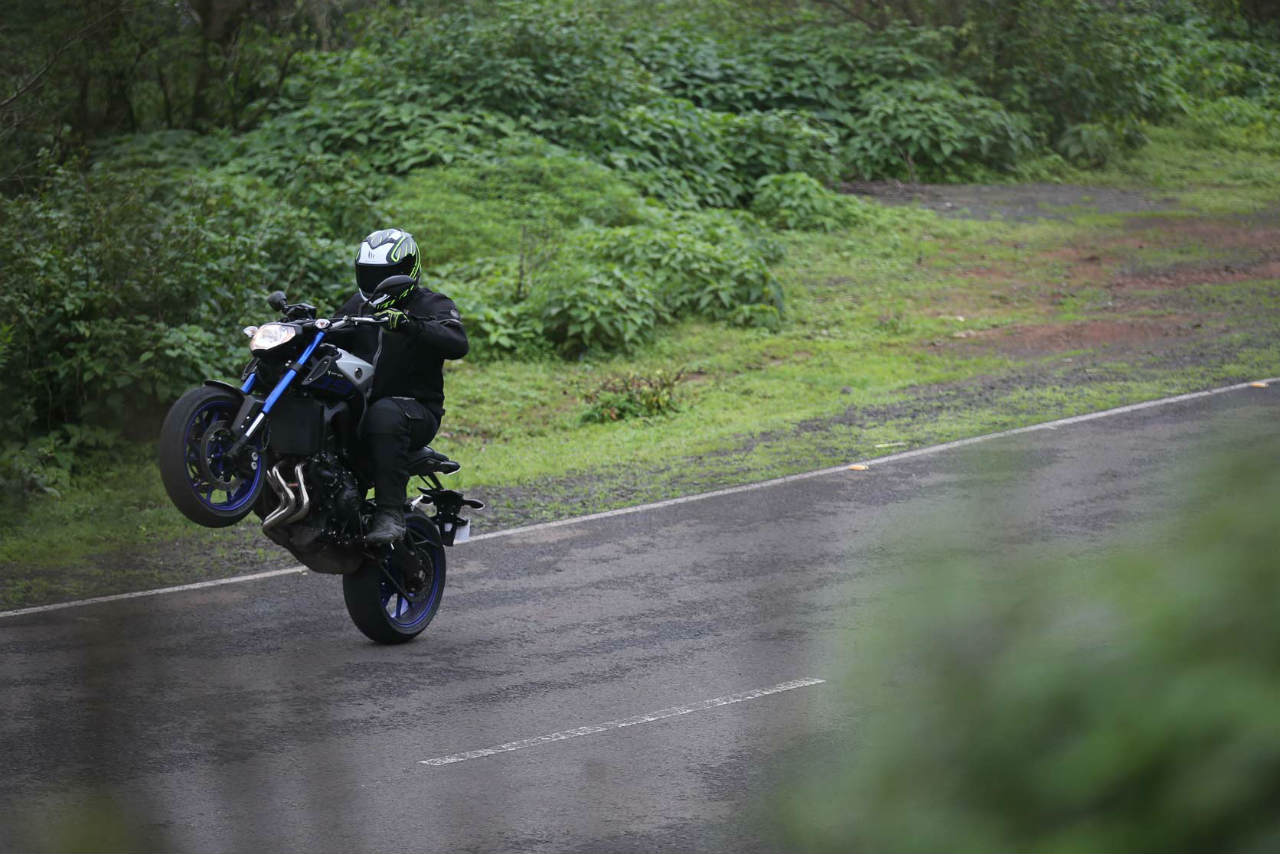 That's eerie on a 114 bhp motorcycle that can do 200 kph without provocation. I'm serious and that's because the kind of agility and sheer firepower the MT possesses makes you think it's on a strict diet of Red Bull and banned substances. You shoot off the line with a wheelie, get to 100 kph, pull another wheelie, flick your way quickly through some corners, wheelie some more… you get it, right? And while all of the action kicks up is outrageous, it doesn't feel like a handful even once. No matter how juvenile the MT got in laying down its power, it didn't force me to stiffen up unlike other motorcycles in its class. Everything happens intuitively, in a progressive, predictable manner that establishes you as a part of the motorcycle, rather than an accessory, from the very first instance itself. This is precious, if you love riding fast bikes, and priceless, if you love riding fast. It's so good, it's made me think only Yamaha knows how to make fun motorcycles; everybody else can only make derivatives.
REALLY? WHY DOES IT FEEL LIKE THAT, THOUGH?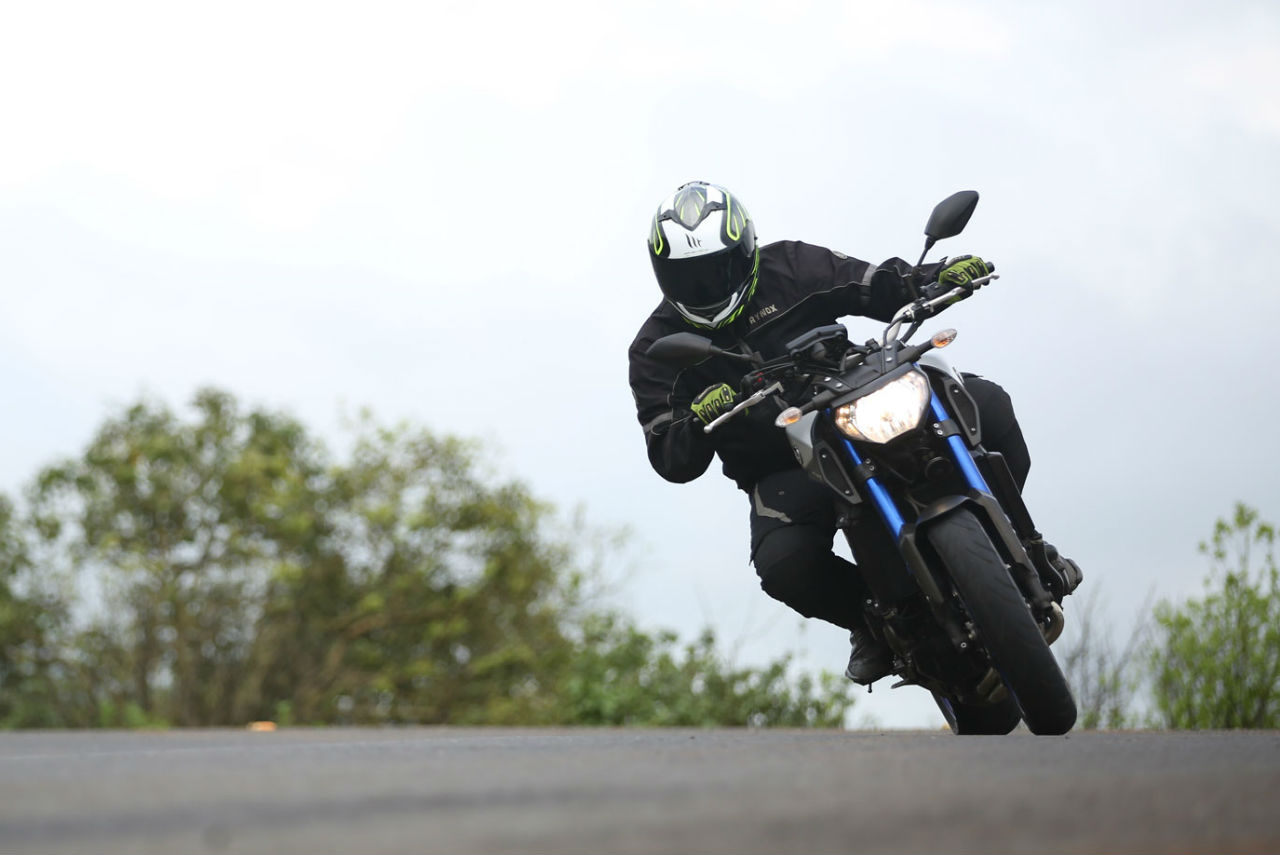 Let's all gather around and have a huge round of applause for Yamaha's ever-so-hardworking chassis department first. The MT-09 may be basic but not being feature-laden doesn't translate to a compromise in the core of its engineering strengths. If anything, the MT is in fact the best engineered motorcycle in its segment or at least that's what its dynamics imply. If the Street Triple S feels like it has an infinite amount of grip, the MT-09 does so, too, but while still feeling raw, natural and human. There's no kind of corner the MT-09 feels uncomfortable around and so high is its level of absorption that you can probably get your knee down on it even if riding on the moon's surface.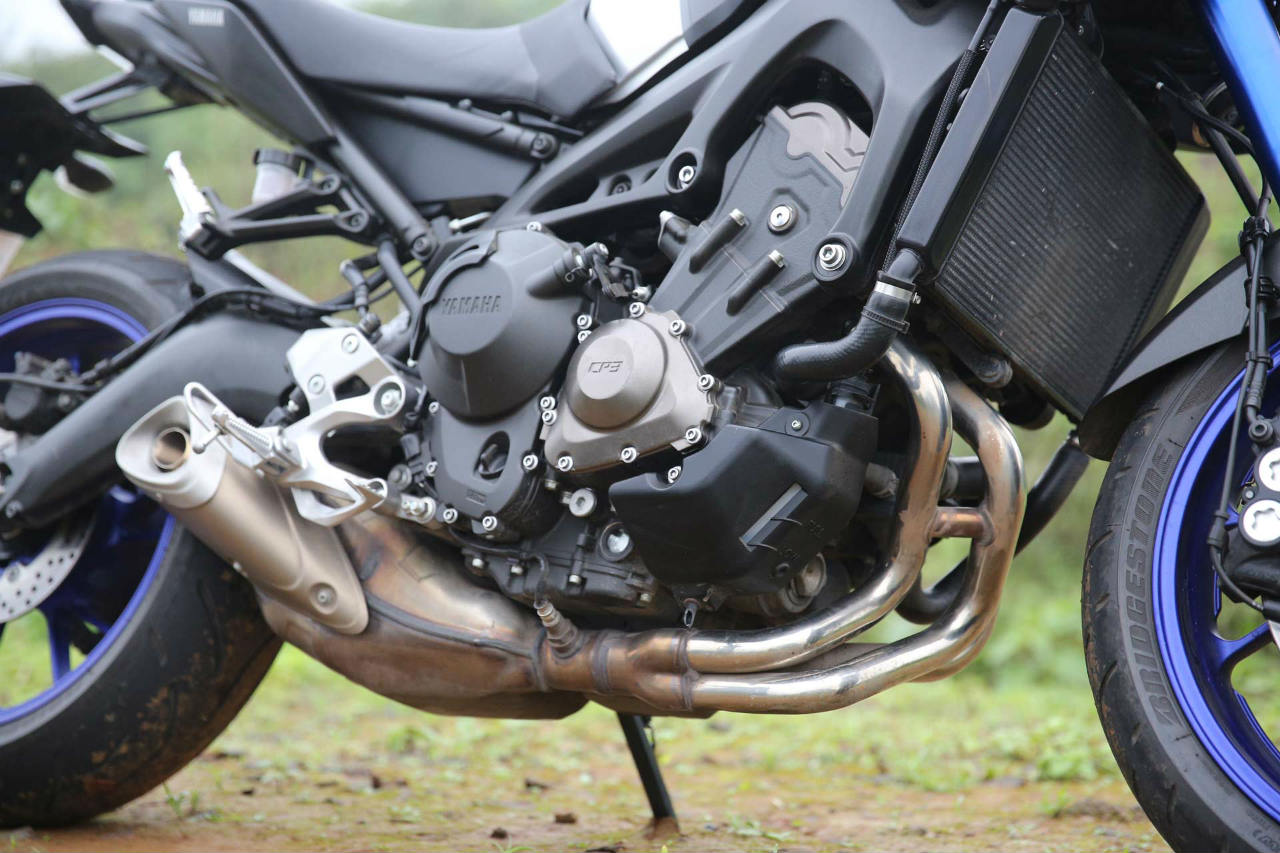 The chassis lends the MT an amazing degree of flexibility and the Bridgestone Battlax Hypersport S20 tyres, despite being a four-year old design, are phenomenal in terms of grip and traction. What really signs off the dynamic prowess of the MT-09 is its suspension, however. The up-side down front fork is the most supple unit I've come across on anything that's not a trail bike and the almost-horizontal monoshock is just fantastic in the way it helps the soak up bumps. Paired with the 298 mm twin-disc brake setup (the rear gets a 245 mm disc) with ABS (can be turned off) as standard, the MT is equally brilliant at shedding speed although things can get a bit dramatic (in a fun way) if you get really pushy with it.
THE VERDICT IS…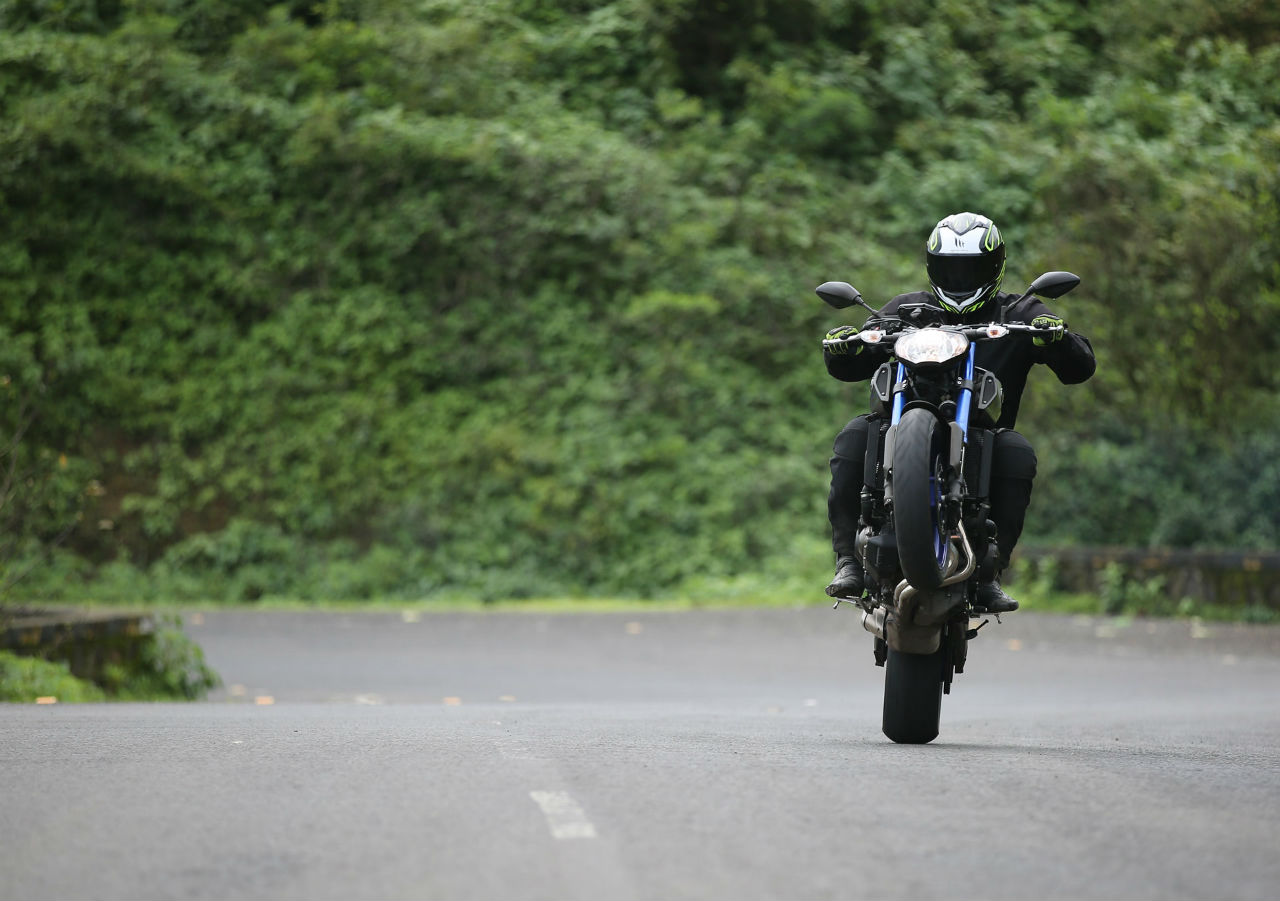 It's this final aspect, that of its friendly dynamic ability, that really rounds it off as the best naked motorcycle money can buy. The MT-09 is a superb motorcycle, more so because it makes a great rider out of you, too. The limit to the fun you can have with it is set far into the horizon and you can trust it with anything, while still feeling absolutely comfortable and in control. The deeply-ingrained psyche of the MT-09 cannot be substituted – ever – by even the most expensive electronics and that alone is worth the marginally extra dough you'll have to shell out for it over each of its rivals. What a comeback, Yamaha!
PRICE: Rs 9.9 lakh (ex-showroom, Mumbai)
You can take a look at other photos of the Yamaha MT-09 in the gallery here.