I expected a lot of things from the Yamaha Aerox. But I certainly didn't expect to watch the owners of a mint RD 350 and a Ténéré 700 simultaneously lose their heads over it. And they headed straight to a Yamaha dealership right after to book one each, too. That's a tuning-forked seal of approval right there! In fact, I haven't met anyone yet who doesn't want an Aerox for themselves. That includes yours truly, and I'm not a scooter guy, not even by a long shot. And I don't mind if the Aerox turns me into a part-time modern Mod by finding a space in my garage — because it's fun!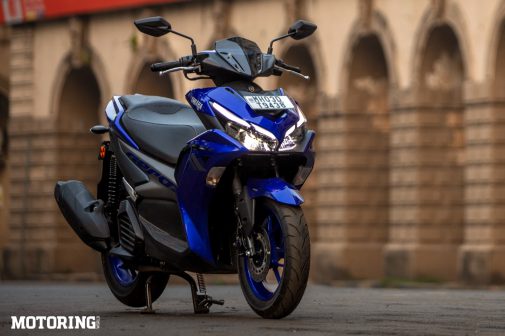 To be honest, I never really got the 'convenience' bit that scooters are applauded for, and I pretty much wrote down any preference for knee-knockers to either an aversion to fun and/or a predilection for laziness. Add to this the wobbly nature of small-wheeled machines, and CVTs that drain tiny fuel tanks like alcoholics at Oktoberfest, and my apathy towards scooters may make some sense. However, the Aerox showed me that all I was missing from scooters was performance and something to hold with my legs — essentially, it's a scooter that's a bit more like a motorcycle. And it certainly looks the part.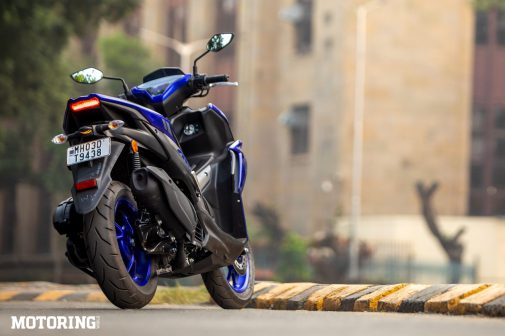 The Aerox is nothing if not a scooterised version of Yamaha sportsbikes, and it looks as sharp as a shark's mouth. Every inch of the Aerox's surface screams bloody sporty murder. I like the aggressive front, the bike-like rear, the Venom-eyes headlamps, the svelte tail-lamp, the satin-finish wheels wrapped in fat rubber, all of it. I also like the X-shaped element on its flanks which leads to the fuel tank between the rider's legs, and the fact that the Aerox blocks a lot of light in that area when viewed in profile. Fans of floorboard acreage, please look away. I could go on about the Aerox's looks, but I'll sum it up in one sentence — it's right at home even in the MotoGP paddock where I once saw Valentino Rossi ride one himself.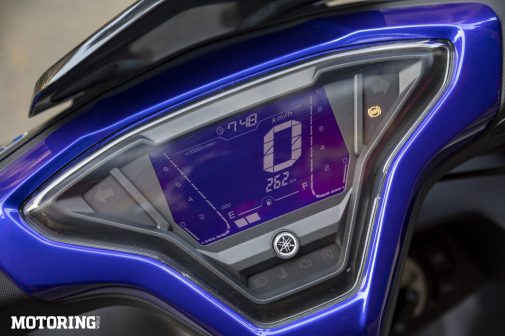 The Aerox is also built to typical Yamaha standards so it's as solid as it is stylish. The only sore sight, at least for me, were the twin shock absorbers that somehow look like afterthoughts. On top of that, they don't even feature basic preload adjustment which is a problem that I'll come to later. And while I'm listing my complaints, I might as well add the absence of a twin-piston calliper at the front and the lack of a pass switch. Also, a number of presumably dyslexic observers saw the Aerox's decals and exclaimed 'xerox!' They were mighty pleased with themselves, too, after generating such high-quality amusement. But none of this mattered when the Aerox was on the move.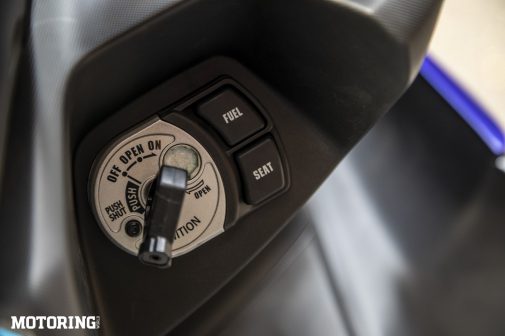 Now, the Aerox's meter console has two bar-graph tachometers. To me, a tacho on a CVT makes as much sense as a gear-position indicator. Instead, Yamaha should've made the speed readout much bigger because that's what this R15-engined scooter is all about. At 184 cm tall, my size 11 feet had enough space on the floorboard on either side, though the seat's forward slope meant that sooner or later my legs were wedged against the apron, acting as semi-stressed members of the Aerox's frame. I didn't mind that, though, since my feet had no use on the Aerox except to prop us up at stops.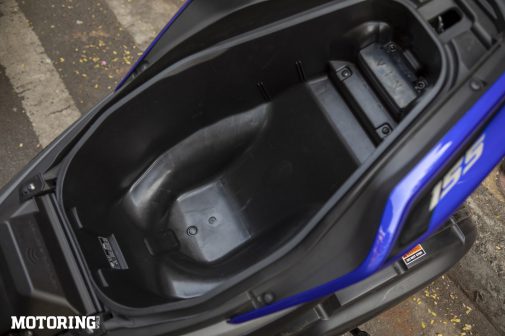 The Aerox's 155cc motor was smooth and the CVT worked flawlessly along with the variable valve actuation to harness all of the 14.8 bhp on offer. We got the Aerox with less than 1 km on the odometer and I've ridden it for 400-odd km so far, and the motor's opening up with every single ride. The maximum speed I hit was 115 kph, though the last 10 kph took some time coming. It got up to 100 kph quite rapidly, though, and that's what makes it a proper traffic bomber. Even more pertinent is that it went from 40-80 kph in less than 5 seconds. Moral of the story? The Aerox was born for the point-and-shoot life.
I saw a gap, whacked the throttle open, and went through — that's the description of every ride on this scooter. Sure, given the motor's power, you'd expect that. However, what also made the Aerox fun is its integrity. No, it's not a role model for the nation or anything (or maybe it is…), it just felt structurally solid and 'one piece' like no other scooter does. And that's because the floorboard wasn't as vacant as the average Internet addict's face. The Aerox's rigidity and gobs of power made for the best traffic entertainment. And when fellow motorists finally caught up at the next signal, their facial expressions were exactly the opposite of mine but the thought was a shared one — 'How is a scooter that fast?!'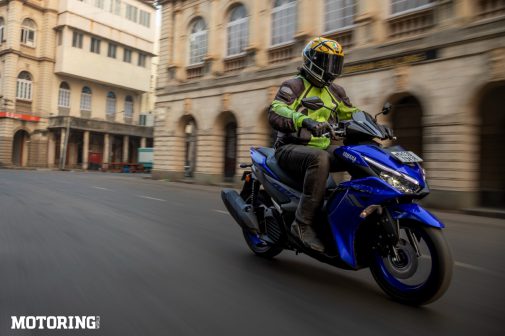 The rest of the Aerox also added to the overwhelming sense of fun. The 14-inch wheels were shod with grippy motorcycle-size IRC tyres, a 110-section up front and a 140-section out back. Which meant the Aerox loved to play Floorboard Grounder, although I never pushed it that much, what with my innate distrust of small wheels. And yet, with every successive ride, the Aerox egged me on and continues to do so. Perhaps it's time to find a friendly neighbourhood go-kart track and see just how far the Aerox is actually willing to go.
As for the brakes, they worked well for 90 per cent of in-town riding. The remaining 10 per cent of hard braking needed a bit of Luck Assist as well. A twin-piston calliper should be easy enough to find, though. Ride quality — and there is no other way of putting this — was as stiff as rigor mortis. Now, over all kinds of bumps the Aerox remained as stable as possible, but it jarred me enough to blur my vision. The ride was definitely way more settled if a pillion tagged along, and I still don't get why Yamaha chose not to provide preload adjustment for those twin shockers. Perhaps because it wants to flog the official aftermarket gas-charged KYB units at Rs 17,000. My guess is that a lot of Aerox owners will quickly become very familiar with the rear suspensions of other motorcycles which will be a lot cheaper and work just as well.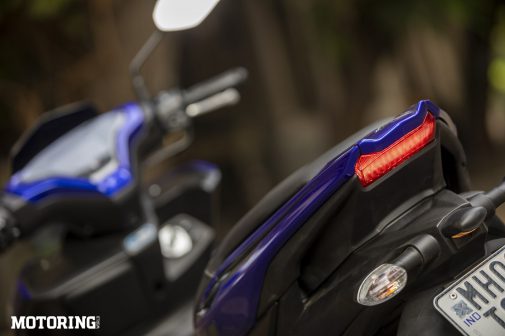 Now, all this performance talk may have led you to believe that the Aerox spent most of its time travelling between petrol pumps to replenish its tiny 5.5-litre fuel tank — but no. I rode the first tankful with the new motor rather gently, with only a few bursts to see what the Aerox could do. Ridden thus, I got 42 kpl. Encouraged, I thrashed through the second tankful and still got a respectable 31 kpl. Any way you choose to ride, the wonders of liquid-cooling, a start-stop system, and modern engineering make the Aerox, a scooter that's much faster than others of its kind, just as fuel efficient as anything out there. However, the tank could have been bigger for better range.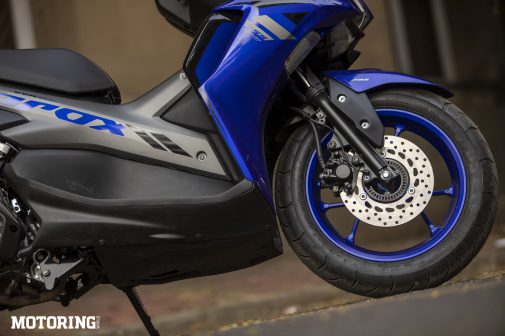 In fact, I wouldn't mind if most of that underseat storage were turned into a fuel tank since I haven't used it even once. I'm used to bikes, you see, and my brain isn't wired for luggage cavities. And no, it doesn't hold two full-face helmets — heck, it didn't even hold one AGV of mine, and I think only helmets scraped off the bottom of the protection barrel will fit comfortably in there. Do what bike guys do and take your helmet with you. Also, although I've gotten used to it, I can't ignore the fact that the Aerox sounds rather… ordinary. I expected a bit more boom from such a sporty machine; one look at TVS's stable shows that it's possible to make everything from a commuter to a scooter sound good, so we know it's possible. And I look forward to correcting all these things myself.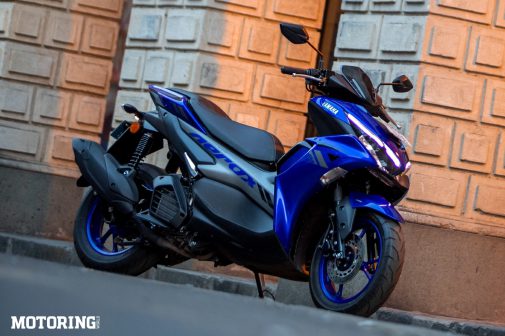 The Aerox is not perfect, but I suspect that is also what makes it so much fun because I quickly learnt to ignore the bumps while flying across town. On one occasion at the local bike-washing place, the chap remarked to his colleague, and I paraphrase, 'This is not your Honzuki Acticess or whatever. It's a Yamaha.' Too true. I also like the Aerox because it's a welcome internal-combustion interruption to the ongoing avalanche of electric scooters. But above all, it's a fun machine for scooter fans as well as for motorcyclists who hadn't considered a knee-knocker yet — no other Indian scooter has ever achieved that, and it just had to be one with the tuning-forks logo. Thanks, Yamaha, for making a scooter I can swing my leg over!
MOTODATA
Yamaha Aerox 155
POWERTRAIN
Displacement: 155cc, single
Max power: 14.8 bhp@8000 rpm
Max torque: 1.4 kgm@6500 rpm
Transmission: CVT
CHASSIS
Type: Tubular steel frame
BRAKES
(F/R): 230-mm disc / 130-mm drum
TYRES
(F/R): 110/80 R14 / 140/70 R14
DIMENSIONS
L/W/H (mm): 1980/700/1150
Wheelbase: 1350 mm
Ground clearance: 145 mm
Seat height: 790 mm
Kerb weight: 126 kg
Fuel capacity: 5.5 litres
PRICE: Rs 1.29 lakh (ex-showroom, Delhi)